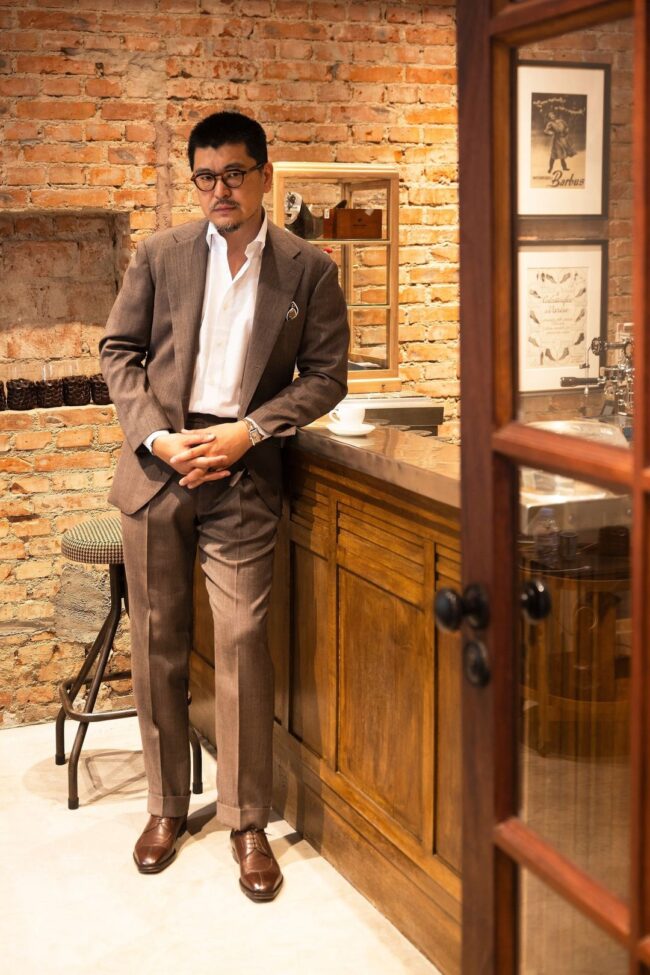 Bespoke tailoring and the restaurant industry share something in that they both use the terms "back of house" and "front of house" to describe how their businesses are structured. "Back of house" refers to the behind-the-scene activities that customers typically don't see, such as the cutters, tailors, chefs, and line cooks who prepare the things that are eventually given to customers. "Front of house" is a little different. In the restaurant industry, this term refers to the customer touchpoints, such as the waitstaff and host who work to create a pleasant experience. The front of a bespoke tailoring house, which can consist of salespeople and fitters, also provides those things. However, they also offer something more important: a sense of taste.
George Wang, the founder of the Beijing-based bespoke tailoring company BRIO, works the front of house. When you commission something here, you're not just paying for the skillful craftsmanship that goes into each garment, but also George's sense of taste. He's the one who created the company's overall aesthetic. He's also the person who will guide you through decisions such as fabric choices and stylistic details. George tells me that each customer is different, and it's important to be sensitive to a person's needs, lifestyle, and even personality. A conservative businessman who needs a winter work suit has very different requirements than a young creative who wants something to wear to summer parties. It's easy to trivialize this service now that there's so much information on the internet, leading people to believe they can do everything independently. But over the years, I've come to appreciate how useful it is to work with a tailoring house that has both "front" and "back" staff persons (tailors, while wonderful, are better thought of as technicians than stylists). At Rubinacci, Mariano does the vital work of ensuring every client walks out of his shop looking "right."
I often ask George for his opinion on things, such as the right fabric to use for a project, what color the lining should be in a folio, and what watch best matches a certain kind of wardrobe. He always gives me an answer that feels like a step above what I would have initially considered. Instead of the usual recommendations for linen, wool-silk-linen blends, and Fresco for warm-weather garments, he recommended to me slippery Super 150s wools in colors such as light blue, coral, and citrus yellow. He also turned me on to London Shrunk, as well as world-class makers such as Sartoria Corcos, Sartoria Marinaro, The Work, Saic, and Masahito Furuhata. In a word, I find his taste to be sophisticated. So, for the last entry in this series, I'll start with George's thoughts on how to develop good taste. 
Keep reading