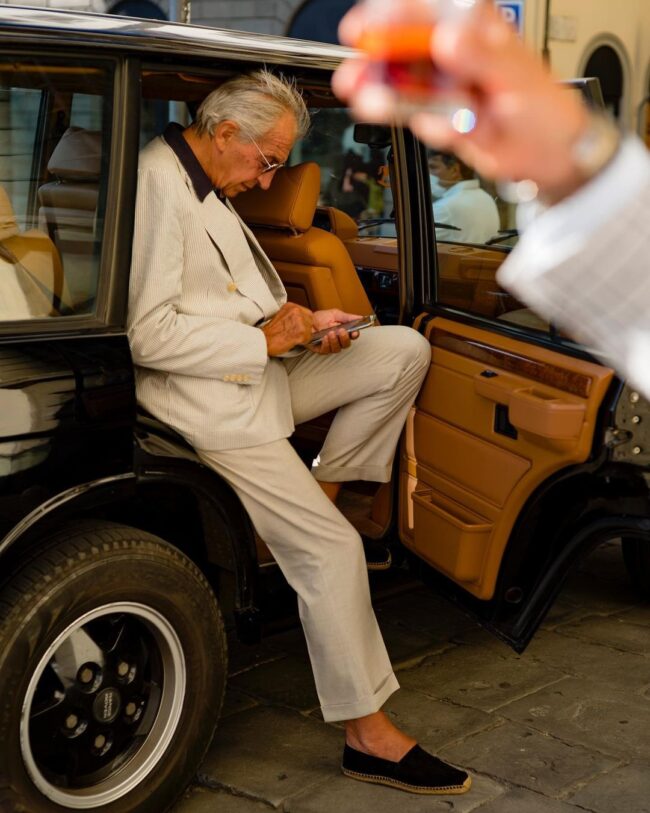 For the past few years, whenever we're about to start a new season, I've been doing roundups about things I'm excited to soon wear. These lists are about what I'm interested in at the moment; they are not meant to serve as shopping guides for seasonal essentials (which invariably repeat the same yawn-inducing basics). But hopefully, between the entries, styling suggestions, and innumerable photos at the end, you can find some outfit ideas for your wardrobe. Here's this year's spring list. You can also revisit the lists for spring 2019 and 2021 for more warm-weather outfit ideas (2020's list was about life at home).
COTTON SUITS
Europeans and North Americans felt the Industrial Revolution not just in social terms, but also tangibly on their skin. Before the revolution, most Westerners wore and slept on linen, which was typically grown on local farms, spun at home, and made into moisture-wicking bedsheets and clothes. But changes in international trade, the invention of the cotton gin, and the evolution of factory cotton production made cotton incredibly cheap, relegating linen to buckram and underwear by the mid-19th century. Today, cotton is so ubiquitous that it's described as "the fabric of our lives." We wear it as shirts, shorts, pants, jackets, and even shoes. But for suits and sport coats, the fiber is often overlooked, sometimes even reviled.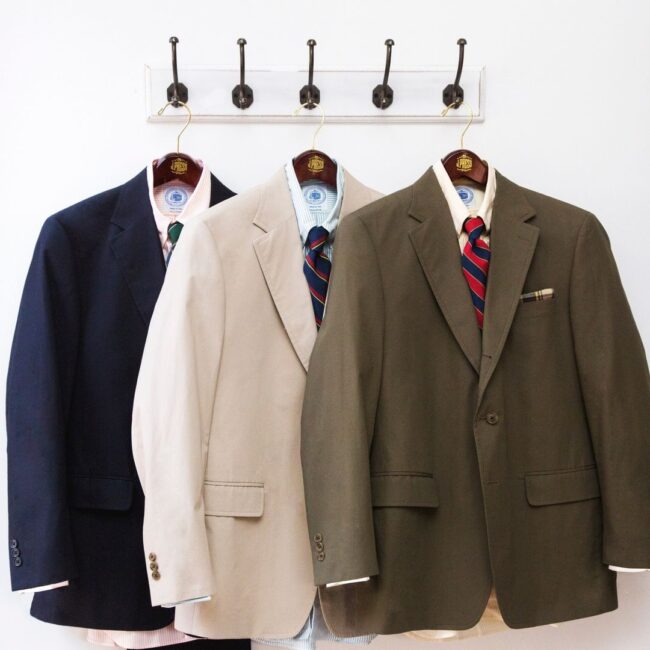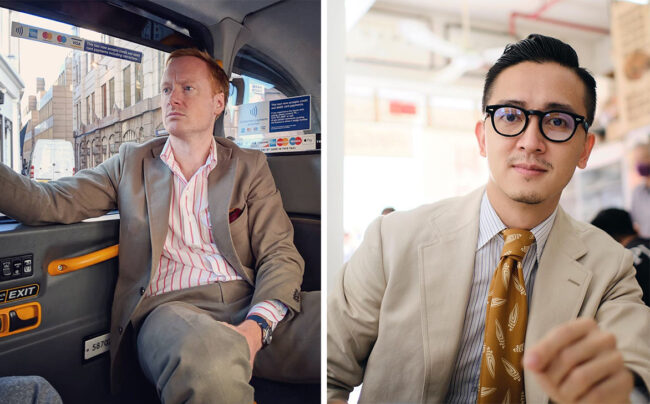 Men who use bespoke tailors often pooh-pooh the idea of a cotton suit. Since most of what you're paying for is labor, a cotton suit will cost about as much as a wool one, but it comes with many downsides. Cotton garments are difficult to alter, require more dry cleaning, and fade unevenly. When buying a cotton suit, it's better to go for lighter colors, such as stone or pistachio, rather than dark blues and browns that reveal their age more readily. Cotton also doesn't have the natural crimp found in animal hair, so it's stiffer and less comfortable to wear. And since cotton is typically woven in a dense twill, it's less breathable than airy tropical wools. I think cotton suits are best in spring and fall when the temps hover around 75 degrees, rather than when the weather reaches the scorching highs of summer.
Despite their numerous downsides, I love these slightly stiff, rumpled garments. They're the most casual suit you can own, making them useful in today's dressed-down world. A cotton suit is just a casual jacket with matching chinos, and the two can easily be broken into separates. A few years ago, when I asked Drake's Creative Director Michael Hill what he wears most, he enthusiastically rattled off: unlined suede chukkas, striped oxford button-downs, and cotton suits. "I can picture my cotton suit sitting on the end of my rail at home now. The way the sleeves curl, it looks like my arms are in them, and the sleeves will probably stay like that even after the jacket has been cleaned. If you get one in heavy drill cotton, the fabric almost molds to your body. That's the wonderful thing about cotton suits. They're casual and age with you, much like a good pair of jeans."
A word should be said here about the fabric. My cotton suit is made from a mushroom-colored 12 oz cotton-elastane fabric from Zegna's Winter Cottons book. It has a slightly fuzzy, brushed surface that feels similar to moleskin. Despite the book's name (Winter Cottons), I think these mid-weight 12 oz fabrics are perfect for spring. One of my tailors recently made me an olive cotton suit from Draper's Brit Pop, a firmer, hard-finished 12 oz cotton drill. It's nice, but not as nice as Zegna. If you commission a custom cotton suit, I recommend first looking at that Zegna book before turning to more popular choices, such as Drapers or Brisbane Moss. Aim for mid-weight ~12 oz fabrics that won't wrinkle like tissue paper, and consider stretch cotton if you value the comfort of wool. You can wear cotton suits with wide-striped linen shirts, oxford cloth button-downs, long-sleeved polos, tasseled or penny loafers, and diaphanous pocket squares.
Options: J. Press, The Armoury cotton jacket and pants, No Man Walks Alone x Sartoria Carrara, Spier & Mackay, and Drake's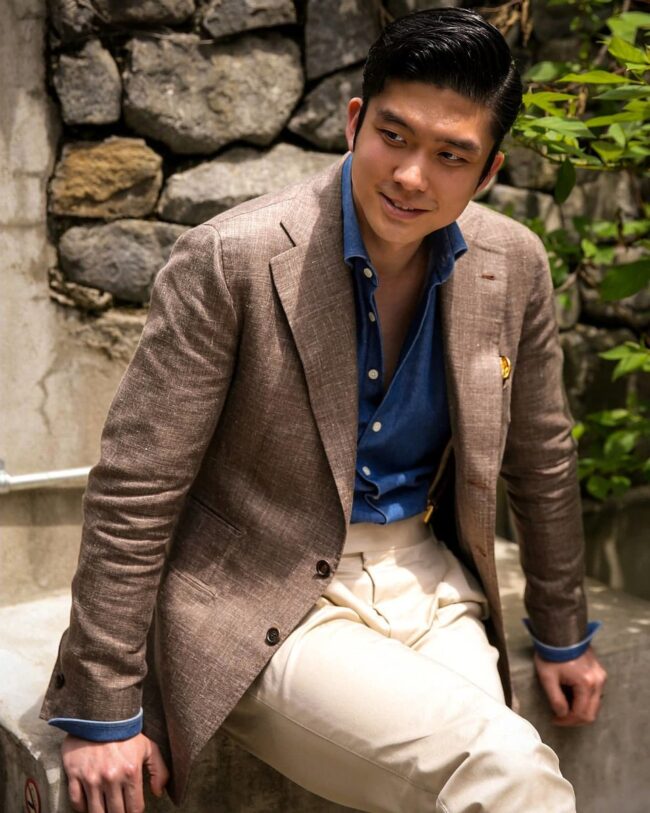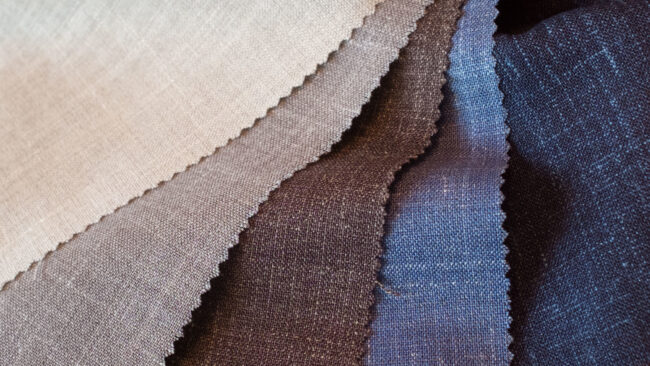 WOOL-SILK-LINEN SPORT COATS
Spring tailoring isn't as obvious as its cool weather counterparts. Even people who aren't interested in clothes can rattle off things such as Donegal tweeds, corduroy sport coats, and heavy flannel suits. But what are the springtime equivalents of these fall/winter basics? There's Irish linen, cotton drill, and open weave tropical wools. Is that it?
Let me suggest wool-silk-linen (WSL), a unique warm-weather fabric that has no equal in the fall/winter months. WSL combines the best of all three fibers: the drape of wool, the luster of silk, and the crisp, dry handle of linen. When spun into yarn, these fibers are more than the sum of their parts. WSL fabrics tend to be airy and breathable, making them ideal for the dog days of summer. They straddle the line between formal and casual, so you can wear them to work and on weekends. You can often tell when a fabric is made from this mixture when it has a bit of texture and mottling — hatches and flecks of dark yarns mixed with lighter ones. Their distinctive appearance allows them to add visual interest to simple, solid-colored outfits. At the same time, they're not so busy as to clash with patterns.
Jonathan Sigmon, the owner of Alan Flusser Custom in New York City, tells me that he often recommends WSL to customers looking to expand their summer wardrobe. "The silk and linen mixture will lend a lovely texture and character," he told me. "If the fabric has over 50% wool in the mixture, it will also be relatively resistant to wrinkles. We often turn to Loro Piana and Caccioppoli for these fabrics, as they have a wide variety of wool-silk-linen blends in various weaves, colors, and patterns." My WSL jacket is in solid brown, and I find I can wear it with trousers in tan, cream, and mid-gray. It's a great go-to jacket you can wear with most things, giving you the versatility of a solid navy sport coat, just in a different color.
Options: Sartoria Formosa, The Armoury, Spier & Mackay, and Alan Flusser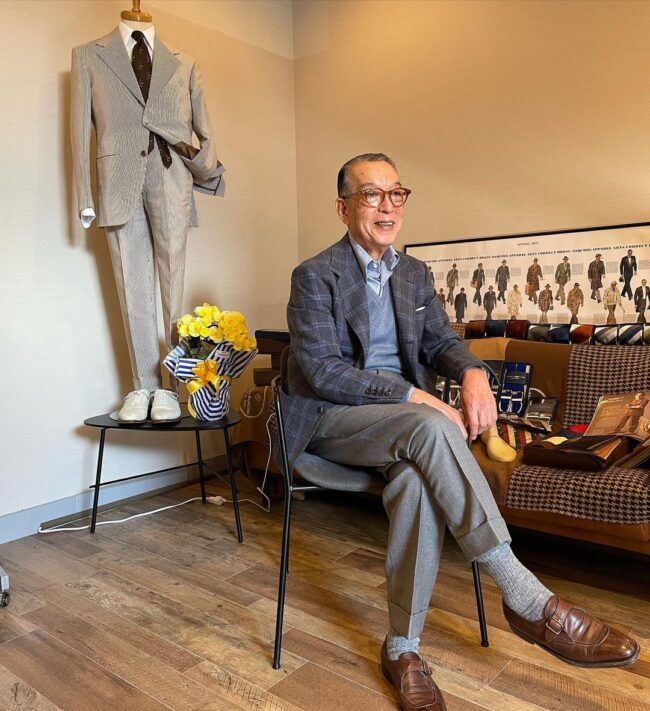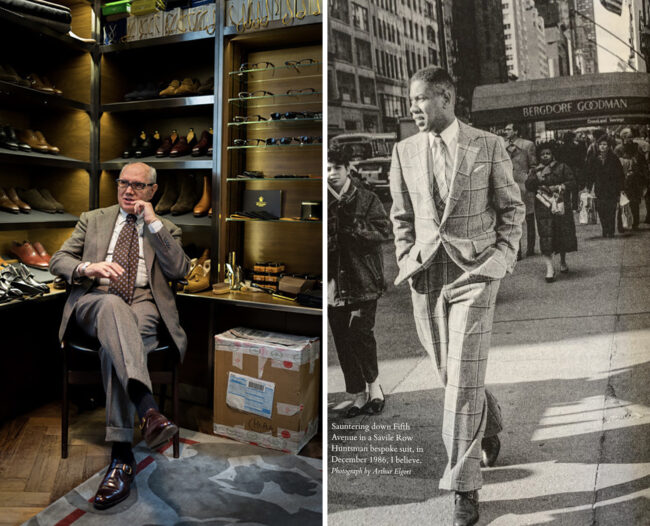 SINGLE MONKS
I've been stuck in a shoe rut. For the last few years, I've mostly rotated through the same dress shoes, which sit near my front door for convenience. There's a pair of dark oak Edward Green Dovers, two pairs of brown split-toes from Nicholas Templeman, and a pair of black tassel loafers that Alden once made for Brooks Brothers (now sadly discontinued). These shoes help muffle the formality in tailored clothing, and they have a slightly fusty, old man sensibility that I love. But lately, I've also been wanting to try something new. I was at a loss for what to try until I saw these single monks on Die, Workwear North Star Yukio Akamine. 
Single monks sit at the intersection of many streams. They're classic, but not conservative, and can be worn with almost any tailored outfit short of black tie. They have the slip-on ease of loafers, the adjustability of jodhpurs, and the formality of derbies. Supposedly, the style comes from European monks during the High Middle Ages (ca. 1000-1350 BC), who wanted a more protective shoe they could wear while working. Those monks turned their open-toed, ankle-strapped sandals into a closed-toe design, which is how this style earned its name.
Inspired by Akamine-san, I recently dug two pairs out from the back of my closet (Edward Green Mercer and John Lobb Osner). I like how these are more elegant than their double monk counterparts and don't carry any of the hashtag menswear baggage from 2010. The glint from the metal buckle makes these distinctive without crossing over into dandy territory. Plus, the term single monk describes both a shoe and my lifestyle (bah dum tsh). Mark Cho of The Armoury has a pair of tan suede single monks from Yohei Fukuda, and says he thinks of the style as being adjacent to loafers. "In terms of formality, and even the way you wear them, single monks are between an oxford and a loafer," he says. "In dark calfskin leathers, they're nice with more formal outfits; in light-colored suedes, they go with casual clothes. Once you have the buckle set in the right position, you just slip them on and off." For some single monk inspiration, check out Andre Leon Talley, Gregory Peck, Prince George of Hanover, Yves Saint Laurent, Antonio Liverano, and Sonic the Hedgehog.
Options: TLB Mallorca, Carmina, The Armoury, Crockett & Jones, John Lobb, Edward Green, and Petru & Claymoor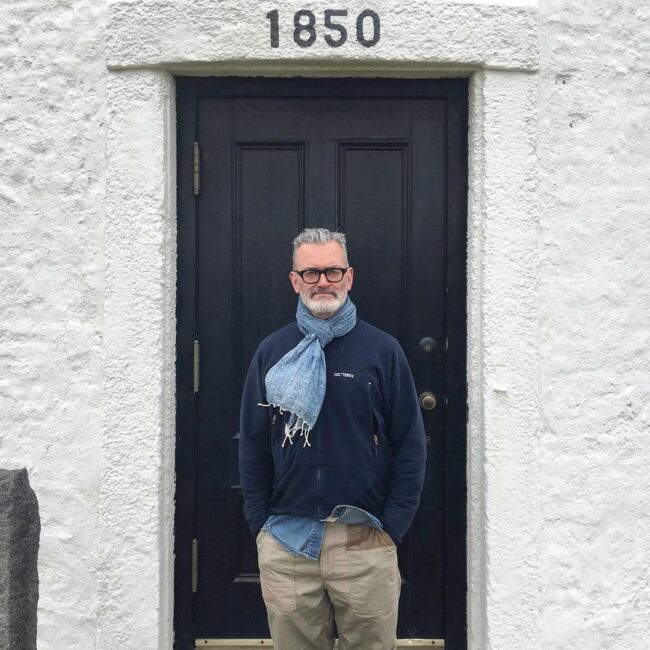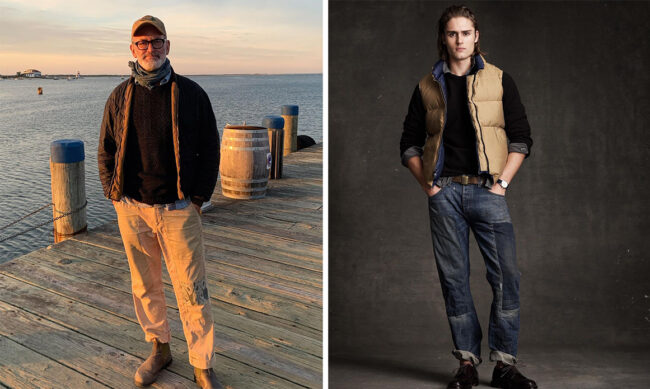 PATCHWORK PANTS
Shortly after he left his position as the head of J. Crew's menswear design in 2017, Frank Muytjens and his partner opened a quaint bed-and-breakfast located on a secluded road in Richmond, Massachusetts. The two-story Georgian-Federalist home used to be a boarding school, but the couple converted it into a rustic rental retreat that looks like the stage for an idyllic J. Crew photoshoot. The space is beautiful. Light pours in through the Palladian windows, reflecting off the dark hardwood floors, rich oak furnishings, and walls painted in Benjamin Moore's Northern Cliffs (buff) and North Sea (gray-blue). You can almost hear the sound of laughing, young models wearing striped rugbys outside while jumping off docks and onto tire swings.
Although Muytjens no longer designs clothes these days, his style and sensibility still reflect what he made while at J. Crew. In the more candid photos on his Instagram, you can see him wandering around his twenty-acre estate while wearing fisherman sweaters, quilted jackets, and intricately knotted scarves. A common thread that ties together all these images: the recurrence of patchwork pants (including a pair of Engineered Garments fatigues, I found out after some sleuthing). And before anyone reflexively shouts "Bode!," know that Muytjens has been championing this shabby chic look for over a decade. When he and his team debuted their FW10 collection at Milk Studios — what I once called Menswear's Last Big Moment — models wore subtly patched jeans and chinos, carefully pin rolled at their hems.
As a long-time fan of Muytjens' work at J. Crew, I've been hunting for patchwork pants for years. When it's too warm for outerwear in the summer, you have to make the most of your shirt and pants. That means swapping out basic jeans and chinos for things such as shorts (gasp), fatigues (an easy choice for workwear), cream-colored painter pants (a personal favorite), self-belted trousers (for a loungey vibe), white jeans (intimidating, but surprisingly good if you can find a pair that's not blindingly white) or five-pocket cords (a conservative but a reliable alternative to jeans).
I recently found the perfect pair of patchwork pants from RRL. Cut with a generous leg and mid-rise, these fit fuller than your standard slim-fit chinos. They also have vintage-styled metal buttons, tonal patchwork, and convincing paint splatters (corny, I know, but I love the look). I've been surprised by how much I wear them. They go with crisp white tees layered underneath lightweight chambrays, plaid flannels, checked linen button-ups, or denim Western shirts. They can also be teamed with basic outerwear, such as denim truckers or military-surplus field jackets. Chunky boots such as Blundstones or Red Wings help fill up the generous leg opening. If someone accuses you of blue-collar stolen valor, tell them you wear work clothes because you're working on yourself. If they groan, tell them you're also working on some new jokes. 
Options: RRL, more RRL, Todd Snyder, Isabel Marant, Engineered Garments, Levi's Vintage Clothing, Imogene + Willie, and Stoffa x 11.11, vintage Levi's and Carhartt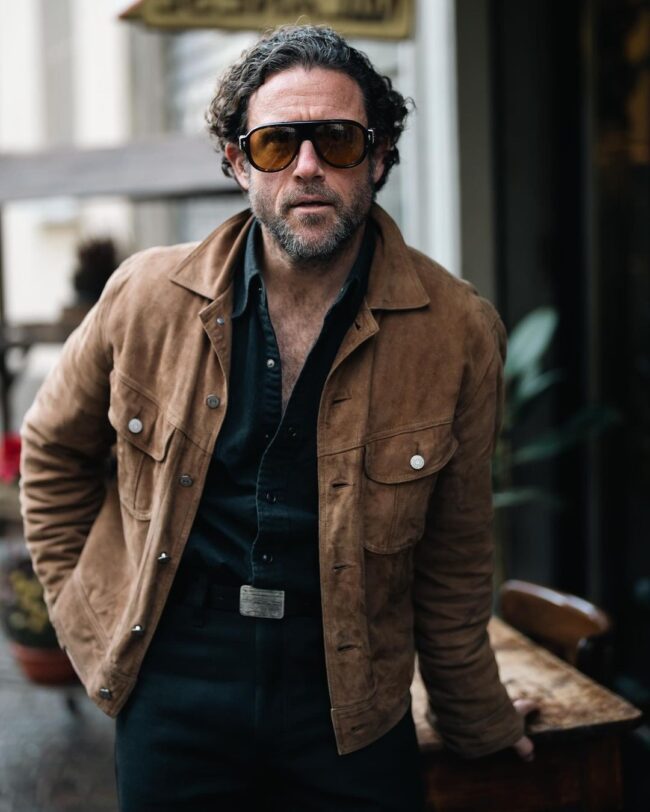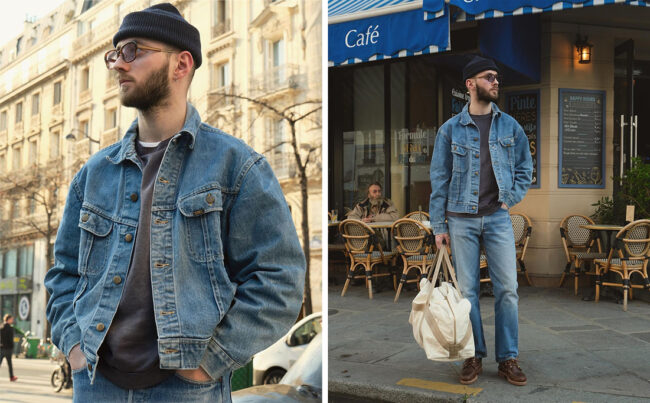 TRUCKER JACKETS
Ever since I bought a vintage Lee 101J trucker jacket from Wooden Sleepers, it's been my go-to outerwear. I use it so often that it never even makes it into my closet; it just hangs on the wall-mounted hook near my front door. The Lee 101J trucker jacket has a dropped shoulder seam, tapered body, and slightly cropped length, which to my eye, gives it a more interesting silhouette than the clean-cut Levi's Type III. I like wearing it with olive fatigues, patchwork RRL chinos, polyester bootcut jeans (Wrangler Wranchers), cotton denim jeans in tan or black, and cream-colored painter pants.
Denim jackets are the most democratic garment in menswear. They are ubiquitous, cheap, and often better secondhand. You can find them on eBay and Etsy at prices starting as low as $50 (fashionable socks cost more nowadays). I prefer the Lee 101J, but if you're looking for a Levi's Type III, consider the ones made in the 1960s, which Brian at Wooden Sleepers thinks are the Platonic ideal. "The fabric [on the 1960s version] feels different; the cut is more flattering. They have higher armholes, slimmer arms, and a slimmer torso. They fall at the right places. As you get into the 1980s, the armholes are lower, the sleeves baggier, and the body bigger. To find one from the '60s, look for the 'big E' on the red tab. That's the telltale sign."
I also really like suede trucker jackets. The problem with suede outerwear is that it easily picks up dirt and oil marks. When a suede jacket looks like something a billionaire would wear on a yacht, you'll always unconsciously baby it. On the other hand, rugged workwear styles such as trucker jackets only look better with age, so while the first stain hurts, you eventually welcome the patina. I have a tan suede trucker jacket from Barbanera, which I like wearing with black COF Studio jeans and suede Lucchese side-zips. I imagine I'll alternate between the denim and suede versions this spring.
Options: Wooden Sleepers, Brut Clothing, eBay, Etsy, Orslow, ONI Denim, Sage de Cret, 3sixteen, Iron Heart, more Iron Heart, Atelier Savas, Valstar, Officine Générale, Nudie, Golden Bear, Todd Snyder, James Grose, Barbanera, and vintage Levis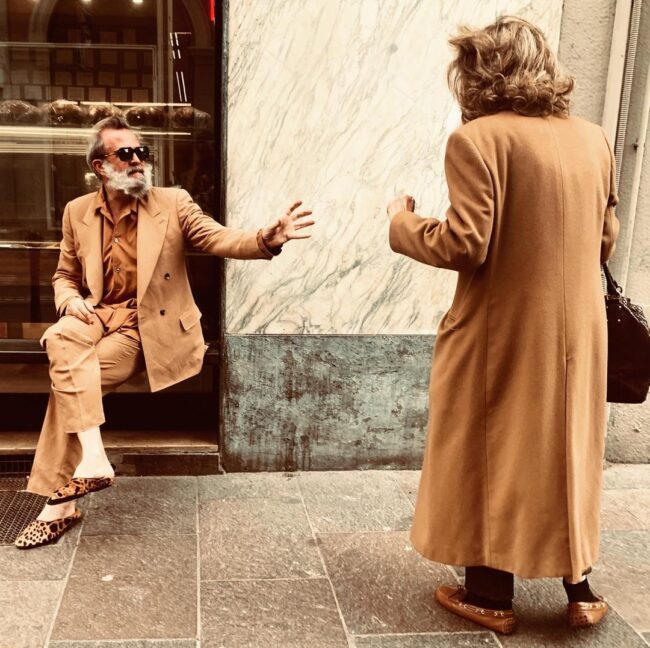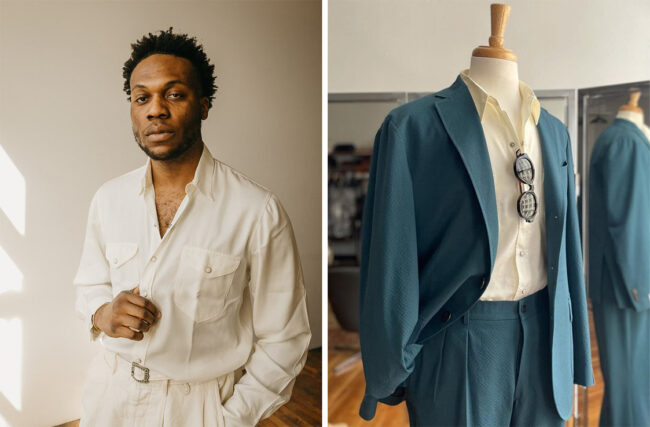 SILKY SHIRTS
I've always disliked delicate shirting. My shirt wardrobe is mainly composed of heavy flannels and oxford cloth button-downs, which I prefer because they're sturdy, cheap, and easy to clean. But in the last few years, I've been gravitating towards silky shirts for spring and fall. Silky shirts can be made from silk or rayon, a silk alternative sold under many names (e.g., lyocell, Tencel, or viscose). These shirts slink and sway when you move, feel cool to the touch, and have a louche, slightly retro vibe that is reminiscent Richard Gere in American Gigolo (the silky gabardine and rayon clothes in that film were so slippery, they almost dripped off the characters). I have rayon shirts from brands such as Wythe and Chimala, which I wear with denim trucker jackets and jeans, leather jackets and Wrangler Wranchers, and casual cotton suits. The only downside to these shirts is that you have to handwash them — or put them in mesh laundry bags, use the delicate cycle, and pray.  
Peter Zottolo, the US editor of Plaza Uomo, is a big fan of the style. "Silk shirts have a bit of baggage, which is unfair," he laments. "While silk has never been considered an everyday fabric, manufacturers made silk dress shirts in the past, and after the war rationing of the 1940s, they became more common as a sport shirt style. Then the '70s happened, and everyone derided silk shirts as gigolocore. Thankfully, those jokes have gotten old and stale, and people are discovering ways they can incorporate bits of '70s style in a way that looks relevant. When he was the Creative Director at Gucci, Tom Ford extensively mined the '70s for inspiration, but his outfits weren't '70s replications."
Peter has silk shirts from Post Romantic, a relatively new NYC label that produces made-to-measure clothes in the Punjab region of Pakistan. The prices are shockingly affordable. A customizable silk shirt made with mother-of-pearl buttons and handsewn gussets is just $115 (it also comes with a lifetime of free repairs). "For casual dinners, I wear it with faded jeans, vintage '50s Gucci horsebit loafers, and a '90s Gucci black velvet jacket," he says. "I also like how it looks with grey flannel, double-breasted suits, particularly with the jacket worn open. People who like wearing tailored clothing without a tie have probably run through all the dress shirt alternatives — Western denim shirts, Aloha shirts, and t-shirts. Each of these makes a different impression. If you're looking for something different, try silk shirts. Since getting this blue silk shirt from Post Romantic, I have three more silk shirts en route: another one from Post Romantic in the same style but in cream, and two from Budd in matte off-white silk, to be worn with dinner jackets, with — and without! — a bow tie."
Options: Post Romantic, Budd, Todd Snyder, Chimala, Bryceland's, Sun Surf, Star of Hollywood, Caruso, Frescobol Carioca, Giuliva Heritage, Umit Benan B+ (cool shirts but prices are yowza!), Basic Rights, OAS, and Two Palms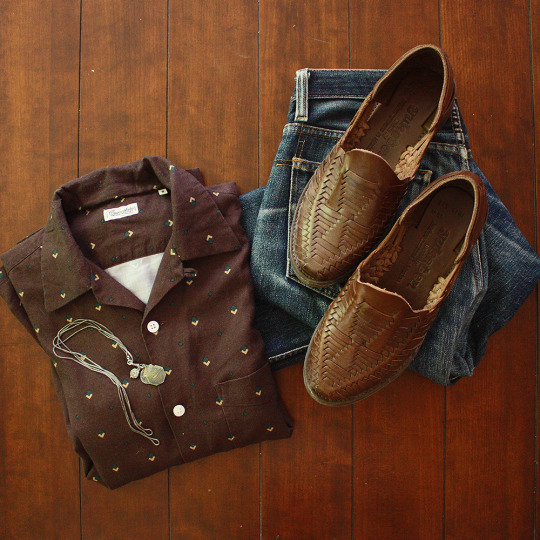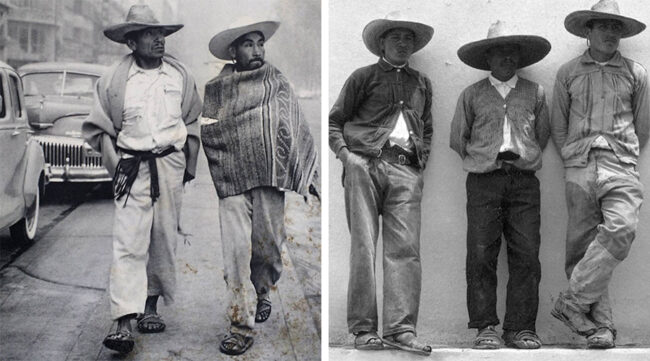 HUARACHES
It was the early 1960s and Beach Boys co-founder Brian Wilson was listening to Chuck Berry's Billboard hit, "Sweet Little Sixteen." At the time, Wilson was dating a woman whose brother was a surfer, and he had the idea to remake Berry's song into a surf anthem. The song, named "Surfin' USA," opens with a bit of fashion reportage: "You'd see them wearing their Baggies/ Huarache sandals too/ A bushy-bushy blond hairdo." When the Beach Boys song was released in 1963, it became the unofficial anthem of California's wide-eyed, beach teen aesthetic. And nearly sixty years on, almost as a testament to timeless style, you can still see that uniform in the beach towns that radiate up and down the west coast. Visit a taco stand or burger shack on some beach boulevard, and you'll see someone wearing colorful Patagonia Baggies with leather woven sandals. 
Although huaraches are indelibly linked with surfers, possibly because of that song, I've always associated them more with inland communities. In Los Angeles' Echo Park, Latino street food vendors wear huaraches while hawking delicious sugar-dusted confections and Firecracker popsicles. These sandals hang outside of Mexican markets and sit neatly arranged on the front steps of many Mexican-American homes. Markus Kittner, a footwear consultant who blogged about huaraches, says you can see them in Mexico when you visit the countryside, where they originated. "Traditionally speaking, indigenous Mexicans wear the simplest styles, whereas farmhands wear more complex but still rugged designs with nailed-down, recycled-tire soles. On the other hand, wealthy farmers wear more elaborate and finely made huaraches with leather soles, but mostly on weekends or for special occasions."
I bought a pair of huaraches from Yuketen a few years ago, and these woven leather sandals have since become some of my favorite warm-weather shoes. You can wear them with jeans and camp collar shirts, chinos and linen button-ups, and my favorite springtime outfit, five-inch shorts with some kind of long-sleeved, knitted top (e.g., sweatshirts, hoodies, long-sleeved jersey tees, polos, or thin merino crewnecks). James Taylor even wore huaraches with a suit for the cover of his 1975 album, Gorilla. I love the craft that goes into each pair, where strips of vegetable-tanned leather are woven uninterrupted over and under each other until they reach the holes in the insole. These shoes are breathable, easy to slip on, and have a rugged, bohemian sensibility that complements everything from Engineered Garments to Bode. I wear mine to get black sesame boba (a recent obsession) or to play with neighborhood cats in my backyard.  
Options: Chaumula, Yuketen, Nisolo, Cano, Espiritu (thanks to Bruce for this tip), eBay, and Etsy. You can also find them at select Mexican markets, such as Olvera Street in Los Angeles. And while No Man Walks Alone's Morrocan raffia slip-ons aren't the same as huaraches, they can be worn in the same outfits and have a similar vibe.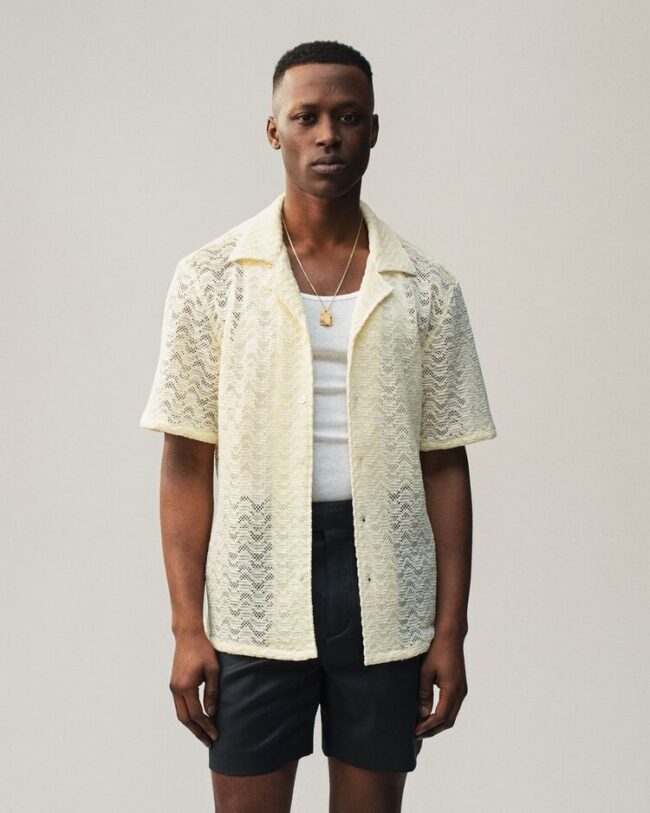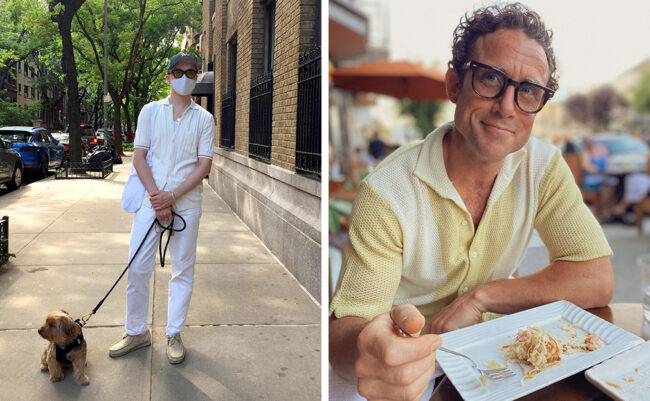 LACE SHIRTS AND RETRO KNITS
Every summer, it's a challenge to figure out how you're supposed to dress without wearing clothes. In the cooler months, it's easier to dress well because of the combinatorics involved in layering — you can throw heavy overcoats over chunky knits and thick oxford button-downs, and then use scarves, gloves, and knitted caps to create different outfits. But when we start to shed clothes in the springtime, we reveal more of our natural selves, and few of us look good naked. 
There are some obvious solutions, such as getting tailored clothing built for the heat or figuring out how you can smartly use accessories and interesting cuts. Vacation-styled shirts, linen button-ups, and popovers can help pull a simple outfit away from business casual. If you like Westernwear, I also enjoy the look of plain white or graphic tees layered underneath denim Western shirts, whether worn open or half-buttoned and tucked into jeans. A graphic t-shirt doesn't add much insulation, but the small bit of design peeking out from the top of your snap-button shirt adds something. 
I've also been intrigued by perforated, lace, and crochet shirts. Like many menswear trends, this look became en vogue recently through queer culture and has since been remixed to make straight men more comfortable wearing the style. When Aime Leon Dore released their lace shirt last year, they named it Rico, a nod to Cam'ron's hyper-masculine character in the 2002 film Paid in Full. Scott Fraser also remade two of the knits that Dickie Greenleaf wore in the stylish 1999 thriller The Talented Mr. Ripley, one of which includes a soft yellow waffle shirt. Lace shirts today have become increasingly popular because of how they intersect with other trends — the revival of '70s sleaze and '80s excess aesthetics, nostalgia for '90s street culture, and appreciation for all things camp and bohemian.
I mostly admired the style from afar, unsure whether my soft, pear-shaped body should be seen through anything perforated, until Peter Zottolo loaned me his Scott Fraser Ripley Ischia shirt sometime last year. I was pleasantly surprised to find that … it kind of works? For the timid and shy, like me, I think these shirts look best when you're wearing them open and layered over another shirt, such as a tank top or tee. You can pair them with shorts, chinos, or breezy drawstring pants. The airy top allows for a lot of circulation and helps finish a look with some cardigan-esque layering. For something more conservative, certain retro-styled knits or barely laced shirts can serve the same purpose. For relevant style inspiration, check out Willy Cheesesteak, Greg Lellouche, Cam'ron, and this pink nosed, white footed kitten. 
Options: Aime Leon Dore, Sunflower, Stussy, Bode, Amomento, Leonsense, Corridor, Todd Snyder, more Todd Snyder, Dries Van Noten, Christian Kimber, Club Monaco, King & Tuckfield, J. Crew, and Scott Fraser