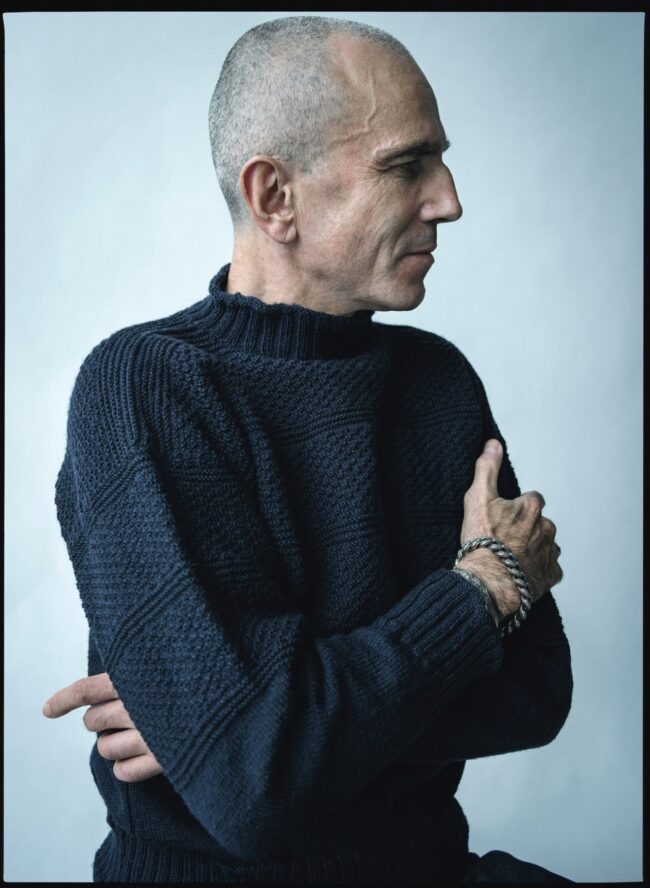 For the past few years, I've been doing these posts every season where I talk about what I'm excited to wear for spring/summer and fall/winter. I usually do these at the beginning of the season. This one comes a little late, but on the upside, I get to talk about some new things I've purchased and have been wearing. There are also more links to in-season options. 
Flamborough Marine Guernsey
Daniel Day-Lewis once said he hates to be "dressed." By which he means, "dressed by others." He rejects the conventional photoshoot routine as an artifice—photographers and stylists carefully dress their subjects in clothes borrowed from fashion labels, often those advertising on the pages next to the celebrity being featured. So when DDL was photographed for the cover of W Magazine a few years ago, he brought with him a small duffle full of his own clothes. His wardrobe that day included a thoughtful mix of styles: a bespoke three-piece Harris tweed suit made by a tailor in New York City, a blue plaid shirt, a white tee, some rugged jewelry, a pair of slim-straight selvedge jeans, a striped Breton pullover, and some rugged work boots he designed himself. "I want to wear soft, comforting, plain things," he told the interviewer. When the article was published, a small line was printed below each photograph, taking the place where brand names would usually appear. Each line read: "All clothing his own."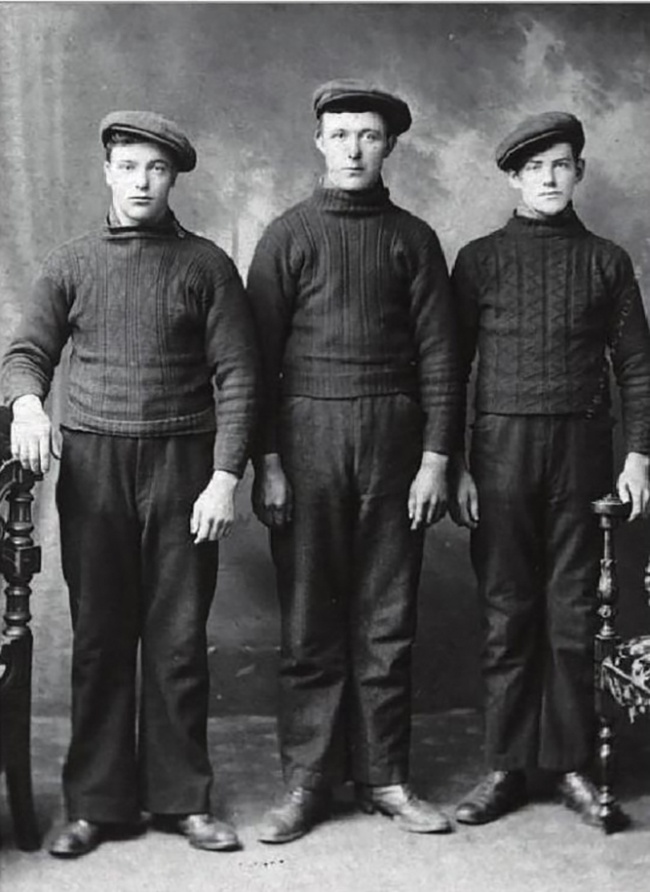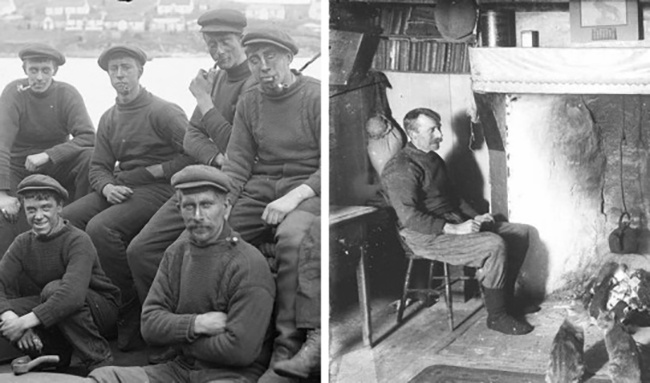 The most magnificent piece was a hand-knitted guernsey produced by Flamborough Marine, a knitwear and antique shop in East Yorkshire connected to a quaint bed and breakfast. DDL has two knits from this shop. One is modeled after something he saw online; the other is modeled after something his father, the famous poet Cecil Day-Lewis, wore during his time. Flamborough Marine's sweaters are completely handknitted—not machine knitted or even hand framed, but by local Yorkshire women who create these weatherproof knits using only two hands and five double-pointed steel needles. 
Guernseys are the second most iconic fisherman knits worn in the region. The other, of course, is the Aran, the preppy staple stocked in piles at trad shops across the United States. The guernsey is a little harder to find, perhaps because the style is a little unusual. The knitwear style is distinguished by its dropped shoulder seam, mock neck collar, and distinctive cabling. It's often said that these patterns were historically associated with specific families, never written down, but passed on from generation to generation through word-of-mouth. According to lore, the distinctiveness of these designs allowed communities to identify the poor, dead bodies of lost fishermen who had washed ashore. I've yet to find first-hand accounts of anyone's body being identified this way. I suspect the lore comes from J.M. Synge's 1904 play Riders to the Sea, in which a girl identifies her dead brother's body by his stockings.
I bought a guernsey from Flamborough Marine a few years ago, shortly after the issue of W Magazine came out, and it has since become one of my favorite fall/winter knits. These sweaters are knitted "on the round," which means they're entirely seamless, and the front and back sides are identical. Supposedly, this allowed fishermen to rotate their knits to even out wear. Practically speaking, I find this makes getting dressed easier in the morning, as I don't have to see if I'm putting the sweater on backward. These sweaters are also made using densely packed, tightly spun yarns that have been given an extra twist during the spinning process. This produces a finish that allows the yarns to repel rain and sea spray (or "turn water," as some in the region say). Of all the sweaters I've owned, none have matched the weatherproof properties of a genuine guernsey. 
Their only downside is their scratchiness. DDL must have been referring to psychological comfort when he said he prefers comfortable clothes, as these sweaters feel more like brillo pads than pillows. While I'm not generally sensitive to wool, I have to wear my sweater over long-sleeved t-shirts. I also tie a bandana around my neck to protect it from the dry wool. If you're willing to put up with a bit of itchiness, the style goes excellently with workwear—vintage trucker jackets, military surplus field coats, shell cordovan boots, raw denim jeans, thick flannels, stout sweats, and anything else rugged. If you get one from Flamborough Marine, use the measurements of your best-fitting sweater, and consider getting a full-length cabled design if you, like me, have a bit of a belly.  
Options: Flamborough Marine. For more affordable, softer, and machine-made guernseys, check Le Tricoteur, Guernsey Woollens, and Kestin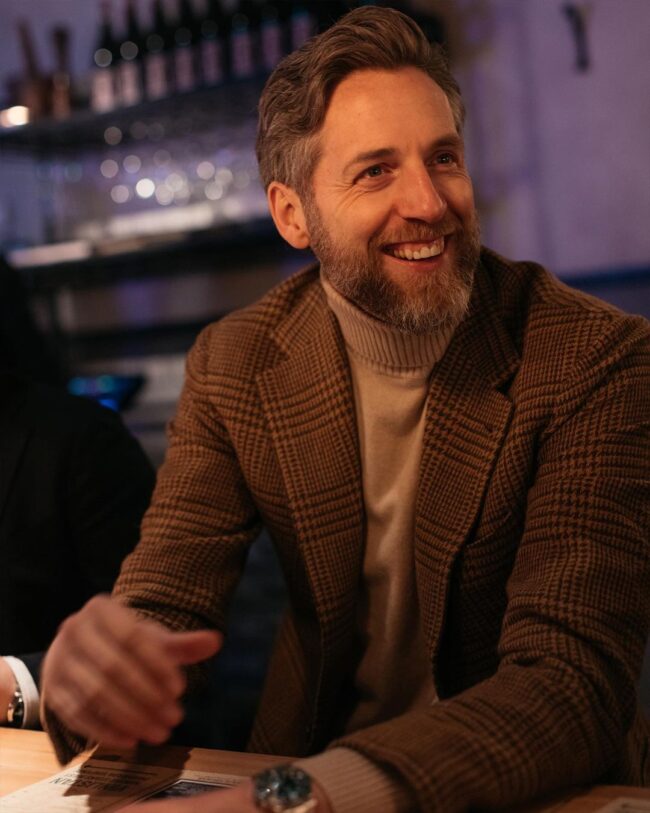 Turtlenecks Under Tailoring
Dressing up and going somewhere nice for dinner is one of life's great pleasures. If you can afford to do it at least once a week, I strongly recommend it. Since the country started to reopen two years ago, I've made a point to go to my favorite restaurant every Friday or Saturday, and it has been the single best thing I've done for my mental health. You don't have to go to the French Laundry or one of those Michelin-rated restaurants, where dinner portions take up a 1/10th of the plate. In the Bay Area, any restaurant where the main course costs at least $25 will do. Going somewhere fancy gives you a chance to decompress, enjoy a good meal, and, most importantly, wear nice clothes. 
By nice clothes, I mean suits or sport coats. Because if I'm paying $25 for spaghetti, I'm damn sure not wearing the same clothes I wore at home. Men who have trouble wearing tailored clothing in daily life will find these clothes look completely at home in an upscale restaurant or bar—even if few other patrons are dressed up. 
I try to go out every Friday or Saturday, even if I have work to do. But this also means I don't always have time to iron a shirt. The solution: I wear a turtleneck under my tailoring. Soft knitted shirts such as long-sleeve polos for spring/summer and turtlenecks for fall/winter allow you to get dressed quickly, look sharp, and feel good about yourself, even if you were just in pajamas moments before. They also fill up the space between your coat's front edges when you're not wearing a tie—a useful trick in today's dressed-down world. Last year, I bought this mid-grey turtleneck from Brooks Brothers and have been pleasantly surprised by how well it has held up (especially given the affordable price). The material is less clingy than John Smedley's turtlenecks, and the collar has a pleasant thickness when folded. I'm looking forward to wearing it this season with wool-mohair suits, gabardine suits, and tweed sport coats.
Options: GRP, Inis Meain, Doppiaa, Brooks Brothers, The Armoury, Berg & Berg, Colhay's, Club Monaco, William Lockie, Mr. P, John Smedley, Incotex, Cordings, O'Connell's, Ben Silver, Todd Snyder, Drake's, Trunk, and Uniqlo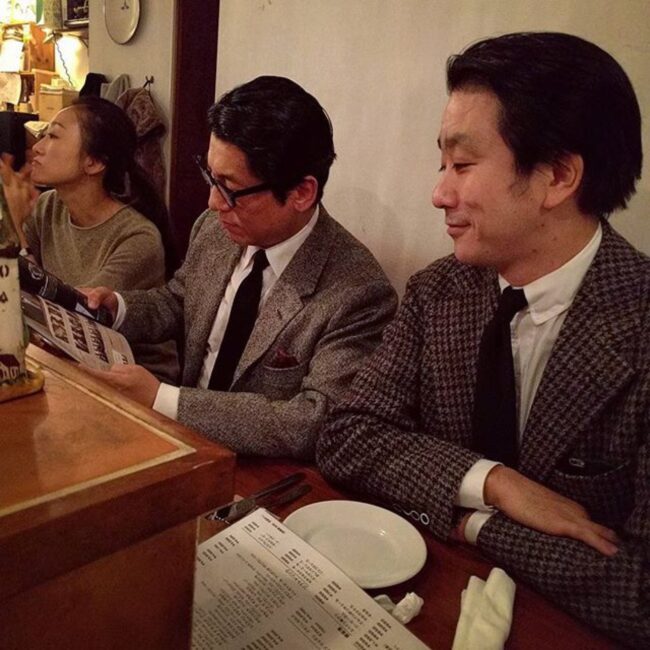 Grey Tweed for Evenings
Speaking of wearing tailored clothing for dinner, I've developed some views over the years of how to dress for the evening. First and foremost, the governing principle should be elegance. This means sober colors, such as charcoal and navy, rather than tan; refined fabrics, such as wool-mohair, instead of corduroy. It also means wearing black shoes when you can, as softly polished calfskin looks better at night than brown.
To be sure, this depends on what you're doing. Tailored clothing may be the wrong choice if you're going to the pub to play pool with friends. But if you're going to an upscale restaurant or bar, you'll feel better about your clothes if you try to dress with the intention of looking elegant. Last year, Simon at Permanent Style published a useful "cocktail guide," which showed how stylish men such as Jake Grantham, André Larnyoh, and Tony Sylvester dress for evening affairs. You can see the themes. The clothes are sober, but not business-y, and they fall just short of black tie. They come in textured materials such as flannel and velvet, or shiny wool-mohair mixes, distinguishing them from the superfine worsteds you might wear to the office. Overall, the idea is to dress elegantly but in a way that looks festive.
If a suit feels too formal, and you don't want to go all the way to wearing a velvet dinner jacket, try a grey tweed. Grey tweed looks better at night than its brown counterparts. Some patterns, such as brown gun club, almost only look right in the afternoon. In the evening, a grey tweed looks more casual than suits and formal dinner clothes, and it can be teamed with charcoal trousers, a white shirt, a black knitted tie, and black tassel loafers to convey a sense of refinement. I wouldn't recommend getting grey tweed as your second or even third sport coat—brown is still much more useful, especially if you mainly wear grey trousers. But if you already have two or three brown tweeds, consider grey for your next acquisition. It can also be worn in the daytime with blue jeans and suede chukkas for a semi-casual look.
Options: Sartoria Carrara, Spier & Mackay, and Besnard. If you're going custom, I think this Fox tweed is a handsome option. I saw a friend wearing a Carrara sport coat in this fabric last year, and was so taken by it, I ordered a similar garment from Solito.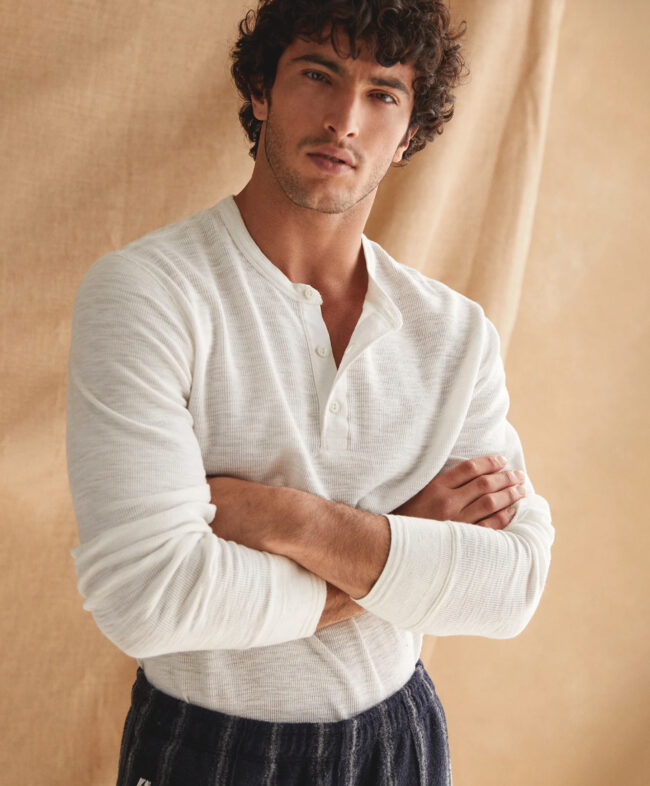 Todd Snyder Henley
I'm embarrassed to admit that I purchased this Todd Snyder henley a few months ago, knowing full well that what drew me in was not the Peruvian slub cotton or the cozy texture, but the hazy, distant possibility that wearing this shirt would give me the strong shouldered, broad chested, chiseled appearance of the model pictured above. Henleys are one of the most deceptive garments in menswear. They're linked to the muscular physique and honest work ethic of a mythologized working class from the past. However, since there is no structure or collar, they fit more like a long-sleeved tee. Men today buy them in a desperate attempt to cling to the henley's masculine associations, much like how the soft, thin knit clings to the fullness of the wearer's belly. I bought this henley knowing I was falling for a textbook ruse, but with Todd Snyder's easy return program, I figured I wasn't risking anything.
This henley, it turns out, is quite nice. The material is slightly thicker and more textured, making it drape better across soft bodies. On my size 38 chest, the small is appreciably slim but not body-hugging. I like how the collar sits higher on the neck than Merz b. Schwanen's vintage-styled designs, and the placket is reinforced on the underside while the face side is made from the same cloth as the body. These details give the henley a slightly more modern feel and keep it from looking like 1930s underwear.
Most of all, it's insulating (I assume because of the waffle texture). I mostly wear mine underneath flannel or chamois shirts. With the top button or two undone, the henley peeks out from under a shirt, helping to create visual interest. I like mine so much that I've been thinking about picking up another, possibly in black or olive (although I suspect a second in white will get more wear). Unfortunately, this henley doesn't replace a regular schedule of diet and exercise—you still need to work and be blessed with the fortune of good genetics if you want to look like the guy above. However, it does a good job of keeping heating bills down and adding a bit of oomph to plain wintertime outfits. 
Options: Todd Snyder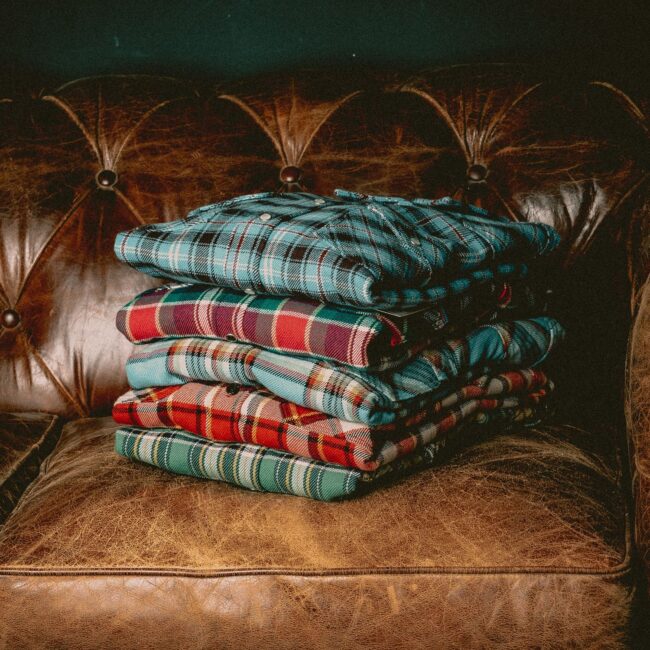 Yes, Flannels
Someone recently asked me if I've ever written a guide on "essential shirts." I have, sort of. But over the years, I've also come to feel that guides about essentials aren't very useful. People are better off thinking about how to develop a sense of personal taste (hence my recent series on taste) and then build what I call a "springboard wardrobe," so they can dive into different aesthetics and explore. There are too many possible aesthetics nowadays. Any guide on essentials risks being either reductive and boring or too specific and contextual.
That said, I can't imagine going through a fall/winter season without my stash of flannel shirts. They're the natural accompaniment to blue jeans, comfy and insulating, and go well with the sorts of rugged outerwear I rely on this time of year. I prefer the heavier, more rugged variety—a thicker fabric, a non-button-down collar, chest pockets, and vintage-styled buttons. These go better with raw denim, whereas the dressier, slightly more refined flannels are suitable for tailored trousers. There's something weirdly comforting about wearing a thick flannel shirt with raw denim jeans. It's an admittedly simple and boring uniform, but one that feels very "me." 
Options: Proper Cloth, Taylor Stitch, Wythe, Fujito, G. Inglese, 3sixteen, Iron Heart, Engineered Garments, Carhartt WIP, Portuguese Flannel, RRL, Gitman Vintage, Neighborhood,  The Real McCoys, Freenote, The Flat Head, Sugar Cane, Seuvas, Stevenson Overall Co., Imogene + Willie, Rogue Territory, Indigofera, and vintage on eBay and Etsy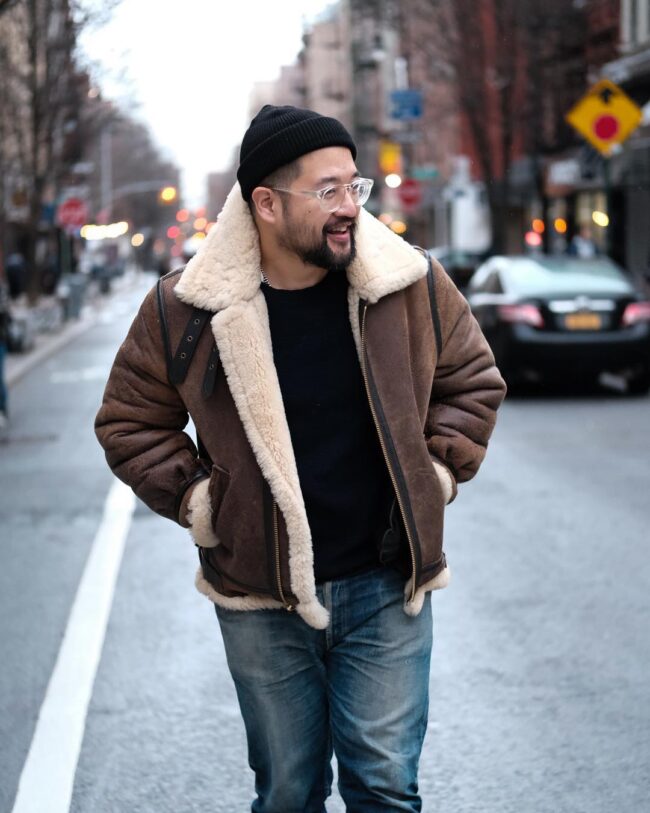 Shearling Jackets
There are lots of reasons to be skeptical of shearlings. Vintage ones are big and bulky, and often have furry seams running up all over the body, keeping the offcut pieces of leather together and making the wearer look like King Kong. They're also expensive to acquire and nearly just as expensive to clean. Since shearling is leather with fur attached, you have to find a specialist who can handle this type of material. Plus, many people assume you have to live in the arctic to wear something so thick and warm (you don't). 
Shearling coats can be worn any time the weather drops below 60 degrees. They're soft and cozy, built with a thick layer of plush wool carpeting inside. I think of them as leather jackets with built-in sweaters. The best thing about them is that they can be thrown over almost anything—thin merino knits, stout sweatshirts, or even t-shirts. A few years ago, I interviewed 3sixteen co-founder Andrew Chen, whose personal style I admire. Andrew relies on simple things: hoodies, sweats, flannels, t-shirts, and jeans. As a busy father with two active boys, these are practical clothes he can wear and throw into the wash. But he also has a few key pieces that pull his outfits together: quality boots and sneakers, Good Art jewelry, heavy overcoats, horsehide bombers, and a hulking Schott B-3 shearling (pictured above). When I interviewed him, Andrew told me the Schott was "easily the best purchase [he'd] made in a while."
I have a black suede James Grose shearling that I like to wear with grey sweatshirts, black jeans, and black boots. It also goes with dark olive cargo pants. I love how easy it is to wear since it functions as a statement piece—everything else underneath can be simple and easy to clean. You obviously have to be comfortable with a slightly chunkier silhouette. These are not for people who insist that everything should be slim fit (I also think they look better when they're looser, which adds to the visual bulk). But that silhouette has a certain masculine charm, and it looks great with slim-straight jeans and heavier boots. 
Options: Valstar, James Grose, Naissance, Todd Snyder, J. Peterman, Schott, Blake Headley, Purdey, Dunhill, Mr. P, The Armoury, and Permanent Style. If you can't find what you want, you can also check out Atelier Savas. They do custom leather jackets—made-to-measure or bespoke—and have stores in Nashville and Los Angeles (additionally, they do trunk shows in NYC at The Armoury). Savas is run by Savannah Yarborough, who was a designer at Billy Reid. She has an unusual background in that she's skilled in both fashion design and traditional craft techniques.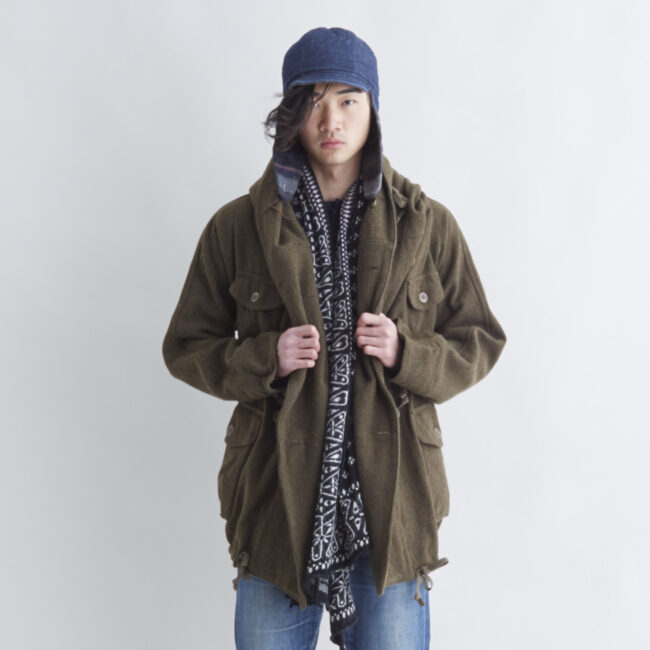 Kapital Ring Coat
A couple of weeks ago, I was looking up photos of Tibetan herders online, admiring their sheepskin coats fringed with fur, brilliantly colored accessories, and familiar Western items like cowboy hats. Traditional Tibetan dress tends to revolve around robes (or zhuba in the Tibetan language), which feature overlong sleeves and wide fronts that button on the right side (much like a double-breasted overcoat). Herders typically wear heavier lambskin robes, whereas farmers in the pastoral regions just outside of Lhasa wear robes made from a traditional Tibetan woolen known as pulu. If you have a moment, I encourage you to look up some of these photos online—I've rarely seen clothing more beautiful. 
Some of these robes reminded me of Kapital's ring coat, the Japanese brand's most iconic design. The ring coat started in the early 2000s as one of Hirata's personal projects. It was in development for four or five years, going through multiple iterations before finally making it into Kapital's stores. "The first one was made from an olive green military fabric," says Kana Rosos, Kiro's sister, who handles communications and international sales for the company. "Not many people were initially interested in it, and that's OK. We believe certain items need time and patience to be recognized. We've always loved this design and carried it in Kapital's stores since its release in 2005." 
Of course, the ring coat is based on something other than Tibetan robes. I think of it as a mash-up between Japanese kimonos and American military surplus field jackets (with their jungle jacket pocket configuration, drawstring waist, and tonal buttons). The elephantine silhouette is made with a wide wrap-front and square T-shaped sleeves. The style is available in both regular and long lengths and comes in many different fabrics—brushed cotton twill, 10oz rinsed denim, Melton wool, quilted nylon, and painted cotton-nylon ripstop. The coat doesn't just cover the wearer; it smoothers and swaddles. It's an enveloping fit that makes you feel like you're wearing an emotional support blanket. I find it easy to wear with basic things, such as slim-straight blue jeans and a chunky sweater (even a grey sweatshirt will do). But it's better if you can incorporate at least one other Kapital item into your outfit to pull everything together—Kapital's naval side-zip boots or chunky scarf. My olive cotton Kapital ring coat has been sitting in my closet, mostly unworn in the last couple of years, but after seeing those Tibetan photos online a few weeks ago, I've been grabbing it more. If you're interested in buying one, I find that a size 2 corresponds to a chest size 38, a size 3 to a chest size 40, and so forth. 
Options: You can find Kapital's ring coat at Canoe Club, Standard & Strange, Stag Provisions, Kafka Mercantile, Independence Chicago, Glasswing, and Cotton Sheep. They are also available on eBay. Although the style is so particular, I think it's safer to buy one from a store located within your country, so you can easily return the coat if it doesn't work out. For more authentic Tibetan clothes, check out the luxury brand Norlha. I wrote a profile about them a couple of years ago.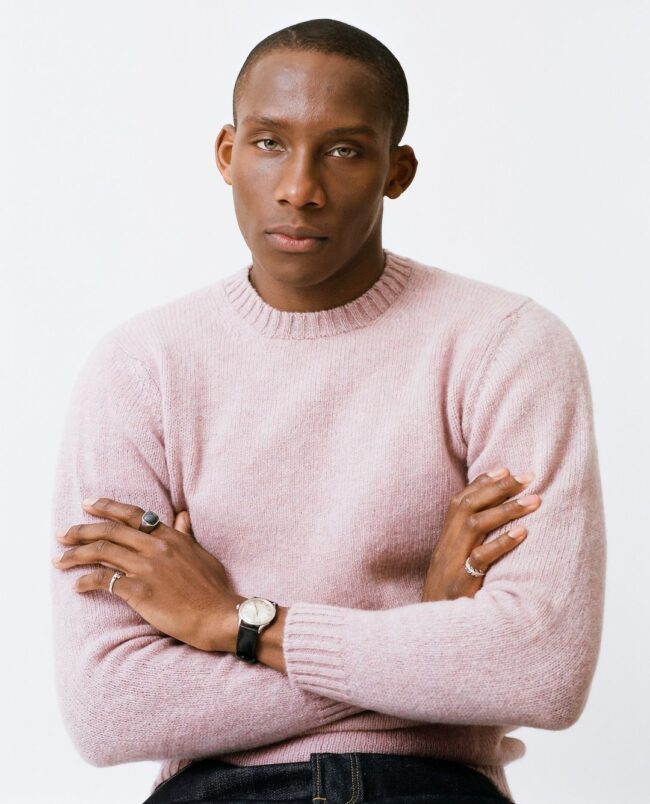 A Different Colored Shetland
It's such a simple thing, but I'm looking forward to wearing slightly more unusual colors for my Shetland knits. A couple of months ago, I was late for work and didn't have time to coordinate an outfit. So I opened my sweater cupboard and grabbed the first sweater I saw. It was a forest green Shetland from O'Connell's, which I layered underneath a vintage Ideal fishing jacket and paired with my patched-up RRL chinos and black Blundstone boots. I ended up quite liking how I looked that day. The unexpected knitwear color felt cheery on what was an otherwise cold, dreary afternoon. 
I realize dark green isn't the most adventurous color. But for men like me, who primarily wear staple colors such as navy, brown, and grey for their knitwear, green adds something new. I've since been thinking about adding another color to my Shetland rotation—maybe a soft foam pink, mist green, lemon yellow, or madder red. I wouldn't neglect brushed or cabled varieties, either. There's a scene in Scent of a Woman, where Chris O'Donnell wears a deep burgundy, cabled Shetland between his blue oxford button-down and heavy overcoat, which I've always thought looked very stylish. If you're looking to mix things up this season, consider a Shetland in a new color. Sometimes a fun color is just enough to push you outside your comfort zone and bring you the joy you wanted to feel in your wardrobe this season.
Options: Malloch's, Junior's, Howlin, O'Connell's, Drake's, The Carrier Company, Guideboat, J. Press, The Andover Shop, Jamison's, Laurence J. Smith, Trunk, William Crabtree, Anglo Italian, The Merchant Fox, Brooks Brothers, J. Crew, Cordings, Rowing Blazers, Noah, and Boise (the last comes Bruce Boyer recommended)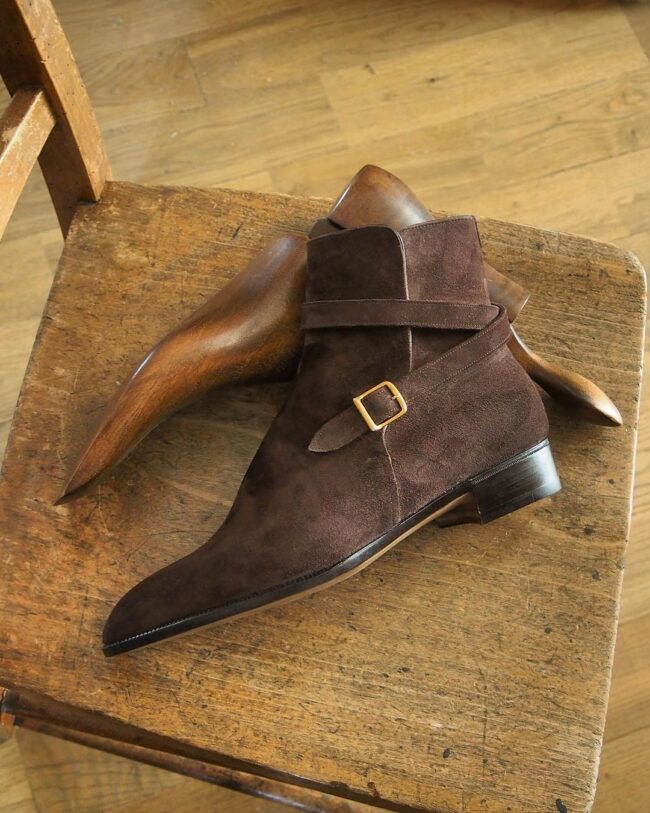 Jodhpur Boots
Earlier this year, I met up with Nicholas Templeman in San Francisco while he was in town for a trunk show. When we returned to his hotel room after dinner, he showed me a pair of waxed calf jodhpurs he had made for himself. It's a running joke in the bespoke trades that tailors and shoemakers never have time to make anything for themselves, as they're too busy producing things for clients. But during the lockdown, when people couldn't travel, Nicholas must have found time to make these waxed calf boots. His photo on Instagram doesn't do them justice—the color is richer and less washed out in person. Waxed calfskin is essentially a thicker reverse calfskin (suede) treated with wax. The material is traditionally used to make riding boots because scuffs can be quickly taken out with a deer bone (this is the actual use for deer bone, not for removing rolls in shell cordovan, as countless YouTube videos suggest).
I was so impressed by the boots that I later took two pairs of jodhpurs out from the back of my closet. They must have been sitting between the stashed boxes of old college papers and cloth swatch books for years. I bought them nearly a decade ago, shortly after seeing a photo of Hiroki Nakamura in a pair. Like many men who fool themselves into thinking they can look as cool as the Visvim designer, I ended up purchasing something similar—first, a pair of tan jodhpurs from Ralph Lauren, and when those hardly got any wear, I foolishly "upgraded" to mid-brown suede boots from Edward Green. I think I wore both pairs for a grand total of a dozen times before they were relegated to the deep pits of my closet.
I pulled them back out recently, dusted them off, and found that I actually enjoy wearing them. Over the years, I've grown to like Westernwear, incorporating RRL's slim-straight jeans, vintage Lee trucker jackets, denim Western shirts, and vintage Native American buckle belts into my daily wear. And jodhpurs fit naturally into that kind of wardrobe. Hedi Slimane keyed on something important when he used buckled boots in his Saint Laurent collections. These slim boots have the power to make you feel rugged and chic at the same time. The only catch: jodhpurs go better with very slim pants, so if you've been riding on the wide-legged wave, you may get more use out of some chunky Blundstones (which are still one of my favorite fall/winter footwear options).
Options: Meermin, Beckett Simonon, Carmina, Crockett & Jones, Ben Silver, Edward Green, John Lobb, and Baudoin & Lange. If you go bespoke, I use and recommend Nicholas Templeman.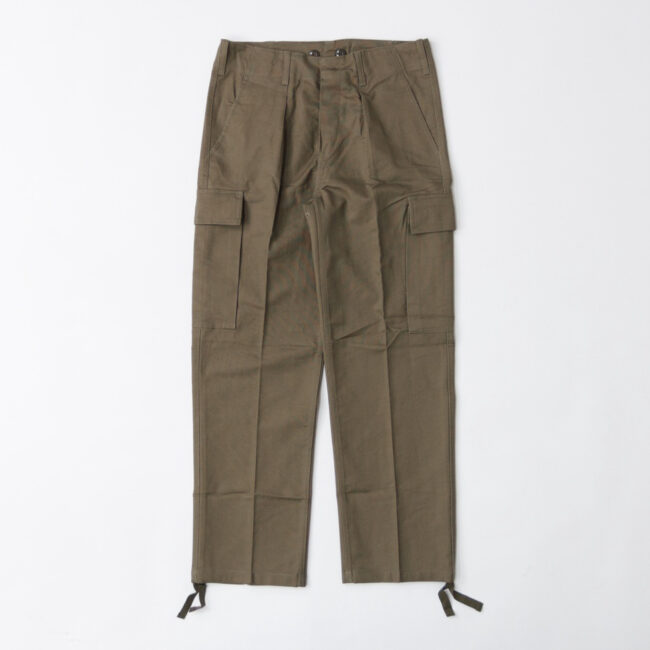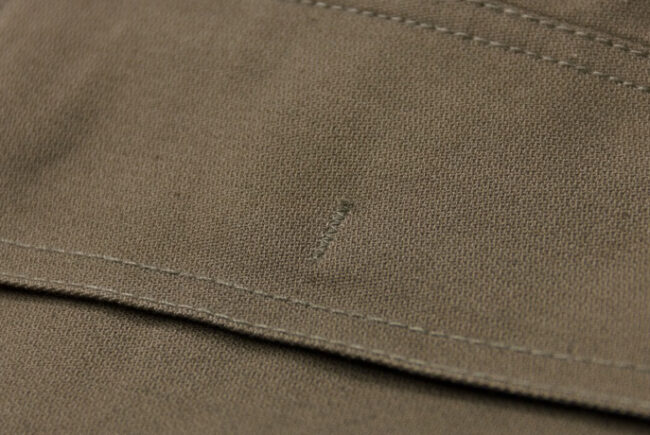 German Army Pants
I firmly believe we're in the era of pants. Ten years ago, men were encouraged to buy the basics—slim-straight raw denim jeans, classic flat-front chinos, and versatile grey flannel trousers. The logic is that, when you have a small wardrobe, it's better to rely on simple things that can be easily mixed and matched with various shirts and jackets. Pants are usually made to visually fade into the background, helping to put the focus on things that matter (e.g., a suit jacket or sport coat, fancy outerwear, or for sneakerheads, a pair of amazing shoes).
That's still a smart strategy when you're just starting to build a wardrobe, but for guys who have all the basics, it's also fun to play around with different options. Some of my favorites include patched-up RRL chinos and self-belted Lemaire pants made with voluminous legs. There are also some really great "non-basic" options that are affordable: Stan Ray painter pants (Dickies offers a similar style), olive Stan Ray fatigues (the wider ones are better), Carhartt double-knees (popular, but still great), and Wranger Wranchers (made from pure polyester, but has a cool vibe that reminds me of people at dive bars). 
I recently picked up a pair of post-war German Army cargo pants, the leg counterpart to the popular German Army Trainer. With these being priced around $50, you can expect some compromises in quality. The buttonholes are functional but not cleanly finished; the straps at the hems easily get pulled into the tunnel, unlike the more carefully constructed cargo pants I own from RRL. It should also be noted that, while this is advertised as moleskin, it's not made from the soft, velvety, brushed variety that hails from England, but rather the unbrushed version from Germany (see the second photo above). The material feels a bit rougher—and cheaper. 
Still, I've enjoyed wearing these with Nigel Cabourn parkas, a vintage Lee trucker jacket, and a black Schott double rider. They have big buttons and gusseted pockets. The silhouette is classic—neither too full nor slim—and if you cinch the hem, I think you can create a slightly more interesting silhouette than what regular pants provide. Like many of the aforementioned options, I like how they're cheap and add a little diversity to a basic wardrobe. If your casualwear involves a lot of workwear, these can be a fun break from your everyday raw denim. 
Options: Amazon and eBay. Be sure to size up! These are high-waisted and not vanity sized, and since they're shipped from Germany, returns aren't always simple. I typically wear size 30 in pants and took a 32 in these.