It's easy to get down on summer clothes. They don't have the natural appeal of fall and winter wardrobes – there are no plush cashmere knits or prickly tweeds to draw you in, and there are few opportunities to layer. Over the years, however, I've come to appreciate how the changing of wardrobes helps mark the passing of time. Summer allows us to wear camp collar shirts, soft suede loafers, and airy materials, such as Tencel and linen. It's also a good time to reintroduce ourselves to cheerier colors: warm peach, French blue, and sunflower yellow. If you're looking for ideas on what to wear this season, here are ten things I'm particularly excited about. 
Bold Striped Shirts
White shirts are an all-time classic. During the Middle Ages, being able to wear a fresh linen shirt every day suggested you had wealth and status. White shirts were considered underwear, the first layer against the skin, and were easily soiled during a time of limited hygiene practices. Blue shirts, on the other hand, came much later as part of the uniform of laborers, sailors, and even prisoners.
Throughout the 20th century, the term "blue collar worker" has come to mean a certain kind of person: unaffected in manner, simple in ambition, and dependable in work. It has also become a useful rhetorical device to describe industrial capitalism while side-stepping more difficult ideas about class – the honest blue-collar worker stands opposed to the sniveling scriveners of white-collar middle-management. In his 1919 muckraking exposé The Brass Check, Upton Sinclair, a staunch socialist, neatly summed up his views on working-class struggles by talking about shirt colors. 
It is a fact with which every union workingman is familiar, that his most bitter despisers are the petty underlings of the business world, the poor office-clerks, who are often the worst exploited of proletarians, but who, because they are allowed to wear a white collar and to work in the office with the boss, regard themselves as members of the capitalist class.
Of course, men today have both white and blue collars, and many don't wear collars at all. I mostly rely on light blue shirts for simplicity, but over the last year, have come to appreciate how good a colorful striped shirt can look underneath plainer suits and sport coats (plus, multi-colored shirts better represent our complicated post-industrial economy, keeping with Sinclair's point). A bold shirt adds visual interest. It's cheery and fun. It can substitute for a tie. You don't have to get too crazy with it — a wide butcher stripe in blue can be bold, as can thinner Bengal stripes in burgundy, Tiffany green, and yellow. As Drake's Creative Director Michael Hill notes, a bolder shirt can also be a safe, first-step into a more colorful wardrobe.
Options: G. Inglese, Proper Cloth, P. Johnson, and Drake's
The Tan Gabardine Suit
I have a few suits in casual materials such as corduroy and linen, but being shy and weak-willed, I only ever wear them as separates. A few years ago, having realized suits are more stylish than sport coats, I commissioned a tan gabardine suit from Steed. Gabardine is a tightly woven twill that can be made from either cotton or wool. The material has a delicate drape, beautiful movement, and liquid hand. Best of all, the jacket only really works as part of a suit (although Colin Heywood, the Managing Director at Anderson & Sheppard, told me customers sometimes commission navy DB blazers in the material). Like buying shredded wheat biscuits, I'm hoping this tan gabardine suit will force me into making better life choices. 
Options: Unfortunately, I don't know of any ready-to-wear options. If you have a custom tailor, Holland & Sherry has some lovely wool gabardine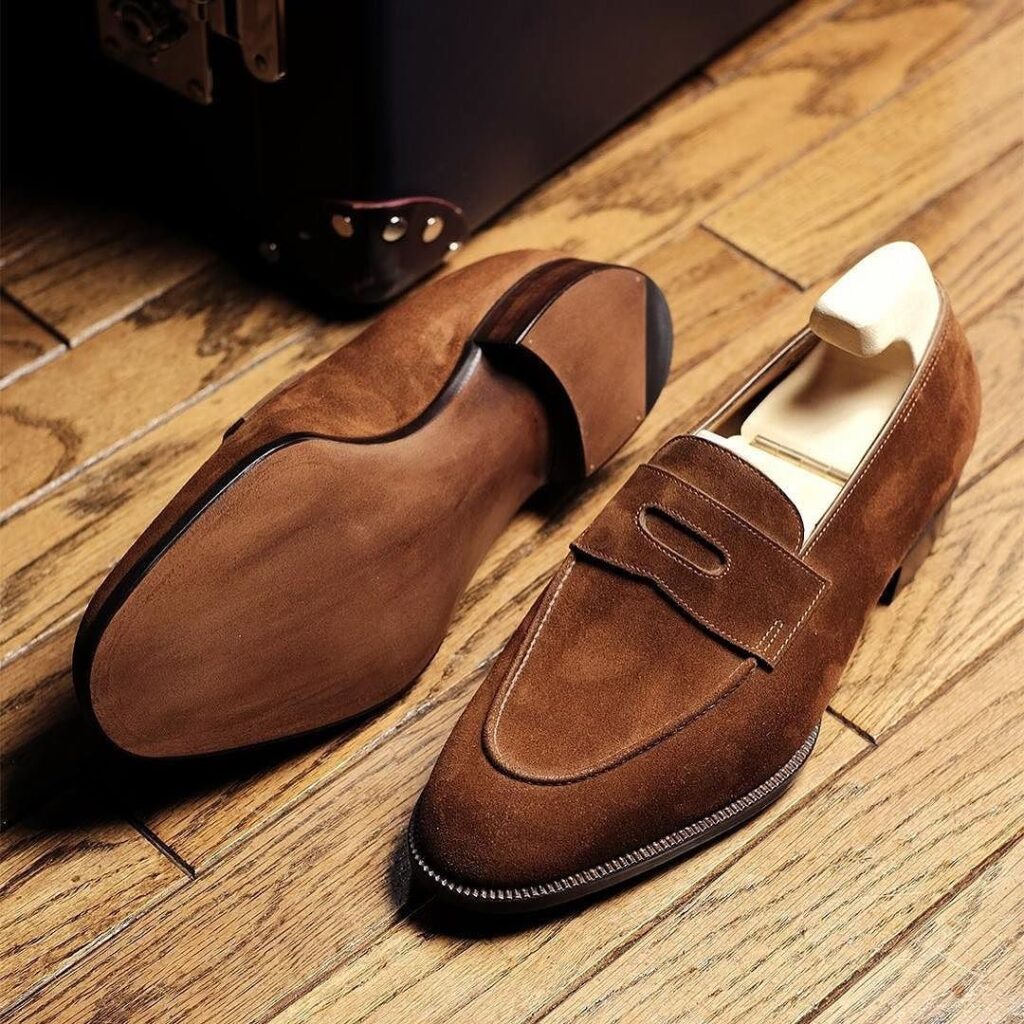 Brown Leather Loafers
Fashion has always followed the zeitgeist, and prep has been on the wane in the last few years as people have become more sensitive to the issues surrounding class and privilege. But just because every pair of pants has an asshole inside doesn't mean I'm going to stop wearing pants. Tassel and penny loafers look great with suits and sport coats, denim and chinos, tailored trousers and button-down collars, and even a bit of offbeat Japanese workwear. For much of American history, sack suits and penny loafers were the lingua franca of menswear. I wear JM Weston's high-walled 180 penny loafers with a Kaptain Sunshine photographer jacket and pair of 3sixteen jeans. For dressier outfits, I prefer sleeker lasts, such as Edward Green's Piccadilly. A soft loafer is just about the perfect choice for summer footwear – it's relaxed but smart, it slips on and off, and it's quintessentially American. I can't imagine going without a pair or two or three. 
Options: Meermin, Löf & Tung, Carmina, Alden, JM Weston, Edward Green, John Lobb, Enzo Bonafe, Carlos Santo, Rancourt, Brooks Brothers, and Crockett & Jones
Slightly Tinted Eyewear
A few months ago, I made a post on StyleForum asking if any members had experience with lightly tinted eyewear — the kind where the tinting is done for fashionable effect, as you'd see on drugstore cowboy or a sassy patron in a Midwestern diner. One member cautioned they'll make me look shady, and they're inappropriate for business. Which seems closed minded. What if my business involves selling cocaine? Oversized, yellow gold aviators with lightly tinted, gradient lenses could be a boon for business.
Over the last year, I've caught myself admiring eyewear frames that are a few shades short of being sunglasses. Kyle at No Man Walks Alone wears a pair from Moscot. Ethan Newton has a vintage pair from Japan's subterranean eyewear mecca Solakzade. Guisseppe of Man in This Town snapped the photo above. When Andy Warhol took Yves Saint Laurent's portrait, the French fashion designer was wearing a pair of streamlined, lightly tinted frames. I can already hear what you're saying: "These are impractical! They're too dark for indoors and not dark enough to wear outside." In reality, they make colors more vivid. Plus, who doesn't want to look at life through rose-tinted glasses? I have two frames from Dita and Jacques Marie Mage – one with gradient brown lenses, the other slightly gray – that I'm looking forward to wearing this summer. 
Options: Any pair of frames can be made with lightly tinted eyewear (check with your local optometrist), but I find retro-inspired designs to be best. Check Dita, Jacques Marie Mage, Moscot, Eyevan 7285, Our Legacy, Mykita, and actual vintage dealers. 
Small Details
"It's all about the details" is the mother's milk of menswear writing, but details truly matter when it's too hot for outerwear. Just look at Greg from No Man Walks Alone pictured above. His self-belted chinos have a strap loosely hanging off the waist, while the rust-colored pullover features a more unique Moroccan collar line. I like the hat, but hat-shy readers can still look tremendous with the collar and belt details alone. Swap these out for plainer chinos and a button-up, and the effect wouldn't be the same.
This summer, I'm looking forward to wearing a Morrocan collared, woven pullover I have from an old season of Blurhms. Barena's henleys are also useful for this kind of thing. They're a fine cotton model with a smaller neck opening and thinner placket, which make them easier to wear if you find most henleys to be too rugged. Sometimes an interesting detail or two are all you need.
Options: Kaptain Sunshine, Kaptain Sunshine, and more Kaptain Sunshine. Also, Lemaire, GRP, and Barena.
Wide Pants
For the last thirty years, wide pants have been considered the style signature of EDM ravers, sloppy dads, and football coaches. And while today's slim-fit trend initially came as a reaction to Armani excesses, most men first experience trimmer clothing not through suits, but through trousers. The first rule almost everyone learns when upgrading their wardrobe: get pants that fit (i.e., ones that give you the semblance of human legs) and know how the hem should break.
But wide pants can be a great way to play with proportions and silhouettes. If you have a flat stomach, a slim tee can be tucked into a pair of wide-legged trousers for a modern-but-also-retro look. This summer, I'm looking forward to wearing a pair from Lemaire with camp collar shirts and Margiela slip-ons. To be sure, this is the kind outfit worn by people who live in all-white spaces, where the only furniture are imported beanbags set on Beni Ourain rugs. I imagine these people spend their life reading deeply, browsing empty boutiques, and caring for succulents. I'm not rich enough for that lifestyle, but wearing wide pants allows me to dream.
Options: Lemaire (pictured above), John Elliott, Stan Ray, Carhartt WIP, Chimala, Phlannel, Niche, and Fujito
Anything Rayon
Rayon can feel like a downright magical material in the summertime. It's a half-natural, half-synthetic fabric made from mashed-up wood pulp. Much like how a chef might make spaghetti, a mill extrudes cellulose pulp through a machine to make filaments, which are then chemically treated so they become fibers, the building blocks of woven fabrics. Rayon can be made to imitate the texture of wool, cotton, or linen, but it's most commonly used as a silk substitute. 
There are many types of rayon — viscose, modal, and lyocell included — but most share the same properties. They're soft and silky, cool to the touch, and don't insulate body heat. That's why cupro, a type of rayon, is commonly used to line suits and sport coats. In the summertime, I like them for shirts, Aloha prints most commonly, and contemporary styled trousers. I love how the cool-wearing fabric feels against the skin on a hot day, but be aware that pure rayon should be hand-washed. For something easier to manage, check for rayon blends, which have the silky hand of rayon, but are machine washable. 
Options: Bryceland's (pictured above), Soulive, Niche, Blue Blue Japan, Portuguese Flannel, Two Palms, Officine Generale, NN07, House of St. Clair, Paul Smith, Frescobol Carioca, Reyn Spooner, and Kato.
Chunky Rings
Since the end of World War Two, men's jewelry has come in and out of fashion. In the 1970s, when it was socially acceptable for men to show a more feminine side, hippies and counter-culture types wore bracelets and necklaces; high-flying business elites wore flat links with pinstriped suits in the '80s; surfers have been known to use Saint Christopher medallions as good luck charms. Throughout these periods, many men have worn jewelry well – even magnificently. Like others in the Harlem Renaissance, Langston Hughes occasionally wore a silver onyx ring to show a bit of personality. Marlon Brando, James Dean, and Paul Newman sported chunky, silver ID bracelets with jeans and t-shirts. And Yves Saint Laurent, one of the chicest to ever wear a suit, accessorized with a precious metal bracelet.
I like jewelry because it can help personalize an outfit, particularly in the summer months when it's too hot to layer. Chunky rings, for example, are a great way to communicate that you never type. They're heavy and awkward, they weigh your fingers down, and they get in the way of rapid keystrokes. To be honest, they are deeply annoying. But I love wearing them — not with tailored clothing, but black leather jackets, contemporary casualwear, and even some workwear. 
Options: Kei Shingenaga (pictured above), Self Edge, Jill Platner, Chin Teo, Maison Margiela, Pearls Before Swine, Lee Brennan, Werkstatt:München, Good Art, Neff Goldsmith, Love Adorned, Stag Provisions, Peyote Bird, Shaun Leane, and of course the vintage selection at Put This On.
Nike React 87s
Demna Gvasalia, the creative mind behind Vetements and Balenciaga, has been rightly criticized for his low-brow designs. Gvasalia, in many ways, has transplanted internet meme culture into fashion, producing clothes that are comical, self-deprecating, and ironic, which makes it impossible to criticize his work. While I don't care for his designs, I appreciate that he's made fashion fun again. Ten years ago, the internet was full of serious rules about how things should be worn. Nowadays, people feel freer about experimenting and they've rediscovered the joy in clothes. 
Nike's React 87s are just about the easiest way you can inject some fun into an outfit. They combine two sneaker trends: a chunky silhouette and semi-translucent upper, which here features a low-slung swoosh and trail-lacing system. On first blush, these look like they won't go with anything, but in being so odd-ball and futuristic, they also go with nearly everything. Greg Lellouche of No Man Walks Alone wears them with streetwear. Andrew Chen of 3sixteen teams them with workwear. "I wear them with blue jeans, drawstring utility pants, and olive fatigues," says Andrew. "The sail colorway is actually pretty mellow and versatile." 
I recently picked up the moss colorway and have been wearing them with jeans and chore coats, olive fatigues and black leather jackets. They make classic-inspired outfits look modern, and their playful designs are simply fun to wear. "The crazy color combos and playful use of transparency are what makes the React 87 so good," says Greg.
Options: Nike React 87 in moss and dusty peach. Older colorways available at StockX.
Indigo Tweed Lounge Pants
As the Atlanta-based female R&B quartet Xscape once plainly said, sometimes you just want to kick off your shoes and relax your feet, listen to the sounds of the Xscape beat. When I want to just kick it (*sings* just kick it), I've been wearing these indigo tweed lounge pants I recently bought from Imogene + Willie. The couple behind the brand says the pants are a happy accident. "We found this fabric and fell in love with it – like, really fell in love," they wrote on Instagram. 
The fabric didn't really make sense for any of Imogene + Willie's Western workwear styles, but they decided to use a length of it anyway for their unisex lounge pants. The sample was put through a simple bleach rinse, and then hung up in the sun – and it turned out surprisingly well. "Fethiye, our unisex lounge pant, is highly adjustable. It features a drawstring waist, a single back patch pocket, and a gusseted crotch, making it the perfect pant for lounging on Saturday afternoon." I like the open, but not transparent weave. They're surprisingly cozy for a tweed-like material and go well with the threadbare t-shirts you might wear at home for movie nights. Just note that they're very long. I cuff mine twice, but you may want to hem. 
Options: Imogene + Willie