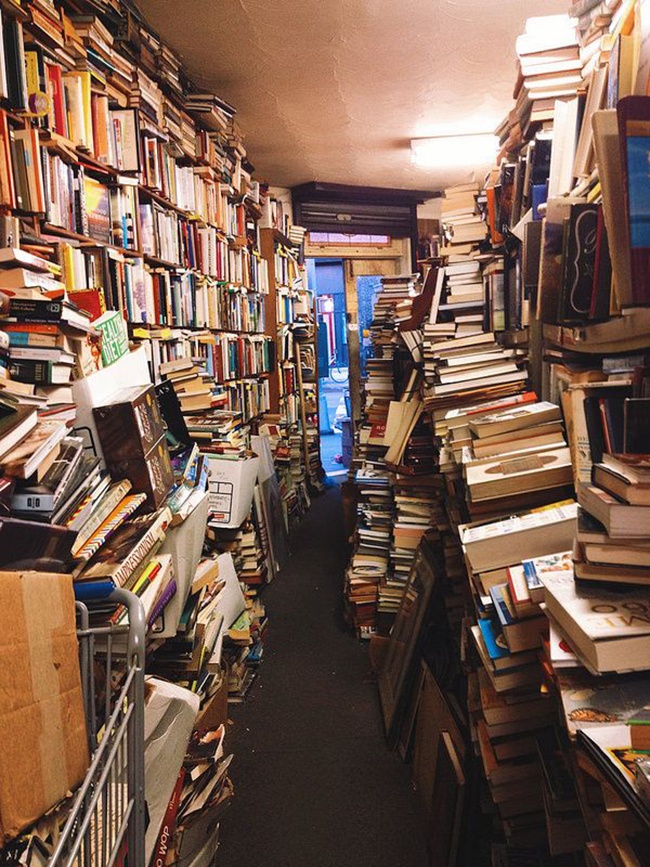 Getting something from Community Bookstore felt more like spelunking than shopping. The second-hand bookstore, located on a street corner in Brooklyn, was a dark, cavernous space filled with worn paperbacks, dusty toys, and vintage records. The shop's owner, John Scioli, was a self-described hoarder unable to turn away book donations. Inside of his shop, piles of musty books stood waist-high, some half toppled, and items were stacked on top of each other at awkward angles, making a trip down an aisle feel like "high-stakes Jenga." The shop was so densely packed that light from the buzzing fluorescent tubes overhead never penetrated to all corners. Scattered books underfoot buried the worn grey carpeting underneath. It was impossible to find anything here — you had to aimlessly browse or ask Scioli for assistance. He had a Dewey Decimal System inside his head that allowed him to find anything. Just don't ask for a recommendation. In a crotchety interview with Gothamist, the white-whiskered bookseller dryly said: "I hate [when people ask for book recommendations]. 'What should I get my father for Father's Day?' I don't know your father."
In an era of minimalist shopping spaces and customer-centric service, Community Bookstore was a strangely beloved institution. It had no traditional storefront or signage, and the only worker, the owner, kept unpredictable hours. Yet, it was a fixture of the community, cherished by "regulars, neighbors, dinner dates, bookworms, French transplants, Spanish tourists, Italian grandmothers, and authors acclaimed or otherwise." Like an old-school tailor or barber, Scioli saw generations of people grow up in the Brooklyn neighborhood. Those who initially stopped by as children to play with the Teenage Mutant Ninja Turtle action figures later came in as adults to buy bedtime storybooks for their children. When Scioli closed his business and retired in 2015, the store generated an outsized amount of press. The New York Times wistfully wrote of it: "The Community Bookstore is not the kind of place one goes for the latest bestsellers, literary magazines, a coffee, or an author talk. It is a place to rummage and ruminate, a place for treasure hunters and lost souls as much as bibliophiles."
Americans hold the idea of bookstores near and dear to their hearts, although independent booksellers have seen better days. Around the turn of the 20th century, New York City's Fourth Avenue was home to nearly fifty bookstores, many with used hardbacks stuffed into rollable carts displayed outside of their front windows. There were once so many bookstores located between Union Square and Astor Place, the district was nicknamed Book Row. But after the Great Depression, skyrocketing rents, and those original booksellers retiring and then dying (with no one to take their places), the bookstores that used to be a fixture of literary Manhattan faded away. Today, only one bookstore from Book Row is still standing — The Strand, now headquartered on Broadway in the East Village, where it moved in 1957 to escape high rents. Insiders say that The Strand has only survived because it's a family's passion project. "[T]he Strand is, when you get down to it, a real-estate business, fronted by a bookstore subsidized by its own below-market lease and the office tenants upstairs," Christopher Bonanos wrote in New York Magazine. "The ground floor of 828 Broadway is worth more as a Trader Joe's than it is selling Tom Wolfe. When a business continues to exist mostly because its owners like it, the next generation has to like it just as much. Otherwise, they'll cash out. If Nancy stays, the Strand stays. If her kids do, too, it stays longer. Simple as that."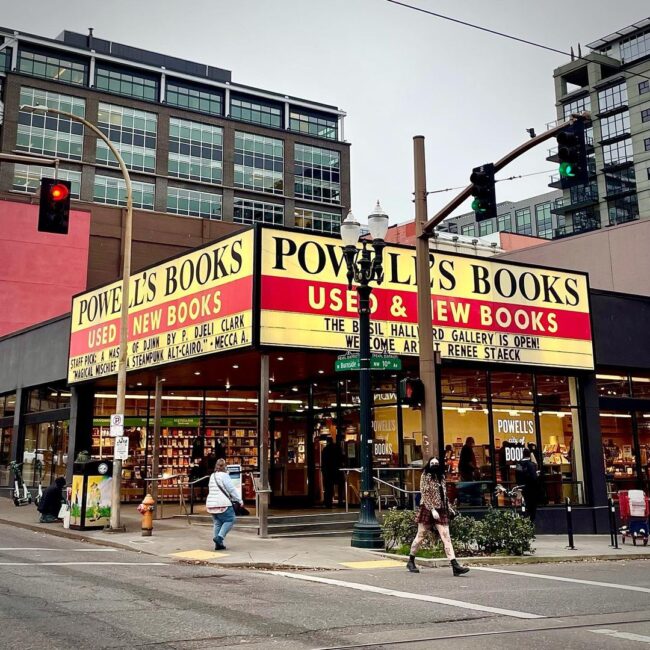 In the long history of the bookstore, the independents have been mostly pushed out by Barnes & Noble and Amazon. In 1991, the American Booksellers Association, the largest non-profit trade association for independent booksellers in the United States, boasted about 5,200 members. Today, its membership roll hovers around 1,700 — a fraction of what it enjoyed in the pre-Amazon era. However, while there has been a dramatic decline, things are not as bad as some predicted. The ABA's membership numbers have held steady for about fifteen years. Between 2009 and 2015, a period dubbed "retail apocalypse" by many, the number of independents even grew by thirty-five percent. The real story here isn't about the death of bookstores but their unexpected perseverance. Soda parlors, hat shops, and video stores have all but disappeared, but in nearly every town, large or small, you can find an independent bookseller or two. The remaining indies have survived the rise of the superstores, mass merchandisers, wholesale clubs, the internet, and the often predicted demise of reading. Even the pandemic, now stretching into its third year, hasn't managed to kill them off.
Ryan Raffaelli, a Harvard Business School professor who has studied the resurgence of independent bookstores, says much of this is about community. Like-minded customers convene at their local bookstore through events such as lectures, book signings, game nights, and reading groups, making the space something like a community center and cementing the store's place in a neighborhood. Like churches, parks, and pubs, bookstores exist in that space between our home and workplace — a "third place" where many go to relax, see familiar faces, and meet new acquaintances. Such spaces give people a sense of place and help foster civic engagement. "Booksellers have long adhered to sociologist Ray Oldenburg's premise of a third place, i.e. a gathering place where people come together outside of home or work that is 'accessible to the general public and does not set formal criteria of membership or exclusion,'" Raffaelli wrote in a 2020 working paper, Reinventing Retail: The Novel Resurgrance of Independent Bookstores. "Through practices like community, curation, and convening, bookstores authentically connect consumers with the values (e.g., localism) they may espouse."
In Portland's downtown, Powell's Books' marquee looks like the outside of Radio City. The red-and-white metal banner announces upcoming guests, which have included Toni Morrison, Joyce Carol Oates, Salman Rushdie, Terry Pratchett, and other luminaries. At Parnassus Books in Nashville, Yo-Yo Ma once played for thirty minutes for a small, intimate crowd. Seattle's Third Place Books, named after Oldenburg's category, describes itself as a "fun, comfortable, and safe place to browse, linger, lounge, relax, read, eat, laugh, play, talk, listen, and just watch the world go by."
 

 

View this post on Instagram

 
Life under a pandemic means new rules. In the last two years, many bookstores have transported their events online through services such as Zoom. This allows people to safely listen to author talks, although they give up the opportunity to mingle and get books signed. I attended a few of these events last year, and while I enjoyed them more than the silence of my living room, they lacked something in terms of engagement. I miss how the inside of a bookstore often smells like almonds, the hard and uncomfortable chairs set out for readings, and the feeling of community. "Sometimes you don't understand how vital something is to your world until you miss it for awhile," says Pamela French, executive director of the Book Industry Charitable Foundation. 
Maybe I miss it too much. In the last year, I've noticed something strange: many people considered cool in the online fashion community dress like the people I see at my local bookstore. Specifically, although not exclusively, older people, retired academics, and art students who regularly attend author talks. I've been calling this style "bookcore."
Bookcore is an amalgamation of the last five years of trends: normcore, gorpcore, dadcore, vintage, 1990s sportswear, American trad, Westernwear, Native American jewelry, pleats, dad caps, wide-legged trousers, oversized eyewear, Balmacaans, leather blazers, Patagonia, chunky sneakers, intentionally ugly shoes, etc. When rolled into one glorious outfit, this is the aesthetic of your bookstore regular. It's the person who listens intently to an author talk about Victorian fashion, Tibetan pottery, or the renegade anthropologists who reshaped our understanding of class in the 20th century. It's the Volkswagen outside with an interfaith COEXIST bumper sticker written in different religious symbols. It's someone who attends every symposium with two names sandwiching the phrase "in conversation with." It's the person who gets up to the mic and has more of a comment than a question.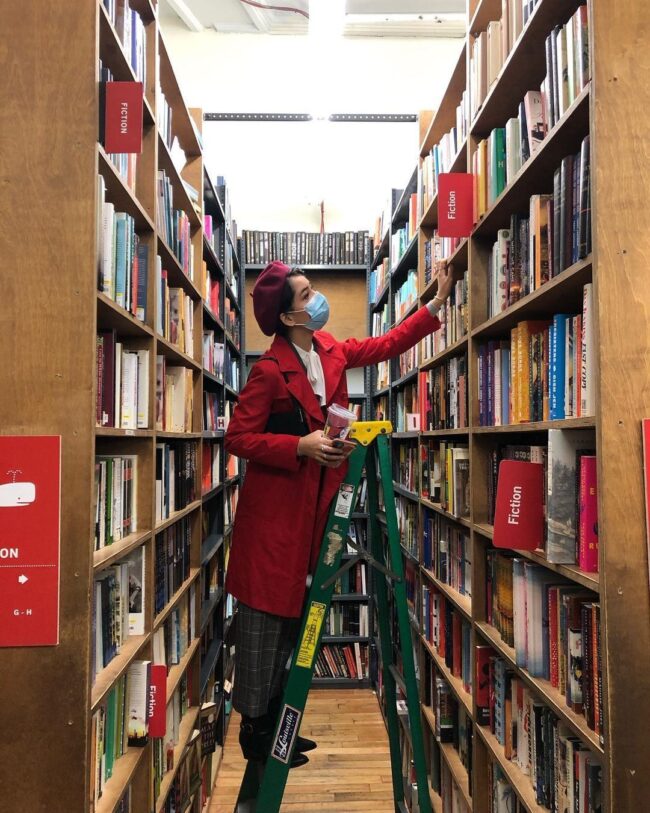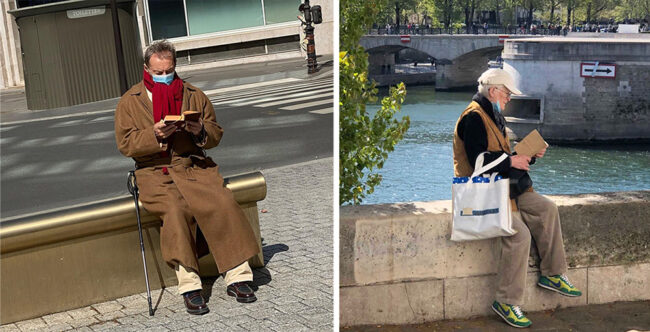 If you attend such events regularly, you'll know what I mean. The crowds are diverse, but there are some recurring characters. A few men are always in oversized tweed sport coats, baggy cords, stretched-out Shetland sweaters, and clunky shoes. Some are in Westernwear, but never the full cowboy outfit. Instead, they look like a discerning anthropologist in their bolo tie and Western shirt, or just the cheap jeans with scuffed cowboy boots. Many will be wearing clothes as though they were thrown onto them with a pitchfork: an oversized, raglan-sleeved overcoat paired with fuzzy sweaters, plaid pants, leather fanny packs, padded shoes, and a sprinkling of cat hair. An older man is inexplicably wearing a fishing vest. There's an immaculately dressed older woman with the most dignified, finely woven shawl draped across her shoulders. And someone who's unironically wearing a beret.
I want to be clear here, lest I be misunderstood. The term bookcore is not a pejorative. It's a shorthand for a stylish community I find to be charming. Bookcore describes how I sometimes dress, how I aspire to always dress, and how some people I admire dress. It's also not a singular aesthetic, but a collection of styles that you're likely to see at your local independent bookstore. 
Some cities are more bookcore than others. The Instagram account Parisiens in Paris documents the true style of everyday Parisians walking around the French capital. The anonymous photographer behind the account says they secretly shoot people around the 1st, 2nd, and 6th arrondissements, the République (3rd/11th), and the Château d'Eau. For some reason, you're more likely to see bookcore there than at similar accounts for other cities, such as Londoners in London, Milanesi a Milano, or Watching New York. And it's not just selection bias. When Wall Street Journal fashion editor Jacob Gallagher visited Paris last year, he also spotted bookcore.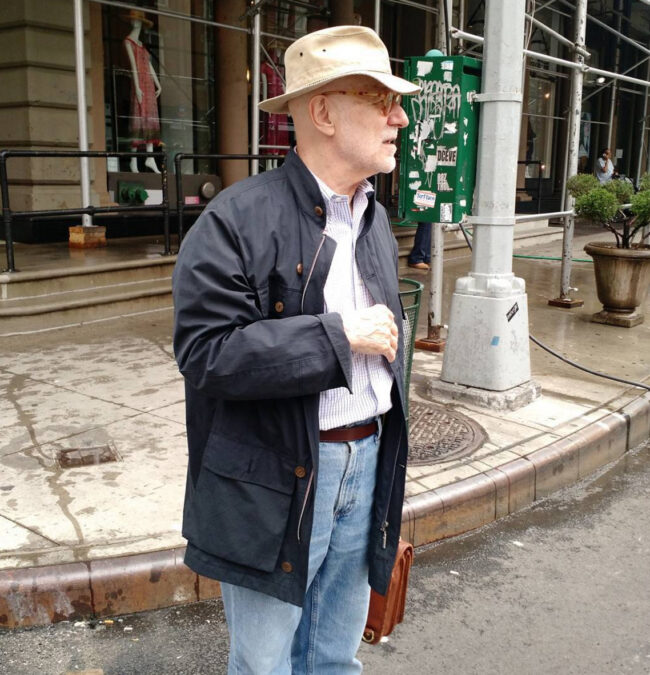 Bookcore can be seen in films, such as Diane Keaton and Morgan Freeman in the rom-com 5 Flights Up. Aime Leon Dore is known for its takes on 1990s New York street culture, but this patchwork cardigan looks like something your aunt would wear with big earrings to a book club. Every photo on this Instagram account for Allen Ginsburg's estate is also extremely bookcore. 
Some of my favorite contemporary bookcore dressers include Bruce Boyer, an actual author and someone who has given author talks. His penchant for old tweeds, woolen flannel, and oxford cloth button-downs is bookcore because Ivy Style is naturally academic. Hardcore singer Tony Sylvester mashes together disparate elements, such as storm coats with delicately constructed, leopard print slippers. But he wears everything with such a sense of self-assuredness that you can't help but feel admiration. His style is bookcore because it's eclectic but put together (also, he wears berets). Fashion journalist Gene Krell, another beret endorser, dresses like someone who speaks passionately about ornithology. I love the way he wears everything from soft-shouldered sport coats to Yohei Yamamoto — an open-mindedness that's common among bookcore types.
GQ staff writer Rachel Tashjian is bookcore in the way she wears color, rumpled suits, big overcoats with funky hats, high-waisted drapey trousers, and most of all, elegant shawls. Her invitation-only newsletter, Opulent Tips, reads like it's written by a woman who organizes not only the author talks, but the fancy shindigs afterward. (Rachel also used to work at Vanity Fair, which is strong bookcore cred.) Her colleague Sam Hine isn't often in bookcore, but he was at least once when he wore a big plaid overcoat with loose jeans. United Arrows co-founder and creative director Hirofumi Kurino dresses like the person who introduces authors at an event. Blamo! host Jeremy Kirkland looks like the dad who brings his 7-year-old daughter to the bookstore to foster an early love for reading. Vintage collector Zach Deluca dresses like someone who politely listens at a lecture but doesn't waste people's time with bad questions. 
 

 

View this post on Instagram

 
Some people may reasonably protest: "No one dresses like this at my local bookstore!" This is fair, as the people who attend author talks come from many different backgrounds. At Oakland's Marcus Books, the oldest US bookstore specializing in African-American topics, the crowd wears everything from lambskin double-riders to silky African-print dresses. At San Francisco's City Lights Bookstore, which used to be the nerve center of the Beat movement, customers wear mohawks and silk-screened t-shirts with emblems of their progressive politics. Tongo Eisen-Martin, San Francisco's 8th poet laureate, recites his poetry in plaid button-downs and slim topcoats. 
Bookcore is not a singular aesthetic, but a collection of aesthetics that can remind you of whatever independent bookstore is near you. For me, the style is rumpled, elegant, comfortable, eclectic, and somewhat granola crunchy. Many of the outfits remind me of Avery Trufleman's recent tweet: "Having style is being unafraid to look totally deranged." Some things I think are bookcore:
Trad: Naturally bookish given the style's history with academia. Get some oxford cloth button-downs, a tweed sport coat, and some grey flannel trousers. The next step up is whipcord (which, for me, is better than flannel) and Aldens (tassel loafers, penny loafers, or derbies). To the degree that trad can be separated from preppy, trad feels more bookcore to me than the latter. Keep it dusty and quirky, but not obnoxious. 
Big Overcoats: Loose topcoats are a cornerstone of the look. Balmacaans, polos, paletots, coverts, trenches, etc. The style almost doesn't matter, so long as it suits the weather. This season, I like the overcoats from Kaptain Sunshine (so good it can be your One Coat), Sage de Cret, Doppiaa, Document, De Bonne Facture (modeled after a coat once owned by someone's grandfather), Cordings, Eduardo de Simone, Coherence (Gene Krell is a fan), Thomas Farthing (nice silhouette but cotton lining), Berg & Berg, and Drake's. On a budget, check Uniqlo and Etsy. Classic overcoats last forever, so you can often find vintage ones at your local thrift store for pennies on the dollar.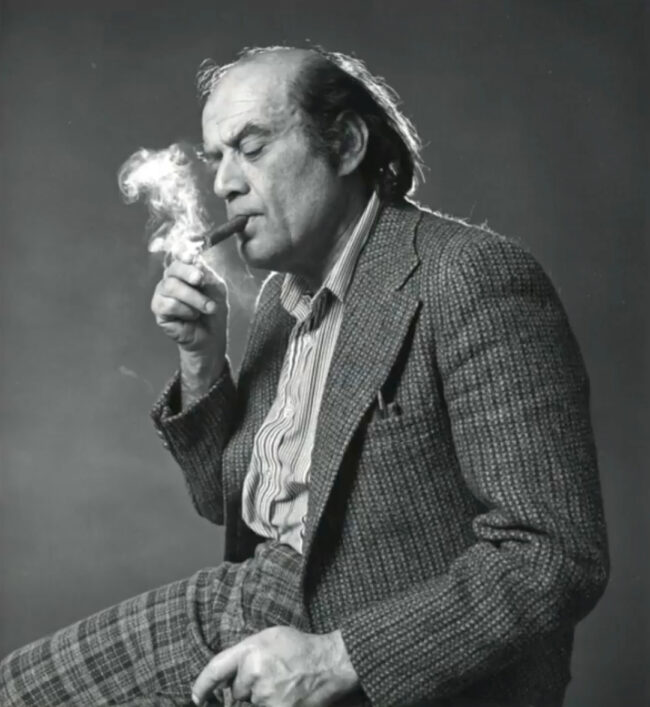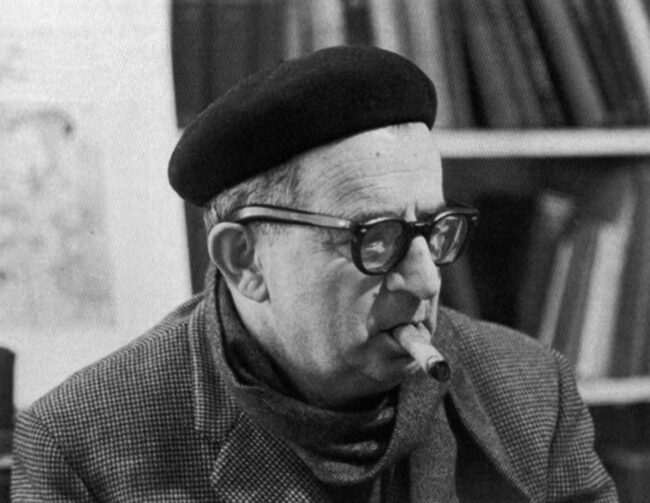 Patterned or textured pants: Rowing Blazers has some patchwork tweed trousers that I've been eyeing forever, although Rota's houndstooth flannel may suit conservative tastes better. The NY trad shop O'Connell's has comfortably cut trousers that sit on the right side of fashionable (comfy, but not baggy, and dovetails with the current preferences for wider silhouettes). Some of them are patterned. For something subdued, corduroy trousers have long been associated with the literati. Ralph Lauren has pleated cords, although I prefer the trimmer five-pocket pants from them and Sid Mashburn. 
Outdoor Gear: The London-based rapper YT kicked off an Arc'teryx streetwear craze last year with his song dedicated to the label. The bookcore version, however, is decidedly not that. Arc'teryx is too smooth and modern. You want something crunchier. Actual bookstore regulars will be wearing NanoPuffs and Torrentshells, but I prefer the Retro-X fleece and Snap-T pullover (more gorp than normcore). The vintage versions will have a deeper pile and more street cred, although you can expect to spend more money. As usual, niche Japanese labels have more interesting designs. Check Kapital, And Wander, Orslow, Fujito, Manastash, and Sacai. J. Crew also has some surprisingly cool 90-styled hiking boots this season.
Knitwear: A turtleneck is so bookish it effectively substitutes for having a graduate degree. If you want something you can layer underneath a tailored sport coat or suit jacket, start with a thin merino turtleneck in charcoal. The color looks chic and sophisticated, and by falling just short of black, it doesn't have that Steve Jobs or Elizabeth Holmes vibe. For something you can use with heavier outerwear, I like chunky turtlenecks in cream (like charcoal, it's a good base color). Strangely patterned sweaters, such as those from Frank Leder, Isabel Marant, Industry of All Nations, and Yashiki, look like the vintage Peruvian knits worn by retired academics. Shaker knits, Shetlands, and Arans are also all good choices. Again, like overcoats, you can often find these things second-hand for cheap. Look for vintage Shetlands made in Scotland. 
A Smidge of Westernwear: Not the full cowboy outfit, just enough to suggest you own books such as Walk in Beauty, American Quilts & Coverlets, and Traditional Textiles of the Andes (all good books about textile arts, by the way). A denim shirt is the easiest thing you can incorporate into a wardrobe. It looks at home with a tailored tweed just as it does with a military surplus jacket. You can find those from Taylor Stitch, Joe McCoy, Bryceland's, RRL, Barbanera, and Proper Cloth. Tapered belts also look great with jeans or the right pair of trousers. Go authentic: get a Native American belt buckle and have the strap made through Ken at Custom Leather Belts. Alternatively, you can also pick up a pair of Tecovas cowboy boots or wear Native American jewelry. Simple silver bracelets are quiet and easy to wear.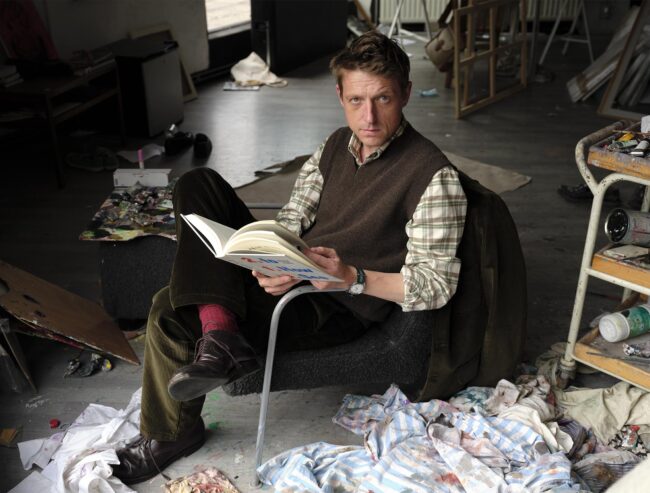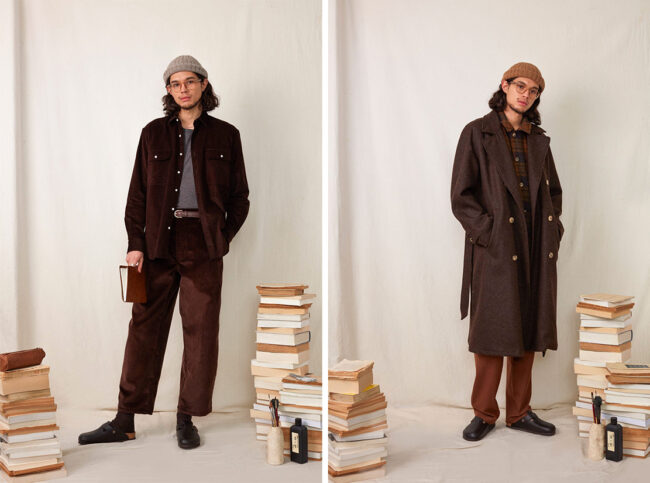 De Bonne Facture: I don't know why, but almost everything at De Bonne Facture feels bookcore to me. The alpaca turtlenecks, pleated chinos, Grandad coat, sherpa vest, French roper boots, and undyed striped scarves are so simple and elegant. Margaret Howell and The Carrier Company have a similar rustic vibe. 
Tote Bags: Presumably, you already have ten totes stuffed inside of each other like Russian nesting dolls. But if you're shopping for one, book-themed bags include The Strand tote (for tourists), Books are Magic tote (for people who are hip), The New Yorker tote (for people who want others to think they're intellectual), not-for-sale Literary Hub Joan Didion tote (for people who want others to think they're better than New Yorker readers), Literary Hub-inspired Toni Morrison tote (the in-the-know riff), and Barnes & Noble tote (you live in the suburbs and don't care what your bag says about you. You actually read books). I also like this buffalo plaid tote Todd Snyder made in collaboration with L.L. Bean. Vanson has rugged suede totes for about the same price. The bags I use most nowadays are just the free ones you get from stores with a purchase. 
Odd Socks: "Fun socks" have gotten a bad rap in recent years, perhaps not undeserved. But I enjoy wearing colorful socks with casualwear and think they mostly stay hidden. Thunders Love is a Spanish label that makes great ones in cheery, but tasteful designs. They're warm, cozy, and hold up surprisingly well in the wash. American Trench's wool-silk boot socks are great, too. For a tighter budget, Uniqlo can't be beaten. 
Ugly Shoes: This is not the space for those mirror polished, pizza-slice-shaped oxfords that populate Instagram nowadays. Get something rounded, casual, and comfortable. Birkenstocks, all-black Blundstones, Clarks Wallabees, L.L. Bean boots, Russell Moccasin fishing oxfords, and Aldens make for great choices. RM Williams' Gardener and Viberg are a step up from Blundstone in terms of construction. I also like Paraboots' weather-proofed Avignon, Chambord, and Michael (Heschung makes a version of the Tyrolean without the visible green tag). Sneaker options include New Balance 574, Aime Leon Dore x New Balance 550, Reebok Club C 85, Spalwart, Chuck 70s, and Moonstar All Weathers. La Botte Gardiane's Gardian boots, modeled after something French cowboys wear, also have a very cool, sophisticated vibe (available in shearling through De Bonne Facture). Ranch Road's Bexar is not too dissimilar. 
A Questionable Hat: For some reason, bibliophiles cannot be deterred from wearing hats. No hat is left on the shelf — bucket hats, berets, beanies, and bush hats; dad caps, flat caps, and crushable trilbies; long bill hats, wide bill hats, and the foldable jones. Some of the hats I like most are vintage Polo Sportsman caps, which have a 1990s Lo Head vibe. The simple Polo script is also a classic. 
Glasses: Geek chic frames from brands such as Garrett Leight and Warby Parker, or thick, oversized frames such as those from Jacques Marie Mage and Cutler & Gross. Don't be afraid to wear statement frames. 
Actual Books: Finally, and most obviously, get a book from your local indie bookstore. If you don't happen to have one nearby, Bookshop.org is a great way to support independent bookstores dotted around the country. Along with some photos of bookcore outfits below, there are some images of book spines taken from Dapper Kid and David Marx's Instagram accounts. The titles should give you some reading ideas. 
Some book suggestions: Pierre Bourdieu's Distinction is one of the best books I've read on how we judge taste in aesthetics. Material Culture and Authenticity is an ethnography on how people in Turkey and Romania use "fake goods" (counterfeited brands) to create authentic identities, and it forces us to rethink how we conceptualize knockoffs. Minh-Ha Pham's upcoming book Why We Can't Have Nice Things challenges how we think about fashion copycats and the digital activism around naming and shaming brands (e.g., Diet Prada). People who obsess over handmade goods will want to read Richard Sennett's The Craftsman (a book recommended to me by Bruce Boyer, also a great author). The Rise of Fashion is a collection of fashion essays by philosophers and social theorists (e.g., Rousseau, Baudelaire, Wilde, etc.). My friend Réginald-Jérôme de Mans recently penned Swan Songs, one of the best books I've read about classic men's style. Avery Trufelman sent me a copy of Imagining Consumers, which I'm looking forward to reading after finishing Consuming Splendor, a book about the emergence of consumer society in 17th century England. Finally, Ametora author David Marx is coming out with a book about how our desire for social status shapes consumer culture. I suspect it'll be one of the best menswear-related books released this year.