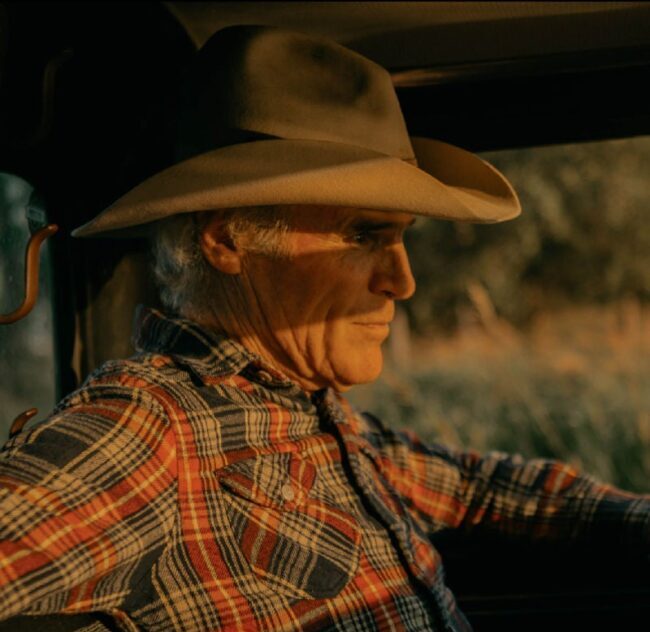 No Man Walks Alone is a sponsor on this site, but as I've mentioned in the past, also one of my favorite stores. Whereas most shops specialize in either tailored clothing or casualwear, No Man Walks Alone does both, helping guys build a more well-rounded wardrobe. Founder Greg Lellouche used to work as an investment banker on Wall Street, where he regularly wore bespoke suits and handmade ties. He knows his way around a tailored wardrobe, but from years of experience, he also has a strong eye for casualwear. At his shop, you can find everything from hard-to-find Japanese labels to contemporary-styled Belgian brands. 
This morning, they started their winter sale. You can find discounted items in the site's sale section and the items' respective categories. You don't need a discount code — prices are as marked. However, all sales are final, so you'll want to double-check measurements and compare them to garments you already own. Note, since it's sale season and we're still in a pandemic, No Man Walks Alone warns that they'll need a little more time this week to ship out orders. Expect your order to ship within five days of you placing it. 
If you're looking for some suggestions, here are some items that I think are notable.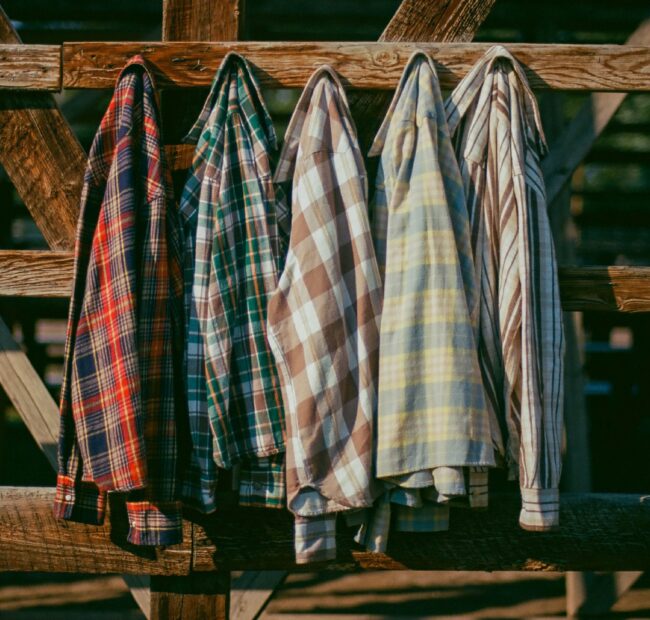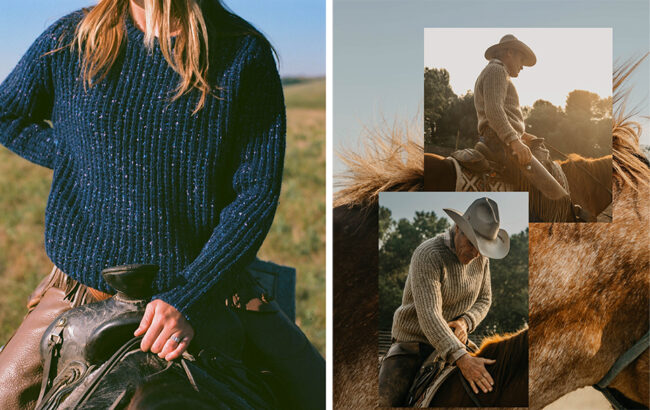 Anything from Wythe
Peter Middleton's relatively new label Wythe hits all the right notes for me. To be sure, sometimes the brand feels like it's going through some growing pains, as the sizing is occasionally confusing, and the brand jumps from one aesthetic to the next. But this is partly because Middleton, a Texan-born, NYC-based designer who used to do fabric research for Ralph Lauren, has eclectic interests. When the brand debuted, Middleton posted photos of friends hanging out on a balcony, wearing his new line of oxford cloth button-downs on a languid afternoon. A season later, it was all about moleskin, snap-button shirts, and quiet life on the range. Then it was Adirondack-inspired camping gear before this season's return to Westernwear. Middleton once told me that his aesthetic is inspired by the mixing he sees in Manhattan's Upper West Side: men in oversized topcoats and flannels, baseball caps and sport coats, Western boots with button-downs. Fair enough, and that's an aesthetic that I've been feeling a lot lately, too. 
The thing I love most about Wythe is that the clothes are never the most extreme examples of their forms — they're Western without being full cowboy, Ivy without being professorial. I really like their pearl snap-button Western shirts available in moleskin or washed denim. Their plaid flannels have colors that remind me of the sun-washed Ocean Pacific shirts I used to see on California's surfers and skaters (size down on the Wythe flannels, as they run very big). I also love this beach cloth hunting jacket, inspired by Tuscan hunting outerwear, and the perfect mushroom brown color on this saddle-shouldered Shetland sweater. This tweedy Balmacaan coat isn't included in the sale, but it's a killer. Photos of the coat on Wythe's website look regal.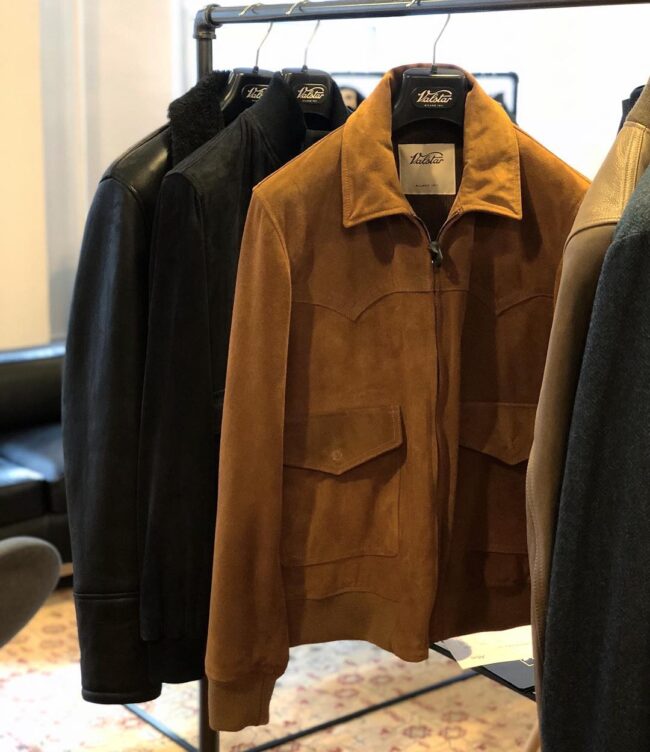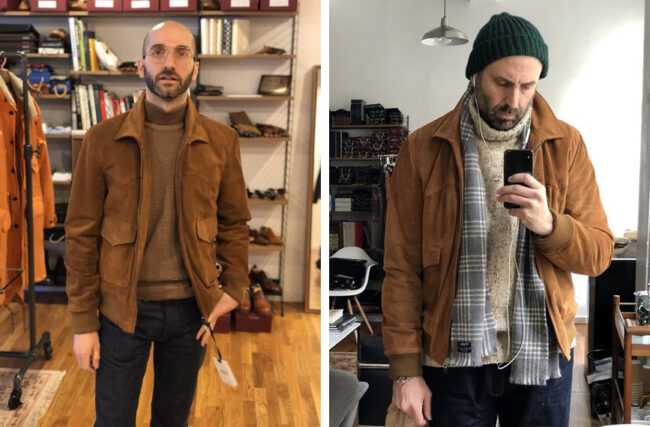 Valstar Clint Jacket
Speaking of clothes with just a little bit of yee haw, Valstar's Clint jacket is a great way to incorporate a bit of Westernwear into your wardrobe. The Italian maker, famed for its citified take on the American A-1, also has this bomber made with a Western yoke. The detail is subtle but allows you to throw the jacket in various directions. It feels contemporary with slim jeans, a flannel shirt, and some minimalist sneakers. It's classic with five-pocket cords, a Shetland, and some field boots. Like a lot of stuff at No Man Walks Alone, this is an excellent jacket if your taste runs classic, but you want something more interesting than the casualwear found at Brooks Brothers.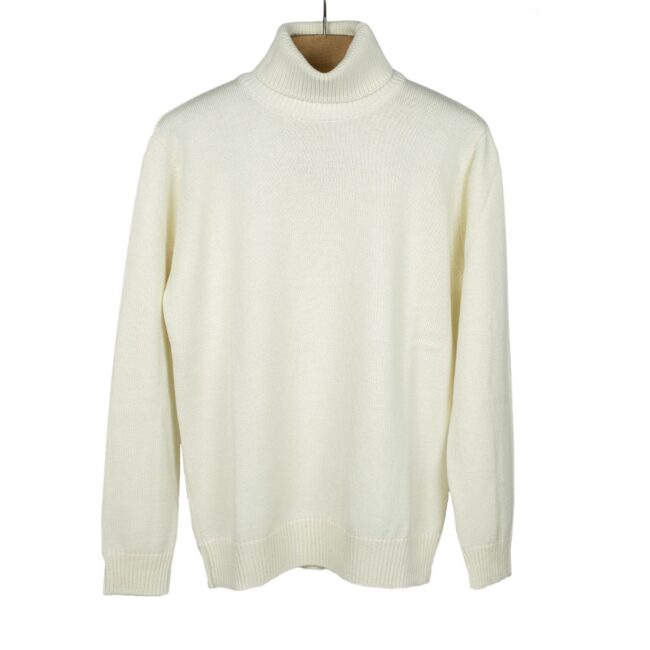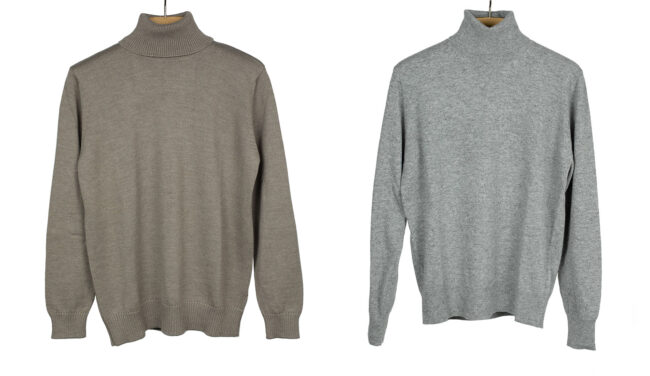 A Turtleneck
In a 2007 Esquire essay, Tom Junod recalls his father's fashion tips, including the maxim: "the turtleneck is the most flattering thing a man can wear." For Lou Junod, a man religiously devoted to personal style, wearing a turtleneck was about advancing a cause (himself). "The turtleneck is the most flattering thing a man can wear because it strips a man down to himself — because it forces a man to project himself," Tom wrote of his father's philosophy. "The turtleneck does not decorate, like a tie, or augment, like a sport coat, or in any way distract from what my father calls a man's 'presentation;' rather, it fits a man in sharp relief and puts his face on a pedestal — first literally, then figuratively."
I've never been quite sure that a turtleneck is flattering. Yet, I find myself reaching for mine time and again. Turtlenecks dress down tailoring, and being that they're knitwear, they're naturally non-iron. I wear mine with a suit for dinner when I don't want to iron a shirt. I also wear chunky ones with casualwear to stay warm on frigid days. Being that these are sweaters with built-in scarves, heavier turtlenecks can sometimes be too warm to wear for extended periods indoors, which have central heating (I wear mine when I know I'll mostly be outside). I like turtlenecks because they're practical in the winter and easy to throw on. Get a thin grey one if you plan to wear these with a suit or sport coat, and start with a chunky cream for use with topcoats, bomber jackets, and denim truckers. I like the ones from GRP, Doppiaa, and Inis Meain.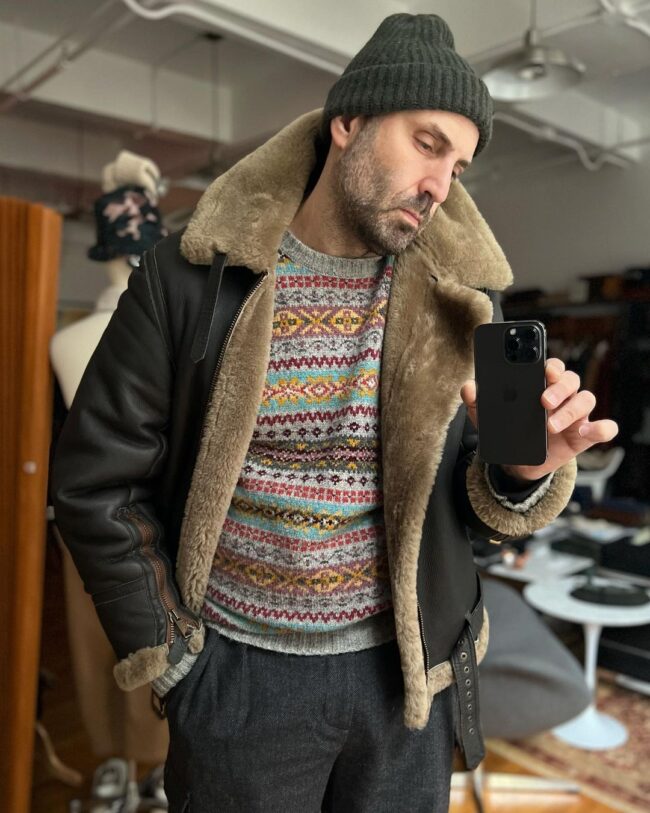 Jaimeson's Knitwear
A Shetland sweater is one of the most versatile sweaters you can own. It goes just as well with trad as it does with more contemporary lines such as Margaret Howell (who also sells the style). There are a million options for them nowadays, and many can seem similar at a glance. That's because they are, to some degree. My favorite Shetlands are from O'Connell's, a trad shop in Buffalo, NY locked in time. Bruce Boyer recently told me that he favors Bosie (the same company as Harley of Scotland). The two differ by millimeters. Boise's have a neckline that sits a little lower and wider, whereas O'Connell's neck holes seem impossibly small until you manage to stretch them over your head. 
Jaimeson's fit somewhere in the middle — not too loose, not too tight, so long as you pay attention to measurements (you'll likely want to size up). They're just a good as any of the other Scottish producers, but they're a bit more affordable than those made by Laurence Odie (producer for some of the more well-recognized names). No Man Walks Alone has plain colored Shetland starting as low as $124, including cheerful colors such as burnt ochre, tartan green, and maroon. And while I like J. Crew's modernized Fair Isles, they can't hold a candle to Jamieson's more traditionally styled varieties (both better looking and better built). I like the grey tonal and Duke of Windsor-inspired designs, but Greg makes a strong case for this more colorful pattern. Any of these sweaters will be better than the plain flat merino crewneck and v-necks you find at every mall, as they're harder wearing and add visual interest to an outfit.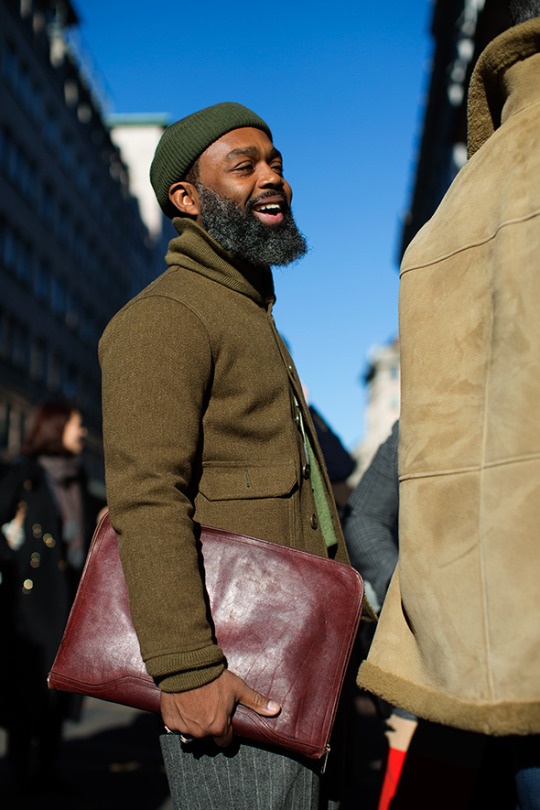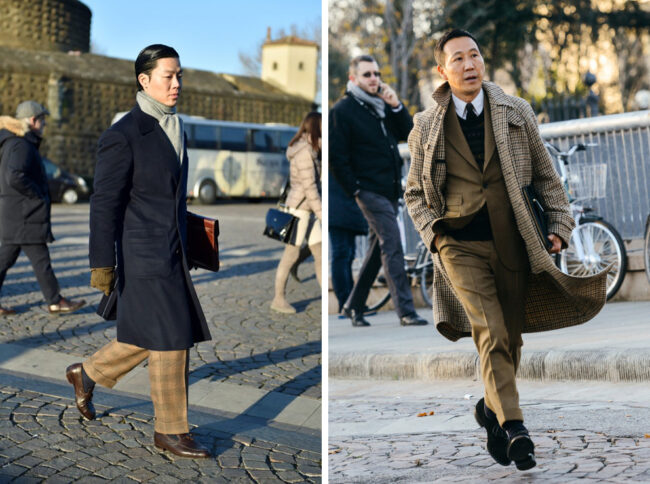 La Portegna Folios
As the world gets smaller, so do our possessions. What may have been that stack of books and papers you'd schlep twenty years ago is now just a few PDF files. The daily newspaper is now online. And your iPod, which used to be a technological wonder that fit your entire music library into the palm of your hand, has disappeared into your phone. My daily carry nowadays is usually not more than my laptop and its accompanying charger – and all that neatly fits into a portfolio, which I think of as a modern briefcase.
Leather folios tend to be expensive, but No Man Walks Alone has some Spanish-made, vegetable-tanned ones from La Portegna for just under $200. Since these are made from veg-tan leather, you can expect them to age with use. The leather is prone to scuffs, mars, and picking up oil from your hands. I find that the first scuff hurts the most, but over time, you quickly come to appreciate the patina. These folios have some organizing features — pen holders, card slots, and two big pouches to stow papers, including one on the outside for easy access. I use folios with everything from tailored clothing to casualwear. They're practical, chic, and keep you from having to schlep a big bag if you're only carrying a laptop and some papers.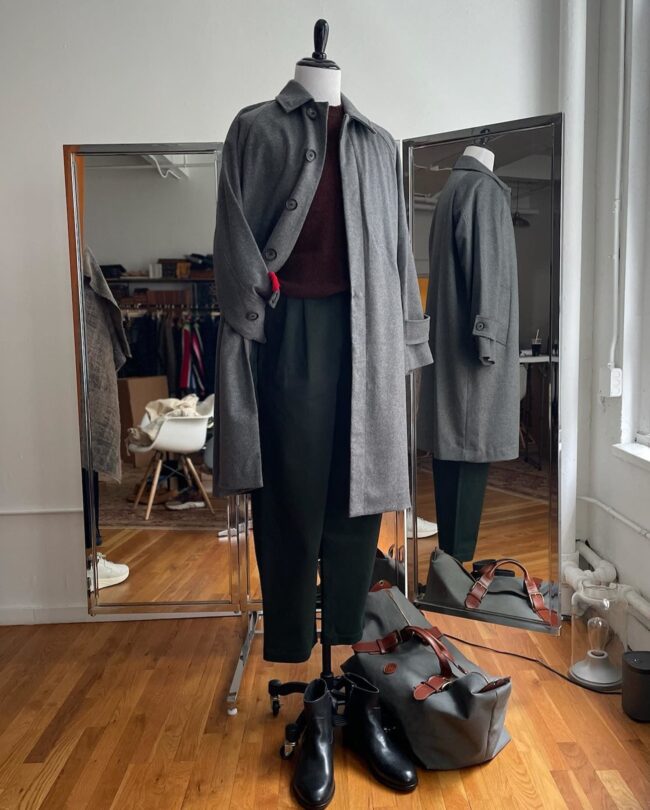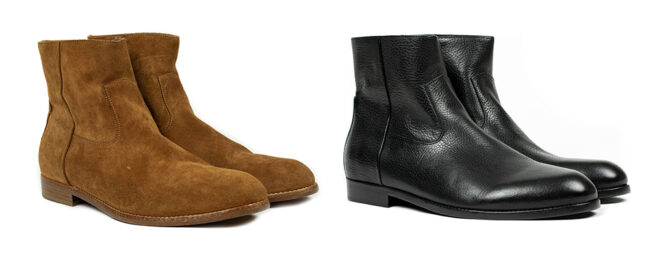 Buttero Side Zips
Side zips instantly elevate an outfit (I don't mean this figuratively, but literally, as these boots have a heel — ba dum tish). Buttero's are better than most because they're made from quality leathers, rather than the corrected grain you'll find on most designer versions, including the popular Margiela.  
You can wear side zips with almost any casual outfit that feels sleek and contemporary. They go with Margiela's five-zips and jeans, Robert Geller's rounded bombers and wool trousers, or anything from Stephan Schneider. For the more classically inclined, you can also wear them with wool trousers, a chunky sweater, a big topcoat, as pictured above. Stoffa often uses side-zips in their lookbooks, as they ride that line between contemporary and classic so well. Get black boots if you plan to wear these with darker outfits or black outerwear. Brown suede goes with the rest.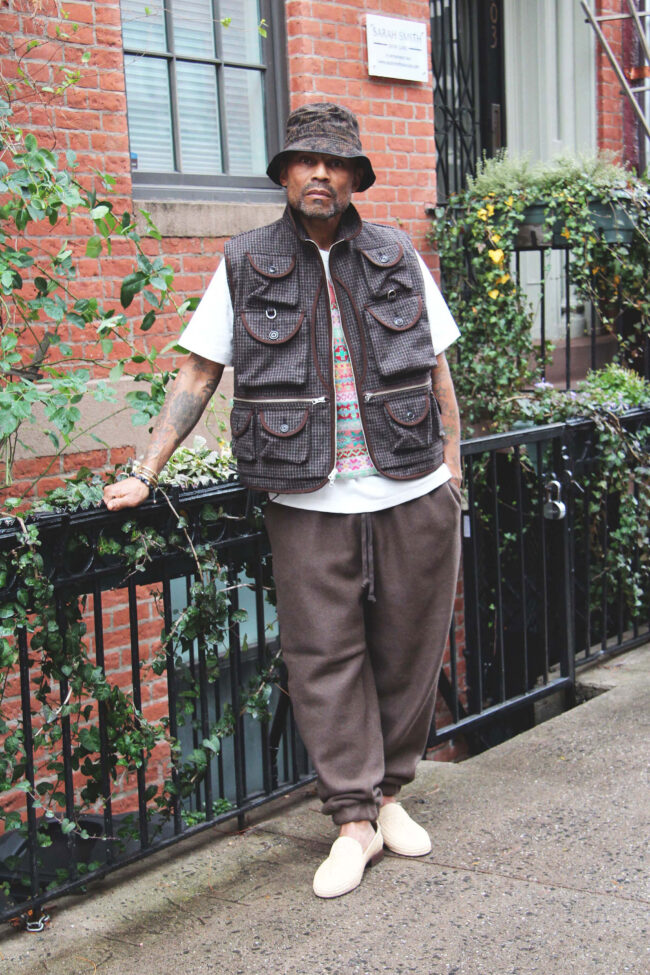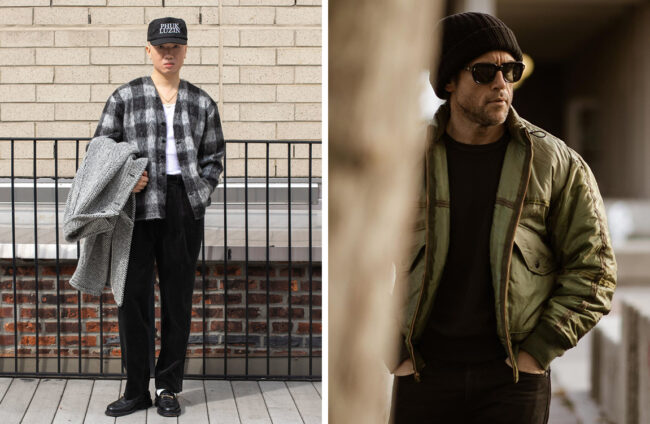 Anything from Monitaly
I didn't get the appeal of Monitaly when I first learned of them many years ago, stumbling upon the line while on a trip to Self Edge. The clothes were riffs on workwear, but not in ways I understood, unlike similar off-beat brands such as Engineered Garments. But over the years, after seeing how they're styled and owning a few pieces myself, they've become one of my favorite brands. Monitaly is for guys who like to hang out at flea markets and dusty record shops. They're goofy and playful. They have a cheerful, forever-smiling vibe, not unlike Meg Company designer Yuki Matsuda. 
Some favorites here include the hairy mohair cardigans and absurdly pocketed fishing vest (both pictured above). I love the idea of wearing that fishing vest with brown cords, a chunky cream sweater, and equally absurd shoes, such as Tyroleans. For something more subtle, you can't go wrong with the American flag sweater or Fair Isle. I have the black version of the flag knit and wear it with everything from bomber jackets to tailored topcoats. It's a nice riff on a Ralph Lauren classic.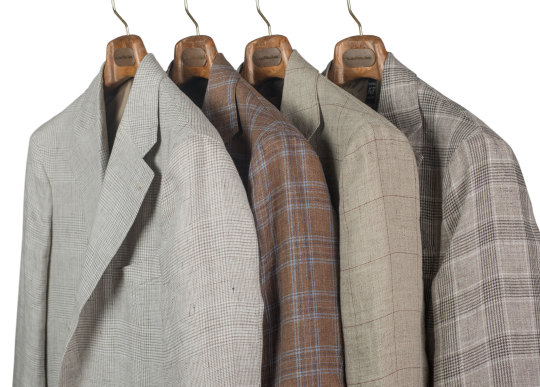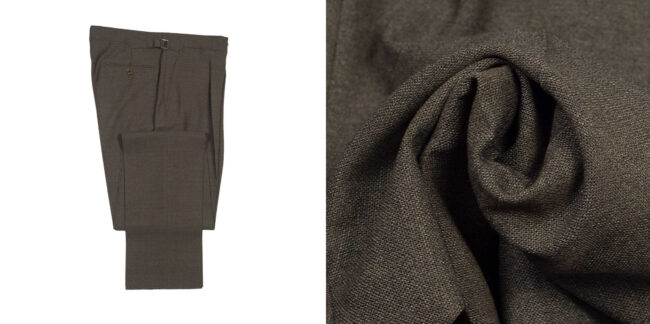 These Pants
Finally, while they're not included in the sale, I want to mention these pants, possibly the best pants you can own if you have hard-to-match sport coats. The fabric is from Draper's Ascot four-ply collection, woven in Italy by Vitale Barberis Canonico. Mark Cho of The Armoury tells me that this is one of Antonio Liverano's favorite fabric bunches. It's softer than Minnis Fresco but has a superior drape and a high-twist, open weave, making it wrinkle-resistant and breathable. 
It's not unusual to find tropical wools. Minnis, Holland & Sherry, Smiths, Standeven, and Fox Brothers have something similar. But this specific color from Draper's is unusual. It straddles grey and brown and has a cool tone that looks sophisticated. I've found that it's a perfect problem solver. If you have a sport coat in your wardrobe that never seems to go with your usual grey or tan pants, give these a try. They look great with jackets in tan and hard-to-wear shades of browns. It even works with checked jackets with a hint of taupe (the pants just need something to echo). 
Although the pants aren't included in the sale, they're surprisingly well priced. If you buy the cloth from Drapers, you'll pay $300 plus shipping (then there's what you'll pay to your tailor to have them made into pants). No Man Walks Alone offers readers of this site 10% off full-priced items with the checkout code DWW10. With the code, the price of their pants comes down to just north of $400. Not cheap, but also not that far from what you'd pay for the cloth alone. I had a pair of trousers made from this fabric last year and have been surprised by how much I love them. There's also a slightly lighter shade close to tan, although NMWA doesn't carry it as trousers.