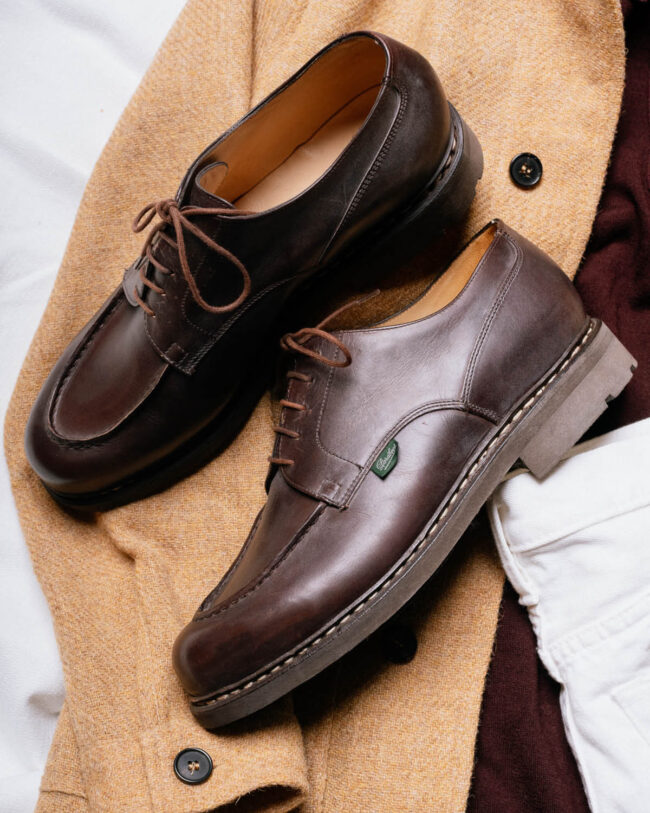 There's always a consumer hangover the day after Christmas, when you see the festive red cups are empty and colorful wrapping paper is littered all over the floor. And yet, it's hard to ignore that after-Christmas sales are the best sales, rivaled only by Black Friday. This morning, a bunch of stores launched their after-Christmas promotions, including the one that's on everyone's list — Mr. Porter. If you're still feeling a bit spendy, here are six excellent winter sales.
MR. PORTER: UP TO 50% OFF; NO CODE
Mr. Porter's sale selection is enormous, so the best way to tackle the inventory is to filter for brands. Some of my favorite labels here include Chimala, Margaret Howell, and De Bonne Facture. These companies don't make statement pieces (for the most part). Instead, they specialize in deceptively simple clothes made with interesting details or silhouettes. This ecru De Bonne Facture sweater has a wonderfully nubby texture that will add visual interest to any outfit. Margaret Howell's loose-fitting mock neck would look great with a pair of cords and some Birkenstocks. The ribless hem makes the sweater look a little more easygoing, while the high neckline frames the face. I also love everything from Chimala. Their boxy, unisex clothes look like the kind of covetable vintage worn by people who know all the best record shops.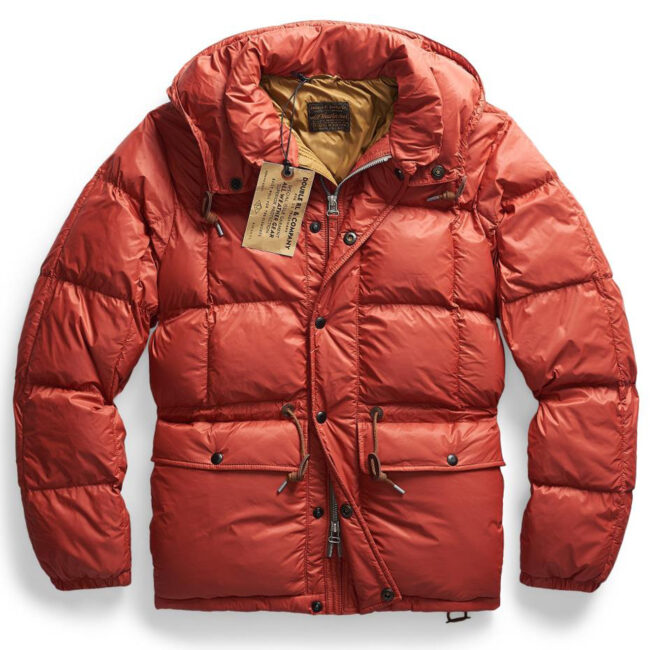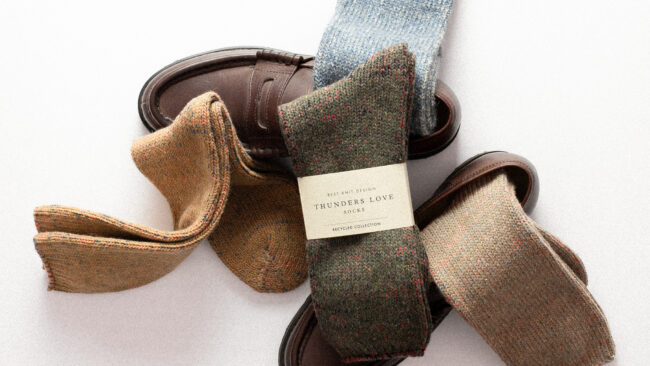 I also really like the workwear from Engineered Garments, Monitaly, and RRL. This quilted RRL parka would look great with a pair of blue jeans or tan Carhartt double knees, paired with a thick sweater and some work boots. Monitaly's cargo pants have a drawstring at the bottom, which you can cinch and tie to create a more interesting silhouette. I wear similar RRL cargo pants with black double riders or blue denim trucker jackets. Team them with chunky black boots. 
Inis Meain's knitwear is wonderful and a considerable step-up from the basic Arans you'll find at most clothiers. However, Mr. Porter's prices are a bit high, so you may want to compare them against No Man Walks Alone (a sponsor on this site). Norlha is a Tibetan company specializing in luxury knits and accessories made from local yak wool. I wrote about them last year as being among the new brands I'm watching. Additionally, Stoffa is back in Mr. Porter's sale section. For guys looking for a casual alternative to tailored clothing, Stoffa has all of the elegance and refinement of a tailored jacket with no corporate connotations. I like their flight jackets and self-belted trousers. 
Finally, they're such a small thing, both figuratively and literally, but I bought a few pairs of Thunders Love socks last year and have been really enjoying them. "Fun socks" can be dangerous. The wrong design and things can look kitschy. But this Spanish company plays with yarns and textures in a way that still feels sober. These knitted socks have a unique texture (good unless you have playful kittens at home, as their sharp claws can get snagged in the loose knit). The recycled wool-blend socks are made with different colored yarns on the inside and outside, making the outside look mottled. Even their plain white socks are a bit tuft.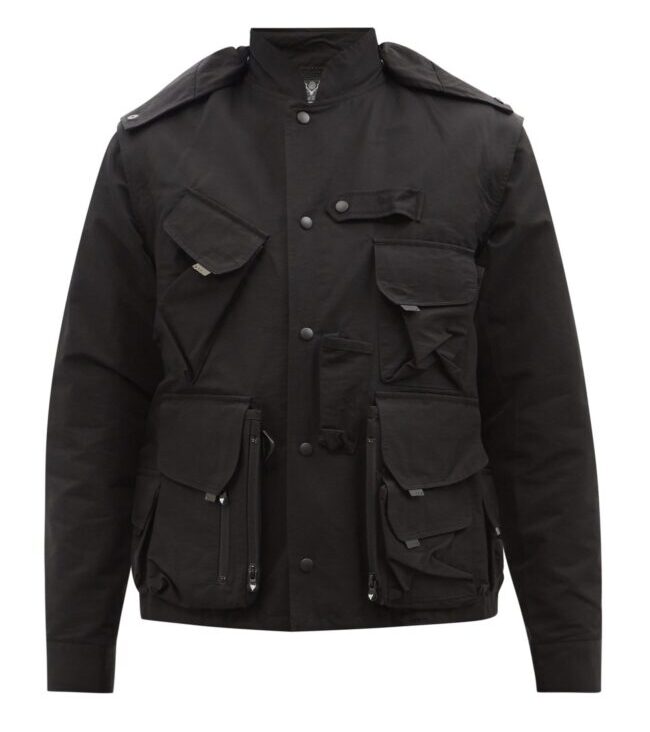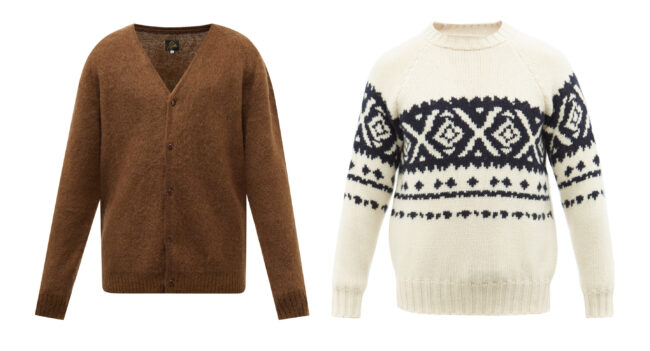 MATCHES FASHION: UP TO 60% OFF; NO CODE
The inventory at Matches Fashion can feel overwhelming. To help narrow things down, I went through their sale section and created a filter for what I think are some of the more notable brands. 
There's a lot to like here. First, there are a ton of great shoes from Edward Green, John Lobb, Yuketen, Roa, Common Projects, Casteñer, Rivieras, New Balance, Birkenstocks, and Converse. Howlin has brushed Shetland sweaters in contemporary colors such as cream and lemon, and Barena Venezia makes my favorite henley (they're thinner than the rugged workwear variety, and aren't so slim that they cling to your body, making them more flattering for the non-athletic among us). I also like this fishing jacket from South2 West8, hairy mohair cardigan from Needles, boiled alpaca sweater from Inis Meain, flannel overshirts from Isabel Marant, and dressing gown from P. Le Moult. 
If you like contemporary outfits that make you feel like a Belgian artist descending from a spiraling staircase, check out Lemaire and E. Tautz, two of my favorite brands for loose, flowy fits. Both labels excel at making wide pants that look artistic, rather than frumpy. I like Lemaire's self-belted pants the best, although E. Tautz has some cool cords (those would look great with this Norwegian sweater).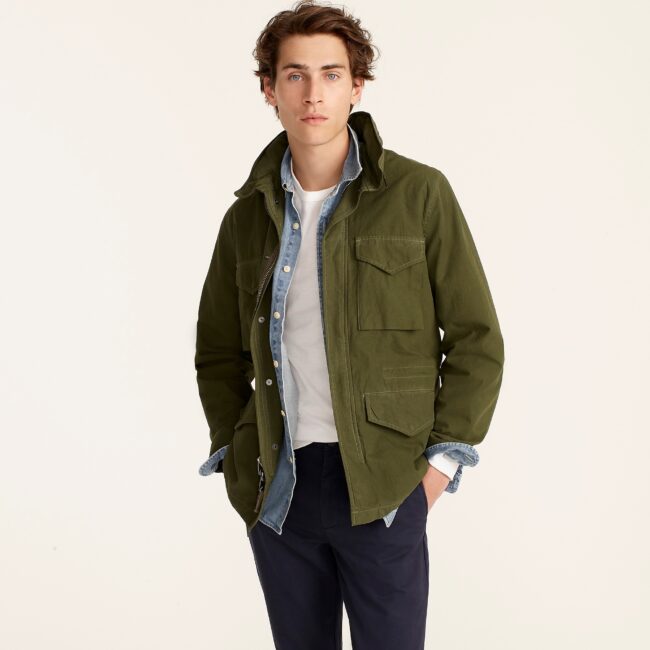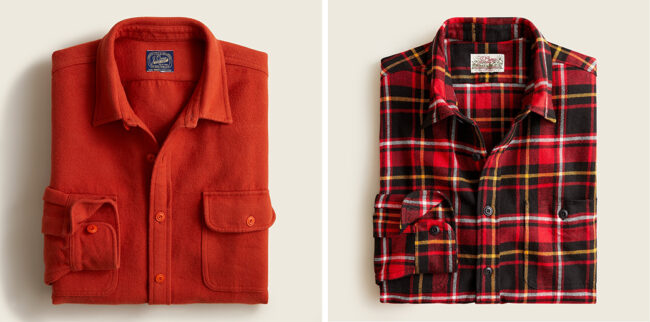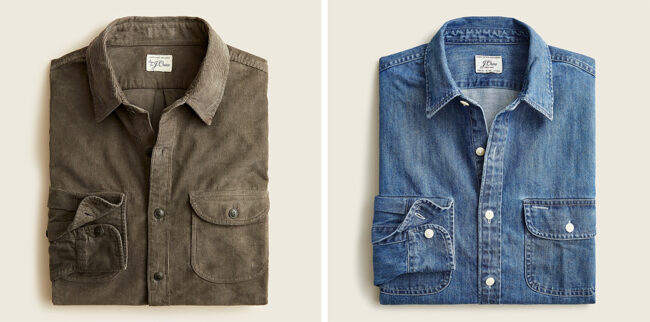 J. CREW: EXTRA 50% OFF SALE ITEMS; CODE BIGSALE
The key to shopping at J. Crew is to stick to things made from sturdy and reliable fabrics — woven cotton or knitted lambswool, rather than cashmere. Since J. Crew has a ceiling in terms of what they can charge, it's hard for them to use luxurious fabrics without skimping on quality elsewhere. However, in more basic materials, the company is unbeatable in terms of value.
For example, this olive field jacket comes with impressive details, such as a stowaway hood, a drawstring waist, and an action back. When you make a jacket like this, the factory has to increase the number of operations, which adds to the manufacturing cost. A similar jacket from a niche Japanese label would cost many hundreds of dollars. J. Crew gets the price down simply because they manufacture a ton of units. With the current promotion, it's just $75. 
J. Crew is also steller for shirts. At the moment, there are heavyweight chamois shirts ($45), garment-dyed corduroy shirts ($20), midweight denim shirts ($29), and midweight plaid flannels ($11!). When shopping on their site, try to gauge the weight of the material. If you prefer heavier shirts, words such as heavyweight and midweight will lead you towards better purchases.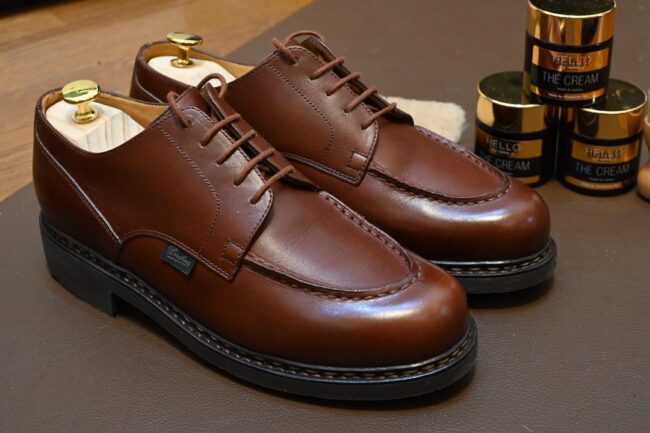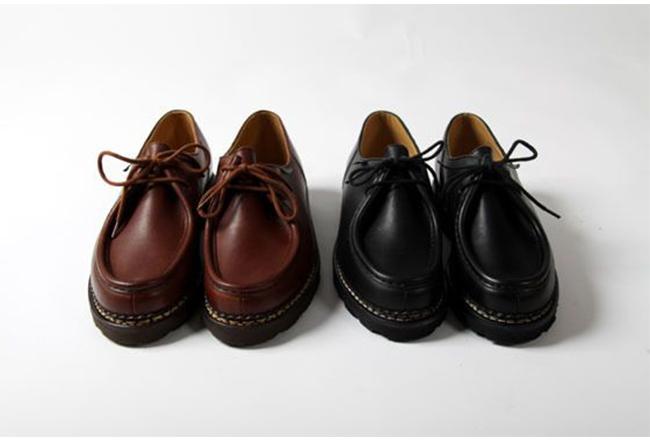 CETTIRE: EXTRA 15% OFF SALE; CODE BOXING15
I don't know why I find Paraboot's shoes so charming. To be sure, they have the right credentials: nearly a hundred years of history and a sterling reputation for producing quality footwear. Supposedly, they were initially made for farmers, workers, and hikers. These shoes are perfect for use in foul weather since they feature thick rubber outsoles and waterproof Norwegian welts. But it's not the company's history or construction that has earned them a cult following among trads and fashionistas alike. It's the slightly odd, ugly duckling designs.
The company is known for three models: Michael (Tyrolean), Avignon (split-toe), and Chambord (simple derby). All three have chunky silhouettes that go well with everything from flannels and tweed to jeans and chore coats. In recent years, they've gotten the cosign from Drake's and Aime Leon Dore, who use these shoes in their lookbooks. I like them for reasons I can't quite pinpoint — they're sturdy, masculine, and kind of ugly looking, but in a good way. They're the antithesis of the uber sleek, dressy shoes that I see on Instagram. You need to have a sense of humor about yourself to wear them. 
At the moment, Cettire has Paraboot shoes on sale at prices starting around $236 (use the checkout code BOXING15 to get an extra 15% off). My friend Ryan owns a pair of the Chambords and says they run big. He usually wears a size 10 but took an 8.5 in these shoes. Other notable brands on sale at Cettire: Engineered Garments, Barbour (includes the Bedale and Beaufort), Mackintosh, RM Williams, John Lobb, Edward Green (includes the Dover), Ten C, Visvim, Carhartt WIP, Howlin, Buttero, Eyevan 7285, and the infrequently discounted Jacques Marie Mage.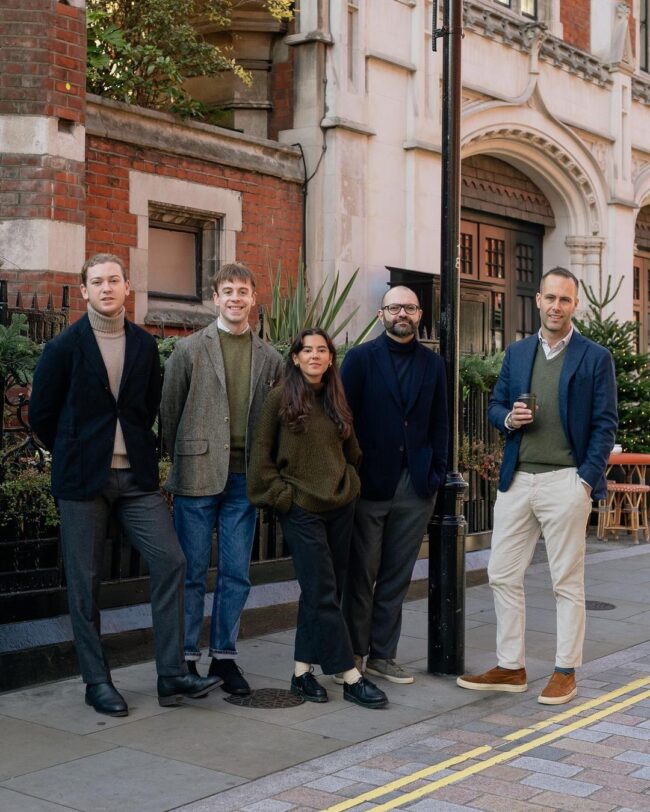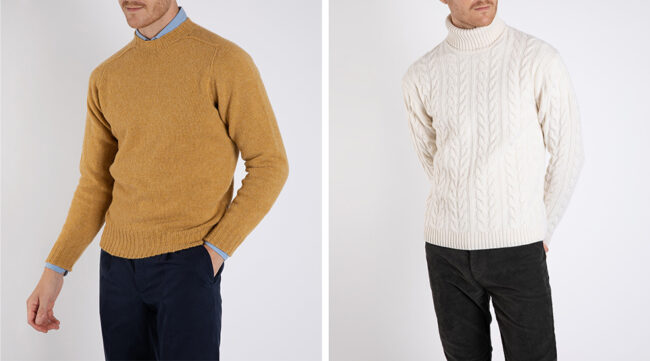 TRUNK CLOTHIERS: 30% OFF; NO CODE
Trunk Clothiers is one of those rare shops with an appealing selection of both tailored clothing and casualwear. The tailoring here is never too "gentleman;" the casualwear is not overly cool. Everything sits in this classic-contemporary space that I think suits a lot of guys' personalities and lifestyles. I also think they offer a pretty strong value. 
In their winter sale section now, you can find thick turtlenecks in useful colors such as cream and navy (~$250), ochre-colored Shetlands ($153), and gray marled sweaters ($254). Black calfskin tassel loafers have been my go-to shoes lately. Mine are made by Alden for Brooks Brothers, but these Crockett & Jones would serve just as well ($440). Wear them whenever you feel a black knit tie can work in a tailored outfit (e.g., grey trousers with navy sport coats, tan trousers with brown tweeds, and navy suits). You can also wear a brown Valstarino ($837) in lieu of a sport coat, or do this wool parka ($928) for something more casual.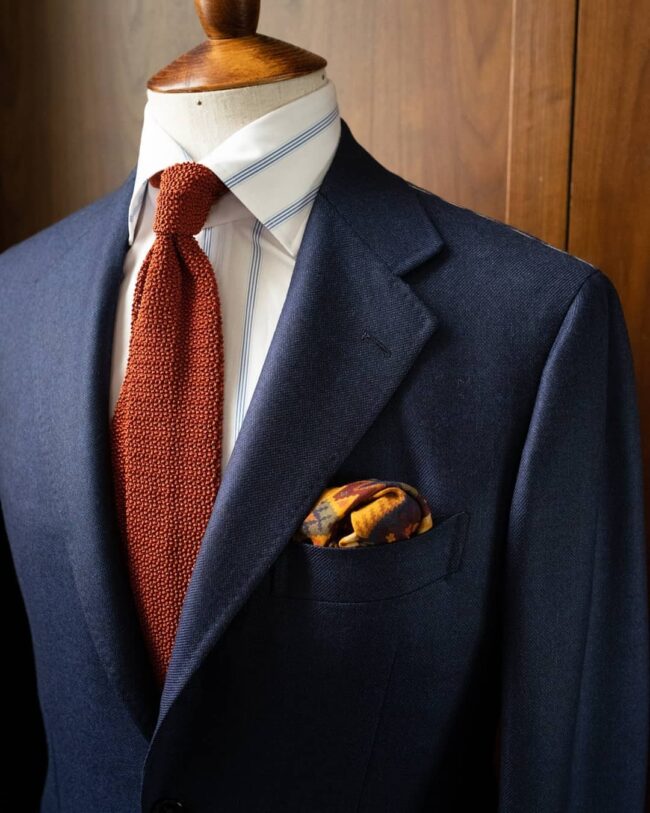 DROP93: EXTRA 50% OFF SELECT ITEMS
I think most people know that Drop93 is the not-so-secret sister site to The Armoury. Drop93 primarily serves as a consignment shop for customers' second-hand clothes, but sometimes you can find a smattering of Armoury products from previous years (hint: click New Old Stock). This includes their popular Model 3. 
The Model 3 is The Armoury's flagship product. Exclusively made for them by Ring Jacket in Japan, it features an extended shoulder line, a fuller chest, and soft construction. It's clear that the cut is informed by Mark and Alan's experiences commissioning bespoke clothes from Antonio Liverano. Their in-house cut has a similarly soft, rounded silhouette, although it misses some Florentine details, such as the hidden front dart. I think they're an incredible value even at full retail. On discount at Drop93, they're even better.
I like the cut best as a suit. They have those in grey covert ($831), tan Solaro ($992), and gray nailhead ($985). For sport coats, you can't go wrong with a basic navy jacket in their knitted "balloon" fabric ($685) or vintage Sportex ($908). Go true-to-size for these. Also buried in the NOS section: Coherence outerwear, Carmina shoes, suede O-ring belts, Nigel Cabourn Everest parkas, Armoury split toes, and Ascot Chang knitwear.