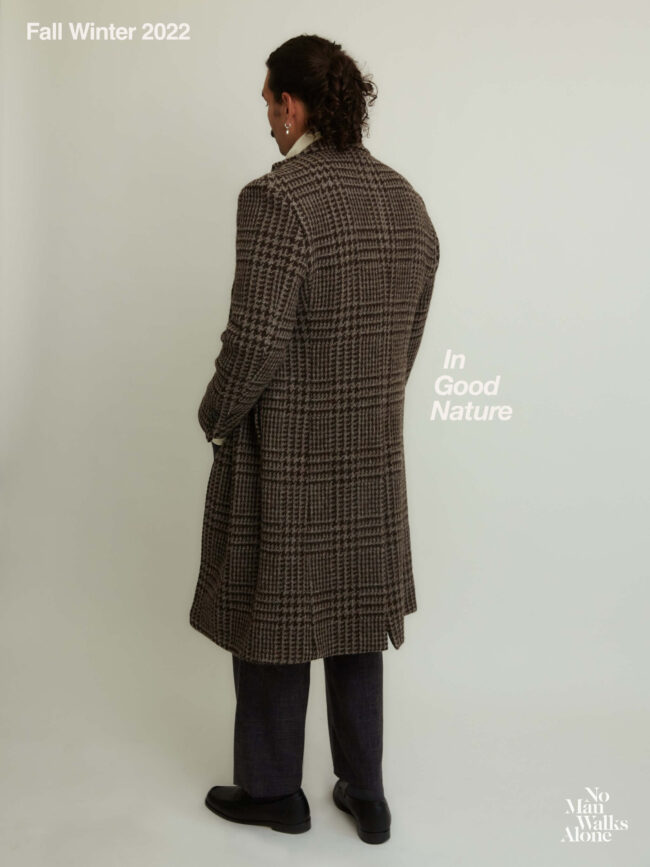 Until recently, "collaborations" have been mainly in the purview of streetwear. They're a way for companies with specific strengths or areas of expertise to create something unique together, sort of like how academics from different fields might come together on a project. Growing up, I've always associated the term with Nike, or how a cut-and-sew company might collaborate with a cool brand specializing in screenprints. But as the fashion industry has increasingly embraced streetwear in the last ten years, even luxury lines are marketed under the flashing neon-lights sign of "collaboration." Collaborations are a way for companies to generate not only products, but also online content and interest in today's noisy, crowded market.
The best collaborations involve companies with distinct points of view, but aren't worlds apart. Last week, two of my favorite companies, No Man Walks Alone (a site sponsor) and Stoffa, collaborated on a project called In Good Nature. It's a fall/winter capsule collection that includes dramatic overcoats, patterned tailoring, lounge jackets, drawstring pants, and camp collared shirts with generously sized chest pockets. Like the two companies involved, the collection straddles the line between classic and modern, allowing you to style the clothes in various ways (more on this later).
The name In Good Nature refers to the team's goal of producing clothes with minimal environmental impact. Stoffa founder Agyesh Madan sourced deadstock Italian wools originally made in the late 1990s and early 2000s, saving material that would have otherwise been discarded. You don't often see collections like this because larger brands need enough cloth to produce massive runs. NMWA and Stoffa were able to use these remnants because they made a small capsule collection through flexible Italian factories ("The clothes are made in the same way we would do a one-off MTM," No Man Walks Alone founder Greg Lellouche explained). They also sourced natural, undyed fabrics from the Yorkshire-based mill Marling & Evans, which specializes in this sort of cloth. Most fabrics are chemically treated to take on the color palette of your wardrobe. Undyed fabrics allow the natural color of an animal's fleece to shine through. They're typically cold in hue, have some visual depth (since the fibers haven't been dyed into a flat uniform color), and range from grey to taupe to chocolate brown.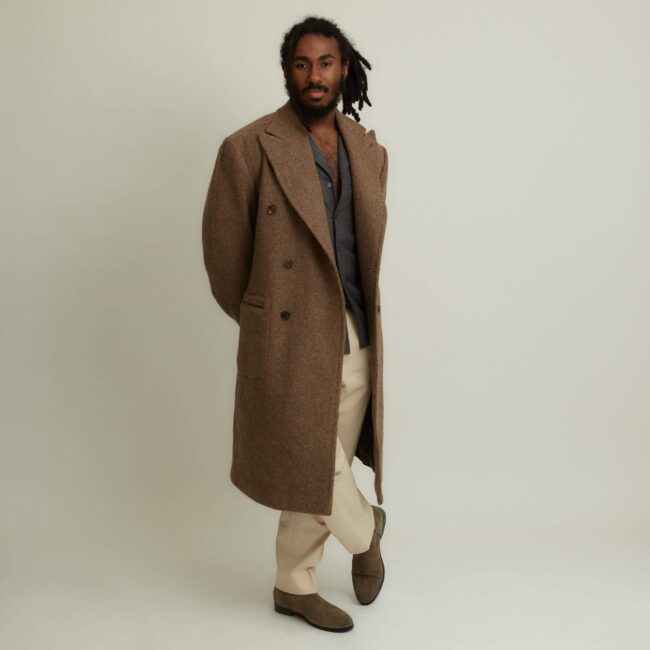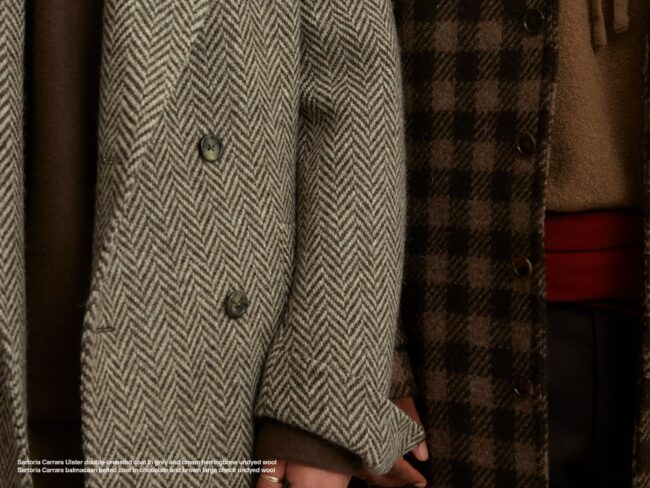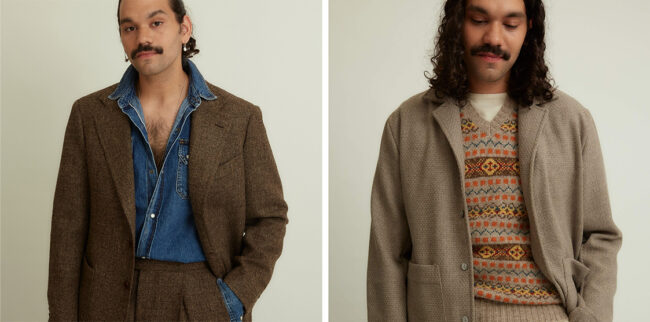 Keen-eyed readers will notice some familiar designs from both companies. Stoffa loaned their patterns the lounge jacket, camp shirt, and drawstring pants; NMWA did the tailoring (extended shoulder, fuller chest, lower gorge — classic all around, and highlights the Golden Age of Italian style). However, the belted Balmacaan and double-breasted Ulster overcoats, which have a tremendous presence, are new developments. "When designing the overcoats, it was important for us to get the shape right," says Greg. "We wanted something that fits a bit fuller, so you can comfortably layer these over a jacket or sweater. Many overcoats are made with slim sleeves, so you can't wear them over anything more than a knit. Additionally, we wanted certain details—a belt for the Bal and mailbox pockets for the Ulster. The Bal terminates just above the knees because we wanted something different from our Bal collaboration with Fred Nieddu. Customers who want this lengthened can do so through our MTM program."
One of the things that I love about the collection is how everything sits at the edge of classic men's style. The clothes can be worn in traditional and conservative ways, such as pairing the checked tweeds with oxford button-downs and woolen flannels. The natural, undyed wools are easy on the eyes, which allows them to play well with blues, creams, black, and olive. At the same time, you can wear them in ways that look less conventional. "I think all of these items would work beautifully in a business casual context, such as pairing the sport coats or lounge jacket with a collared shirt," says Greg. "At the same time, if you want to make these outfits look less business casual, it helps to remove the first layer: the collared shirt."
"Instead of a collared shirt, try something with a round neck. It doesn't have to be a full 1980s look with a white t-shirt and rolled-up suit sleeves. But you can add options to a tailored wardrobe if you wear a knitted tee, thin merino crewneck, or turtleneck. In the summertime, this can also be a camp collared shirt or skipper polo. Look at the outfits Agyesh styled with the denim Western shirt and tweed, or the Fair Isle worn with a lounge jacket and white tee [Derek's note: I've included these photos above]. If you used a striped OCBD, the shirt would totally transform the look. Taking away that one traditional element helps give everything a more distinctly casual vibe."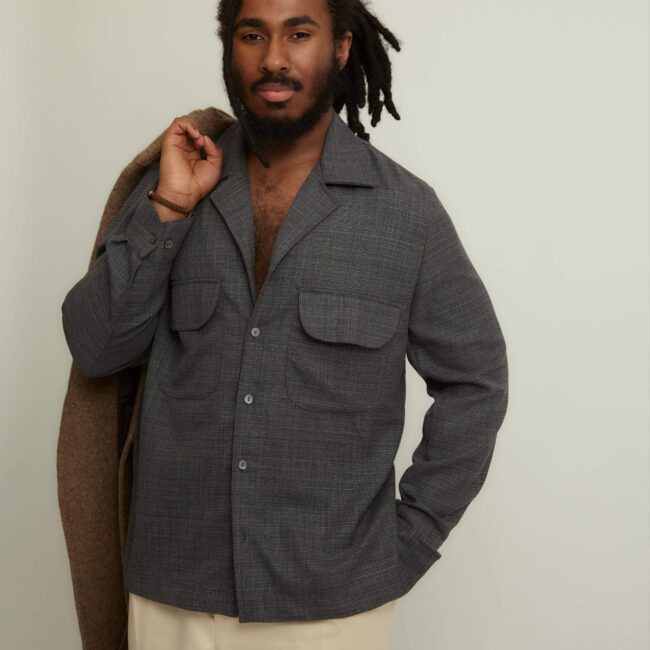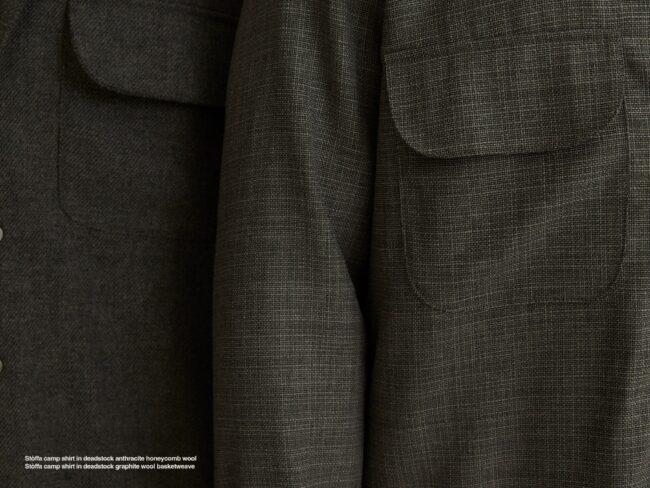 I've always loved Stoffa because their clothes are more interesting than the casualwear you see at traditional clothiers, but they also have a sense of sophistication that allows them to sit naturally alongside suits and sport coats. When put into a collection like this, it's remarkable how coherent everything looks. The capsule collection could be an entire wardrobe by itself, supplemented with some thin knits and high-rise trousers, giving someone options for both the workweek and weekend. When it comes to building a casual supplement to a tailored wardrobe, Greg recommends starting with basics. 
"It's easy to get drawn into wild prints and patterns," he says, "but those things will be a little more limiting. When your wardrobe has casualwear and tailoring, you'll get more interchangeability if you start with knitwear in a range of tones—again, knitted tees, crewneck sweaters, turtlenecks, long-sleeve polos, and the like. For footwear, get things that can be worn with tailored trousers but won't make you look like you work at a bank. Options can include penny loafers, boots, and Tyrollean shoes. Make heavy use of suede. Simple sneakers with a low profile also work well. These can be white minimalist sneakers such as Common Projects Achilles, basic Reeboks, or German Army Trainers—anything that doesn't have a massive sole or a million colors. In the summertime, you can also do espadrilles. You can wear these clothes in so many ways: a suit with a camp collared shirt and loafers, or the lounge jacket with a knitted tee and simple sneakers."
The collection is currently up for pre-order until July 25th. Greg tells me that some pieces will be stocked in the fall, depending on how pre-orders go ("If a certain piece doesn't prove to be popular, we obviously won't be stocking it."). As with all pre-orders at No Man Walks Alone, they offer a small discount. My favorites in the collection include the double-breasted Ulster overcoats in either color (I would wear these with blue jeans and chunky cream sweaters). If you don't already have a brown tweed, the glen check and gun club sport coats are true staples in any tailored wardrobe. I suspect the taupe double-breasted suit will get overlooked because many people associate pinstripes with boardrooms. However, since this suit has a slightly more casual color, I think it would look outstanding if you're open to wearing tailored clothing when going out for dinner. I would pair that with a white shirt and black knitted tie, or a neutral-colored turtleneck for something more casual (Brooks Brothers' turtlenecks are surprisingly good for the price). Finally, the challenge of every classic casualwear outfit is figuring out what to do for outerwear. Without a tailored jacket, too many outfits devolve in the vanilla blandness of business casual. If you're looking for options, Stoffa's camp shirt in either the basketweave or honeycomb wool would be excellent. I would wear that layered over a thin t-shirt, both potentially tucked depending on the fit of the two items, and paired with tailored trousers and slip-on shoes.