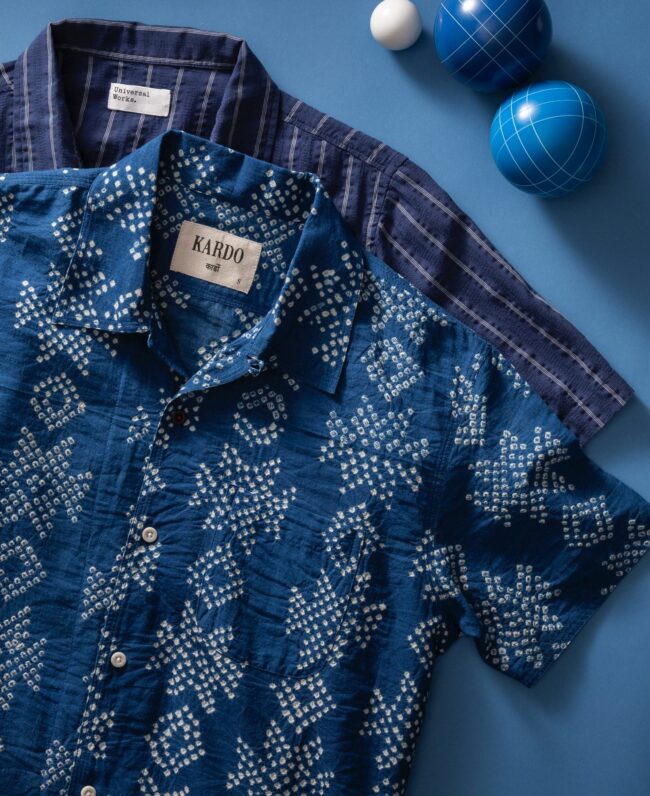 Fall/winter style is all about outerwear, but the shirt comes into its own in the summertime. What's typically considered background material for a nice coat or jacket becomes the centerpiece when it's too hot for layering. Unfortunately, there are few guidelines for choosing a good summer shirt. Basic white poplins and light blue oxford button-downs are wardrobe staples but a bit boring by themselves. Summer prints can vary wildly, leaving many people confused about what to buy. So this season, I've compiled a list of what I think are some excellent options, along with tips on how to wear specific shirts and what aesthetics they fit.
THE USEFUL BLUE SHIRT
In the most famous shirt-related scene committed to paper, Daisy Buchanan is described as sobbing stormily into thick shirt folds, her head bent and voice muffled as she cries about how she's "never seen such beautiful shirts before." The shirts had been thrown onto a table, mounted high into a soft, rich pile, and came in a spectrum of rainbow colors, including, as F. Scott Fitzgerald vividly described, "coral and apple green and lavender and faint orange with monograms of Indian blue." The enchanting description beautifully captures the decadence of the book's main character, the mysterious millionaire Jay Gatsby. But if you want to build a useful shirt wardrobe, you should stick to just one color: light blue.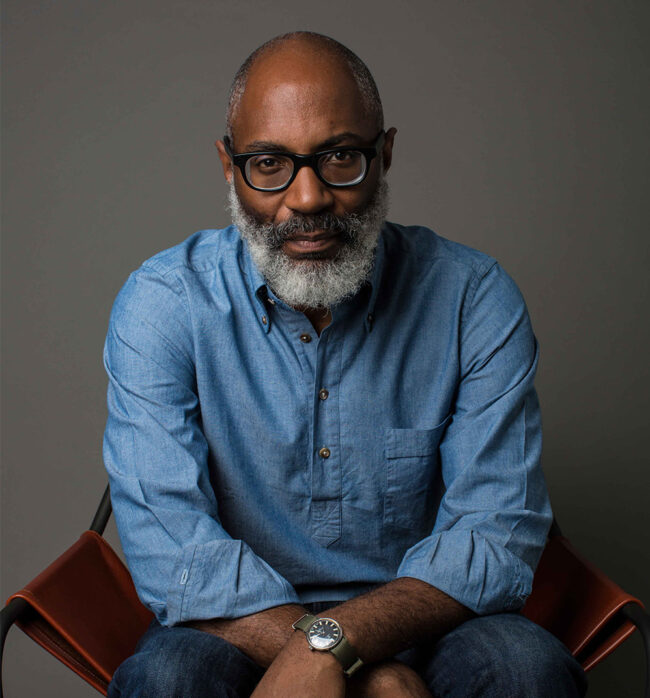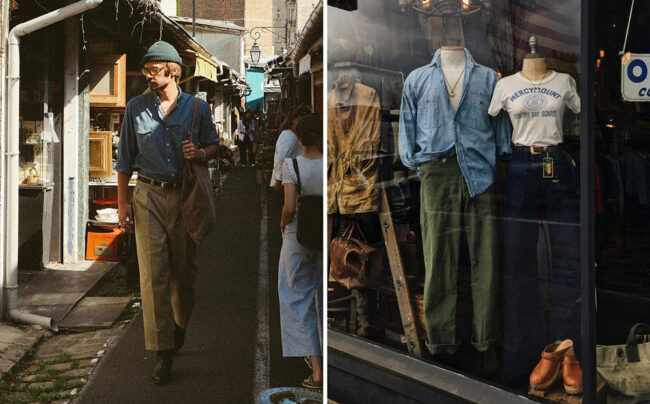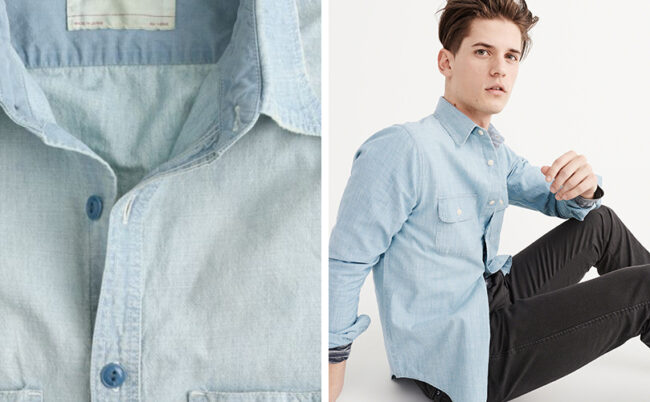 Light blue is the most useful shirt color. It's gentle on the complexion, no less flattering on dark-skinned men than any other shirt color, and invariably makes paler men look better. Since the days of Minnie Eisenhower, blue is associated with masculinity, helping it underscore many of the styles discussed on this blog (e.g., workwear and tailoring). It's neutral and plays well with colors likely already in your wardrobe, such as grey, olive, and brown, making it easier to get dressed in the morning. If you happen to have blue eyes, there's no excuse not to wear a blue shirt, as it will make your eyes sparkle. 
If you already have a pile of light blue oxford-cloth button-downs (as you should), consider supplementing with some chambray. Light blue chambrays, particularly in a workwear style, are the more casual counterpart to Ivy button-downs. They go naturally with dark denim and olive fatigues; if the style is dressy, they can be teamed with sports coats. The best thing about them is the weave. Since chambray is made in a plain weave, unlike the twill that defines denim, it's easier to find these in lightweight, breathable designs that are comfortable to wear in the summer's heat. 
This season, there are some great chambrays from Todd Snyder, Orslow, Doppiaa, Drake's, Sid Mashburn, Mr. P, Benzak, RRL, and Ralph Lauren. Jeremy Kirkland, host of the menswear podcast Blamo!, once cited Engineered Garments' chambray as one of the few things from the heydays of hashtag menswear that he still wears. "It worked when I was trying to do Cool Guy Workwear, and it worked when I was trying to do Cool American-Italian sort of stuff," he said in an interview with Put This On. "I'll wear it with chinos, denim, and Ambrosi trousers. It's just kind of perfect. I don't think it represents one particular thing on its own, which is why it's so versatile."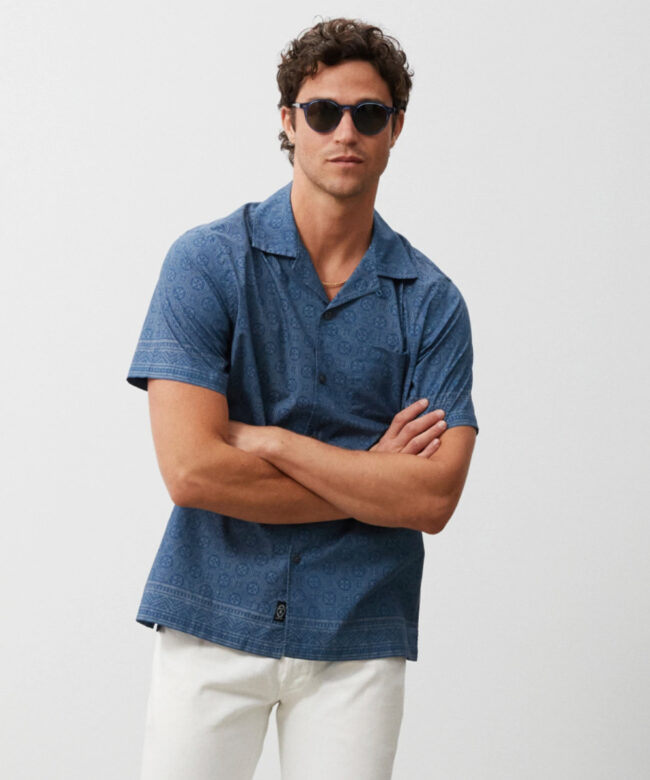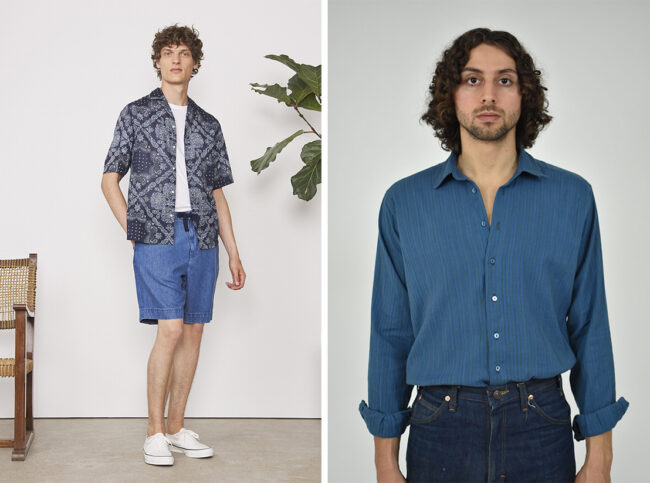 Chimala's chambray shirts are painfully expensive at full retail, but they come with convincingly executed repair work — zig-zag darning, pencil-sized patches, and slightly frayed edges. The result is a shirt that looks like the coolest thing you could have dredged out of the back of a vintage shop, but without requiring you to rummage through dusty piles. Check for them on eBay, where they're cheaper, but beware of sizing. Chimala is mostly a unisex line, which means many of the shirts have "masculine" plackets (i.e., the buttons are on the right). Sellers who are unaware often mislabel Chimala's womenswear shirts as being for men (so a large may fit like a small). For something more affordable, there's always J. Crew. Their upscale Wallace & Barnes chambray is cut from selvedge Japanese cotton and features reinforced sleeves and gratuitous bar tacks. I like the details on that shirt, but the mainline version is pretty great too. Uniqlo, forever a good source for affordable clothing, has chambrays for just $30. 
Solid-colored shirts are a genuine staple in any wardrobe. But when it's too hot for layering, a uniquely patterned shirt can add visual interest, keeping an outfit from looking business casual. There are some wonderful options this summer from Todd Snyder, Kardo, and Officine Générale. The geometric, Arabquesque pattern on this camp collared Todd Snyder shirt would look great with white jeans and slip-on shoes. Post-Romantic, an advertiser on this site, sells made-to-measure shirts for prices starting at just $55. This gently striped, bohemian-styled shirt is made from hand-loomed, indigo-dyed cotton that will naturally fade over time and look great with raw denim jeans and a pair of leather huaraches (my favorite summer shoes).
When shopping for blue shirts, pay attention to the shade, hue, and saturation of their color. Some blue shirts can be hard to team with blue jeans. The Kardo shirt pictured at the top of this post, for instance, will be easier to wear with olive fatigues, tan chinos, and white denim. This is one of the reasons why the light blue chambray is so useful — it's wearable with anything except light blue jeans. Although, as Gatsby knew, a bit of variety can be good too.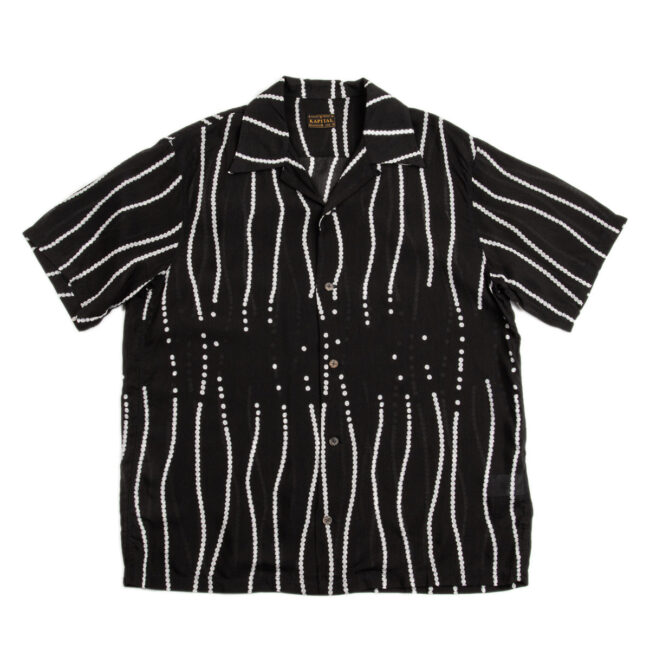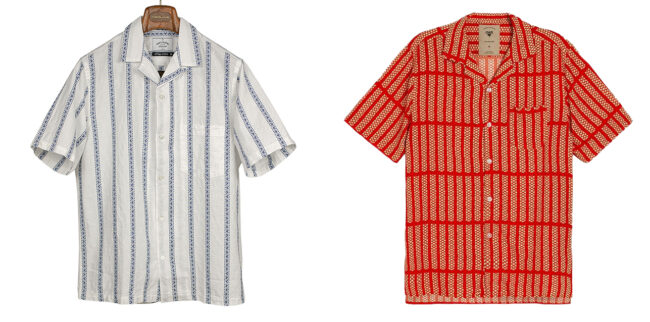 CALIFORNIA WORKWEAR
Valerie Steele, an author of many great fashion books and the director of the Museum at the Fashion Institute of Technology, once said something in a New York Times article that stuck with me. When asked why New Yorkers love wearing black, she talked about the color's association with edgy downtown artists and the avant-garde. Plus, she added, black looks good against Manhattan's concrete backdrop (or, as she put it more poetically, New York City is "a city of stone"). "It wouldn't look the same in a sunny Los Angeles milieu," she said. 
The comment stuck with me because it made me think about how one's clothing interacts with their environment and why my taste in casualwear has slowly drifted to something I call California workwear. That's my term for a West Coast version of workwear that looks quite different from its preppy Maine Guy counterpart. There are trucker jackets instead of barn coats; grey sweatshirts instead of cream-colored Arans; side-zips instead of hunting boots. It feels distinct to California but doesn't have the optimistic, salt-encrusted hair aesthetic of PacSun shorts and Hollister t-shirts. It's darker and grittier, but not as dark as Rick Owens (a California native). As someone who grew up in California, it mixes authenticity and aspiration — something I authentically grew up around but also conveys a kind of masculinity that I wish I naturally embodied. 
Finding shirts for this wardrobe can be a challenge. Flannels are too warm for summer; plain white or grey t-shirts are reliable but sometimes too plain. This time of year, I mostly rely on vintage-inspired graphic tees from Imogene + Willie and Midnight Rider, supplemented with short-sleeved linen shirts I bought from Kapital many years ago. Unfortunately, the Kapital shirts have long been sold out, but this jet black, cupro-silk shirt with a broken pearl necklace print could be a good alternative. For something more affordable, this red viscose OAS shirt will work in many of the same outfits. Either can be worn with olive fatigues, tan workwear chinos, and jeans in any color. You can wear them underneath denim trucker jackets or black leather double riders when the weather allows. In the summer's heat, they can be worn open and layered over t-shirts to imitate the visual effect of outerwear. Just note that cupro and viscose are lightweight, delicate shirtings that hang beautifully, almost like gossamer silk. However, they have to be hand-washed or dry cleaned, which could be a hassle if you're wearing these on a regular basis during the summertime. 
Portuguese Flannel also has a wonderful dobby shirt this season woven with zig-zag blue stripes and textural white motifs. It hints at the possibility that you bought this abroad while on vacation, and would look great when teamed with baggy linen shorts and leather huaraches (a solid vacation-styled look that isn't too campy). At the same time, it can be worn with California workwear — blue jeans, side-zip boots, and black leather jackets. I love how the checkerboard, waffle texture adds visual interest without making a statement, which will allow it to be easily worn on its own or tucked underneath outerwear. Levis has a somewhat similar shirt for less money. I also like these patterned shirts from Kardo, RRL, Universal Works, Corridor, Rag & Bone, Glad Hand, Gitman Vintage, and Fortela. Lastly, don't forget to check eBay for old RRL designs. They're often very good for this sort of thing.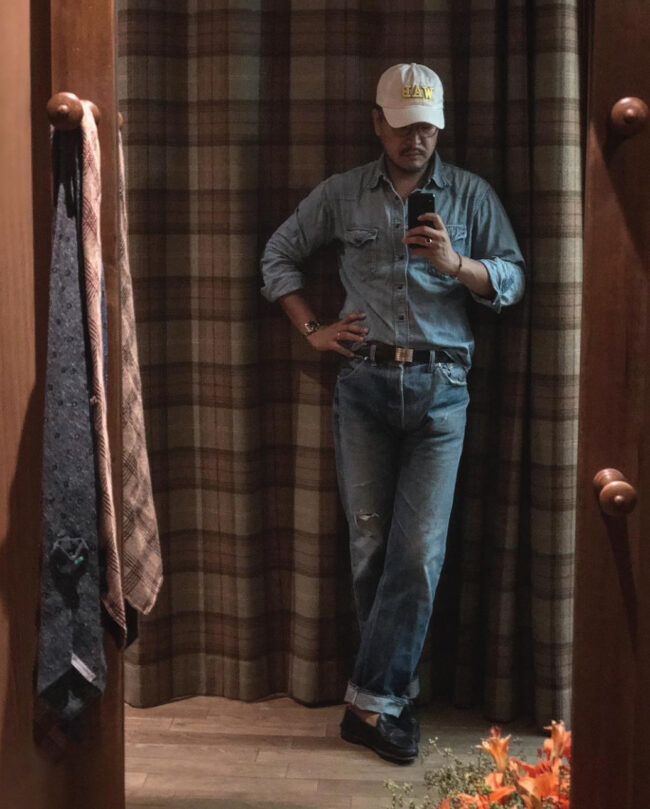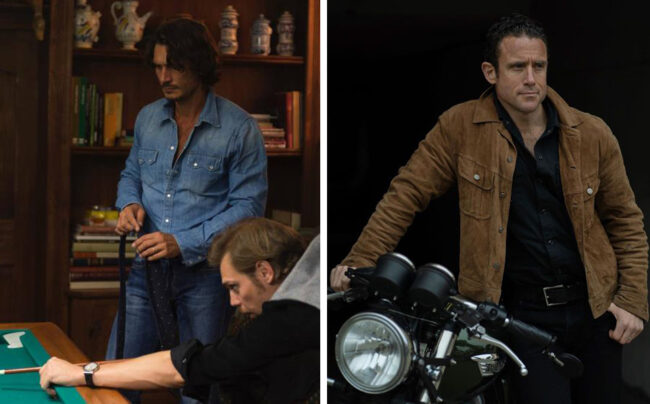 THE (LIGHTER) WESTERN SHIRT
If you've been feeling bored with your wardrobe, let me humbly make a suggestion: buy a denim Western shirt. A denim Western shirt can be had for as little as $40, but it comes full of possibilities. You can use it to dress down casual suits and sport coats (a denim shirt underneath tweed is a classic Ralph Lauren move). It carries all the romantic notions of the American West — self-reliance, resourcefulness, practicality, optimism, and rugged individualism — and can add new flavor to a familiar workwear wardrobe. You can pair a Western shirt with jeans or a rugged pair of chinos, or use it to make a pair of fatigues feel less strictly military. At the same time, if you find yourself wearing the shirt often, this can be your gateway into the broader world of Westernwear. You can upgrade a workwear wardrobe with cowboy boots, roper boots, and tapered belts finished with fine Native American silversmithing. You can wear Native American jewelry, such as silver cuffs and turquoise rings, or use Wrangler's Wranchers to add a touch of sleazy retro flavor to an outfit. The Western shirt can be anything you want — a way to make an old wardrobe feel new or a friendly introduction to one of the more overlooked areas of classic American dress. Plus, it's weirdly satisfying to rip the shirt off like Superman at the end of a day and hear the sequence of snap-button clicks.
Far and away, the best value here is Wrangler. Priced at just $39, it ticks all the right checkboxes: the fabric is soft but sturdy; the shirttails are long enough to stay tucked all day; the fit is surprisingly slim and flattering despite the questionable online presentation. The only issue is the finishing. The interior seams and hem are roughly finished with messy overlock stitches (as shown in the product photo). But in terms of value, it's hard to beat. I bought mine about six years ago after seeing Agyesh from Stoffa wear one at a trunk show. Many years later, I still wear it from time to time, even though I've since added some "higher-end" Western shirts to my wardrobe. If you're open to spending more money, Levi's Barstow is roughly double the price but stays well under $100. It's made from a better fabric and comes with more neatly finished seams. I also like the Western shirts from Orslow, Barbanera, Bryceland's, Imogene + Willie, and RRL. My favorite denim Western shirt is a discrete design from Kapital (rare for the brand), which comes with slanted pockets and is made from raw denim fabric. They're sold out at the moment, but you can sometimes find them on eBay.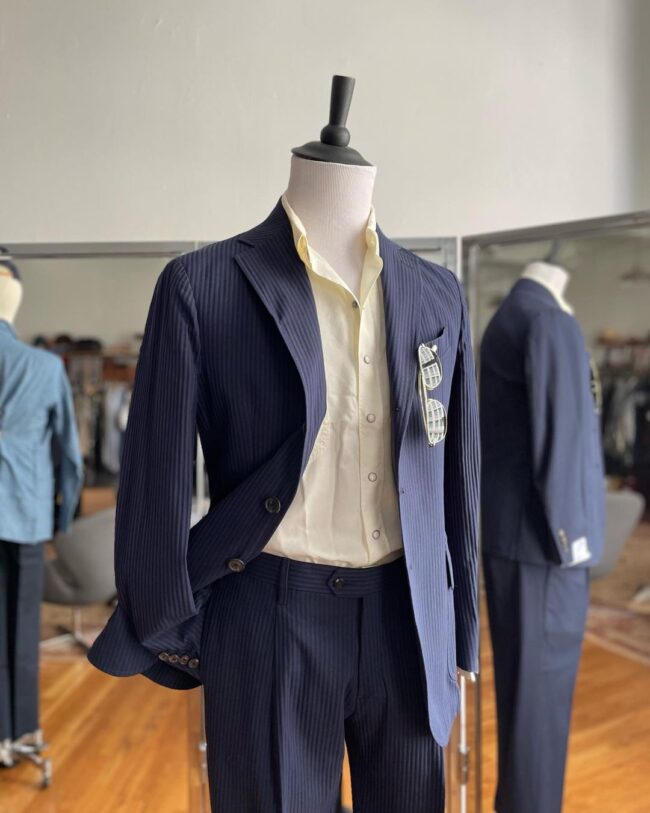 Some of those denim shirts may feel stifling to wear during the summer since denim tends to be a heavier fabric. If you want something better suited to warm weather, try Taylor Stitch. Their Western shirt is cut and sewn from a midweight 9oz chambray and costs $125 (or $100 if this is your first order with them). I love how the angled chest pockets point to the shoulder joints, almost mimicking the effect of peak lapels. When paired with jeans or even a rugged pair of chinos, the shirt looks like it could have been pulled out of a scene of Cool Hand Luke. 
Men who know they'll mostly wear this with tailored clothing may want to check out Proper Cloth. Proper Cloth is the best online MTM shirtmaker I've used out of the dozen or so I've tried. They can't match a bespoke tailor's work — no online company can — but they're competitively priced and come reasonably close. They're also very good at making casual shirts, which isn't something you'll get from a bespoke tailor. For instance, their chambray and denim shirts undergo a special enzyme wash. That wash helps break down the fabric, puckering the seams and giving the shirt an admirable, slightly worn-in feel. Most tailors can't offer this because they don't have access to the machines, or the process is too expensive for one-offs. But Proper Cloth can do it because they organize bulk runs. The result is a casual look that's typically only available off-the-rack but with the fit of custom tailoring.
Lastly, I love Wythe's Westerns. Their lightweight chambray and Tencel gabardine shirts channel the retro style of the 1960s, yet look contemporary too. The teardrop-shaped pockets are beautifully designed, and the vintage snap-buttons were specially sourced. I wear the cream-colored Tencel gabardine (pictured above) on its own with tan RRL jeans. Additionally, it pairs well with casual suits in seasonal fabrics such as tonal navy seersucker or cavalry twill trousers and tweeds. My only complaint is the front-back balance. Due to the shirt's short front tail compared to its longer back tail, it's not ideal for wearing tucked in or out. I find it works, even if it takes some fiddling. If you're able, try pairing it with a gold necklace (I like 7mm Miami Cubans at the moment). There's nothing better than a hint of gold peeking from beneath an open collar on a silky gabardine to make you feel just like Richard Gere in that famous American Gigolo scene.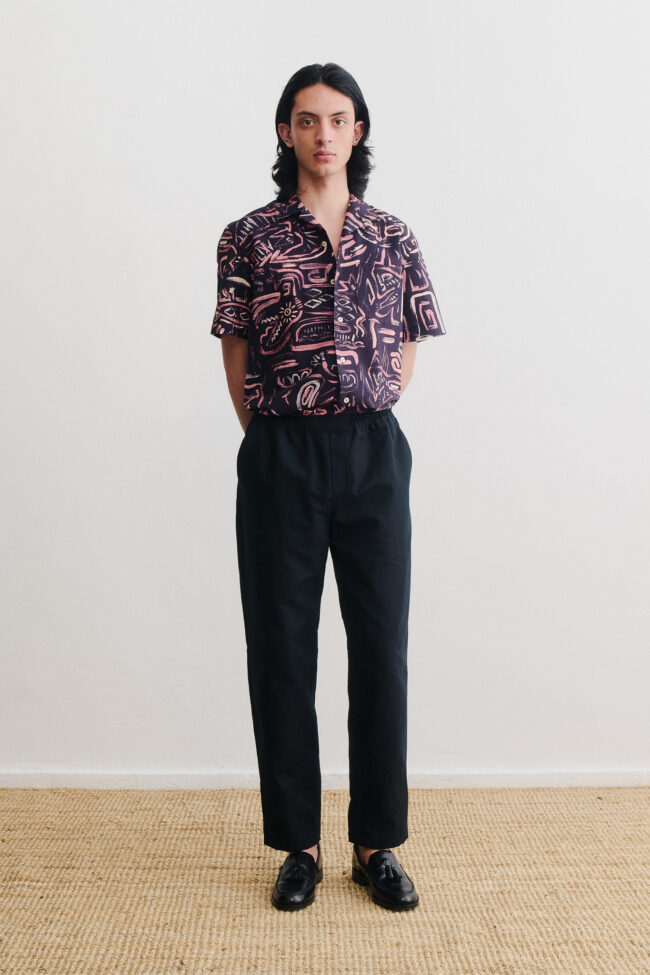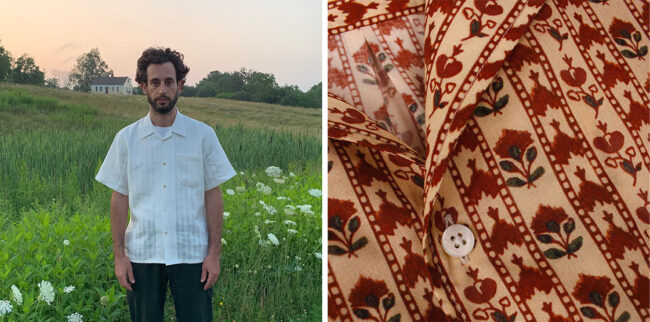 THE BOHEMIAN SHIRT
In my head, I have this idea of a young bohemian in NYC who knows all of the best vintage shops and is generous with their music recommendations. They don't engage in gatekeeping or snobbery. They're friendly, gregarious, and delight in the arts. Many of the things they wear are thrifted, but they somehow manage to bring everything together in a way that makes sense. When I was young, I admired this style from the sidelines, never quite feeling like it suited my nerdy nature but appreciating it nonetheless.
Summer is an excellent time for this look since it works with everything from slim jeans to flowy trousers. Also, this style relies heavily on interesting shirts — whether printed, textured, or loosely cut. Naturally, your local thrift store is the best source for this sort of thing. However, if you don't feel like rummaging through racks at Goodwill, there are also some contemporary options this season that channel the same spirit.
One of my favorites is from A Kind of Guise. The hand-painted print was inspired by Columbian craftwork and transferred onto a lightweight purple seersucker. It vaguely reminds me of some shirts I've seen from Dries Van Noten, which are beautifully rendered in a slippery, soft viscose (but at the cost of a much higher price and requisite hand- or dry-cleaning). This seersucker is machine washable and will be easier to maintain. It'll pair beautifully with black linen trousers and black leather huaraches, making you look like someone with something to say about 19th-century Belgian art.
I also love this camp collar shirt from SMR Days, which features a unique pintuck pattern that reminds me of guayaberas. This shirt fits boxy, which allows you to wear it open over a t-shirt or by itself with casual trousers. Additionally, Pentimento, Pikol, and Abercrombie & Fitch offer slightly more affordable alternatives to Bode's campy small-town aesthetic. I admit, that boho-chic style is perhaps a little past its due date, but I still find it charming (Jared DeSimio makes really nice accessories for that sort of look). Lastly, I like the shirts from De Bonne Facture, Fujito, Sunflower, Norse Projects, Wood Wood, Tony Shirtmakers, and Post Imperial. All would go well with casual tailored trousers and slip-ons this summer.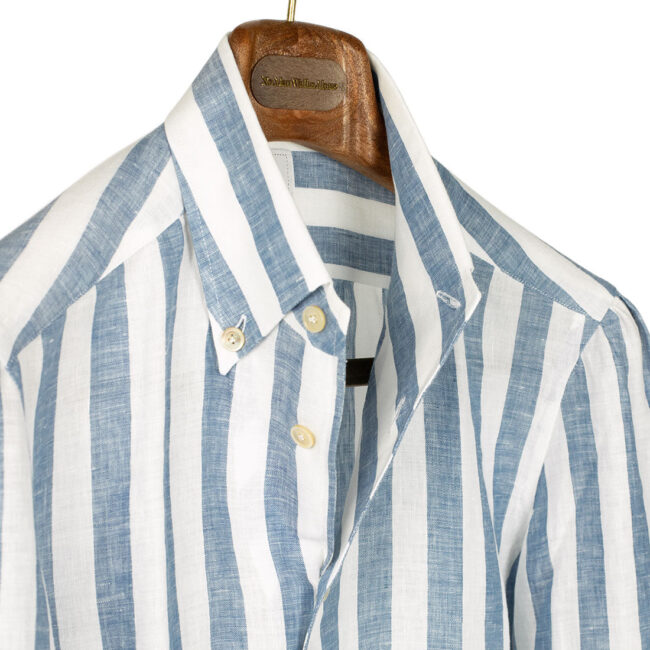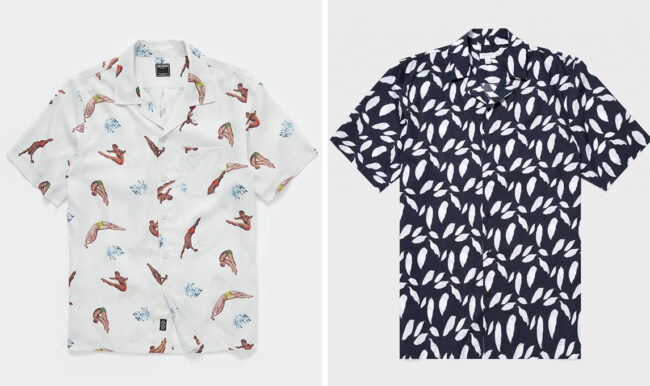 CLASSIC OR CLASSIC ADJACENT
OK, so you've made it this far in the post and you don't want to look like a cowboy, a badlands motorcyclist, or an art curator. You just want to dress well and feel comfortable when the temps reach 90 degrees. What to do?
For guys who love a more classic look, this is a never-ending challenge with no easy solution. Once you ditch the tailored jacket, it's all too easy for a classic outfit to veer into business casual territory (and why contemporary office dress culture is so miserable). If you can manage it, at least wear a sport coat. The usual advice applies: sport coats are easier to wear in the summertime when they're made from open-weave fabrics, such as Mock Leno, and built with less structure that would otherwise trap heat. 
If you wear a sport coat without a tie, however, you may want to choose a more interesting dress shirt. Certain shirts, such as dressy poplins or broadcloths cut with a basic spread collar, almost cry out for neckwear. Even semi-casual shirts such as Ivy-styled button-downs can look too plain when made from solid blue oxford cloth (although I still often wear them without a tie). A better choice would be a classic striped shirt, which will add visual interest where a tie would normally occupy. You can find great ones from G. Inglese, Besnard, Proper Cloth, The Armoury, and Kamakura.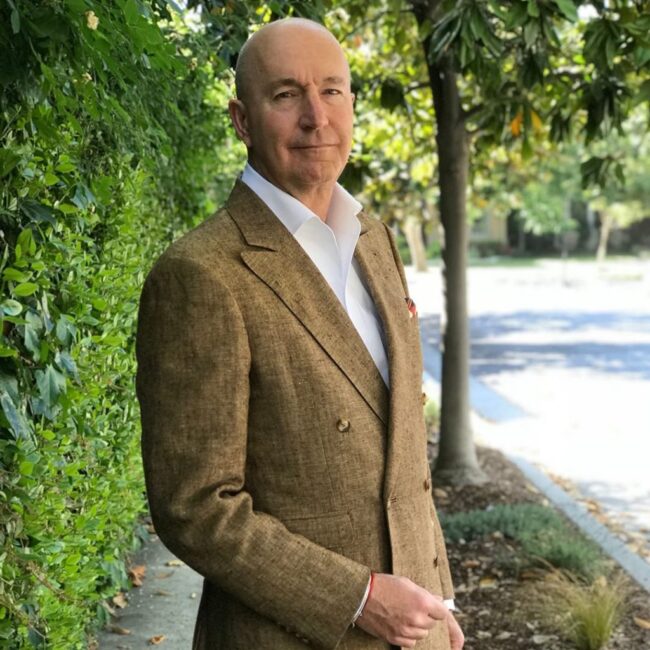 The one-piece collar also looks great with sport coats and casual suits, adding an air of charm and sophistication reminiscent of the mid-century resort aesthetic. Mark and Jan from The Armoury show off their design on YouTube, and you can find polo versions at PML Clothing, Yeossal, and Prologue. 100 Hands also has one-piece collar shirts made from woven fabrics. My friend Andy in San Francisco, pictured above, shows how these sorts of collars can look under a tailored jacket. Moreover, dark blue shirts, such as this slubby Japanese number from Proper Cloth, do a surprisingly good job of pulling together a tie-free outfit. Much like the useful black sweater, which can serve as a neutral backdrop for outerwear, a dark blue shirt keeps the focus on your jacket and not the vacant space between your coat's front edges. (Although, please never wear a tie with any kind of dark shirt, including mid- or dark blue ones. Such shirts are strictly casual and should be kept open collar.)
I can already hear your objections. "I can't wear a sport coat." "Derek, it's 100 degrees." "I can't believe I came to a site called Die, Workwear and slogged through a hellishly long post that was mostly about workwear."
If it's genuinely too hot for a sport coat, try to find printed shirts that look interesting and casual, but still sharp. This season, I like the ones from Blue Blue Japan, Sunspel, Norse Projects, and Frescobol Carioca. Todd Snyder has a wonderfully charming diver print shirt based on a vintage collectible. You can find a long-sleeved, rayon version of that shirt at Bryceland's, along with many other retro-styled prints. Diehard preps will also want to check out the madras selection at O'Connell's and The Andover Shop. And finally, don't forget your solid-colored, slightly textured, camp collar shirts. They're basic, yes, but popular for a reason. You can wear them with any leg covering — jeans, chinos, tailored trousers, or shorts — and they will look conservative enough to suit any non-business environment, look more stylish than business casual, and be comfortable in the heat. This season, you can find some great ones from Portuguese Flannel, Besnard, Stoffa, Gitman Vintage, Todd Snyder, J. Crew, and Corridor.