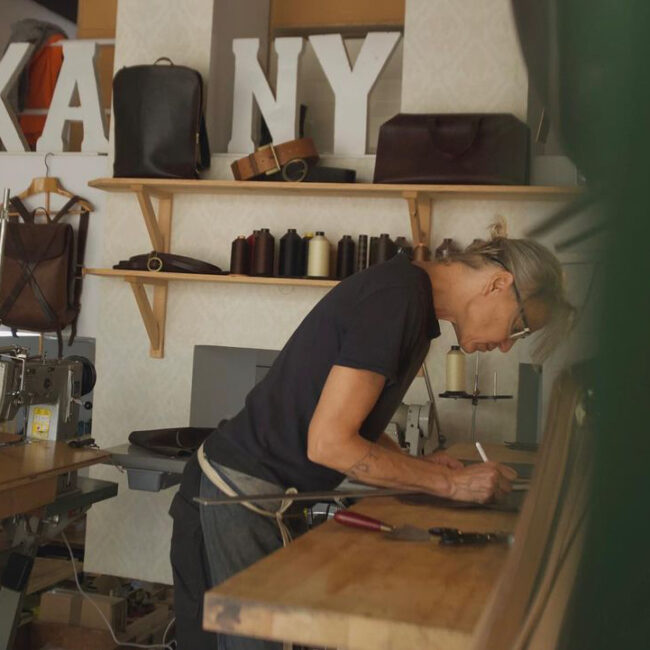 Later today, I'll be posting a full roundup of every Black Friday sale worth checking out. The list will be published at Put This On, and it'll be updated until the end of Cyber Monday. In the meantime, here are seven more noteworthy sales, along with some suggestions of what items to check out. Along with yesterday's list, you should have some good shopping options this weekend.
KIKA NY: 20% OFF;  CODE BLACKFRIDAY21
When Kika Vliegenthart moved from the Netherlands to New York City in the early 1990s, she intended to study film but somehow ended up working for Barbara Shaum, the legendary leatherworker who made things for Ralph Lauren and Calvin Klein. Shaum passed away a few years ago, but her legacy remains through the people she taught, Vliegenthart among them. These days, Vliegenthart runs a company with her life and business partner, Sabine Spanjer. Their company, KikaNY, transforms top-end Italian leathers into bags, belts, sandals, and other accessories. There's something bohemian and uniquely NYC about their work — reminiscent of the Arts & Crafts Movement and 1960s East Village aesthetic for which Shaum became known. Their leathers are softer and gentler than the stiff bridle leather you might get from an English maker, such as Equus Leather, but no less durable. I like their belts, which are the kind of thing you'd expect to see at a Brooklyn boutique with potted Monstera plants growing in the corner. The 1.33″ double-o ring belt, in particular, comes in just the right size for casual wear, and the leather ages wonderfully. The No. 8 and oval buckles look nice, too.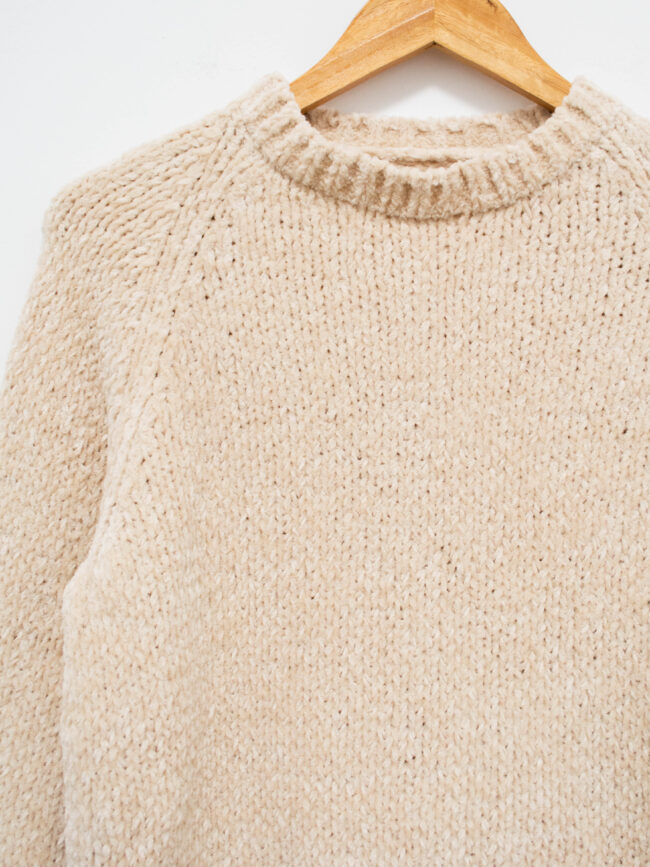 NAMU SHOP: 25% OFF; CODE PIE
When Twitter went crazy over these photos of Oscar Isaac on Miyako Bellizzi's Instagram, a friend of mine messaged me: "This is pretty much Asian normcore." I instantly knew what he meant. In South Korea and Japan, there's a "soft boy" aesthetic that's uber comfortable and relaxed, yet somehow pulled together and effortlessly chic. Namu Shop, a sponsor on this site, specializes in that kind of look. They're also bringing hard-to-find South Korean and Japanese labels to the United States. 
I'm often impressed by how Jessie Lee and her partner James Kang are able to recontextualize certain brands. They carry labels such as Kaptain Sunshine, Eastlogue, and Fujito — three brands I love, but mostly think of as specializing in Americana, workwear, and outdoor gear, respectively. Yet, when presented on Namu's site, you can see how certain pieces can be worn with wide-legged trousers and New Balance sneakers for a more relaxed, almost minimalist look. Kaptain Sunshine's Traveler coat is perhaps one of my top five pieces of outerwear — it's impossible to look bad in this thing. Document's robe coat and Melton topcoat can be worn with easy trousers or slim-straight jeans. I'm also intrigued by this beautifully textured ts(s) knit, which looks like it could be just the right laying piece under any roomy coat, helping to add visual interest underneath (look at those slubby yarns!).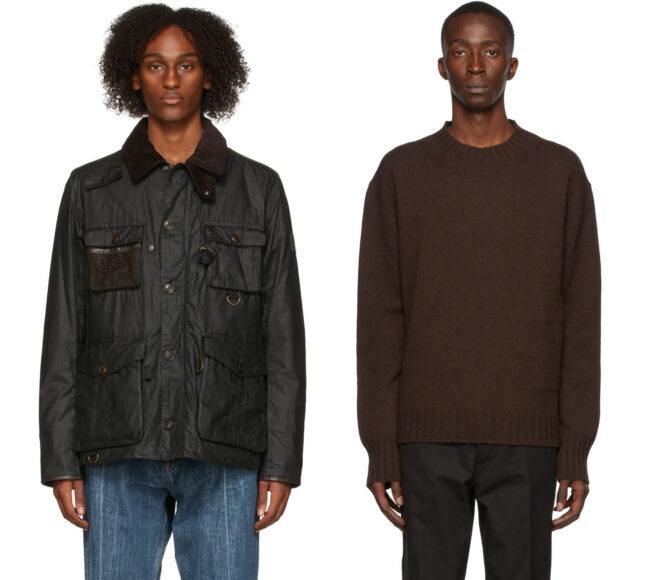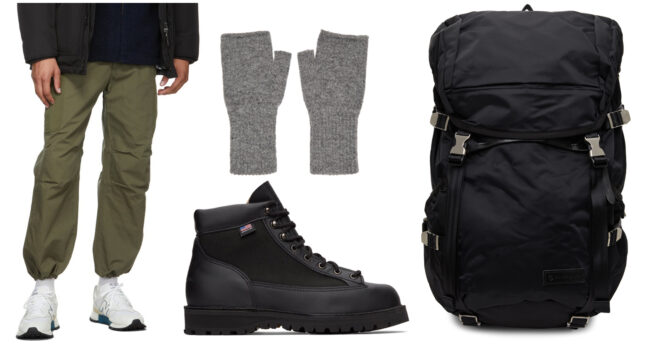 SSENSE: UP TO 50% OFF, FREE SHIPPING; NO CODE
The Canadian webshop SSENSE is best known for serving customers who sit on the bleeding edge of fashion. Their recent New York Times profile noted they were among the first to carry debut collections by Virgil Abloh, Demna Gvasalia, and Matthew Williams before all three became "superstar stewards of some of the oldest luxury houses." Much of what you'll find here is still very much designer clothing and high fashion. But as the company has grown over the years, they've also expanded into some more familiar and classic names, such as Drake's, Barbour, Ring Jacket, Doppiaa, Birkenstock, and New Balance.
For example, check out this Barbour Supa Fission jacket, which is like a cooler version of the company's iconic Bedale or Beaufort. Inspired by fishing jackets in Barbour's archive, it has a netted top pocket, leather binding, and an abundance of rings to hang your fishing gear (or, realistically, car keys). You can wear it with one of these Margaret Howell sweaters (finished with a cheeky pocket), some Nanamica cargo pants, Danner's hiking boots, grey MHL fingerless gloves, and a water-repellant MasterPiece backpack. Additionally, there are some cool plaid shirts from RRL and Officine Générale. For this coming summer, you can pair one of these Castañer suede espadrilles with shorts and a camp collar shirt. 
Much of what I like here falls into the contemporary designer category. Lemaire's wide-legged trousers are surprisingly easy to wear if you have chunky sweaters, loose-fitting topcoats, and side-zip boots. I wear Barena's henleys with Margiela's leather jackets and sneakers. They're made from thinner, more refined cotton than your typical workwear henley, and play well with contemporary styles. This black ribbed turtleneck looks like it would be useful. Knitwear is better when it's textured, and black knitwear, in particular, helps make outerwear pop. Lastly, while I know they're hyped, John Elliott makes some really nice sweatshirts. They're slightly oversized, which gives them some comfort and a cool silhouette. For something more classic, try Levi's Vintage Clothing (I recommend sizing up). They're a bit cropped, giving you a vintage look.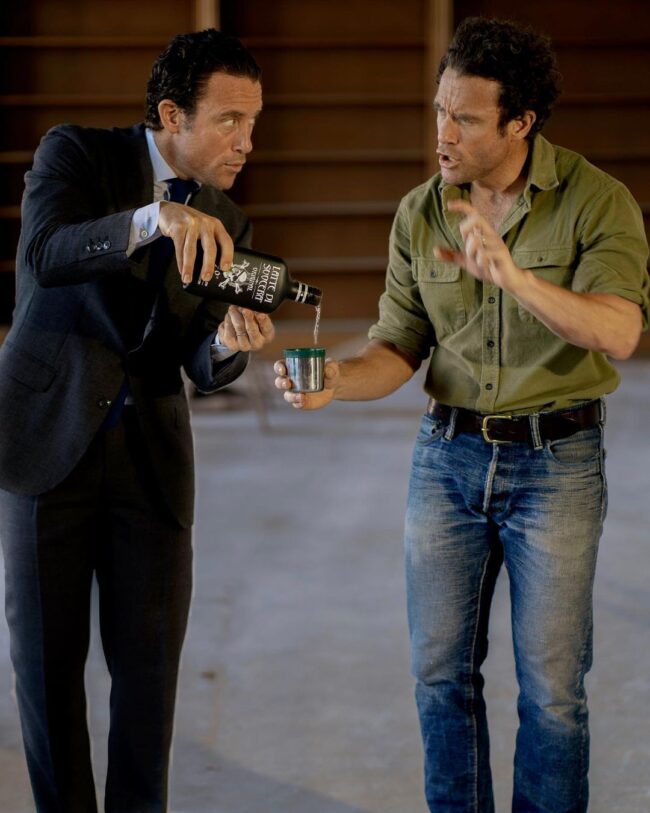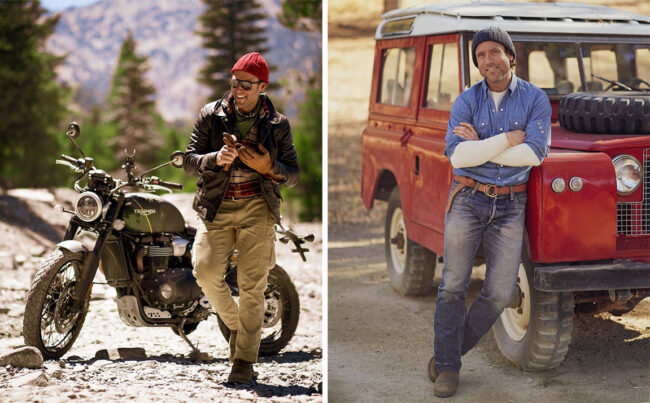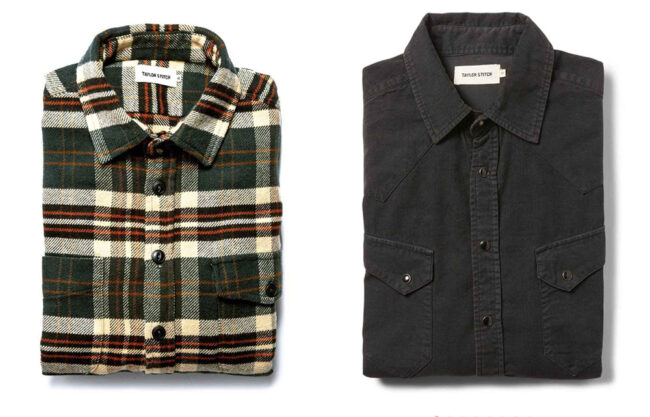 TAYLOR STITCH: 20% OFF PLUS $20 CREDIT; NO CODE
Every time I meet up with my friend Peter for drinks or dinner, he's either in a suit or workwear, the latter of which is often from Taylor Stitch. Peter has an unusual combination of jobs. By day, he's a union electrician in San Francisco. By night, he's the US Director for Plaza Uomo, a menswear publication focused on tailoring. For him, Taylor Stitch is his work uniform — literal workwear — and he swears by the brand's durability after having worn their clothes for more than eight years. On Instagram, you can see him in Taylor Stitch's ripstop shirts, brushed cotton flannels, chamois button-ups, leather jackets, thermal pullovers, and double-knee work pants.
For guys who love hard-to-find Japanese labels and buy their clothes through a Byzantine labyrinth of proxy services, Taylor Stitch can seem somewhat basic. After all, they primarily sell straightforward Americana and workwear-styled clothes: chore coats, five-pocket cords, flannels, and work boots. But after each time Peter and I meet, even if he's wearing Stevenson Overall Co jeans or a Fine Creek Leather jacket, my strongest impression is always: "man, that was a nice shirt." The Crater flannels are thicker than you'd expect and designed with a pleasing combination of just-right colors. The Western shirts have slanted chest pockets, double-needle chainstitch fell side seams, and selvedge details — all things that you'd expect to find on shirts retailing for much more. These are the sorts of basics that can fit into nearly any casual wardrobe. 
For Black Friday, Taylor Stitch is offering a 20% discount, including on already-marked-down items in The Workshop and Last Call. If you spend over $100, they will also email you a $20 gift card that you can use on future orders. I mostly like their thick 9oz cotton Crater shirts ($102), the Yosemite chamois ($62.40+), and Western shirts available in pincord or washed denim ($100). I have a black corduroy Western shirt from Barbanera that I love wearing with tan RRL jeans, a vintage Lee 101-J trucker, and some brown cowboy boots. The white pincord shirt seems like it would be a good counterpart.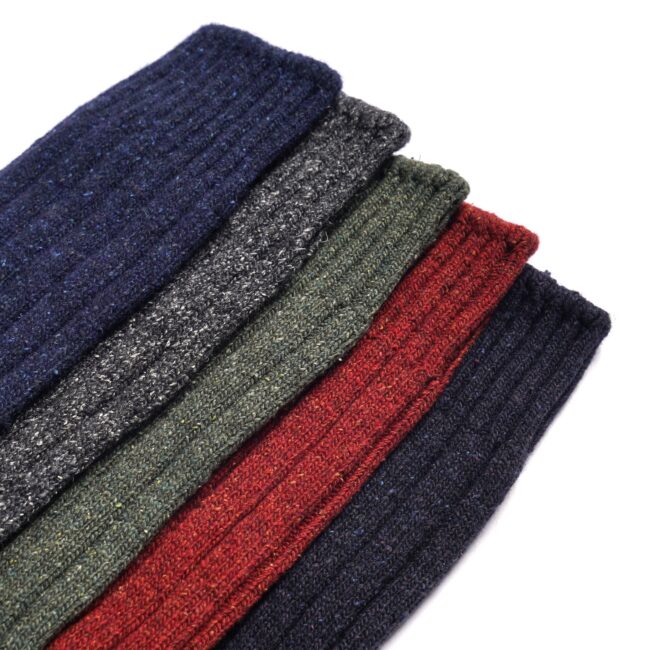 AMERICAN TRENCH: 20% OFF SITEWIDE; NO CODE
You don't really think about socks unit you get a really good pair, and then suddenly, you become hyper-sensitive to every little quality, now able to pick out what makes a particular pair feel inadequate. A few years ago, I bought some boot socks from American Trench. They're knitted at a family-owned hosiery mill in North Carolina. American Trench co-founder Jacob Hurwitz tells me that, by producing socks in the United States, he can put more of his company's money towards knitting and materials, rather than international shipping and import taxes — a saving ultimately passed on to the consumer. 
Normally, I would think that's marketing BS, but there's something lovely about these socks. Since they're made from wool-silk, they're cushier, comfier, and warmer than cheap cotton socks you find everywhere else (think: Hanes). And whereas my WigWams quickly stretch out and fall down my leg, these stay up better, at least for being casual socks and not over-the-calf. Plus, the yarns have flecks of color. These are like little Donegal sweaters for your feet. 
They're a bit expensive at $30 a pair, but made more manageable this weekend with American Trench's 20% off Black Friday sale (so, $24). The promotion also applies to their retro-striped and merino activity socks, which are made with an uber-comfy sandwich terry footbed. I'm thinking about trying their alpaca boot socks next. Additionally, American Trench has some lovely knitwear this season, Donegals and hard-to-find Shakers included.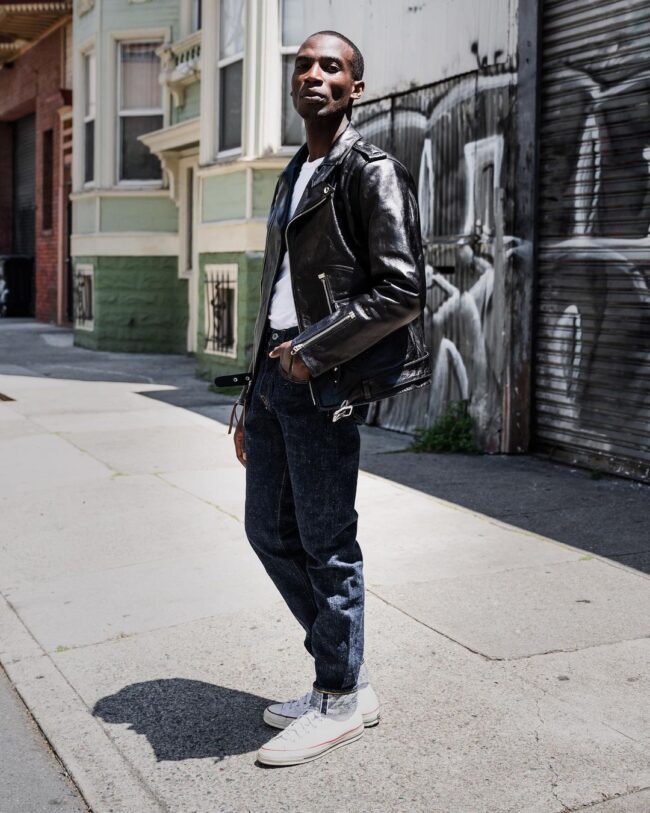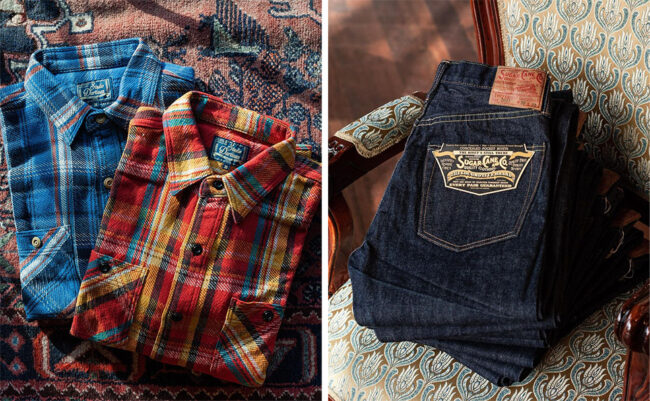 SELF EDGE: 15% OFF; CODE BF21
For all the talk about classic men's style, Self Edge's workwear aesthetic has outlasted many of the #menswear trends popular ten years ago. The store specializes in denim and all the things you'd want to wear with denim — ultra-heavy flannels, rayon shirts with retro-styled prints, heathered sweatshirts, rugged boots, classic sneakers, and leather jackets. The things I purchased here ten years ago are still in my wardrobe today, whereas many guys have deleted all traces of ever liking double monks, cutaway collars, and blueberry-colored suits. 
So while Self Edge's discounts are never that deep (they rarely break 15%), I don't mind shopping because I know I'm still getting a good deal on something I'll wear for a long time. They have an endless assortment of raw denim jeans, including the often recommended 3sixteen SL-100x, a popular cut on denim boards because of how well these fit a wide range of body types. Iron Heart's Ultra-Heavy Flannels are the warmest you'll find anywhere — they wear like windproof shirt jackets. I wish I could find something cheaper, but I keep going back because nothing compares. I also love my Papa Nui Canoe Club caps (low crown and sportsman-esque), Kei Shigenaga rings (inspired by the Japanese art of kintsugi), and Buzz Rickson sweatshirt (the best in the world). The code even applies to their Fine Creek Leather jackets, which are made with subtly mismatched panels of leather to get an interesting aging effect.
"I'm loving these Stevenson fine merino wool thermals that I can't stop talking about," Self Edge co-founder Kiya Babzani tells me. "They're perfect for layering or wearing alone, and what I live in during the winter. We now have them made in eight different colors just for us." Note, the coupon code is good on almost everything in the store, including those Stevenson thermals. The only things excluded are Good Art jewelry and hemming services.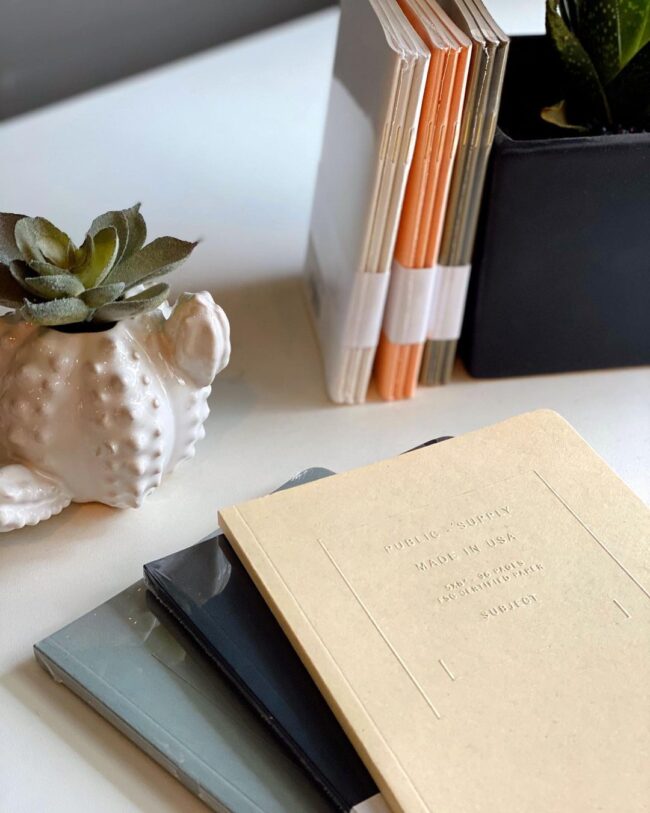 PUBLIC SUPPLY: 30% OFF; CODE HOLIDAY
I learned about Public Supply seven years ago when Robert Geller named their notebooks among his ten essentials (he was collaborating with them at the time, so that may have been a bit of promotion). Shortly after, I purchased some of their notebooks and have been hooked ever since. Their typesetting and styling have Field Notes' mid-century flavor, but they come with better paper. To be sure, the paper isn't as good as a Rhodia — the gold standard — but it takes fountain pen ink well. I use my Public Supply notebooks with a Pilot Custom 823 (medium nib). 
My favorites are the pocket-sized 3.5×5.5″ notebooks, particularly with the embossed covers. They fit neatly into a jacket's in-breast pocket or the back of your jeans. You never feel like you have to be too precious with them or write something profound. I use mine for grocery and to-do lists (rarely finished). They help me stay on task, and I enjoy the physical act of writing. Plus, the company donates 25% of its net profits to high-need classrooms focused on creativity — a worthy cause.