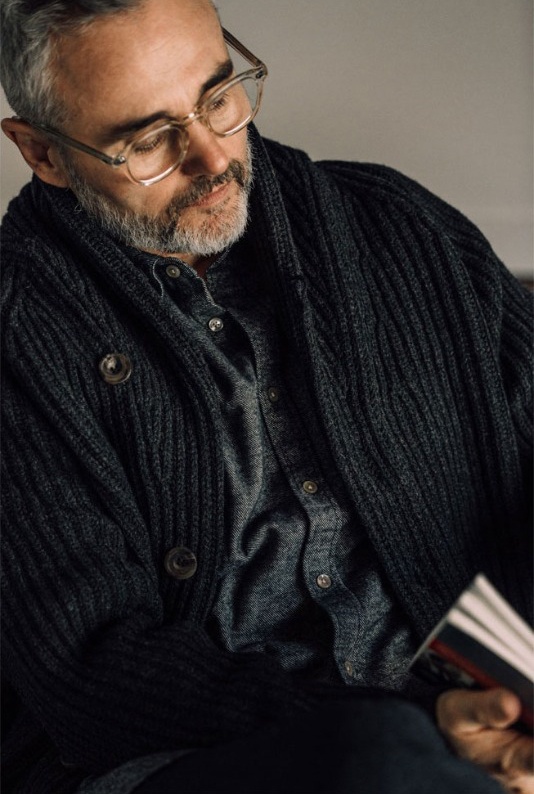 There's a wonderful photo of a grey-haired Ralph Lauren sitting at home, lounging in his leather armchair while looking pensively out the window. He's wearing coral orange trousers, likely made from corduroy, a pair of black velvet Prince Albert slippers, and a green cable-knit layered over a white dress shirt. Lauren, who's a master orchestrator when it comes to image making, knew precisely how to tell a story through the objects that surrounded him. He omitted the stuffed animal heads traditionally used to decorate rich men's hunting lodges at the turn of the last century. However, he included the books, sculptures, paintings, pillows, and throws traditionally associated with hominess and Old World domesticity. The photo says one thing: this man is comfortable.  
As many of us are spending more time at home these days, I thought I'd put together a list of some of my favorite domestic items, which are now part of various Black Friday promotions. Over at Put This On, you can find a full list of every worthwhile Black Friday and Cyber Monday deal for the next few days (I will be updating the list periodically). But this one focuses on just those things that I think make life at home more comfortable. For me, that means wearing chunky shawl collar cardigans with five-pocket cords, leather slippers, and flannel shirts. It also means rediscovering old hobbies, listening to forgotten records, and cooking up something delicious to eat. 
If you're looking to do some Black Friday shopping this weekend, here are ten things that can make life at home more comfortable. Hopefully, you can find something here that works for you.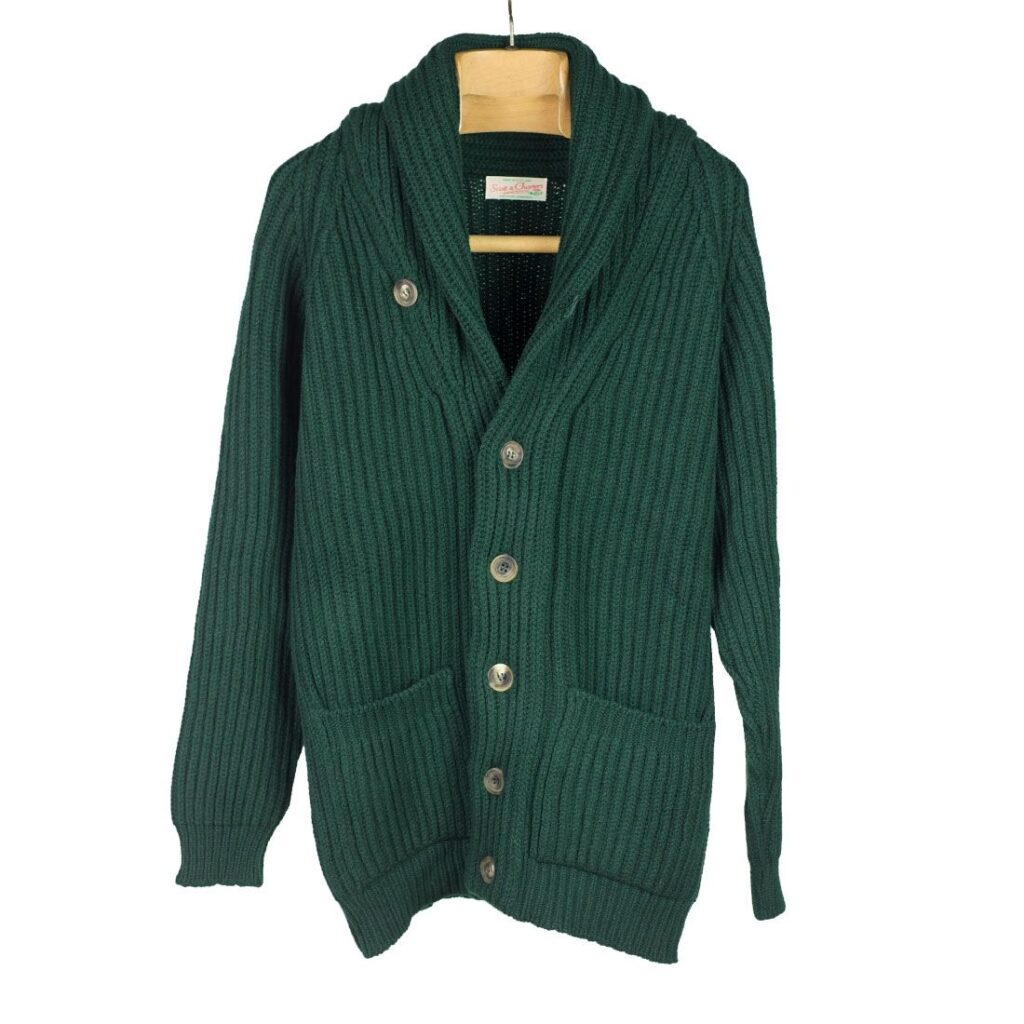 Chunky Shawl Collar Cardigans
A chunky shawl collar cardigan is perhaps the most sumptuous thing you can wear at home. When made with a thick, plush collar, it can feel like you've wrapped yourself in a soft blanket. It also can substitute for a jacket or dressing gown (although, unlike with a dressing gown, you'll want to wear something under the cardigan). This is the thing you can throw on in the morning to bear the cold air in the other room. It's also something you can wear to holiday parties whenever they resume. It goes perfectly with jeans, chinos, and tailored trousers. You can even layer one over a thin turtleneck. Just look for one with a thick collar, as the thinner ones don't have the same vibe. 
Options: Scott & Charters (20% off), Cordings (10% off), Rowing Blazers (25% off), and Timothy Everest (30% off)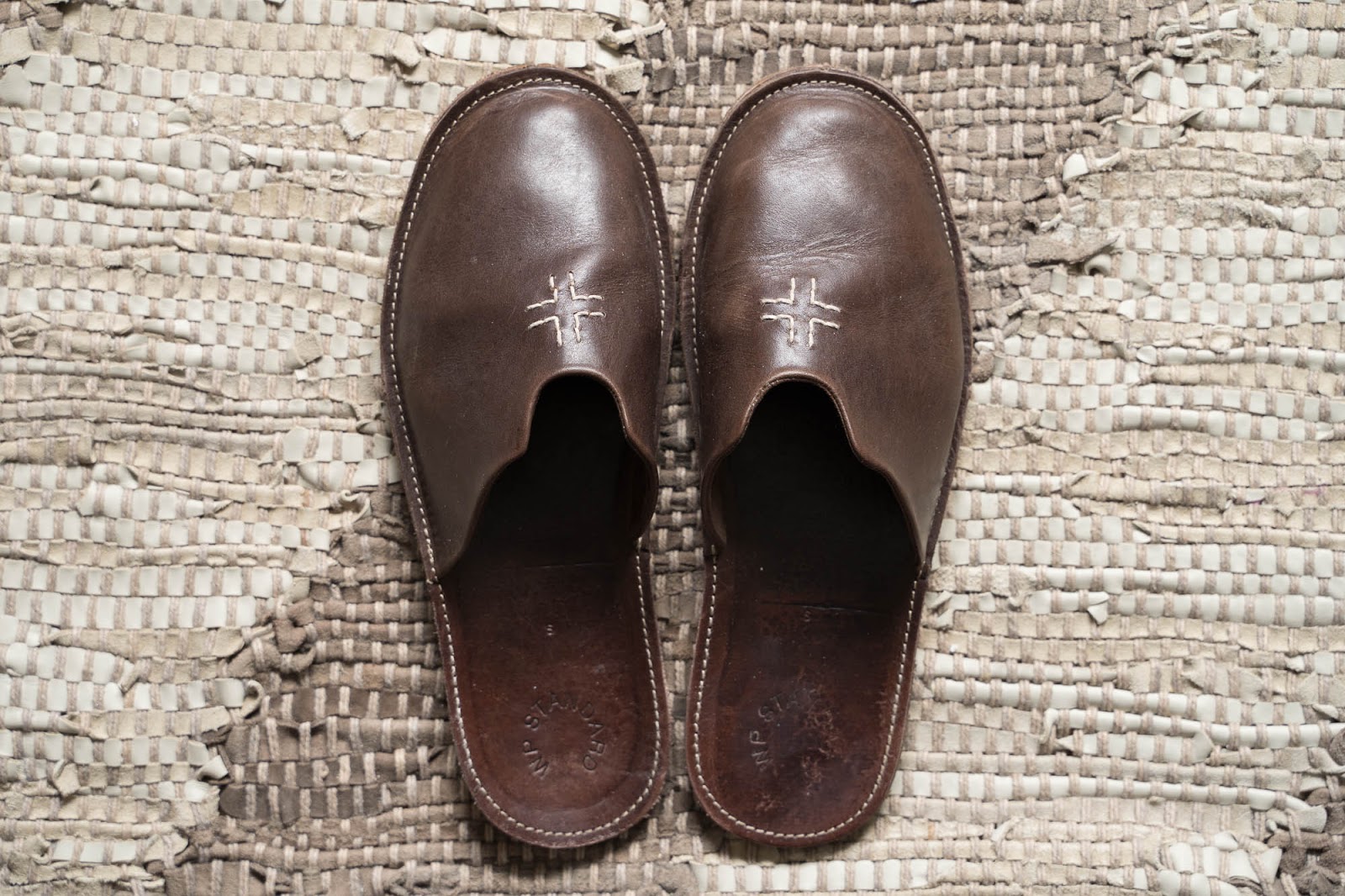 House Slippers
There's something special about good house slippers. Not only are they more sanitary than wearing outside shoes in the home, but they also offer more support than cheap slippers or going about barefoot. I mostly wear Town View Leather's deerskin lined moccasins nowadays. Moccasins are distinct in that the leather wraps around and underneath your foot. When you have multiple layers of thick leather like this, they form a comfy footbed over time, almost as though your foot is being held in a cradle. Unfortunately, Town View Leather isn't offering a Black Friday deal, so if you're looking for a sale, you'll have to turn elsewhere. Quoddy and LL Bean have some cozy shearling-lined moccasins this season, while WP Standard offers a charming pair of leather sandals they've dubbed "Mr. Grumpy." Dan over at A Fine Tooth Comb has a review of the Mr. Grumpy sandals shown above. 
Options: Mulo (30% off), LL Bean (15% off with code THANKS15), Mr. Grumpy (15% off), Quoddy (30% off), Derek Rose (40% off), and Kingsman (30% off)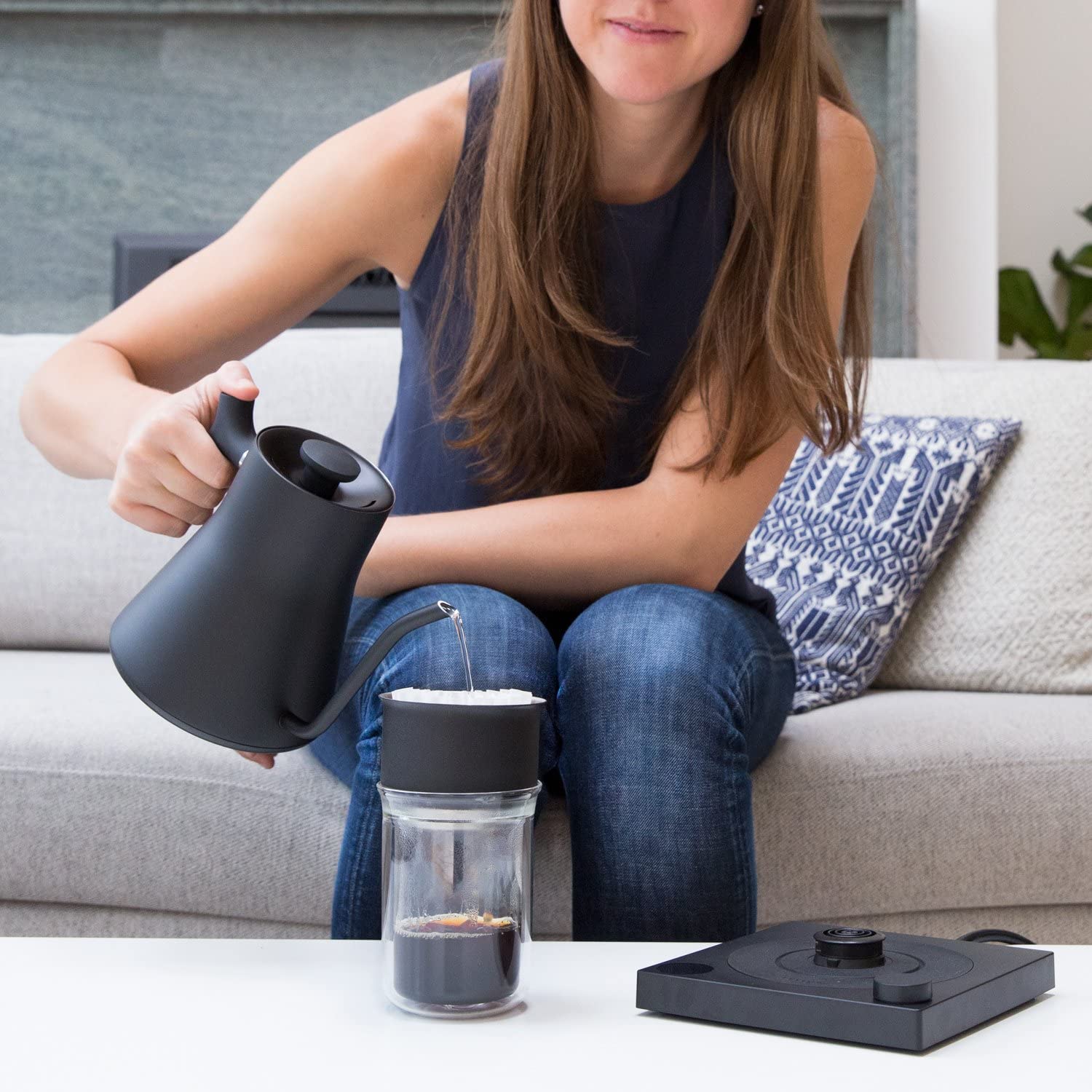 Fellow's Stagg EKG Kettle
Since we can no longer congregate and hang out in cafes, I find it's important to have good coffee or tea set up at home. However, you make your brew — using a Hario V60, Aeropress, or simple tea infuser — you will need a good kettle. Fellow's Stagg EKG looks handsome, boils faster than most machines, and has a built-in timer to help you with your immersions. Quality coffee beans and tea leaves have to be brewed at a specific temperature, which will help you extract just the right flavors. Currently, Best Buy has the silver version discounted to $120, although I like the matte black version better. Check out YouTube for reviews. 
Options: Silver ($120) or matte black ($150)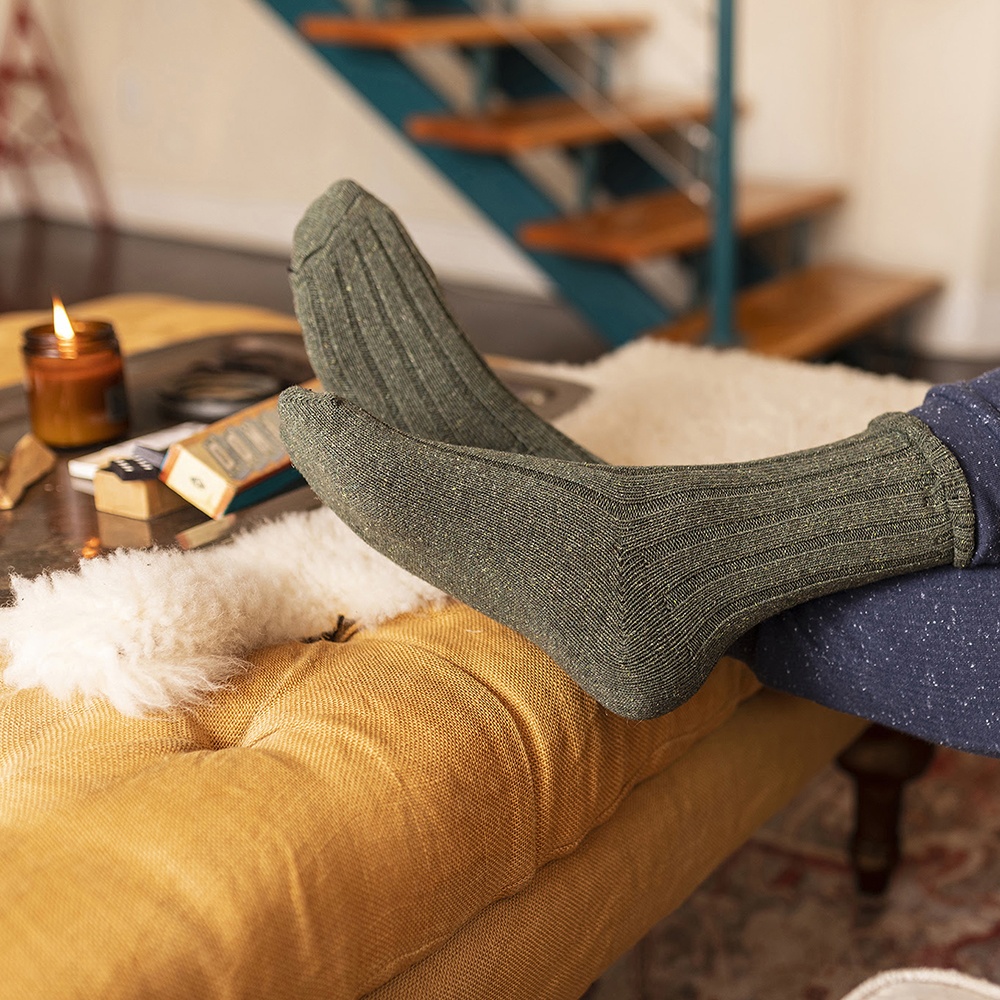 American Trench's Socks
Even while in house slippers, many people will wear socks as a functional response to cold floors. If you're looking for something indulgent this season, try American Trench's wool-silk boot socks. They're made in Pennsylvania using hardy Italian yarns. These socks are thick, plush, warm, and incredibly comfortable. The flecks of color give some nice visual interest without being overdone. They look terrific with blue jeans, tan chinos, and olive fatigues, but they can also double as the most fantastic pair of socks you can wear with pajamas at home. American Trench founder Jacob Hurwitz tells me it is the company's best-selling premium product. 
Options: American Trench (20% off with code BFCM2020)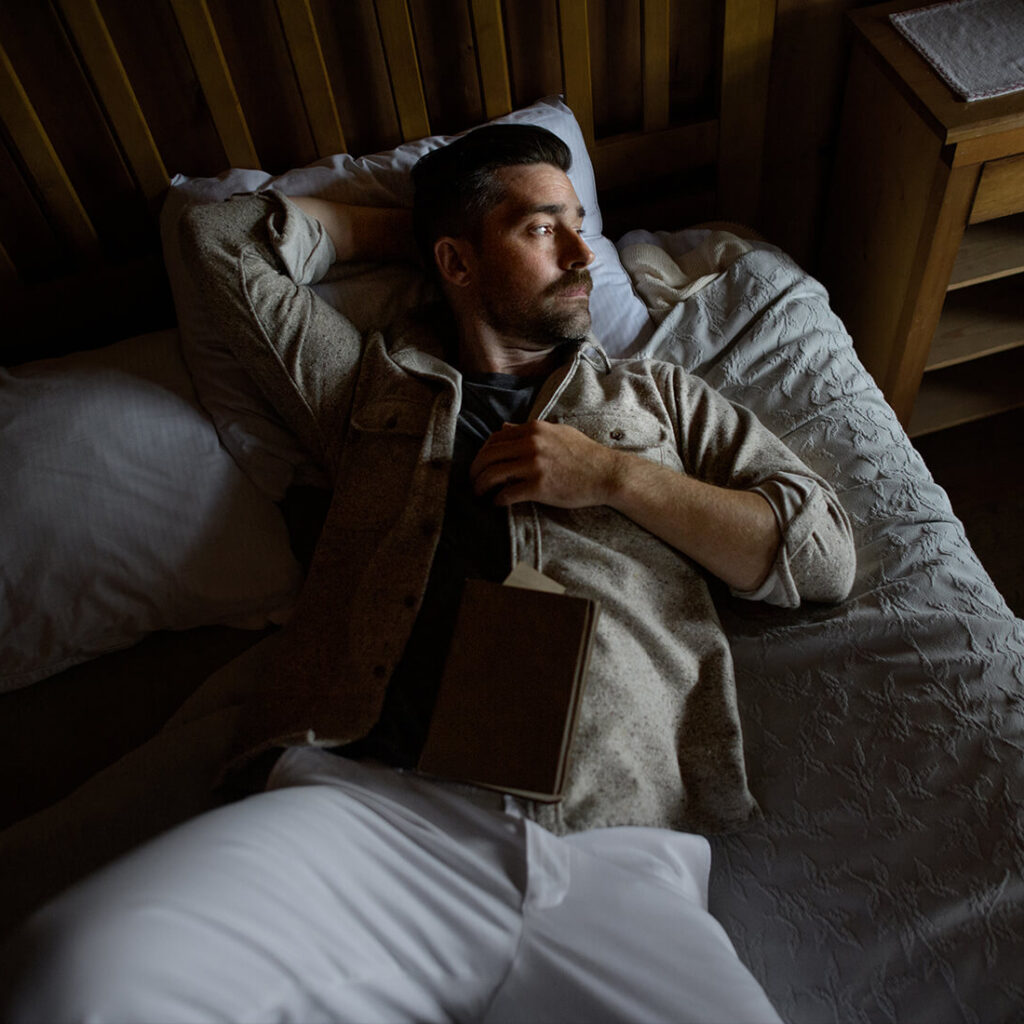 Comfy Shirts
I like wearing shirts at home that feel like they're getting softer over time. Thin and dressy poplins have a crisp, smooth finish, while materials such as chamois, flannel, and even oxford start with a bit of nap. Over time and with enough washing, that material breaks down in such a way that they feel softer and softer. They're also casual fabrics, which means I don't mind if they're unpressed. Proper Cloth has stretch chamois, country plaids, and soft oxfords this season that can be custom made according to your measurements. Of the half dozen online custom shirtmakers I've tried over the years, Proper Cloth has been the best. For ready-to-wear, check out RRL, J. Crew, and Taylor Stitch for flannels, LL Bean for chamois, and the very last of Brooks Brothers' made-in-USA oxford-cloth button-downs (now just $69 — nice). 
Options: LL Bean chamois (15% off with code THANKS15), Proper Cloth flannels (40% off), Brooks Brothers OCBDs ($69), Stussy beach flannel (20% off), Wallace & Barnes (50% off), Taylor Stitch (20% off), Sugar Cane (20% off with code BLACKFRIDAY25), and RRL (20% off with code GRAVY)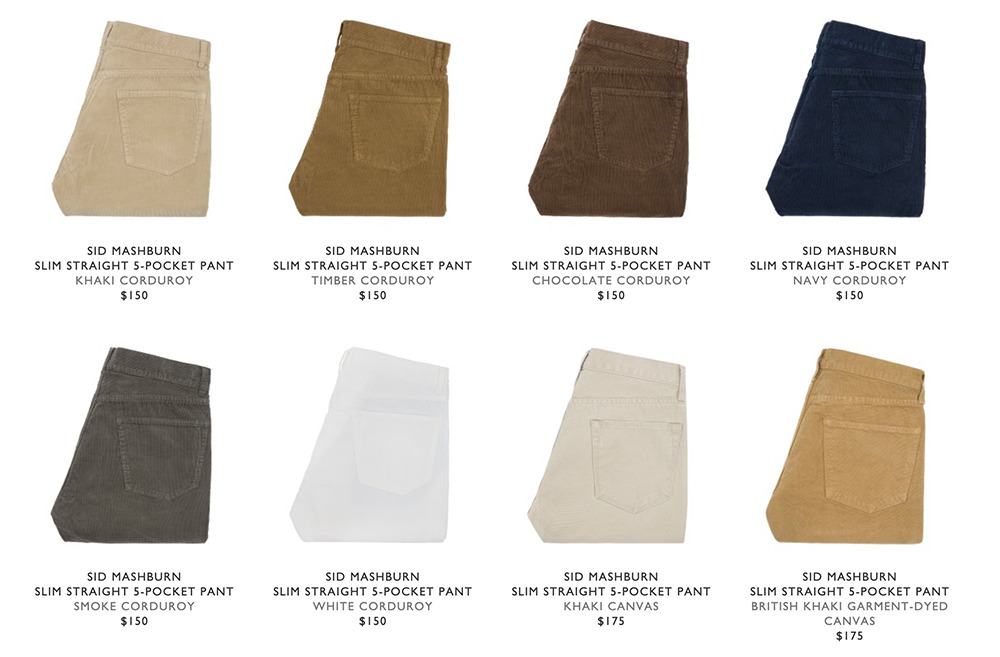 Five-Pocket Pants
Prior to the pandemic, men's style was mostly about outerwear, such as sport coats, technical parkas, and field jacket designs. While at home, I've found that I get much more enjoyment out of wearing different types of pants. My regular weekly rotation is no longer just about blue jeans and grey trousers. I now rotate through five-pocket cords, cream-colored painter pants, Carhartt double-knee work pants, Agy pajamas bottoms, olive fatigues, and Imogene + Willie's Fethiye pants. 
When made in a material other than denim, five-pocket pants can be your alternative to chinos and jeans. Sid Mashburn has them in every material imaginable, including canvas, corduroy, and moleskin. I also like Doppiaa's plush five-pocket cords, which hang like tailored trousers. You can wear these at home with sweaters, flannels, oxford button-downs, and chunky cardigans. They'll add a bit of variety to your life when you're limited by outerwear. 
Options: Doppiaa (30% off), Todd Snyder (up to 30% off), Sid Mashburn ($50 off), J. Crew (50% off), Ralph Lauren (eBay), Billy Reid (20% off), and Wythe (20% off)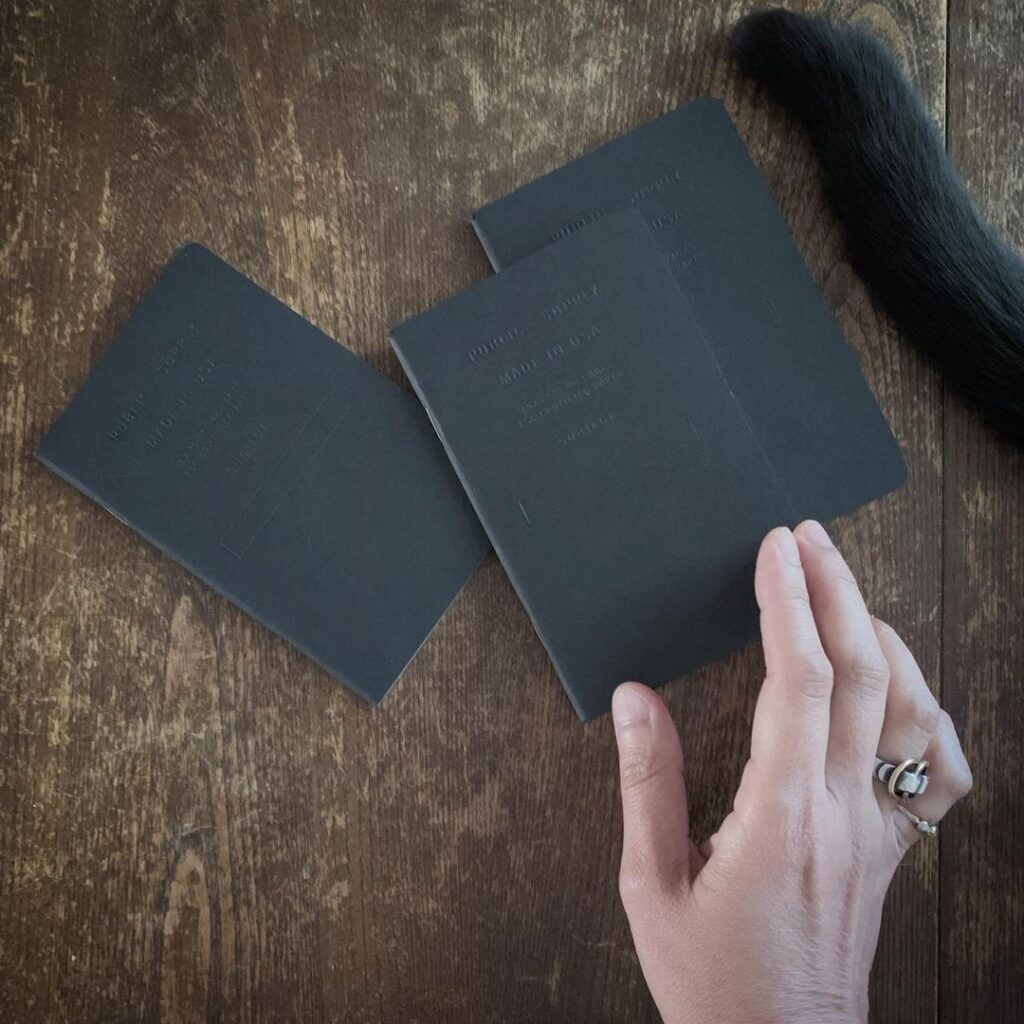 Public-Supply Notebooks
I keep a notebook on my desk for various important things, such as writing down to-do lists, managing a grocery list, and practicing my Cool S. Public-Supply makes my favorite ones. Their paper isn't as good as Rhodia, but their covers are much more beautifully designed. They also take to fountain pens much better than Field Notes. I've been using their pocket-sized embossed notebooks in conjunction with a Pilot Custom 823. I find that time can easily get away from you when you're working from home, so it helps to keep a to-do list. Plus, I like their mission: Public-Supply donates 25% of their net profits to supporting creativity in high-need public schools. 
Options: Public-Supply (45% off with code BF45)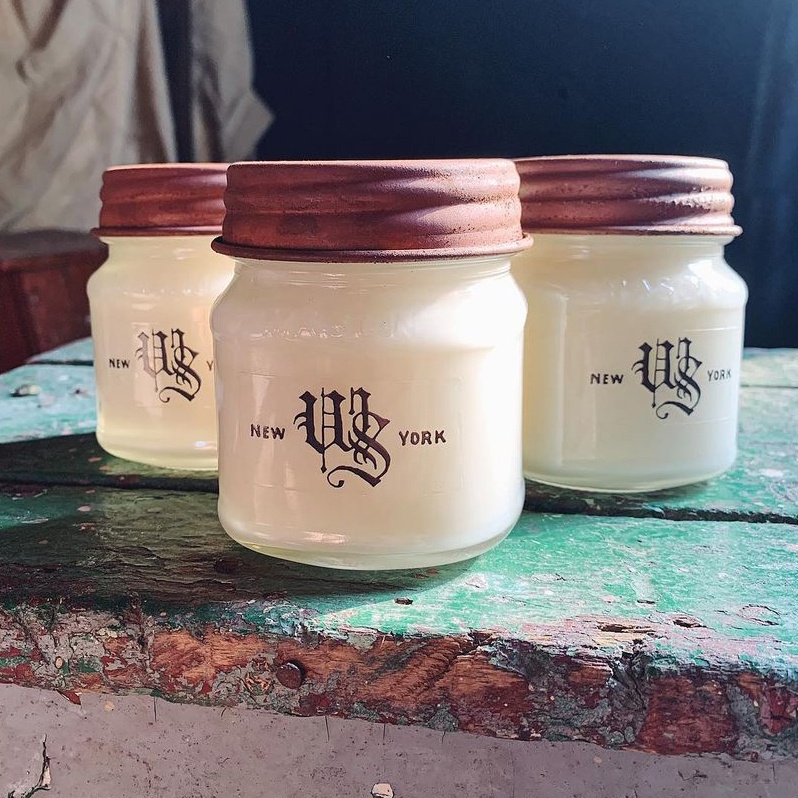 Scented Candles
I picked up one of these Wooden Sleepers candles back in March when they became a "thing" on Blamo's Slack channel. One person described it as smelling like an old pack of baseball cards, complete with the waxed paper packaging and the stale stick of pink bubble gum that cracks when you bite into it. Another person described it as smelling like an old leather armchair. I think it smells like vanilla, tobacco, and fresh cookies baking in the next room. Either way, this scented candle lends some psychological warmth to cold rooms and looks good when sitting on a shelf. You can purchase one using Wooden Sleepers' gift card promotion. 
I also really like Diptyque candles, which are currently included in Sid Mashburn's Black Friday promotion. Diptyque is perhaps the best-known name among Status Candles, which is just another way of saying they're dearly expensive. I hate to say it, but they do smell really good. I like Figuier (a sweet and subtle fig), Cyprés (warm honey), and the most all, Feu de Bois (like a crackling wood fireplace). You know you'll like the third one because it was literally formulated FEU DE BOIS!
Options: Wooden Sleepers (tiered discounts) and Diptyque (tiered discounts)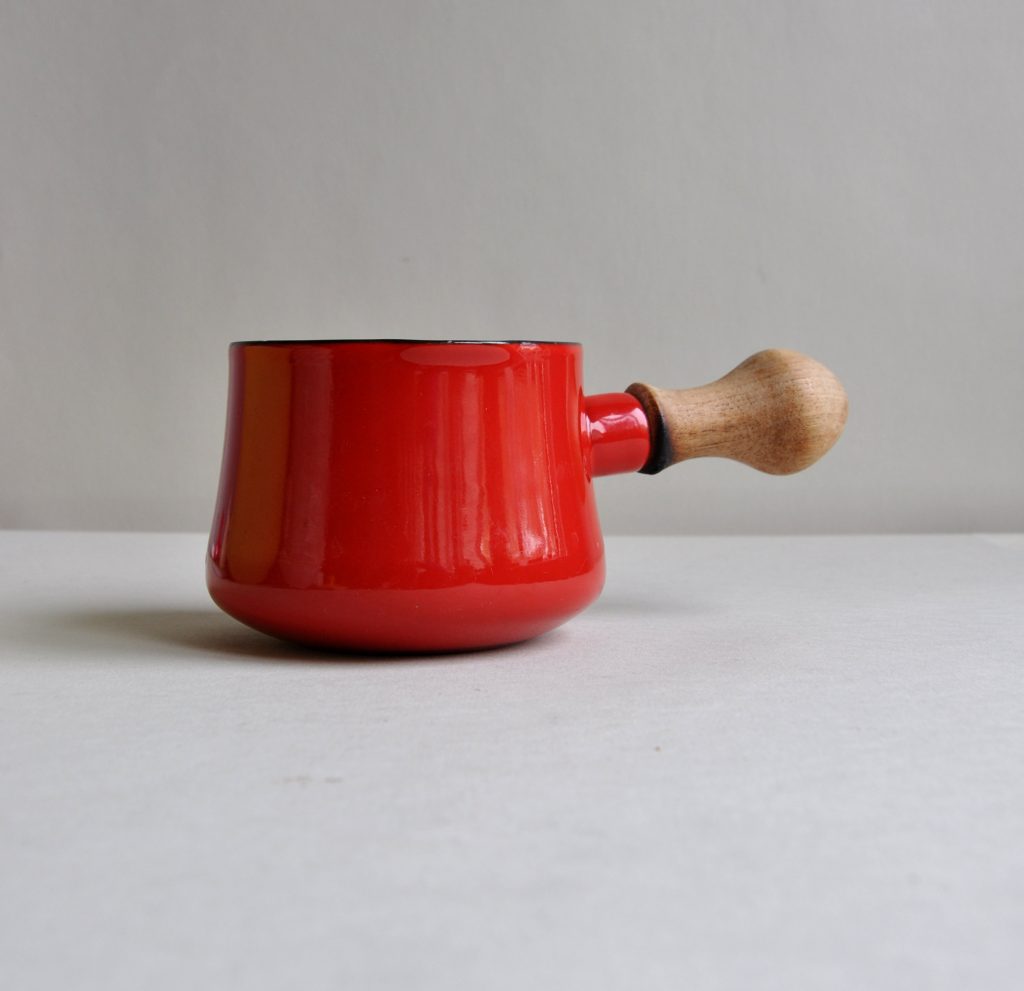 Dansk Butter Warmers
This surprisingly useful little pot from Dansk is perfect for any small cooking task. I use mine any time I need to heat something up, but don't want to clean a big pot afterward. It's good for reheating a single serving of soup, making a cup of hot cocoa, or melting chocolate to pour over ice cream. And yes, warming butter too. This enameled version is more expensive than the plain metal varieties you can find elsewhere, but it heats up more evenly and looks handsome on the stovetop, especially next to Le Creuset cookware. You don't have to keep it confined to the kitchen, either. The pot has a nice weight to it, as well as a spout at the end that makes it easy to pour. I sometimes use mine to pass sauce around at the dinner table.
Options: Dansk (30% off)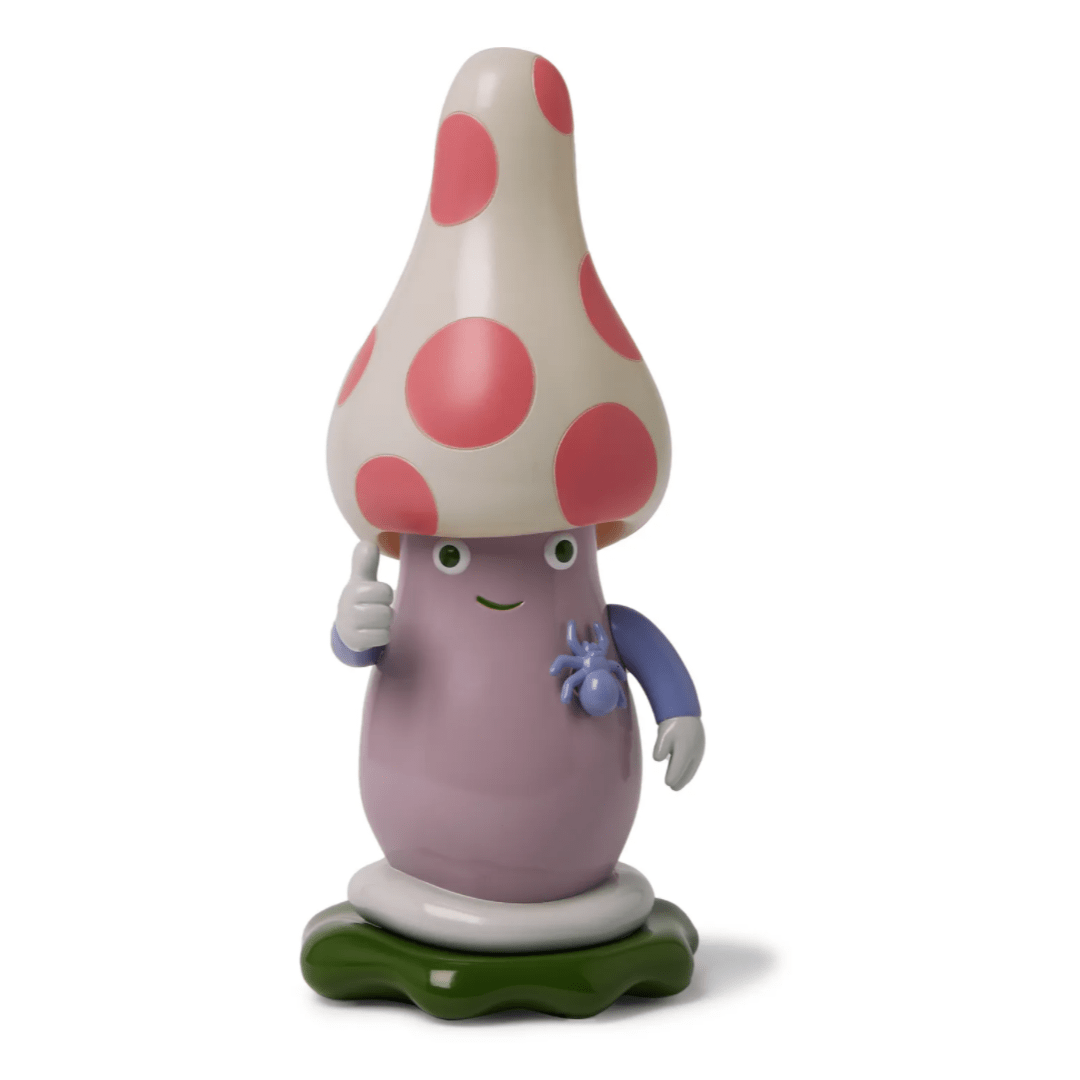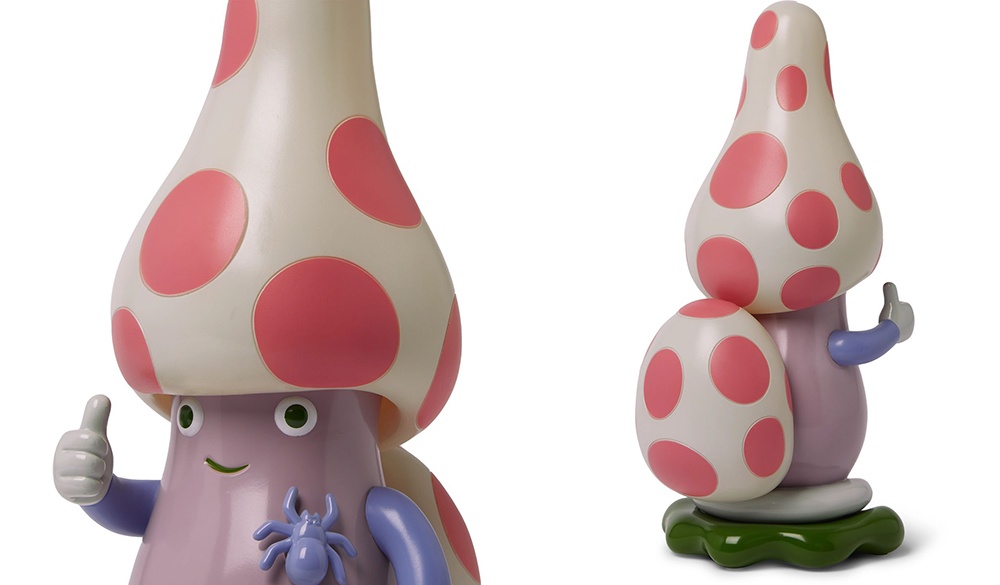 This Designer Lamp
I don't actually recommend buying this. But in the process of searching for ten recommendable items, as ten seems like a better number than nine, I stumbled upon this amazing designer lamp at Mr. Porter. It's selling for the very reasonable price of $650 (now made more reasonable with the 30% off promotion). The description reads: "Housed in a storybook-style box that's ideal for gifting, it's made from lightweight PVC and shaped to resemble a friendly cartoon mushroom. Push the button on the reverse to illuminate your space with a calming coloured light." This seems like the perfect thing to look at after you've dropped shrooms. 
Options: Mr. Mushroom lamp (30% off, act fast)