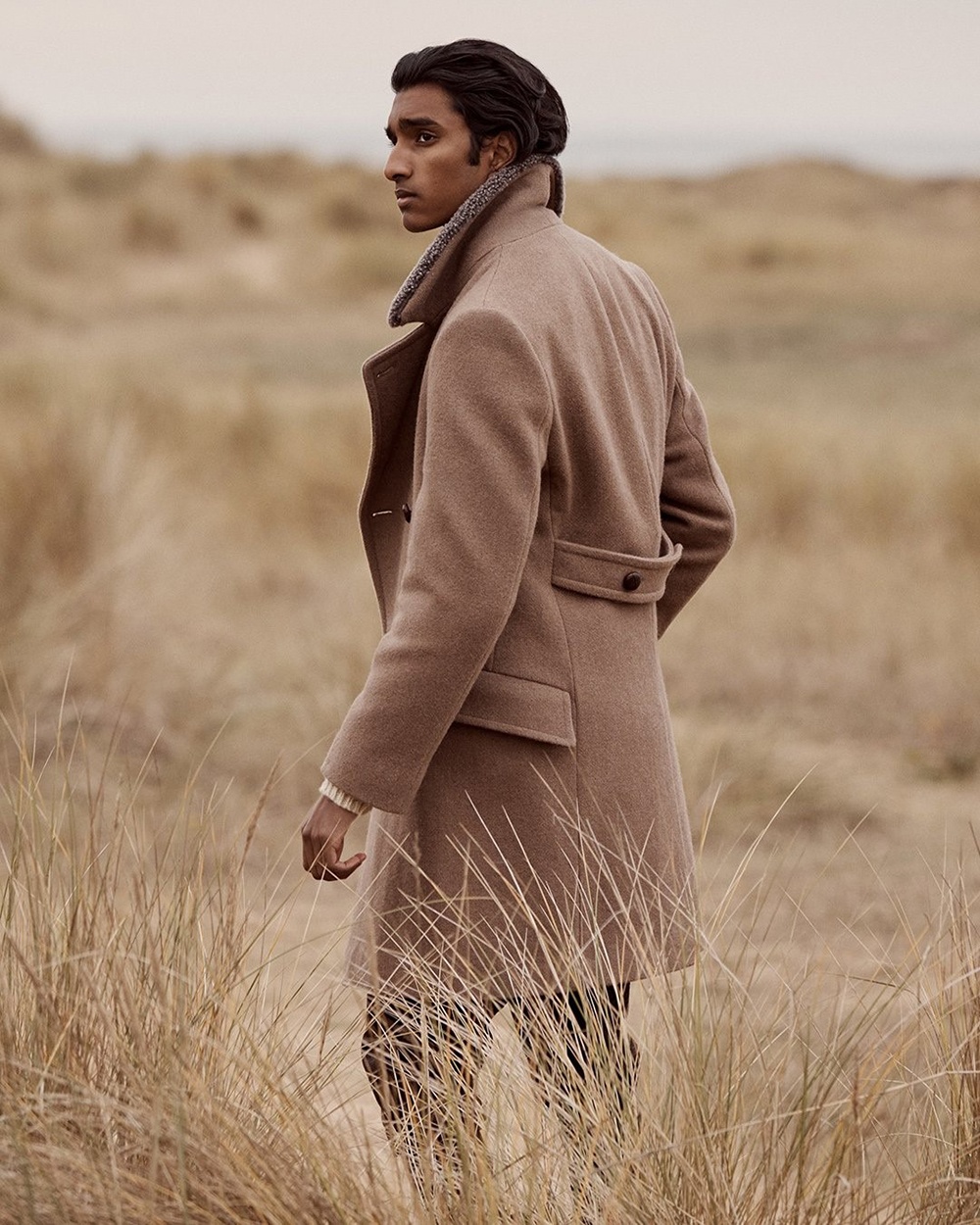 Mr. Porter's massive selection puts them in everyone's orbit. Whether you favor classic tailored clothing, Japanese workwear, or oversized, minimalist contemporary garb, Mr. Porter likely carries more than a handful of brands for you. 
Today, Mr. Porter started their Black Friday promotion, where you can take up to 30% off select items. Inis Meain's sweaters are expensive, even with the discount, but absolutely exquisite and a joy to wear. Engineered Garments and Chimala are personal favorites for workwear; SNS Herning is great textured knitwear you can layer under heavy coats (be sure to size up). 
Things tend to move fast at Mr. Porter. Given the size and scope of their inventory, your best bet is to filter things by category, then brands, and then sizing. If you're on the fence about an item, I recommend just taking a chance and returning if things don't work out (Mr. Porter offers free and easy returns). If you want some quick highlights, here are ten things that I think are notable.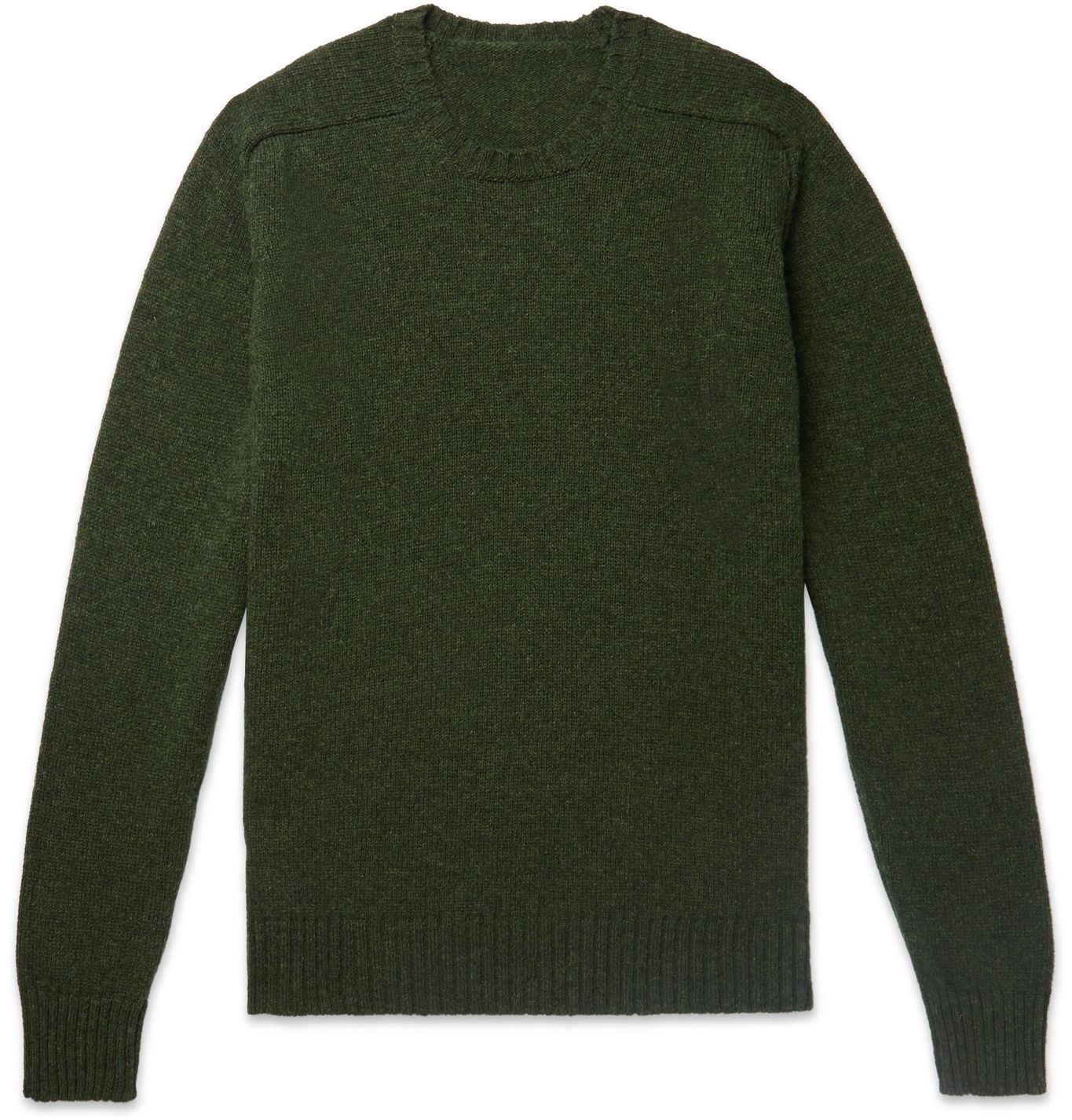 Anderson & Sheppard x Camoshita Sweaters
Perhaps as a sign of the times, Mr. Porter has a range of knitwear on their site right now marketed as a collab between Anderson & Sheppard and Camoshita. I'm not sure what the collaboration entailed, but I imagine A&S relied on their suppliers while Yasuto Kamoshita helped choose the colors. I like the saddle-shouldered Shetlands and "boat builder" rollnecks, which come in appealing colors such as deep brown, forest green, and teal. With the 30% discount, the Shetlands come down to O'Connell's territory. 
Various Straw Hats
A lot has been written about the death of tailored clothing and its accompanying necktie, but the first piece of traditional men's dress to have disappeared is the hat. Since few men today wear a traditional hat, putting something on your head with a full brim can make you feel self-conscious. However, if you're interested in wearing a hat and want to go beyond baseball caps and beanies, I suggest starting with something in straw. 
Straw hats have a few advantages. For one, they have a full brim that can flatter your face, but they don't come with any of the social baggage that's associated with felt fedoras. They can also be a little more casual, depending on the design, which makes them easier to wear. Most of all, since straw hats are relegated to spring and summer – or at least sunny days – you have a good, practical excuse for wearing one. There's nothing better for taking the pretenses out of a hat like the sun beating down.
Mr. Porter has some right now from Lock & Co. and Anderson & Sheppard. I find darker colors to be slightly easier to wear, as they feel a bit more casual. But if you plan on wearing this with tailored clothing, you may find Anderson & Sheppard's more suitable. With the discount, these come down to about $150 to $200.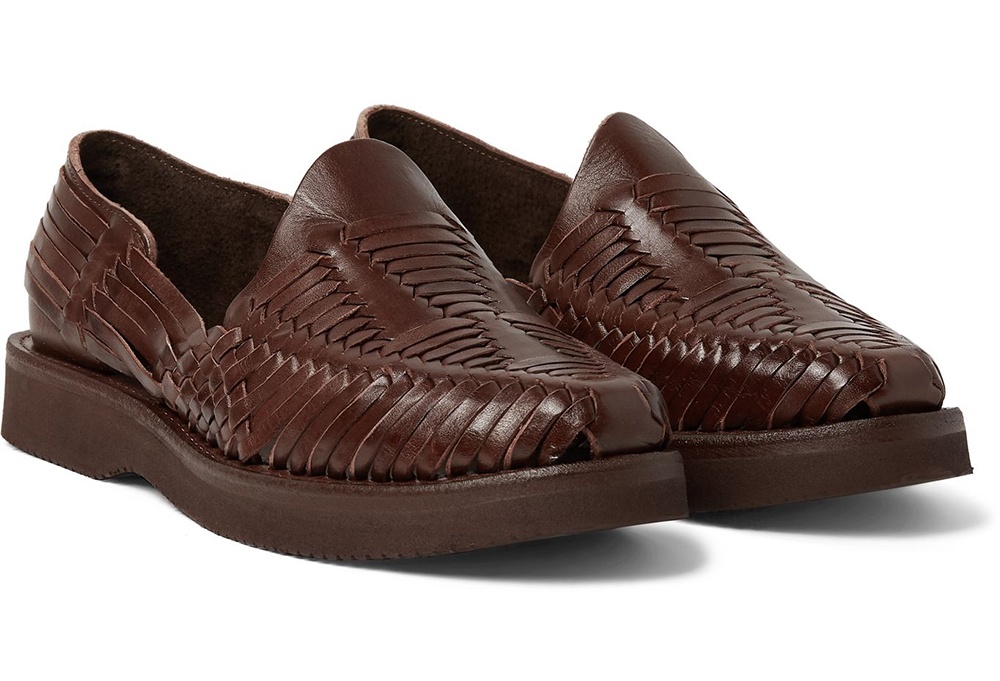 Yuketen Huaraches
This past summer, I probably wore my Yuketen huaraches more than any other shoe. They're easy to slip on and easy to slip off. They pair well with camp collar shirts, blue jeans, olive fatigues, and most of all, shorts. I like that these have a thicker sole and were made in Mexico, where this style was born. These huaraches have an easygoing vacation vibe that I like wearing when temperatures soar above 80. They work well for both short errands around the neighborhood and lounging in the backyard (my life this past summer). Just be sure to size down, as Yuketen shoes run wide. 
For another excellent summertime option, check out Nike's Daybreak SPs, an update on the company's classic 1979 running shoe. They pair well with jeans, fatigues, and shorts. I like them as a "fun shoe" in the summer months. Given their translucent panels, however, you'll want to wear them with no-show socks. I think simple colors such as grey or white work best.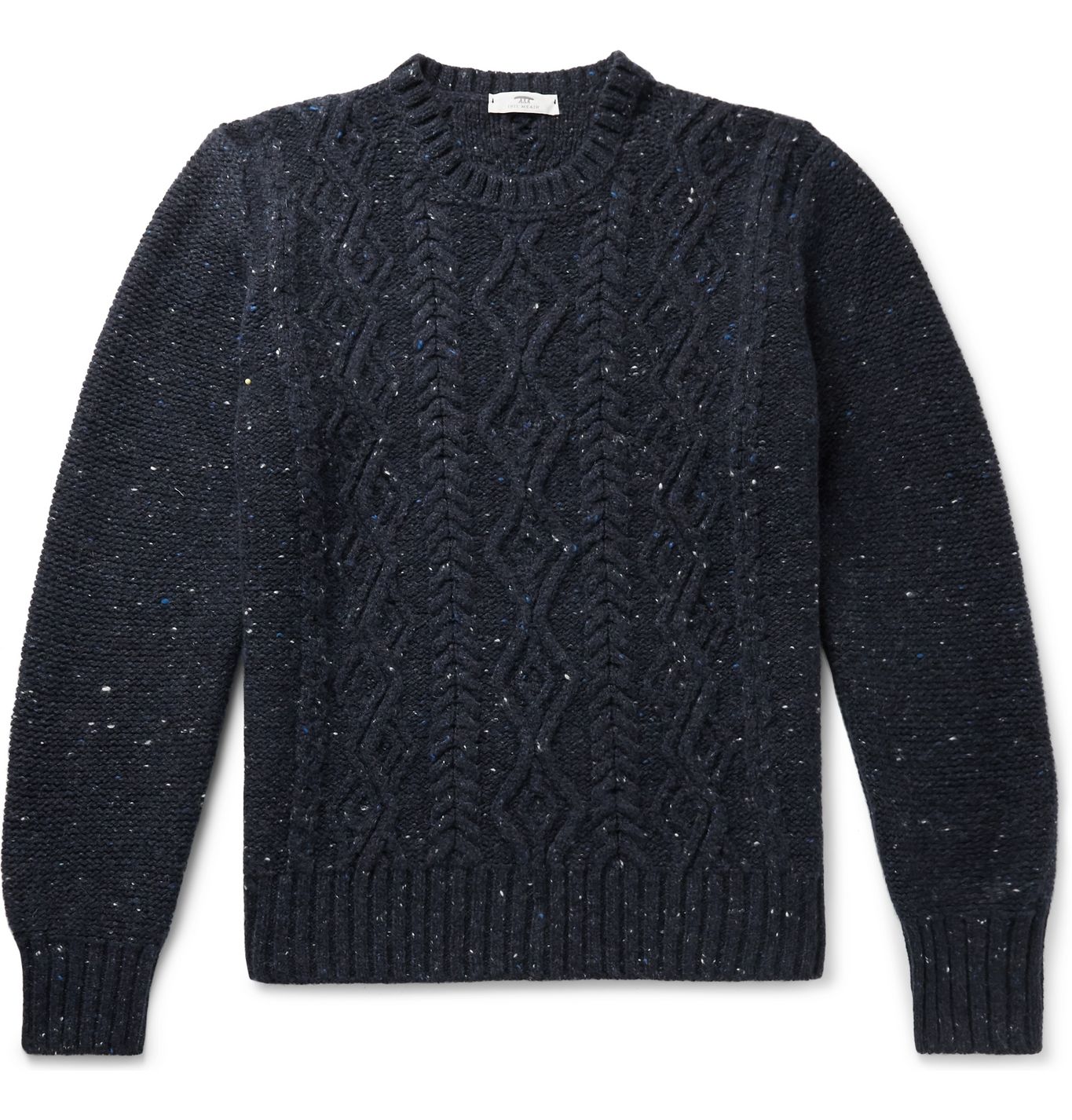 Inis Meain Donegal Aran
If you're going to splurge on a sweater, make it this one. Inis Meain's merino-cashmere sweaters are thick and plush, exceptionally well-finished with hand-linked seams, and are inspired by actual fisherman sweaters in the company's archives. This one comes in a beautifully flecked, navy Donegal yarn. It would look amazing underneath a waxed Barbour jacket, a roomy topcoat, an olive milsurp jacket, or even a denim trucker.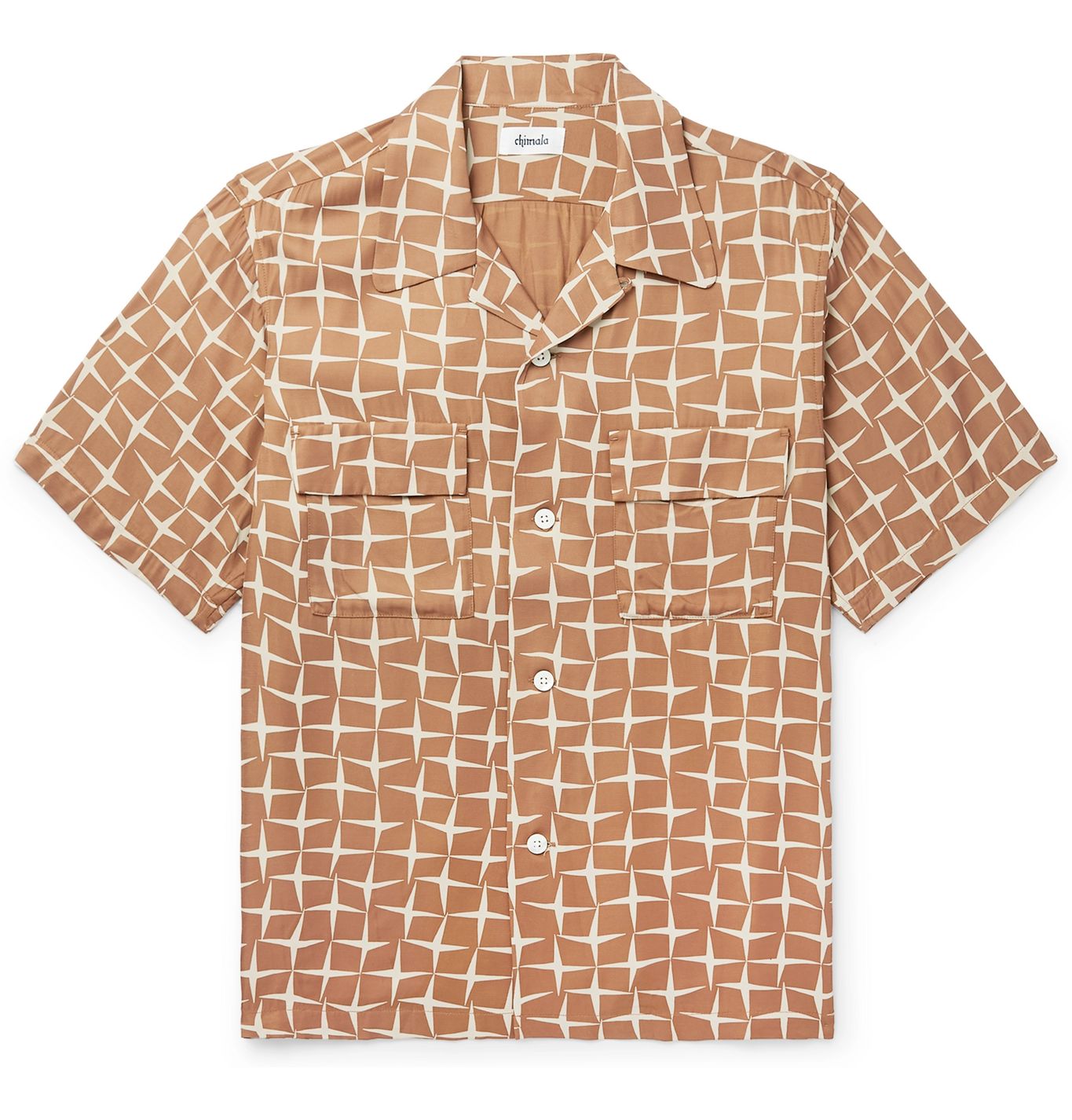 Chimala Camp Collar Shirt
Imagine sitting at home, listening to old soul records, while wearing this camp collar shirt. You feel cool as a cucumber because this is from one of the greatest modern workwear labels, Chimala. You also feel cool because the shirt is made from rayon, a cellulose-based fiber that literally feels cool to the touch. The retro-styled print vaguely reminds you of a dusty LP record cover you have sitting on your shelf, or one of those 1970s university press books professors used to leave outside their office. Then you remember that you bought this on sale at 30% off, making you feel even cooler. You have now achieved multiple levels of cool, like back when you layered different flavors of Slurpee into the same cup at your local 7-11. 
Schott Leather Jackets
There are some really good Schott leather jackets on sale. If you want something with a bit of versatility, try the brown trucker jackets and bombers. Those can be worn with blue jeans or fatigues. If you like the edginess of a double rider, the black cowhide with silver hardware will go well with jeans in either blue or black. However, if you want a darker and slightly moodier looking aesthetic, try the all-black suede jacket you see above. Since it has blacked out hardware, it will lend a certain vibe when you wear it with black jeans and black boots (although I find all-black leather jackets look less convincing with blue jeans).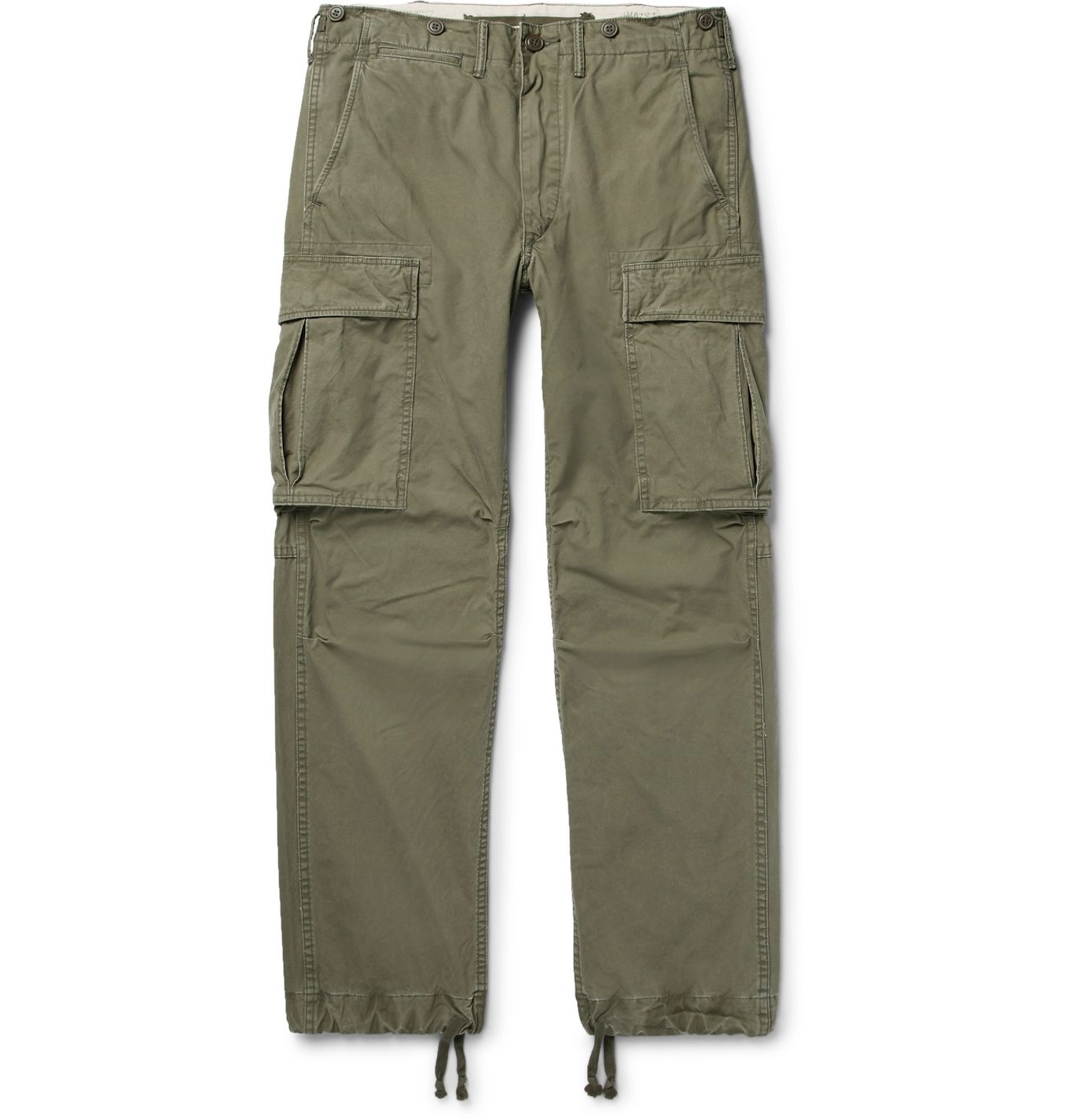 RRL Cargo Pants
Cargo pants have gotten a bad rap over the years, perhaps not undeserved. They're the official pant for Smashmouth fans and frat boys. But I like how their unique details lend a certain silhouette to outfits — the cinch tie hems, articulated knees, and of course, those big, bulging pockets. They pair well with black double riders, blue denim trucker jackets, and most kinds of workwear. RRL makes some of my favorites given the amount of detailing they put into their designs. This season's model looks like it's slightly slimmer fitting than seasons' past, which is perhaps a reason to size up.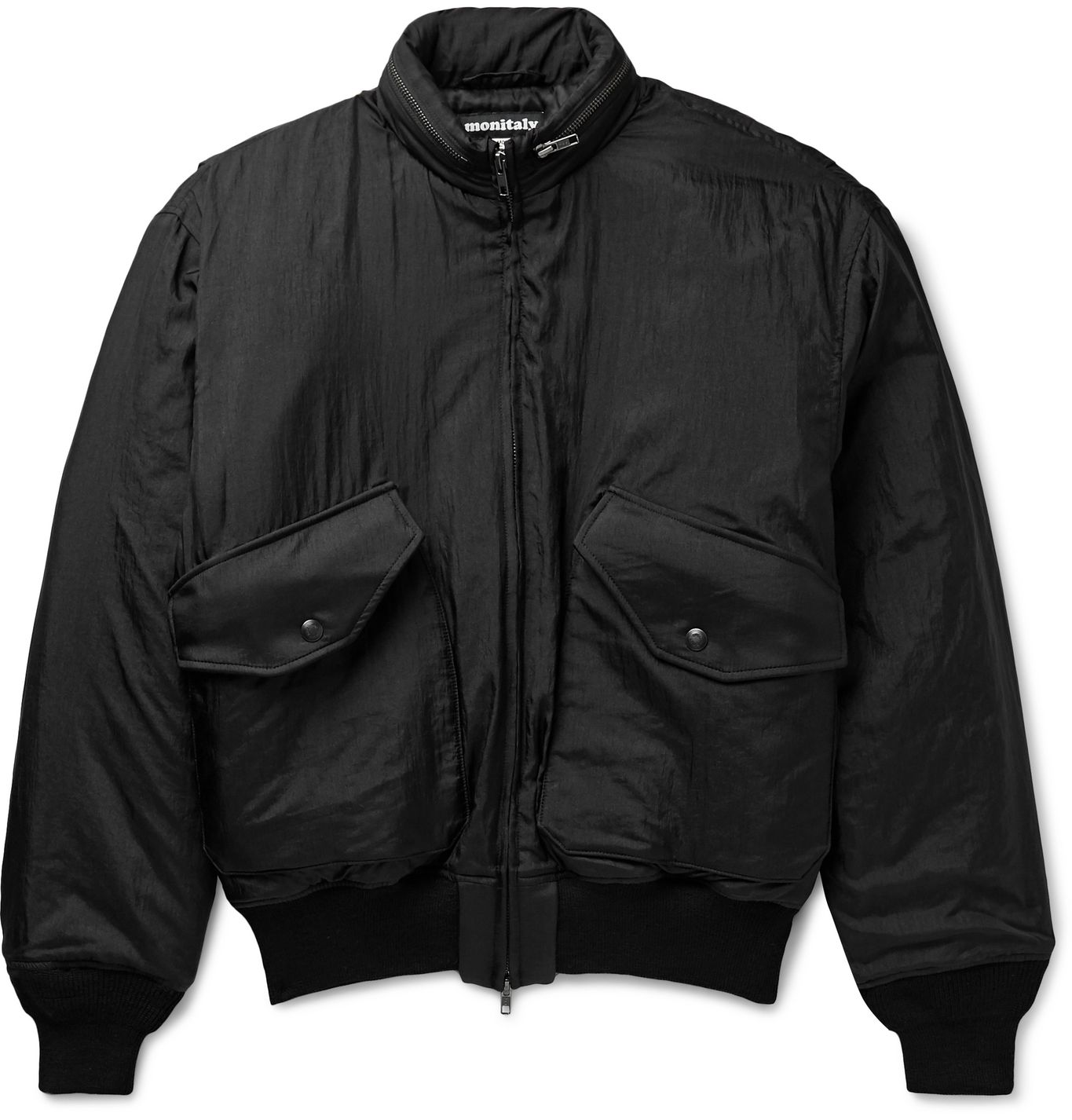 Monitaly Flight Jacket
I bought a green version of this bomber jacket and love it. It's huge and roomy, shaped like a giant balloon, and looks terrific with slim jeans, oversized sunglasses, and a beanie. It's also fairly warm and insulating, making it perfect for brisk days hovering in the high 50s and low 60s. You can see the green version on Peter Zottolo's Instagram. While you can undoubtedly find the milsurp originals for much cheaper, there's something special about Monitaly's version — the shaping in the back, the materials, and just the general detailing. However, the jacket does fit big, so take your regular size and wear it with a beanie to balance out the silhouette.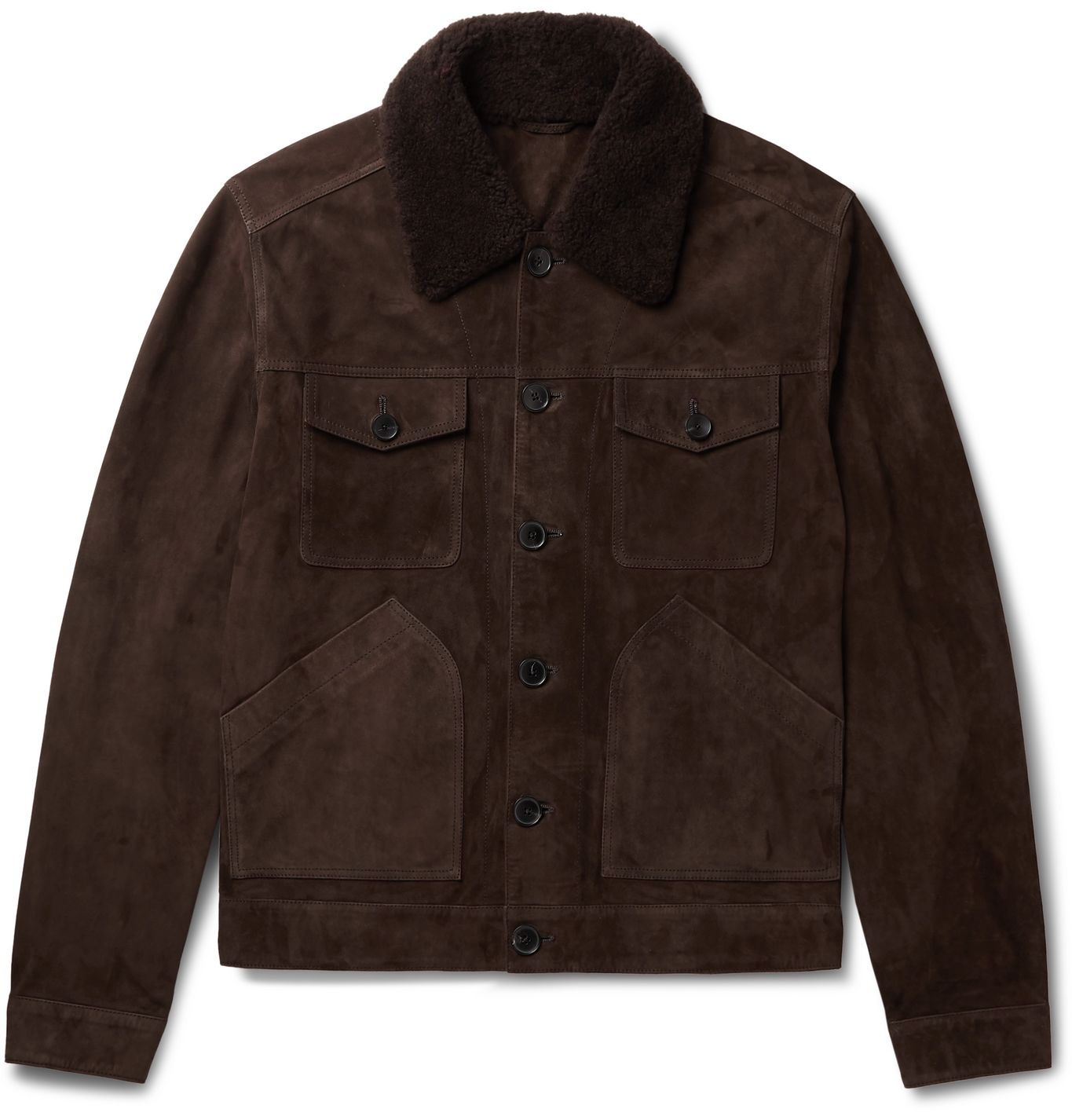 Various Things from Mr. P
Mr. Porter's in-house label, Mr. P, seems to offer excellent value. The line is clearly informed by Mr. Porter's sales statistics and current trends, as many of the pieces look like an overview of the retailer's editorial page — the vacation styled shirts, the long topcoats, and dark monochromatic color palettes. But many of these things are also items you can wear for a while. With the current Black Friday promotion, they have shearling truckers and checked topcoats for $665, retro-styled knits for $154, and a cheerful yellow sweatshirt for $87. The shearling jacket you see above would look great with grey trousers or blue jeans, and it costs a fraction of what designer brands would charge for something similar.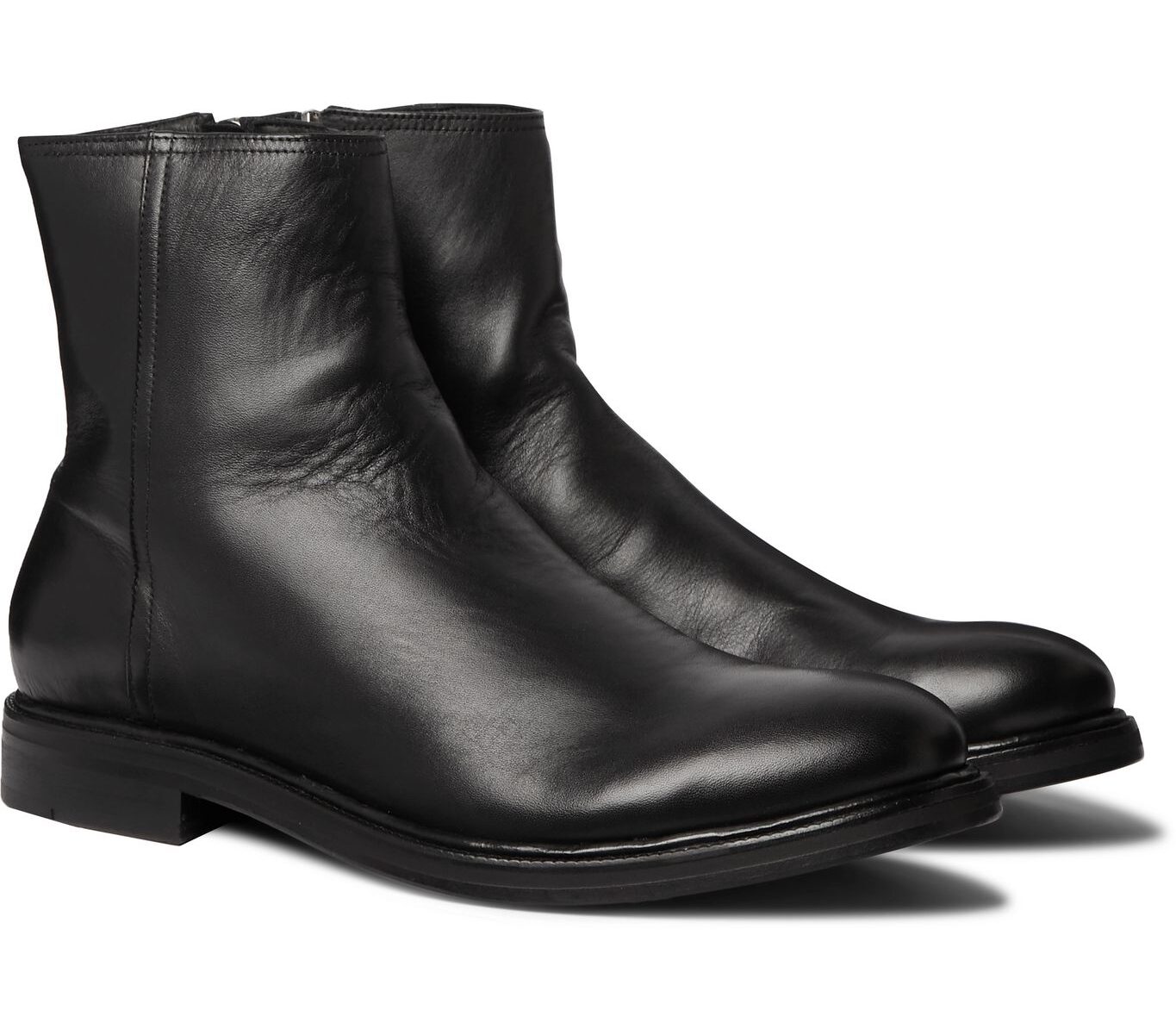 Officine Generale Side-Zip Boots
The elusive black side-zip boot made from full-grain leather. For whatever reason, traditional shoemakers often don't offer this model, even though they have it in their archive. Fashion brands also often cut corners by using corrected grain leather. These Officine Generale boots are sleeker than Chelseas, pair well with a range of fashion-forward casualwear, and are made from full-grain leather. I wear black side-zips with topcoats, black leather jackets, and some Western wear. With the discount, these from Officine Generale come down to $392.