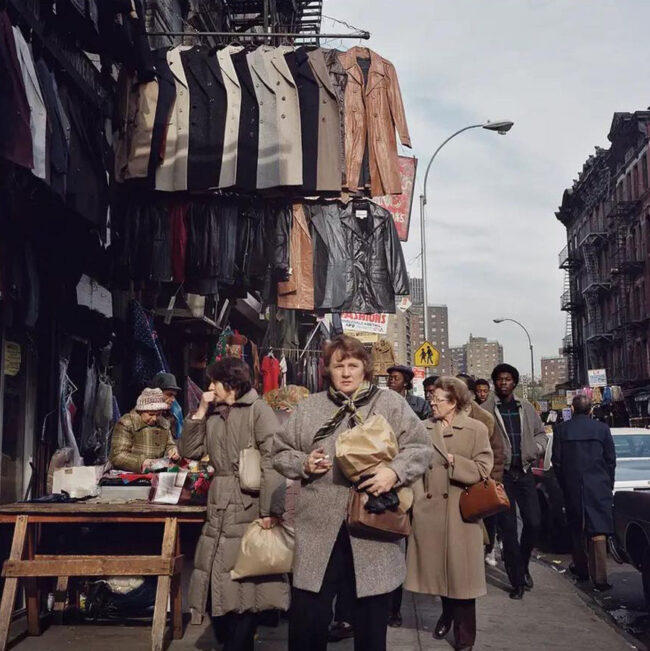 In the summer of 1830, French publisher Charles Gosselin grew tired of Victor Hugo's excuses. Hugo was working on a novel titled Notre-Dame de Paris. He wanted to write the book because he was worried that Paris' Gothic architecture was being rapidly replaced by more modern structures (this is why large sections of the book go into exceeding detail when describing the buildings). But between Hugo's procrastination, writer's block, and other deadlines, he struggled to complete the book. Gosselin kept pestering the French novelist for updates, and by the summer of 1830, he demanded that the book be finished within six months. 
Realizing that Gosselin was serious, Hugo concocted a scheme to keep himself writing. According to his wife, Hugo bought himself a bottle of dark ink and a huge grey knitted shawl, which "swathed him from head to foot." He then locked up all of his "outside clothes" so that he wouldn't have access to his outfits. Without the distraction of his clothes and the temptation to go outside, Hugo was able to write continuously for six months while confined to his study. Notre-Dame de Paris was published the following year, and later renamed The Hunchback of Notre-Dame for the English translation. 
In the last year and a half, it has become crystal clear that dressing well is inextricably linked to the experience of moving through the world. In one of my favorite articles published last year, New Yorker staff writer Rachel Syme wrote: "What I've felt, perhaps, is a yearning for the spontaneous ways that clothing and public life can collide — the feeling, say, of riding the subway, en route to a holiday party, wearing something sparkly and foolish underneath a puffer coat." The world still isn't fully open — who knows if things will ever be what they were — but it's more open than before, and I'm thankful to be able to dress up again. Hugo was right. Clothes are a distraction, yes, but a wonderful one as far as distractions go. Here are some things that I'm excited to wear this fall.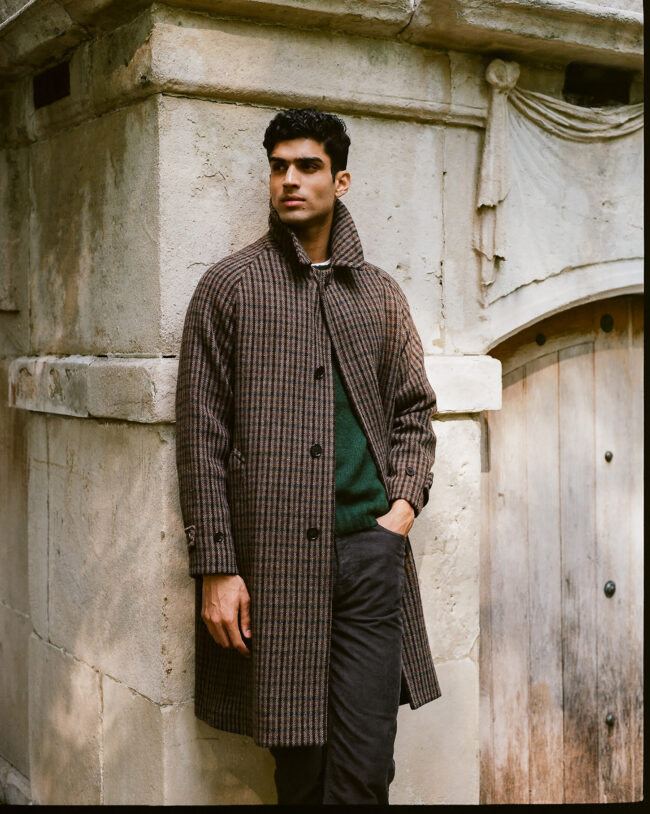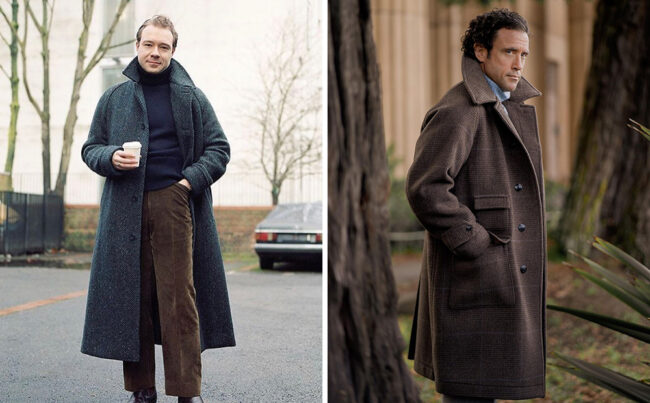 THE RAGLAN SLEEVED OVERCOAT
An overcoat is like the menswear version of The Little Black Dress. It's simple, chic, and dramatic. It's also one of the only things men with wildly different tastes can agree on. Trad purists will appreciate how an overcoat can give you the flattering, face-framing effects of a sport coat without making you look dressed up. Men who prefer to dress more casually can turn to Aime Leon Dore and De Bonne Facture to see how you can pair an overcoat with jeans, chunky knitwear, and sneakers. 
When shopping for an overcoat, start with the shoulders. A set-in sleeve will result in a relatively more squared-off, T-shaped silhouette that will help broaden your shoulder line and make you look more formal. Raglan overcoats, on the other hand, have sleeves that extend diagonally towards the neck. This creates a softer, rounder, and more casual-looking silhouette, and if the coat is roomy enough, it'll be easier to layer over other clothes. I like both for different reasons, but I am most excited to wear my raglan overcoats this season.
I have a few in my wardrobe. There's a Drake's Balmacaan made from Abraham Moon tweed, which features slash pockets, a covered placket, and a deep, center, reversed box-pleat. I bought it for about $450 off Marrkt and suspect it's a sample piece since I've never seen it on Drake's website. Additionally, I have two versions of Kaptain Sunshine's Traveler coat. One is made from a heavier Melton wool that's perfect for the deep freeze of winter; the second is made from a lighter weight overcoating that's better suited for early fall. Both have that A-line silhouette, cheeky patched pocket, and interior leg straps. I think it's the perfect bal coat if you want something more casual and less traditional than what you find at shops such as Cordings. The Traveler goes great with nearly anything — jeans, cords, or flannels; sweatshirts or chunky knitwear; sneakers or boots. This season, you can find it at No Man Walks Alone and Namu Shop, both sponsors of this site. 
There are two other overcoats worth mentioning. The first is Camoshita's Balmacaan, one of the best modern versions of this style. Most companies today make their overcoats too slim, which gives their outerwear a long, tubular silhouette. Camoshita's bal, on the other hand, has verve and drama. It's unapologetically roomy and swings when you move. To help fill up the space inside, layer a chunky sweater, so you don't look like you're swimming underneath (a good idea for any overcoat). The second overcoat is De Bonne Facture's Grandad. It straddles classic and contemporary, oozes charm, and looks like something you may have inherited from your grandfather (probably because it's based on an actual coat once owned by someone's grandad, hence the name). I'm convinced that it's impossible to look bad in this thing. 
Options: De Bonne Facture, Trunk Clothiers, Camoshita, Kaptain Sunshine, Wythe, Ikiji, Coherence, A Kind of Guise, Stoffa, Christian Kimber, Cordings, New & Lingwood, Drake's, Todd Snyder, Magee, O'Connell's, Chrysalis, J. Press, Aime Leon Dore, Ralph Lauren, and Uniqlo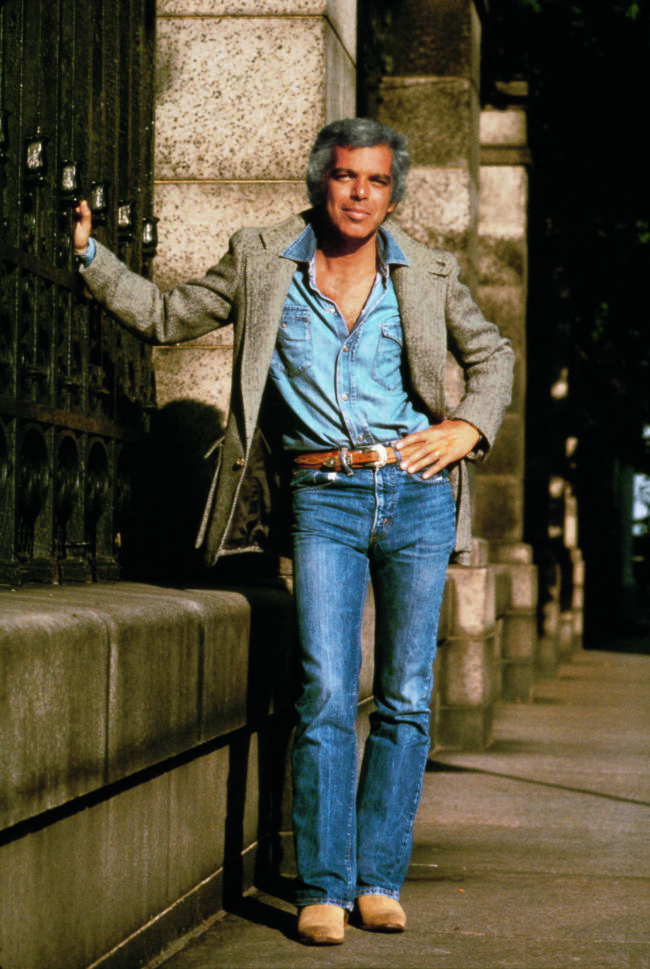 DENIM SHIRTS WITH TWEED SPORT COATS
On the first decennial anniversary of Polo Ralph Lauren, Les Goldberg shot this photo of Ralph Lauren somewhere in New York City. Ralph posed for the picture with his hand on a metal fence while wearing a perfect distillation of his brand: a tweed sport coat paired with washed denim jeans, a matching denim shirt, a brown leather ranger belt, and a pair of tan suede cowboy boots. When Ralph briefly appeared in an episode of Friends nearly twenty years later, he wore a similar outfit, perhaps as a nod to diehard fans.
I'll always think of denim shirts with tweed sport coats as a uniquely "Ralph Lauren" combination. Together, they express the two grand traditions in American design: workwear and tailoring. Denim is arguably the most noble cloth in American style, and when paired with sport coats, it tames the formality inherent in tailored clothing. 
I also love the combo for how it expresses a uniquely American point of view. American style has never been as posh as its European counterparts, and it has rarely matched the ingenuity of the Japanese avant-garde (Rick Owens being the exception). Instead, as Cathy Horyn recently put it, "American fashion has always embraced offness, otherness, queerness, outsiderness." To me, denim worn with tailoring has a similar flavor. It's the rustic Americana foil for your city-mouse apparel. It looks rugged, elegant, and dignified in a uniquely American manner. This fall/winter, I am looking forward to wearing the combo with whipcord trousers (I still struggle to wear sport coats with jeans, although I appreciate the combo on other men).
Options: Proper Cloth, Bryceland's, Barbanera, Taylor Stitch, Joe McCoy, Studio D'Artisan, Viapiana, CEGO Custom Shirtmakers, Todd Snyder, RRL, J. Crew, Levi's, The Armoury, Sartoria Carrara, Sartoria Formosa, and Spier & Mackay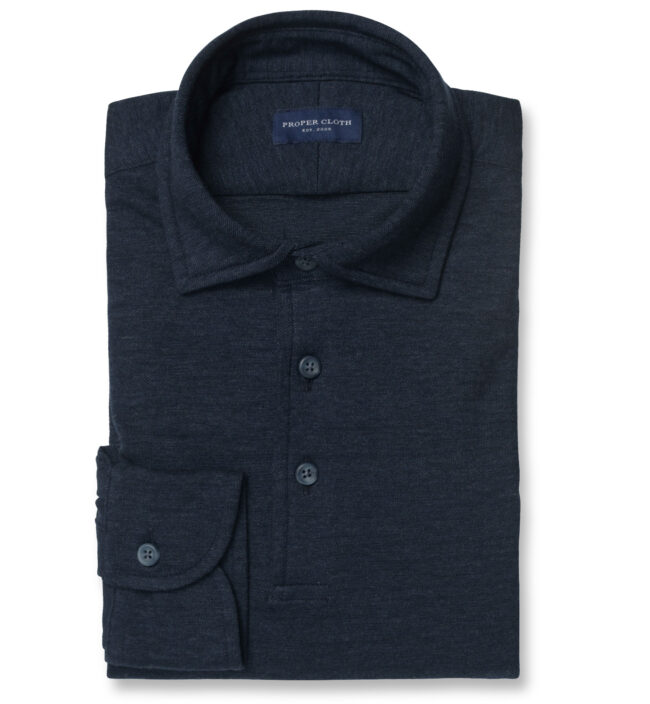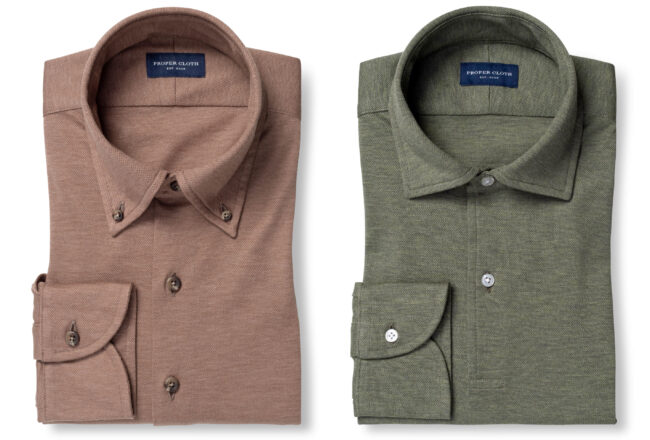 PROPER CLOTH POLOS
I hate ironing shirts, so over the summer, I bought two long-sleeved polos from Proper Cloth. (Note, Proper Cloth sponsors Put This On, a company that employs me, but I pay full price for my shirts and never do advertorials.) The great thing about Proper Cloth is that, once you have your measurements dialed in, ordering a new shirt is as easy as clicking through some styling options. For their polos, I like the Soft Roma Cutaway collar if I know I'll always wear the polo under a sport coat (the effect looks a little like Eidos' Lupo or Permanent Style's Friday polos). Otherwise, the Soft Ivy Button-Down is better at doing double duty. You can wear that under a tailored jacket or on its own, while the Soft Roma Cutaway is a little aggressive without a tailored jacket. 
Proper Cloth has some great colors at the moment, such as pine green, melange green, and mocha. However, my favorites are the Tencel-cotton pique knits, which are available in more basic colors such as white, light blue, beige, medium gray, and dark slate. Something about these fabrics makes them special. The underside is tremendously plush, almost like brushed flannel pajamas. The slight touch of elastane (2%) also gives these fabrics a comfortable stretch. I bought the dark slate over the summer and found myself wearing it with everything. The blueish shade of charcoal provides a good background for jackets in brown, navy, and green. I love it so much that I ended up purchasing two more polos — white and gray — and have been relying on them whenever I want to wear tailored clothing without having to iron a dress shirt. During this in-between stage where businesses are only half-open, I find these long-sleeved polos are useful for quick outings. 
There are some tricks to ordering from Proper Cloth. First, it's always a good idea to purchase a swatch before ordering a shirt. This way, you can judge things such as the fabric's "hand." Each swatch costs $1, but the amount goes towards store credit, which means the swatch is free if you end up ordering a shirt. Secondly, since Proper Cloth is an online made-to-measure shirtmaker, you can enter the measurements of your body or best-fitting shirt. However, they always recommend washing and wearing the shirt a few times before judging the fit. Sometimes the fabrics don't shrink as expected. In those rare cases, know that you have a 90-day window to request free remakes or alterations. This ensures you won't get stuck with a shirt you don't like. 
Options: Proper Cloth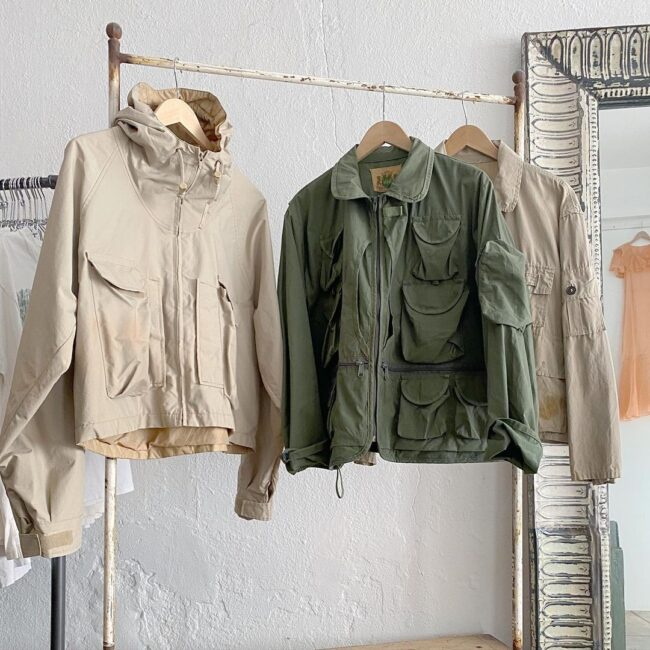 DRESSING LIKE A 1960s FISHERMAN
I've never hunted for anything except coupon codes, but I love the look of British and American sportsmen during the mid-20th century. Over the summer, I bought a vintage fishing jacket for about a hundred bucks. The seller thinks the jacket may be from the 1960s or '70s, a few decades before wading jackets became overly technical and modernized. Much like how vintage hiking gear is often more stylish than its contemporary counterparts, vintage wading jackets have a kind of classic sportsman sensibility that will forever be charming. If you've ever found yourself admiring brands such as South2 West8, Tokito, or Monitaly, there's a good chance you were looking at outerwear inspired by this section of sportswear history.
My jacket is from a now-defunct American company called Ideal. It's short, boxy, and almost has a bomber-like silhouette. There are countless pockets everywhere — pockets within pockets, ingeniously hidden pouches, and cleverly designed snap-button and zippered closures to secure them all. Everything about the jacket is fun, but you have to have a sense of humor about yourself to wear such a ridiculous garment in the city. Fishing jackets are about a sense of play and joy and the dream of every child as they skip along running brooks, catching diminutive insects. 
If you do a Google search for "Ideal fishing jacket," you'll pull up a bunch of second-hand Japanese menswear shops, such as Olds, Feeet, Grass, Unwave, and Suntrap. As usual, it seems that the Japanese are better at appreciating and preserving American classics than actual Americans. Vintage wading jackets aren't terribly warm — they are basically a thin shell designed to hold tackle and keep you relatively dry. But they have a cool silhouette, plenty of room for generous layering, and play well with offbeat Japanese workwear brands such as Engineered Garments. This fall, I'll be wearing my Ideal jacket with a vintage Ralph Lauren sportsman sweater, a faded pair of 3sixteen jeans, and some black Blundstone boots. Bode's giant fish-shaped bag is optional.
Options: Ideal, Monitaly fishing vest, Barbour Spey, Super Dux, JC Higgens, Drybak, Columbia, LL Bean, Brut Clothing x Barbour (coming back early November), Tokito, South2 West8, Engineered Garments, Ten C, Drake's, Ralph Lauren, Todd Snyder, J. Crew, and anything at Mothfood, Raggedy Threads, or Wooden Sleepers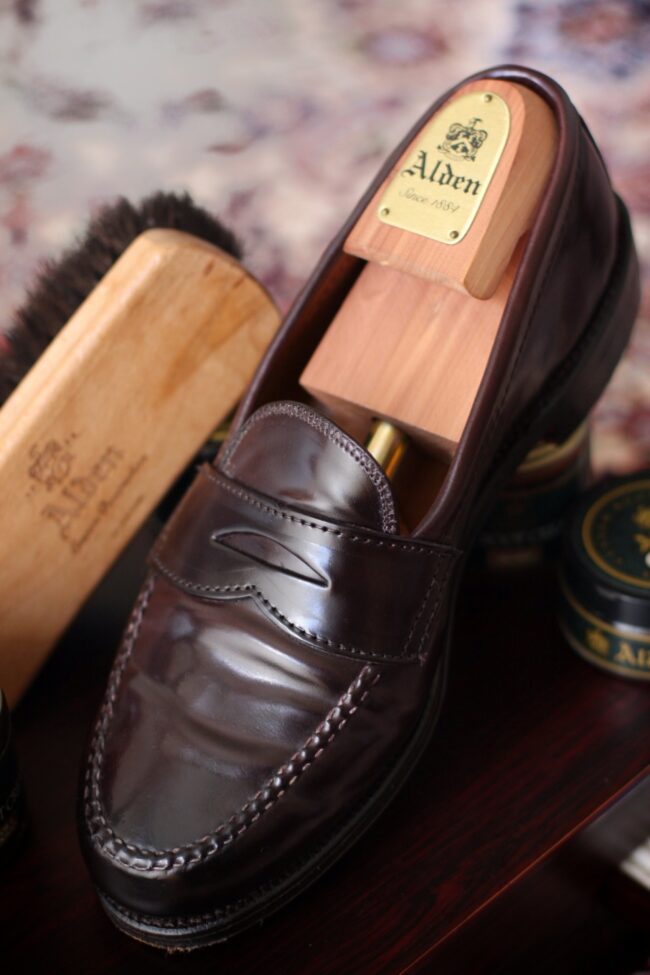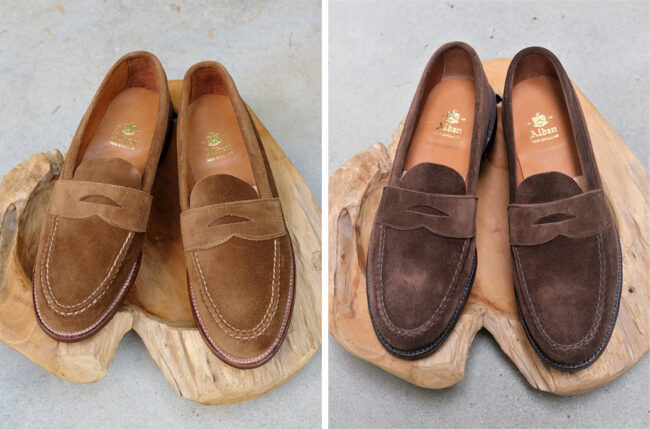 THE PERFECT AUTUMNAL LOAFER
A couple of months ago, a reader emailed me to ask what size I take in Alden's Leisure Handsewn. I actually hadn't worn my loafers in a while. They were shoved towards the back of my closet, having sat mostly untouched for years, so I fished them out to take a look. After I replied to him, I lazily put the loafers near my front door, intending to put them back in my closet later. But over the summer, I found myself stepping into the loafers almost mid-stride when I walked out of my home. I fell in love with the loafers all over again, sometimes wondering if this might not be the all-time perfect loafer. 
The Leisure Handsewn (LHS) is Alden's most iconic loafer style and possibly one of their top five best-selling models. Diehard trads and Ivy style purists consider it the Platonic ideal for a slip-on. It's built on the Van last, which is softly rounded, but not stubby. The mild rolling on the apron is tastefully executed, and I like that it has a more traditional strap, rather than the full-strap you find on some penny loafers.
The best thing about the LHS is that it goes with almost anything: trad outfits comprising natural shouldered, hook vented sport coats paired with flannels or whipcords; jeans worn with sweatshirts and overcoats; chinos worn with denim trucker jackets. Peter Zottolo wears them with denim and sport coats, while Kyle at No Man Walks Alone often sports his in a more contemporary fashion. The loafers are eminently tasteful and have a silhouette that allows them to look better with scuffs. This past summer, I wore my LHS loafers in dark brown, unlined suede, but I'm going to switch to my #8 shell cordovans for fall. I think the chunkier silhouette pairs well with topcoats.
Options: Alden Leisure Handsewn, JM Weston 180, Jay Butler, Crockett & Jones Boston, Crockett & Jones Harvard, Löf & Tung Xavier, Sid Mashburn, Carmina 80579, Carmina 10082, Allen Edmonds Randolph, Allen Edmonds Cavanaugh, Grant Stone Traveler, Barbanera, Shipton & Heneage Arran, and Aurlands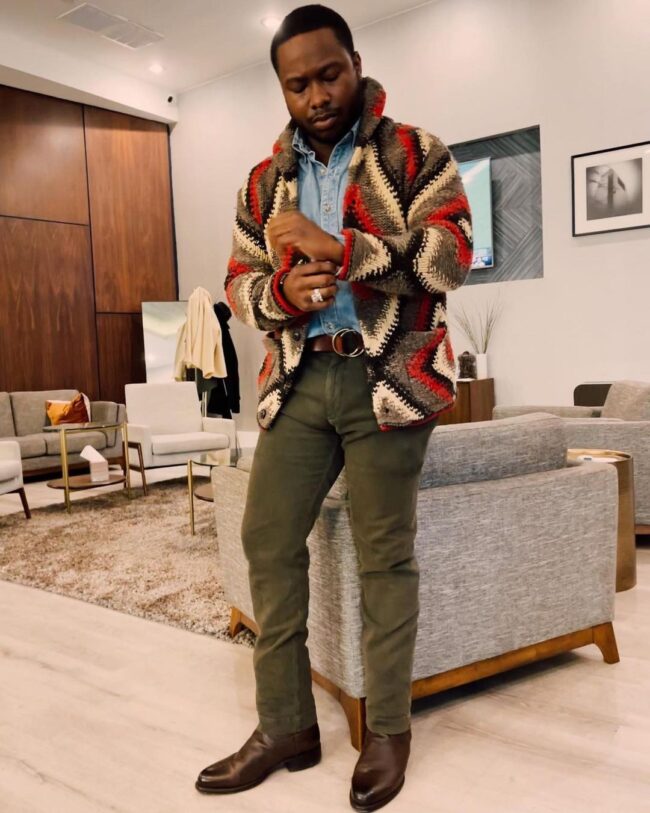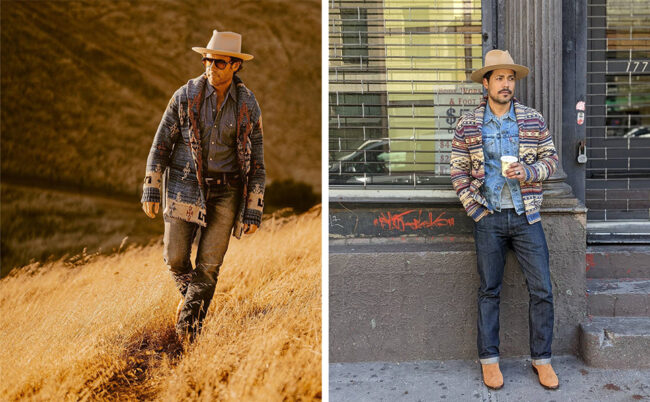 THE RUGGED SHAWL COLLAR CARDIGAN
In a winter 1979 catalog, Brooks Brothers suggests that men can wear a shawl collar cardigan in place of a tailored jacket. "Handsome shawl collar cardigan of ribbed 3-ply Shetland wool with leather buttons," reads the product description. "Can easily serve in lieu of a sport jacket. Natural or gray." 
It's good advice, although I've always thought this was more about how you can wear the cardigan at home. When hosting holiday parties, you can wear a shawl collar cardigan to get the face-framing effects of a sport coat without looking dressed up. I also like wearing these knits around the house any time it's cold — while making breakfast, hanging out with family, or lounging on the couch. The best shawl collar cardigans are made from multi-ply lambswool or cashmere yarns, and are often knitted in Scotland. You can buy them nowadays from Scott & Charters (now owned by Begg), The Armoury, Drake's, Cordings, Winston & Company, and a sponsor of this site, Colhay's. 
For a proper outing, however, I prefer a more rugged shawl collar knit. The ones from The Canadian Sweater Company, Kanata, and RRL are not soft or plush. They are barely even cozy. Instead, they're hefty, rugged, and feel more like outerwear than knitwear. When a friend of mine bought a Kanata Cowichan a few years ago, he half-jokingly emailed me: "I think I just pulled a twig out of this thing." 
RRL actually makes two types of cardigans: hand-knitted and machine-knitted. The hand-knitted ones are often made from more interesting yarns, commonly spun from a blend of British wool, Italian linen, and Japanese silk. Although they're heart-stoppingly expensive (often upwards of $1,500) they're tremendously beautiful. They have great texture and depth of color, weigh as much as an overcoat, and come with Southwestern blanket-inspired patterns that pair well with Westernwear. I love the way that Sean Robinson, Peter Zottolo, Alessandro Squarzi, and CJ Cook wear their cardigans with faded jeans, five-pocket cords, chambray shirts, thermal henleys, and even denim jackets tucked in as mid-layers. (This outfit is wowzas!) 
Options: Kanata, The Canadian Sweater Company, and RRL (the RRL cardigans are super expensive but you can find older versions for less on eBay. If you can afford the handknitted ones made from blended silk or linen yarns, rather than the machine-made ones made from wool or cotton, they're truly special)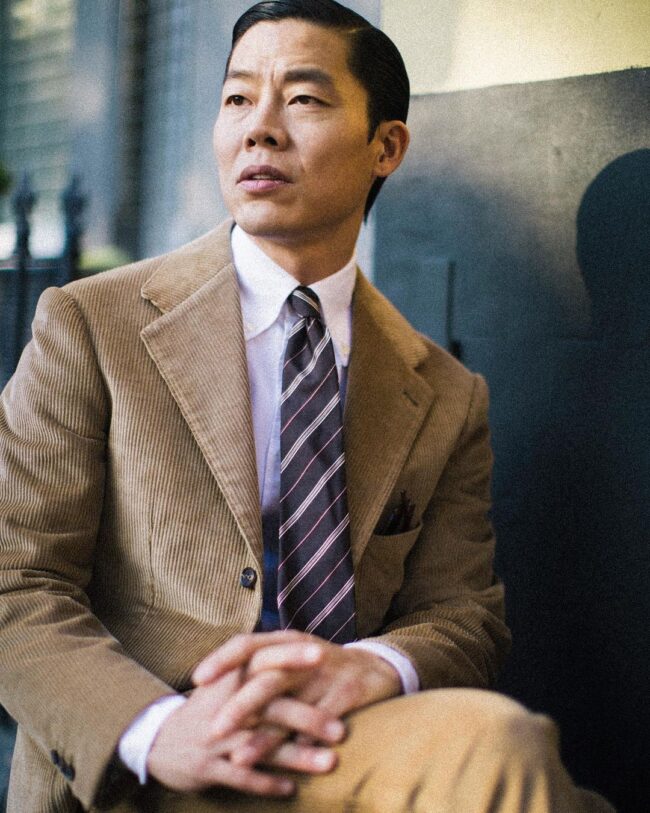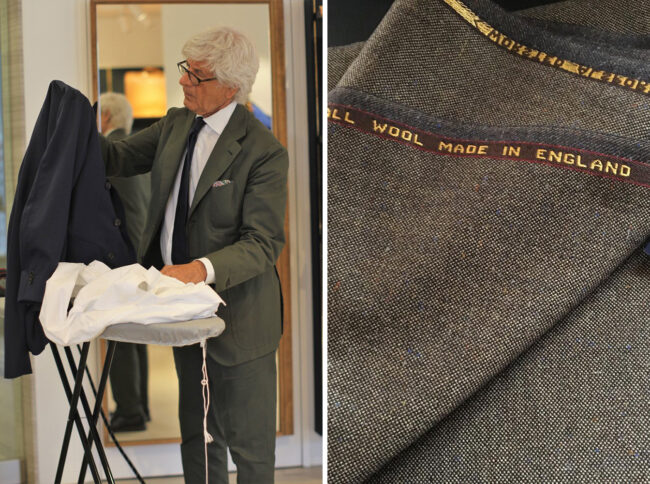 HAPPY SUITS
Earlier this year, I tweeted out a poll asking if people plan ever to dress up again. Secretly, I was skeptical. By that point, we had been in lockdown for more than nine months. I had been living almost exclusively in my RRL jeans and flannel shirts. My suits and sport coats mostly sat untouched, collecting dust in my closet. As we drifted further away from March 2020, the idea of wearing tailored clothing again grew ever more distant. 
But when the country started to reopen in June 2021, I was surprised by how quickly I snapped back into old routines. Not only do I wear tailored clothes more frequently than before, I reach for suits more often than sport coats. When I go out to dinner, I wear a grey-green, single-breasted mohair suit or a navy double-breasted covert suit, often with an open collar and black Alden tassel loafers. And whereas I used to break my dark brown corduroy suit into separates, partly out of fear of looking overly dressed up, I wear the jacket with the matching trousers now in the afternoon.
The pandemic has made me less timid about wearing suits for daily life. I often think about this post at Reddit's Female Fashion Advice. "My yoga teacher once told me that when he was younger, his mom was very, very conscious of the things she wore and how everything had its time and place," wrote the commenter. "Even the china set. She would never bring it out unless it was for a very special dinner. However, when he was about 14, his mom got cancer and was very close to passing away. She recovered, but he distinctly remembers the day that she had embraced the idea of FUCK IT. She put on her most beautiful dress and busted out the china, and they ate meatloaf on a regular Tuesday."
I love this life-affirming attitude, where we don't just wait for occasions to dress up, but we dress for joy. The suit is a truly beautiful thing and there's something elegant about wearing one not just for fancy cocktail parties, but regular dinners. Rachel Tashjian's Opulent Tips newsletter is full of similar encouragements. In this new "normal" where every outing feels special, why wouldn't you dress up? I plan to wear suits more often when getting dinner this season, and hope to purchase a few more fall/winter suits in tweed, corduroy, and brushed cotton. 
Options: Navy Formosa covert suit, brown Carrara nailhead suit, tan cotton Carrara cotton suit, tan Carrara corduroy suit, navy Armoury mohair suit, taupe Armoury covert suit, olive Armoury four-ply suit, brown Armoury anniversary suit, tan Armoury Fox Air suit, cream Spier & Mackay cotton suit, olive Spier & Mackay cotton suit, and brown Spier & Mackay Fox Air suit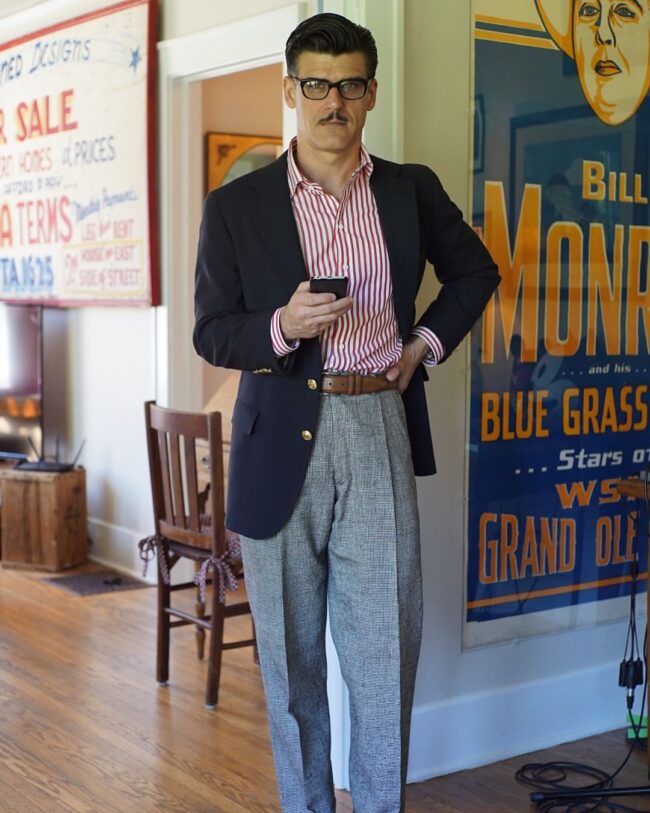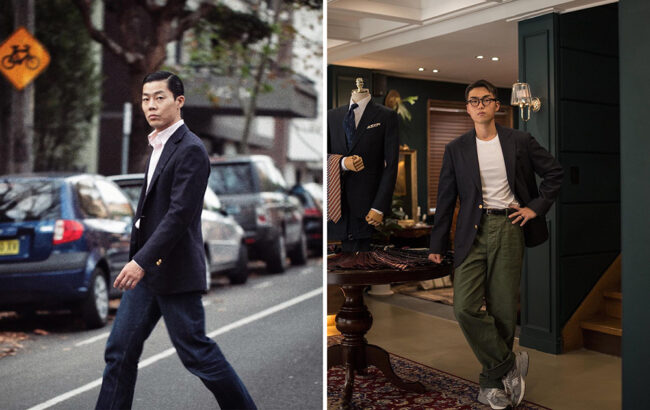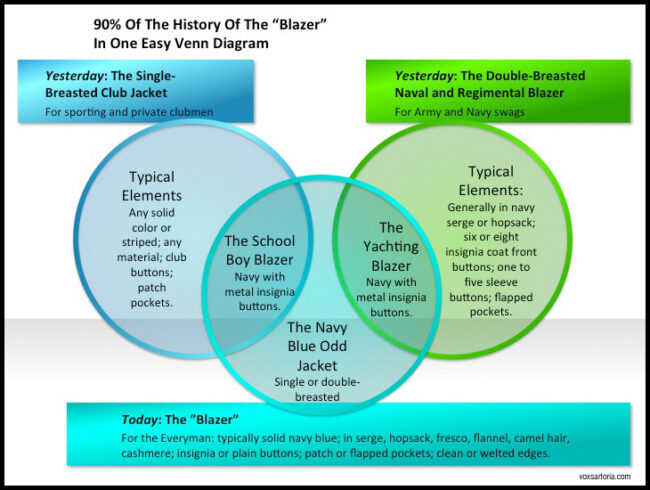 THE BRASS BUTTON BLAZER
For years, I resisted navy blazers, preferring instead to wear navy sport coats finished with matte horn or smoked mother-of-pearl buttons (the second is good for summer versions of this classic). The terms "navy sport coat" and "navy blazer" are often confused for each other. A navy sport coat is any odd jacket made from a solid navy cloth. On the other hand, a blazer is an odd jacket finished with metal buttons (blazers are often solid navy, but not always). In the past, I dismissed navy blazers as being too costumey for my lifestyle. The buttons were too flashy; the garment altogether too closely tied to prep and privilege for comfort.
But sometime last year, I noticed that I have too many navy sport coats, so I bought some brass Waterbury buttons and converted one of my jackets into a blazer. It turns out, I kind of like them. It's true that blazers are associated with wealth and privilege. The single-breasted version is closely tied to preparatory school uniforms; the double-breasted is associated with yachting. But just as you can wear tassel loafers without looking like a monied lawyer, I think you can wear navy blazers without pretense.
I love the way that Tim Ferguson, George Wang, and Joe Ha wear theirs. Tim wears a traditionally cut, brass button blazer with grey glen check trousers, a red-and-white striped shirt, and black-rimmed glasses. The outfit is charming, stylish, and even cool. Younger readers might take inspiration from Ji-Hun Park, André Larnyoh, and Ethan Wong. Park wears blazers with fatigues and sneakers; Larnyoh sports a slouchy, double-breasted blazer with a band collar shirt. If you're worried about looking like a preppy jerk, take comfort in knowing that you bring your background to your clothes. Just as you won't look like an Italian playboy in soft Italian tailoring, you won't look like a preppy villain in a blazer if you're not one. Ethan Wong is a stylish, young guy who often wears a blazer, and he does so in a way that naturally reflects his personality.
Options: J. Press, The Waterbury Button Company, Ben Silver, Benson & Clegg, Crofton & Hall, Britex, Hwa Seng Textiles, eBay, and Etsy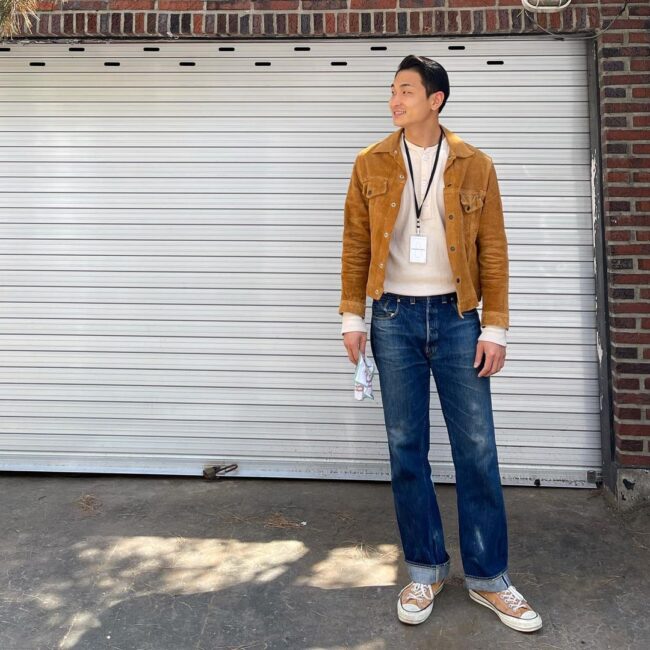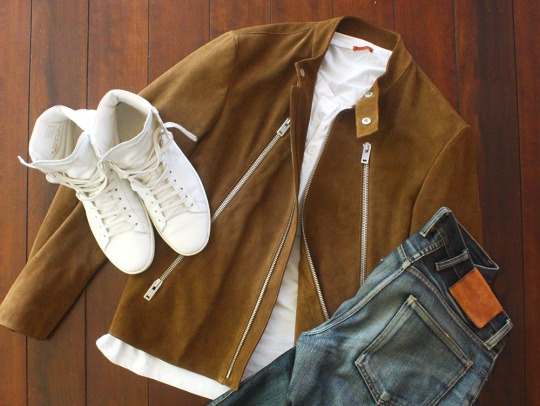 SUEDE JACKETS
It's an old, well-known hack that you can dress down tailored clothing by reaching for suede shoes instead of smooth calfskin. I feel the same about leather jackets. Since the mid-20th century, leather jackets have become emblems of rebelliousness and black sheep individualism, thanks in part to style icons such as Marlon Brando and Sid Vicious. That association has been blunted in recent years as the black double rider has reached middle-class ubiquity. But if you're still unsure whether you can pull off a leather jacket, start with something in suede — the softer side of leather outerwear, literally and figuratively. 
When shopping for a suede jacket, think about how the style will age. Suede picks up dirt easily. It's difficult to clean, and over time, it can develop bald or shiny spots as the nap becomes compressed or worn down. Dressier suede jackets, such as those from Loro Piana or Cucinelli, often look better when they're new and pristine. Workwear-styled jackets, on the other hand, often look better with dirt marks. Of course, if your style leans dressy, you'll want a jacket that complements your wardrobe. In those cases, consider a darker color such as chocolate brown, which will hide stains better than tan. 
I have four in my wardrobe that I really enjoy wearing. There's a black shearling James Grose jacket that I wear with camo Wallace & Barnes fatigues, a brown Stoffa flight jacket that I pair with Stoffa's peached cotton trousers, and a tan suede Margiela five-zip that I wear blue 3sixteen jeans. I also recently bought a tan suede Barbanera trucker jacket, which I love wearing with jeans in black or blue. You can find suede trucker jackets at local thrift stores and eBay, sometimes for a few hundred bucks. 
Options: Valstarino, Valstar Clint, Christian Kimber, Stoffa, Mr. P, Golden Bear, Baracuta, Officine Generale, James Grose, Iron Heart, Paul Smith trucker, Paul Smith shearling flight jacket, Atelier Savas, The Armoury, Levi's Vintage Clothing, Todd Snyder, Craftsman Clothing, Drake's, Buck Mason, and Barbanera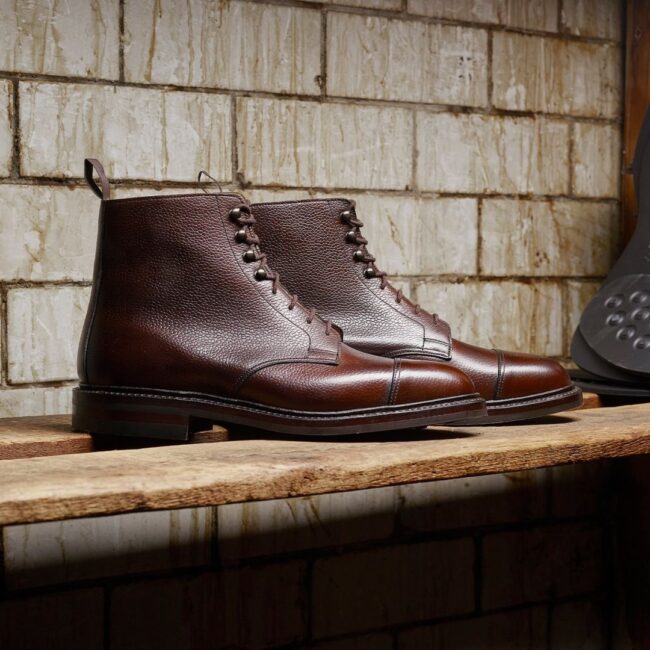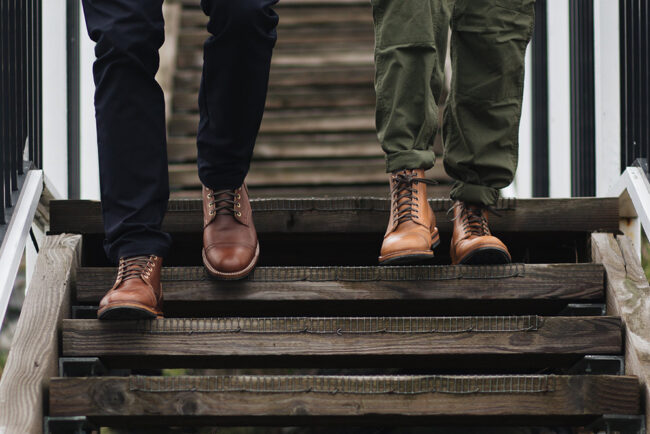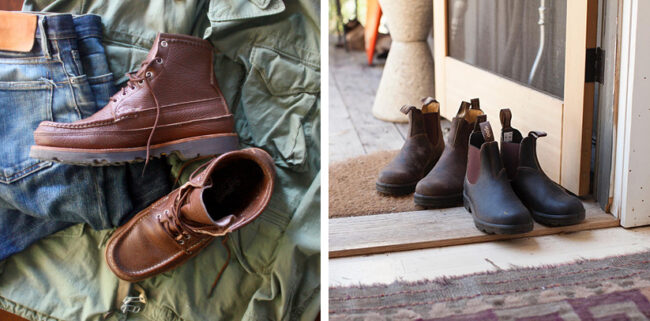 BOOTS, BOOTS, BOOTS
Fall outfits almost cry out for boots. If you're looking for something versatile, you could do a lot worse than getting a pair of Crockett & Jones' Conistons. Those can be worn with tailored trousers and waxed Barbour jackets, and then brought all the way down to rugged workwear (e.g., jeans and chore coats). I have a pair that the company made for Brooks Brothers, and it's among the more versatile shoes I own. RM Williams' Craftsman Chelseas also work well with dressier topcoats and jeans. 
For something a little more casual and rugged, I like Viberg's service boots, RRL's Cliftons (have a shoe repair shop cover the underside of the grommets with leather strips), black Blundstones, LL Bean duck boots, Kapital's navy supply boots, and Tecovas' cowboy boots. Black military boots are tremendously useful if you like workwear. I like Pretziada's "shepherd boots," but they're a pain in the butt to lace. These Aldens might be a better choice. Finally, I have a pair of custom-made hunting boots from Russell Moccasin. They're modeled on something that Ralph Lauren once made for his line, and I'm looking forward to getting back into those again. If you put LL Bean's shearling insoles into a pair of roomy boots, they'll be extra warm. 
Options: Crockett & Jones Coniston, Carmina 80179, Carmina 80791, Edward Green Galway, Meermin jumper boots, Lof & Tung Clark, Loake Kempton, RM Williams Craftsman, Sid Mashburn Chelseas, TLB Mallorca 132 Chelseas, Alden shell cordovan tanker, Alden Indy, Alden captoe boots, Viberg service boots, Truman boots, Blundstone, LL Bean, Pretziada Shepherd boots, Russell Moccasin, Trickers Dean, Heschung Hetre, wheat Timbs, beef and broccoli Timbs, Yuketen Angler, Yuketen Maine Guide boots, Tecovas, Rios of Mercedes, Lucchese Jonah, Buttero Floyd, Buttero Tom, Danner Crater Rim, and J. Crew Nordic boots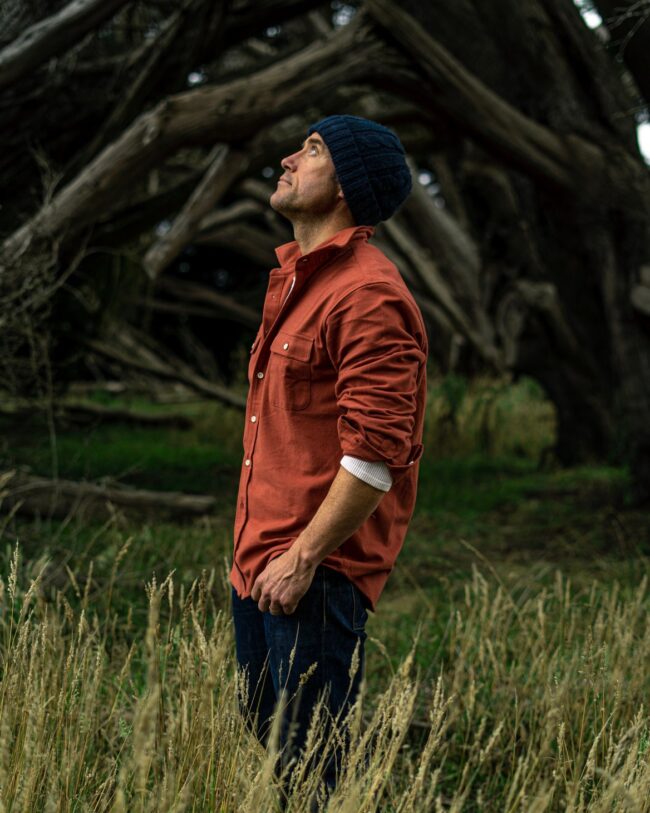 THE COZY CHAMOIS
Chamois is so good, the word literally ends with a chef's kiss. There are two versions of the material. There's the thin, absorbent suede that your father probably used to buff his car. Then there's the thick woven cotton that companies use to make shirts. Both have a soft, plush hand and feel vaguely like the surface of a billiard table.
Even if you've never worn chamois, there's something nostalgic about the material. It's soft, cozy, and makes you feel like you're a baby swaddled in a blanket. It's the shirting equivalent of a warm hug or a cup of hot chocolate. Yet, for all of its softness, there's also something rugged about the material. Being that it's machine washable and more durable than wool, American sportsmen have long worn chamois shirts at hunting lodges. Shortly after LL Bean introduced its "leatherette shirt" in the fall of 1927, the company's founder, Leon Leonwood, told his customers: "This is the shirt I personally use on all my hunting and fishing trips."
When it comes to chamois shirts, you can find a great one at nearly any price point. I bought mine for no more than $75 from LL Bean and J. Crew, and reach for them around this time every year.  J. Crew has them in a heavyweight material that doubles as a shirt jacket (the green is handsome), and then a lighter-weight version that's better suited for layering. Brian Davis of Wooden Sleepers tells me that he prefers the vintage versions. "Of course, you can buy one of LL Bean's chamois shirts today new," he says, "but they come in boring colors such as grey or navy. Whereas, in the 1980s, they made them in teal, purple, and yellow. Even in more standard colors such as red or navy, the fabric breaks down and gets really soft when these have been washed a million times. The colors become muted, and they look charming. I wear them untucked, often over an oxford shirt like a shirt jacket. I live in an old house that's drafty, so it's always cold. LL Bean's chamois shirts can be a nice layering piece in this way."
Options: Proper Cloth, Taylor Stitch, Todd Snyder, J. Crew, LL Bean, Lands End, The Vermont Company, Filson, and Wooden Sleepers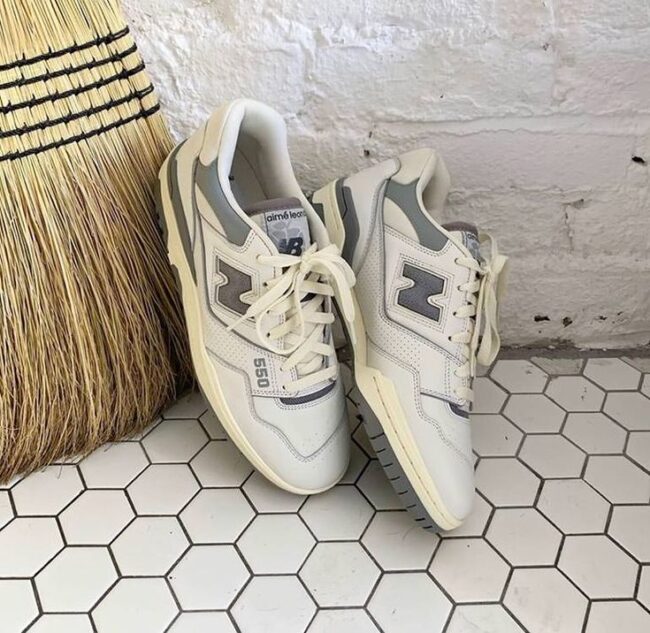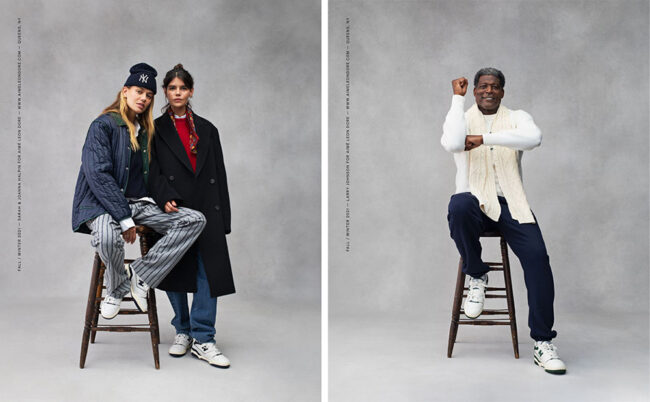 AIME LEON DORE X NEW BALANCE 550s
In some ways, Aime Leon Dore shares a lot with my favorite brand, Ralph Lauren. Both companies are tremendously skilled at building imaginary worlds where everything feels new and familiar. Of course, Ralph Lauren builds his world around the idea of the American Dream, while Aime Leon Dore does it around a particular cultural moment in New York City. Like many guys online, I've been enamored with Aime Leon Dore because they're so good at playing on nostalgia. And over the summer, I was finally able to buy a pair of their New Balance 550s — a 1989 low-top basketball sneaker that was lost in New Balance's archives until Teddy Santis dug them out for recasting.
At first, I wasn't sure if the style was for me. Most people online style them with shorts and sweatpants, which I admire but don't wear often. But when I received my pair in green, I was happy to find that they go just as well under jeans and chinos. After all, these are "dad shoes," so you can treat them like any pair of retro runners. They go well with mountain parkas, trucker jackets, five-pocket cords, jeans, chinos, sweatshirts, and anything that can be described as Rugged Ivy. The Aime Leon Dore version has a yellowed midsole, which gives them a cool vintage vibe. For guys who are less hung up on the hype, a similar pair of retro runners will serve the same purpose. 
Options: Aime Leon Dore x New Balance 550s, New Balance 1300JP, New Balance 574, New Balance 997H, Nike Challenger, Nike Waffle, Nike ACG Air Mowabb, Nike Air Force 1s, Reebok Classic, Adidas Superstar, Adidas Gazelles, Chuck Taylor 70s, Moonstar, Spalwart Marathon Trail, Victory Sportswear, and Margiela GATs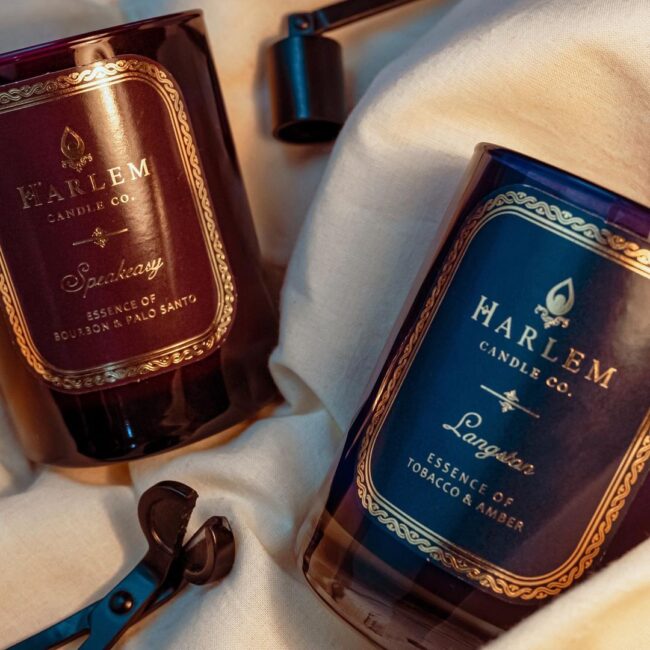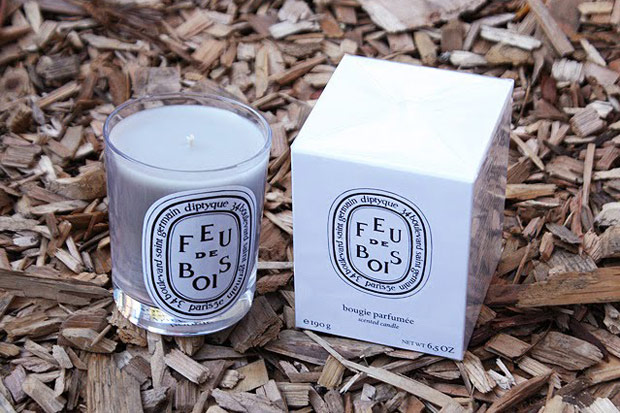 SCENTED CANDLES 
At the risk of sounding corny, I love scented candles during the colder months. Scent travels best in cool or crisp air. Plus, lighting a candle is the best way to cozy up a room. 
Last year, I learned there's a large community of Black-owned candle businesses. On the internet nowadays, you can find plenty of lists, where sites such as New York Magazine and Cosmpolitan give useful suggestions and note breakdowns. I tried a few from Rebourne and the jazz-inspired brand Olphactory. Let me tell you: these companies don't skimp on fragrance oils. Although their candles come in small, metal tins, they pack a tremendous scent throw. Since they also use two wicks, they burn to the edge quickly, preventing tunneling. I enjoy Just Dope (smells like the inside of a suede bag), Energy (hazelnut coffee), Scratched Vinyl (bergamot, vetiver, and dark musk), and Cole's Trane (white grapes, coconut, and lime).
New Yorker staff writer Rachel Syme also recently recommended the Harlem Candle Company. Since she has good taste in perfumes, I tried Langston (piped tobacco, warm amber, and leather armchairs) and Speakeasy (palo santo, dark chocolate, and bourbon). The scents here feel more expertly produced and have complex subtle notes. Unlike smaller candle companies, it doesn't feel like someone is primarily relying on already formulated fragrance oils (although there's nothing wrong with that). Additionally, the jars are beautiful and make for nice shelf decor. Get this if you want something that looks and smells posh.
Among the big brands, I love Diptyque. Their Feu De Bois is THE scent of fall/winter. It's annoyingly expensive at $65, but it has a burn time of about 70 hours, and people begrudgingly pay because the scent is just so good. It smells like a crackling campfire without being overly camphorous. There are notes of birch, cedar, and juniper, and then just a touch of smoke in the background. Other favorites include Vetiver (cedarwood with white florals), Figuier (fig tree, green leaves, milky sap on wood bark), Cyprès (dry pine needles, warm honey, salty ocean breeze blowing off a cliff), Vanille (creamy vanilla, nutmeg, clove, and a touch of smoke), and Narguilé (honey, tobacco, and spices; the smell of a hookah lounge). Diptyque is generous with its fragrance oils. Their scents fill a room, but they're not overpowering, and if you set them on your bedside table, you can catch subtle whiffs of the scent without even having to light the candle. If you're based in the United States and order before November 1st, you can get 15% off Diptyque candles at SSENSE by using the checkout code FW2021 (the code also works sitewide).
Finally, Wooden Sleepers' in-house candle was a huge hit on Blamo's Slack channel last year. Some people described it as smelling like the inside of a pack of baseball cards. Other people said it smells like a warm leather chair and piped tobacco. I think it smells like vanilla sugar cookies baking in the next room. Either way, the candle is hard not to like, and it's a great value at 12 oz for $30. If you're looking for holiday gifts this year, this makes for a great stocking stuffer. 
Options: Rebourne, Olphactory Candles, Bright Black, The Harlem Candle Company, Diptyque, DS & Durga, Boy Smells, and Wooden Sleepers