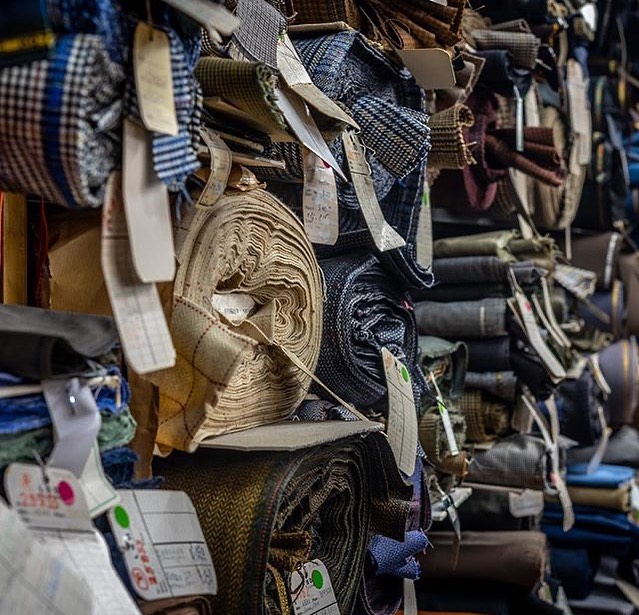 A few weeks ago, Bruce Boyer emailed me a photo of his big day in Manhattan. He had just passed the two-week period after getting his second dose of the vaccine. Eager to get back to his normal life, Bruce took a trip to New York City — for the first time since March 2020 — and met with friends for a wine-soaked lunch. He also went to The Armoury to commission a new suit: a soft-shouldered Model 3 made from Dugdale's tan cavalry twill. In the photo, a clearly happy Bruce can be seen wearing his signature look: a brown sport coat with a button-down collar shirt, solid navy tie, pair of charcoal trousers, and what looked to be Edward Green Dovers in dark oak leather. 
The photo warmed my heart because it reminded me that normality is just around the corner. Soon, we'll be able to meet up with friends, make appointments, and go window shopping in the city. His photo also reminded me that trunk shows will resume sometime this year. When the Bay Area first went into lockdown last year, everything screeched to a standstill. Although I've bought some clothes since then, much of it is casualwear I can wear at home — baggy shorts, ball caps, and some graphic tees. When Bruce emailed me his photo, it was the first time I've thought about buying custom-tailored clothing in a long time. "Hm, cavalry twill suits," I thought. "Interesting." 
I've since found myself going down the rabbit hole, daydreaming about new summer sport coats and casual fall suits. Since I often get inspired by friends' commissions, I thought I'd put together a list of clothes I'd like to order at some point. Hopefully soon, tailored clothing will once again be part of our normal lives. If you're looking for something new to wear, here are some suggestions that go beyond your basic navy sport coats and fall tweeds.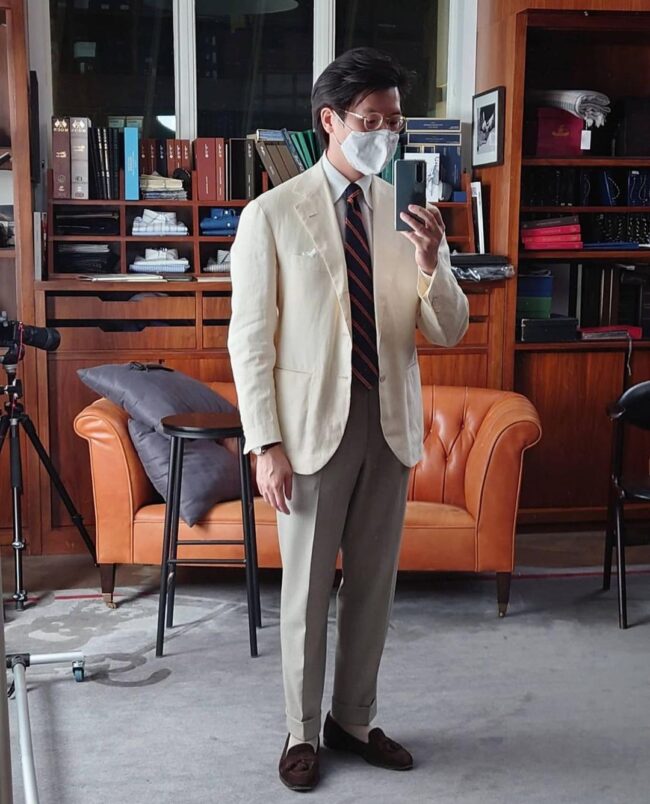 Cream Linen Sport Coat
Last year, when Mark Cho and I were chatting about summer tailoring, he mentioned that one of his favorite sport coats is a cream linen piece from Liverano. "It's actually part of a suit," he told me, "but I wear the jacket as a sport coat more than anything else. Funnily enough, I find linen sport coats are easier to wear in cream. Since cream is already such an unusual color, I don't worry about the mismatch of the rumpled texture of linen with the smoothness of wool trousers." Whereas, if I was wearing a navy linen sport coat with gray wool trousers, I might pause for a bit."
Like most men, my wardrobe is dominated by somber colors, such as cold browns, dark blues, and mossy greens. I shy away from things that are too flashy or dandy. But an ivory linen jacket seems like a nice way to break out of this routine, while still staying close to the language of classic men's dress. Mark's jacket, in particular, has the perfect color — cream, rather than optic white, with a soft, yellow hue that exudes the emotional warmth of summer. The color is a playground for shirts and accessories. It's warm enough to complement soft pink shirts and provides a good base for light blue button-ups. When worn with a stark white shirt, the jacket also has enough contrast. 
In the last year, I've noticed that Mark often wears his ivory linen sport coat in his Armoury TV presentations. He pairs it with walnut-colored trousers, light gray Drapers 4-ply trousers, and even blue jeans. "In the same way that cream-colored trousers are very versatile, so is a cream linen sport coat," he said. "Sometimes I wear it in subtle tone-on-tone outfits, such as a white shirt with khaki trousers. Other times, it's nice against strong colored trousers, such as forest green." As someone with fairly conservative taste in tailored clothing, I've been surprised by how much I like these outfits. The ensembles look fun and celebratory. Simon Crompton has something similar from the Parisian made-to-measure outfitter Jean-Manuel Moreau. "I'd go as far as to say it should be in the top three or four jackets for summer," he writes, "alongside a brown or green wool-silk-linen, a navy hopsack, and something in the tan/oatmeal area."
Fabric options: W. Bill, Solbiati, and Holland & Sherry. For something more subdued, Carnet has a chunky hemp-wool hopsack that drapes like wool and comes in a colder shade of beige.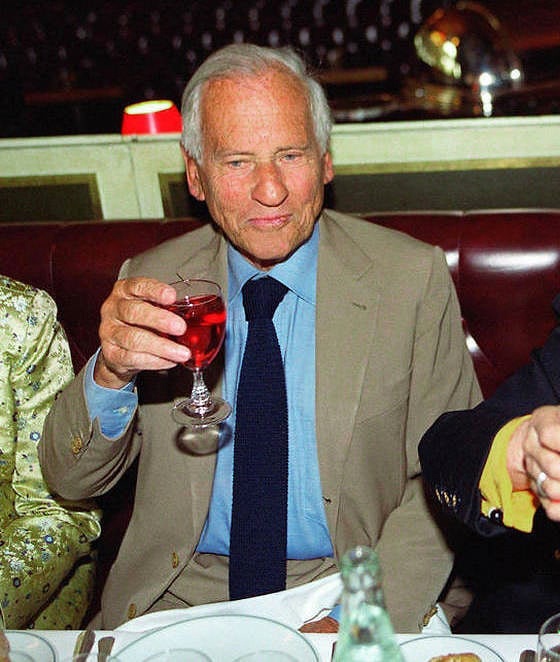 Pistachio Gabardine Suit
Gabardine is difficult to describe but unmistakable in person. It's a fine, steep twill that drapes like iron, swings when you walk, and holds a permanent crease. Customers love it for these properties, but tailors despise it because it's difficult to sew and shows every error. Perhaps that's why we no longer see it around. The only way I can describe it is to say that you've probably handled it as a child. If you ever rummaged through your parents' closets in the 1970s or 1980s, it's that silky, smooth twill that made you think of fancy department stores and bustling offices in cosmopolitan cities.
I've been thinking about getting a single-breasted gabardine suit in the color of pistachios. I think it would make for an excellent "fun suit" in the fall and spring months. There's something exquisite about the way gabardine drapes and moves. The silky smoothness also provides a certain formality that you can't achieve with overly casual suits in linen or tweed. To be sure, suits that ride this line between formal and casual can sometimes be challenging to wear, as they're not conservative enough for offices, but also too formal for most everyday situations. But I've gotten a surprising amount of use out of my tan gabardine suit for things such as going to the museum, getting drinks at nice bars, and general outings in the city. A pistachio-colored one seems like it would be an excellent addition.
Fabric options: Holland & Sherry, Huddersfield Fine Worsteds, and Huddersfield Textiles. Note, lightweight gabardine is difficult to tailor and constantly needs pressing. I recommend staying with fabrics above 10 oz, but they're difficult to find. Good gabardine should also show the diagonal twill weave on both sides of the cloth.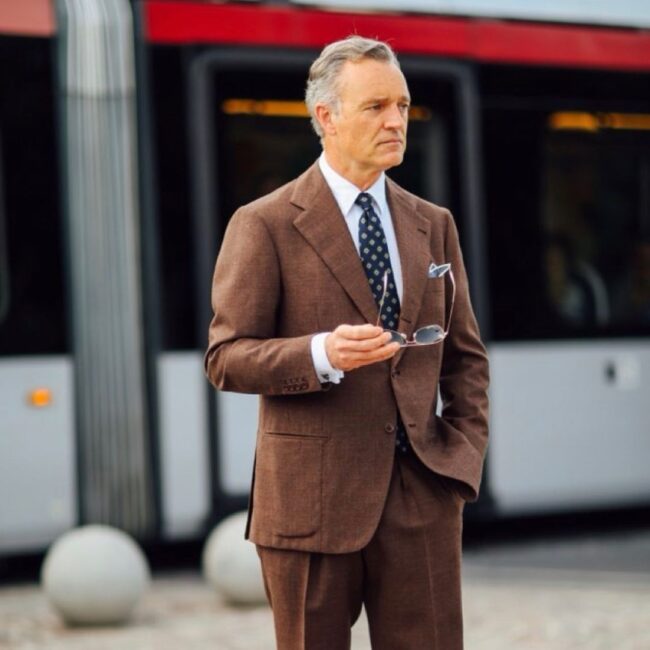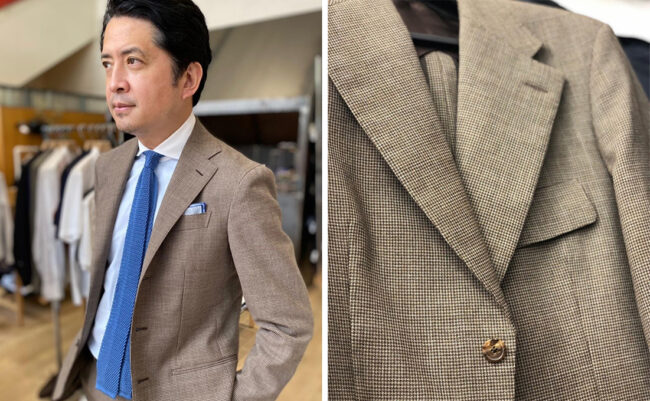 Walnut Fox Air Suit
Fox Brothers has taken a bit of flack over the years for their soaring prices, but for high-quality fabrics, it's hard to deny that they make some of the best around. Their flannels are exquisite — cloudier and more interesting than flannels from many other merchants — and they have uniquely colored but non-fusty tweeds. A couple of years ago, I thumbed through their Fox Air book and fell in love with this walnut-colored cloth. 
Fox Air is the company's tropical worsteds. These are open weave, breathable fabrics that are designed to deal with summer's heat and humidity. Since they're made from high-twist yarns — yarns that have been given an extra twist for tension — they spring back readily and are nearly impossible to wrinkle. For this reason, many people use Fox Air for travel suits. To be sure, these aren't the only tropical worsteds with such qualities. Minnis' Fresco, Smith's Finmeresco, and Holland & Sherry's Crispaire have long been known in this area, but Fox Air is unique in its coloring and patterns. You can find Fox Air in cold indigo blue, a gray hairline plain weave, and a sporty gun club (No Man Walks Alone, a sponsor on this site, has the gun club made up as a softly tailored sport coat). My favorites are the walnut-colored cloths — available in a hairline plain weave and four-point-star pattern — which I think look a little more interesting than the solid-colored walnut fabric. The subtle pattern gives the suit some textural interest, but the color resolves to a solid brown from far away. I can imagine both walnut-colored fabrics being used for a casual summer suit. 
Also, I've been thinking about trying out a small, but unusual detail. Some Italian tailors, such as Zizolfi, Rubinacci, and Liverano, add a faint line of stitching around their jetted or flapped pockets. The detail is easy to miss, as it's not very apparent in person or even in photos. But when you look at Douglas Cordeaux's Zizolfi suit above, you can make out the faint line around the pocket bag underneath his pocket's opening. Mark explains the detail in this Armoury video, while StyleForum member Moddey shows the interior construction. In theory, this can help the suit jacket do double-duty as a sport coat, as the faint line of stitching gives the illusion of a patch pocket. I'm thinking about having this done on a four-point-star Fox Air suit. 
Fabric options: Fox Air, Minnis' Fresco, Smith's Finmeresco, and Holland & Sherry's Crispaire. Lafayette Saltiel Drapiers also has a fluid, tropical worsted in a handsome taupe color that looks interesting.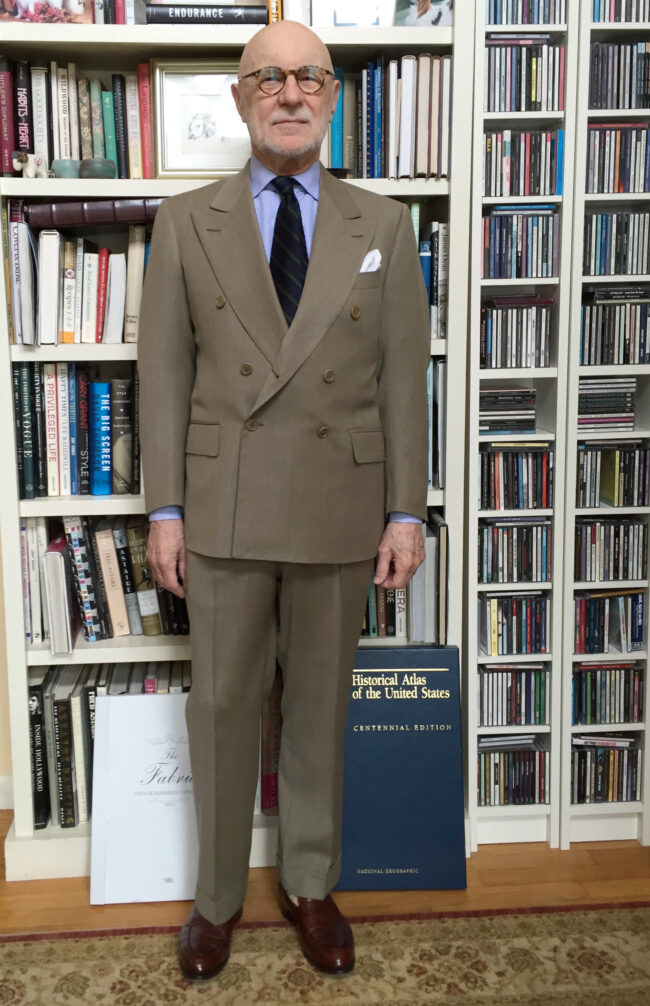 Covert Cloth Suit
About five years ago, Bruce Boyer shared with me this photo of his newly arrived covert suit. He just had it made while on a winter trip to Milan. He didn't have much time in the city, but A. Caraceni was able to schedule two fittings in as many days. Bruce's requests for this order were simple: a double-breasted covert cloth suit made with side vents, flapped pockets, and a lowered buttoning point. He asked that the suit not be tight. When Bruce received it a couple of months later, he tried it on at home with some trepidation, expecting that the suit would need some minor adjustments. To his surprise, it fit beautifully, despite being one fitting short of the usual three-fitting process. 
Covert is a sturdy, densely woven twill traditionally used to make country topcoats. The rustic cloth takes its name from its intended usage — clothes worn in covert (pronounced "cover"), which is where a hunter can pursue game. Traditionally, finer fabrics risked getting snagged and ribboned by brambles and stray branches, which is why sportsmen favored covert cloth for their outermost layer. Today, it can be worn in the countryside or downtown. It often has a slightly mottled, flecked appearance that gives the coloring some visual depth. 
"Since I'm habitually lazy and hate having to worry about wrinkles and knife-edge pleats, I like the more easygoing, softer, casual look of country clothes in my tailoring," Bruce told me. "My favorite fabrics are covert cloth, cavalry twill, whipcord, and, of course, tweed. Covert cloth has been used for country suits since it was introduced for hunting coats in the 19th century. I wouldn't be surprised if several of the brownish, greenish, sludge-colored suits in Downton Abbey were made from the material. For someone like me, who usually ends up with a spot of mustard or salad dressing on my clothing, such camouflage is ideal. A little water on my napkin, and it blends right in. I don't know what I'd do with a blue suit."
To be honest, I had never seen a covert cloth suit in modern usage before this photo. I had only seen the loosely fitting, fly-front overcoats worn over country clothes. But ever since Bruce emailed me this photo, I've been obsessed with getting a covert cloth suit for myself. I ended up buying a navy, double-breasted, covert cloth suit from The Armoury (it's a ready-to-wear piece inspired by a covert cloth suit Alan See received from Liverano). I love the suit, but it's still not this perfect shade of mossy gray-green. When I mentioned this to Mark Cho earlier this year, he suggested that I use Vitale Barberis Canonico's overcoating. "The fabric is pretty compact, so I don't think the weight will be an issue," he assured me. "The English coverts are a bit less shiny but a bit fluffier, too, so they might not work as well as a suit." 
Fabric options: Dugdale and Vitale Barberis Canonico for Drapers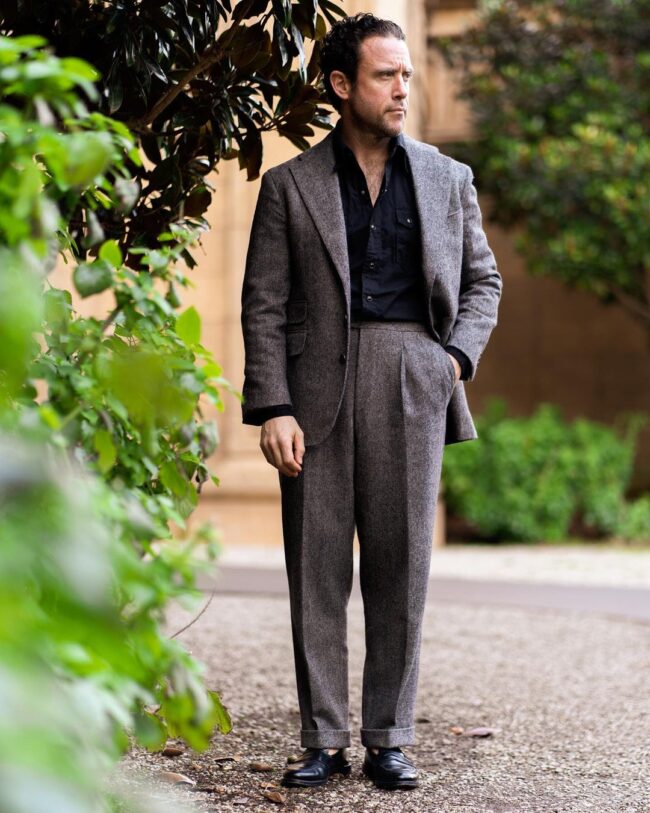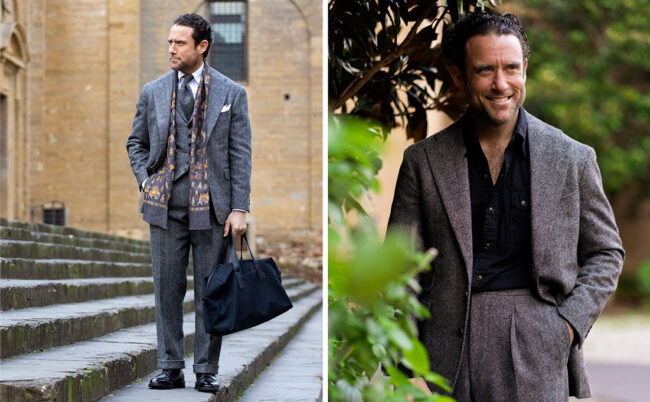 Gray Donegal Suit
A couple of years ago, I was fitted for a taupe cotton suit at Peter Zottolo's home in San Francisco. He was hosting a trunk show with the Sicilian tailoring company I Sarti Italiani. The company is impressive. For bespoke, their prices are very affordable (roughly half of what most British tailors charge). And while the company generally favors a clean-fitting, slim silhouette, Peter has worked with them over the years to create a slightly looser fitting coat with a fuller chest and extended shoulder line (all things I prefer). 
While getting fitted that day, I noticed that Peter was wearing a gray Donegal suit. I had previously dismissed Donegal suits as being too rustic — something you'd wear while shooting grouse or cosplaying as a country gentleman. But Peter's suit looked totally natural on that cold day in San Francisco. When we headed out that night to grab pizza, he wore the suit with a black Western shirt from Bryceland's and some black loafers. "The suit is made from a vintage fabric I found in Palermo," he tells me. "I have no idea of its provenance, but it's uniquely spongy. For that reason, I decided to get the trousers made in a fuller cut, so the crease and shape would hold up well. Even though the suit jacket has flapped pockets, the soft construction makes it a solid choice to wear as a sport coat. I sometimes wear it with jeans and a chambray shirt." 
Most men will consider a gray tweed sport coat at some point. It's not necessarily my first choice for a tweed jacket — brown is much more versatile since most men rely on gray pants — but gray is an excellent third or fourth addition. Since I've been thinking about getting a gray Donegal jacket, I'm also considering getting gray Donegal pants to match. When worn together, this can be a casual fall suit you can pair with a white shirt and a black knitted tie, or something more casual, such as an open-collared, light blue OCBD or denim shirt. The jacket on its own can be worn with blue jeans, tan chinos, or tan tailored trousers in rustic materials such as cavalry twill or whipcord. The challenge is finding something dense enough to be used for trousers (as Peter notes, trousers in spongey fabrics can bag too quickly unless you get them made in a fuller cut). In this regard, machine-made tweeds will be better than hand-loomed ones. 
Fabric options: Molloy & Sons, W. Bill, Holland & Sherry, and Magee.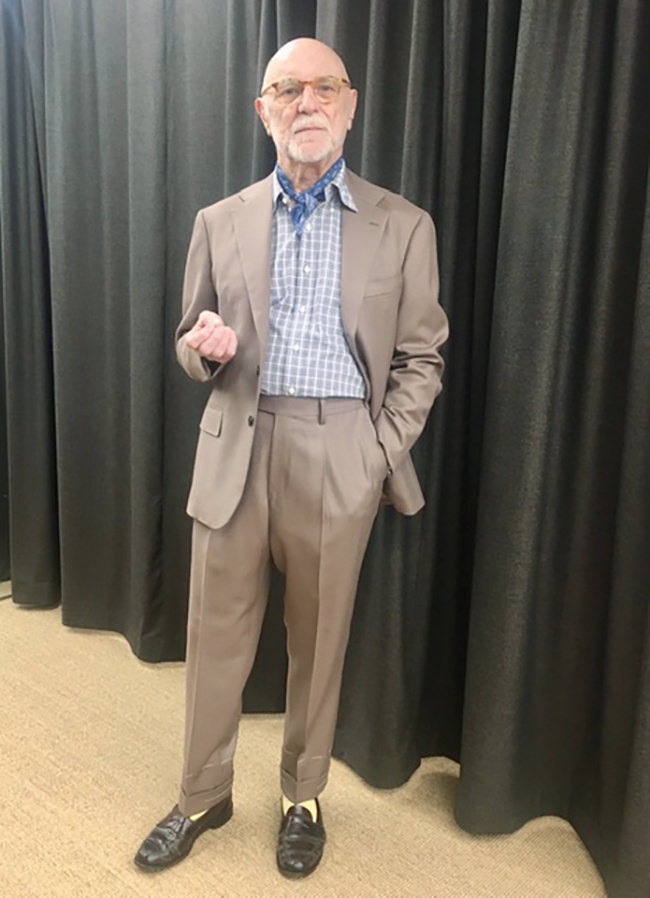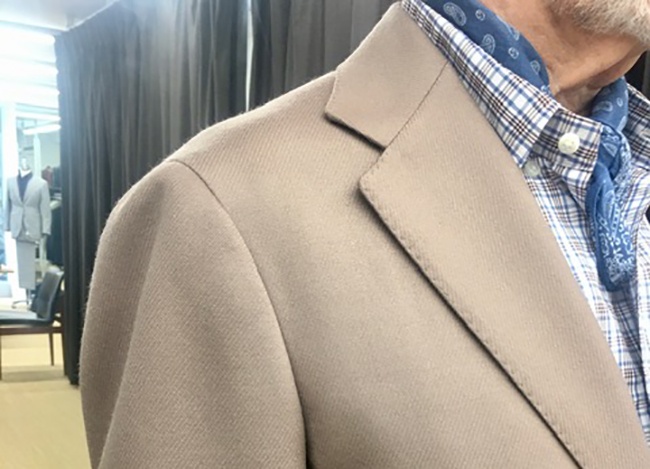 WHAT FRIENDS ARE GETTING
I also reached out to some stylish friends to see what they currently have on order or plan to order once trunk shows resume. Since these guys have exquisite taste, maybe they'll inspire an order or two. Here's what they had to say:
Bruce Boyer: Most men don't think about needing a new topcoat until they wake up one morning and it's snowing. Then they rush around making instantaneous and ill-thought-out buys. With respect to our wardrobes, we should be more like women and plan ahead, even just a bit. In June, I start thinking about what I want or need for the coming season. So I recently commissioned a taupe cavalry twill suit, and am now thinking that a new tattersall shirt or two might be in order, or a new cashmere knit tie. There's also a picture in my mind of plain tobacco suede two-eyelet derbies that won't seem to go away. I don't know. I haven't really needed any new clothes for years because, despite being lazy, I try to maintain my clothes, and I never buy anything really fashionable. But maybe there's room in my closet(s) for one more tweed jacket, something in pale lovat with a faint peacock blue overcheck? I wonder.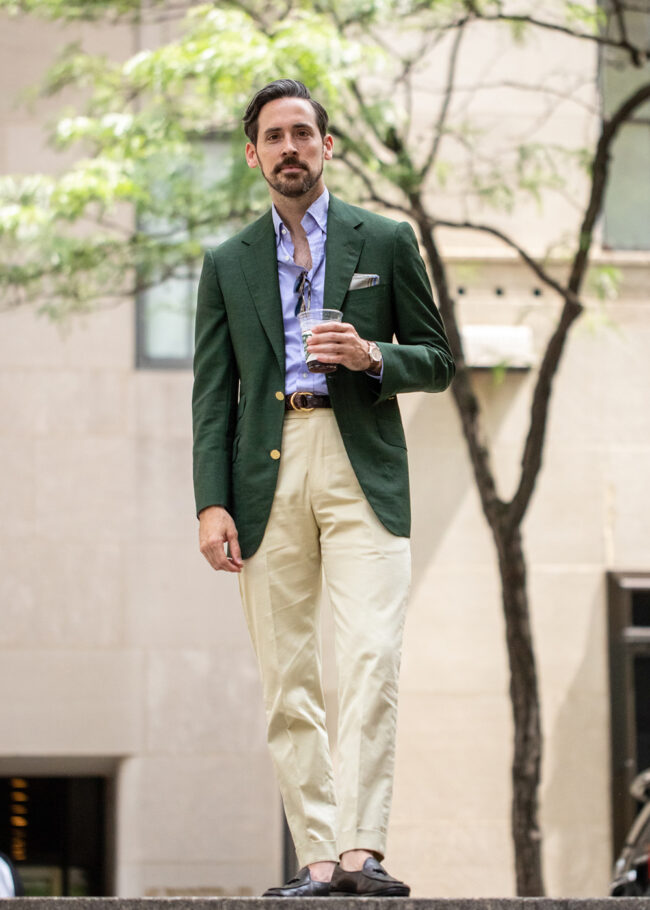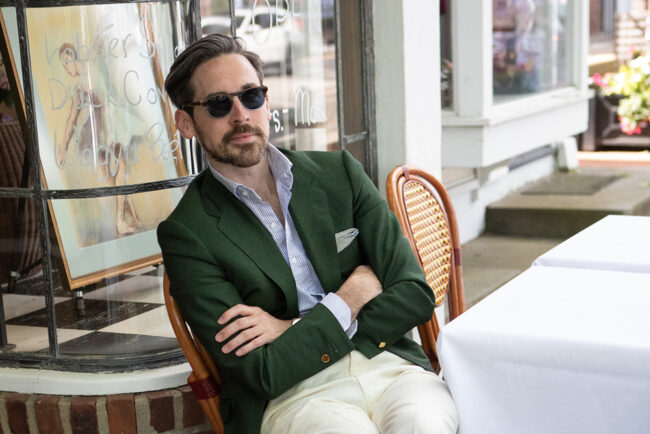 Jonathan Sigmon, Owner of Alan Flusser Custom: Top of mind for me right now is actually a re-make of a jacket I've had before. A few years ago, I saw a moss green wool-mohair-silk cloth in an Ariston fabric book, and I was instantly drawn to it. It became my go-to alternative blazer, and I wore it with everything from old denim and a tee to cream silk pleated trousers. It's a unique garment — the mohair and silk lend a subtle sheen, which is unusual for a blazer, and I think finishing it with brass buttons is the only way it really works. Somehow it has simply gone missing, and I've turned my apartment and shop upside down, looking for it to no avail!
I have a lot of clothes, and it's frankly rare that if something happens to a piece, I'd consider making the exact same garment again. Chalk it up to being in the trade and having near limitless options — there's always something new and appealing to try or something I need to wear-test. Yet, this is the kind of garment that hits all the right notes for me. It captures that effortless elegance I like in my clothes, is a bit whimsical, and assuming I can keep track of it, the hard-wearing fabric will perform well over a long period. I'll have it made the same as before: single-breasted, two-button, notch lapel, slanted flap pockets, ticket pocket, and two-button sleeves. I wouldn't be surprised if I found the old jacket folded up in the corner of a neglected suitcase somewhere right after the new one is ready, but there are worse problems to have!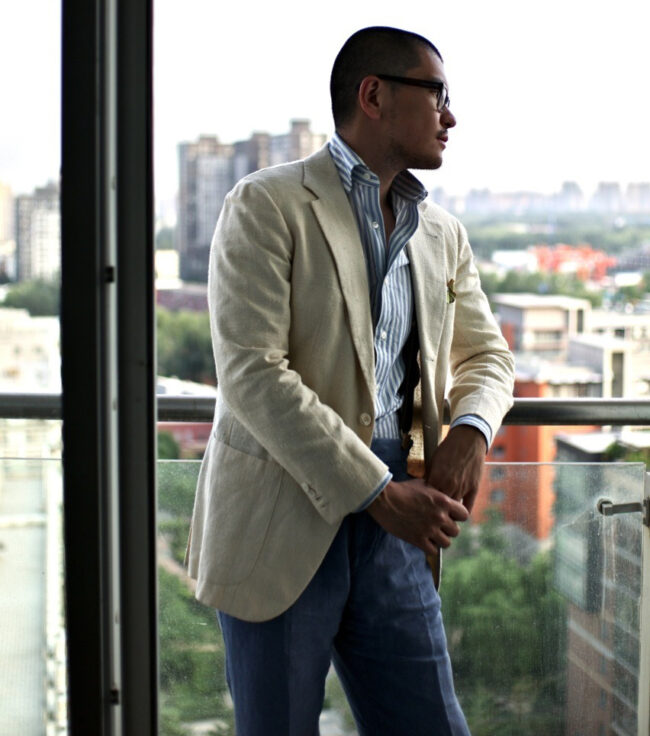 George Wang, Owner of BRIO: I currently have a pair of shoes on order with Roberto Ugolini. It's my vision for a pair of engineer boots with Italian character. The last is going to be a bit sharper and the sole thinner. The boot is designed to work well with slimmer jeans and even smarter trousers. It will be done in black shell cordovan and have buckles from Ranfagni Gioielli, a Florentine jeweler.
Other than that, I don't have many other commissions at the moment. Last year, however, I received a pale blue, linen-mohair double-breasted jacket from Sarto Jun. It was intended to be a jacket I'd wear in Naples in June, but of course, things didn't work out that way. I also received a couple of things from Sartoria Corcos — a gray tweed and heavy cotton drill suit, although the pants were unfortunately made to pre-pandemic measurements. I think for many artisans, this last year's slowdown has allowed them to catch up with the backlog in orders.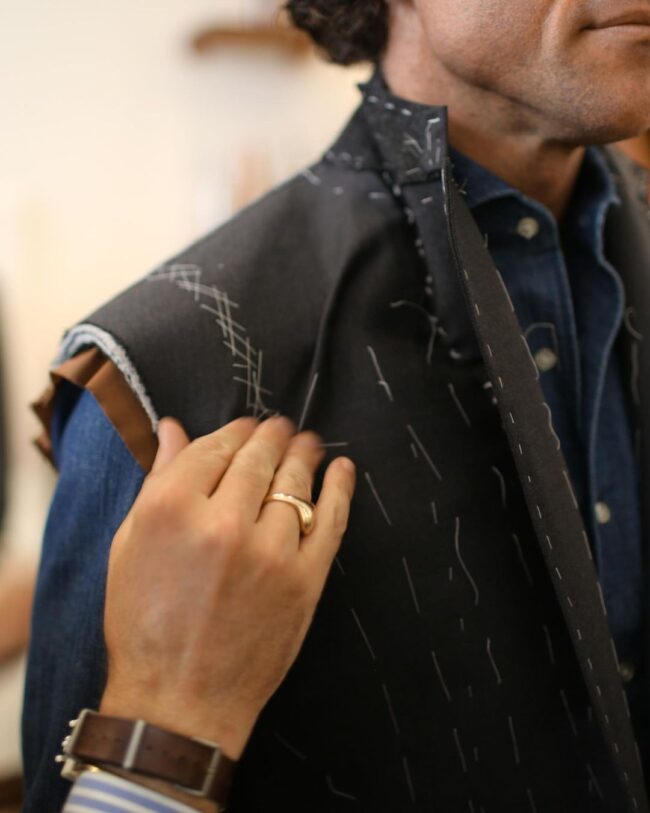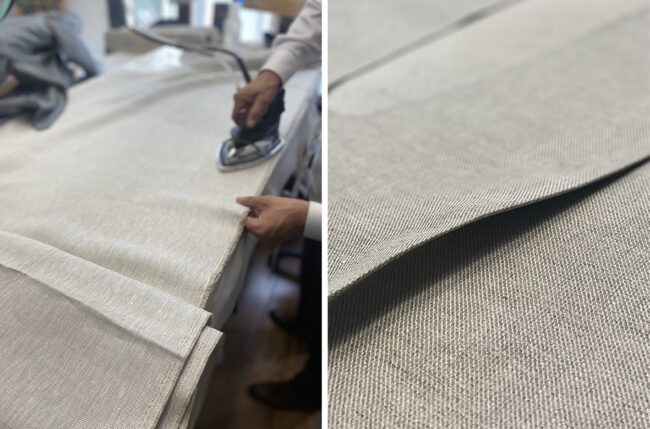 Peter Zottolo, Editor of Plaza Uomo US: Ever since I picked up the oatmeal Fox Brothers flannel from No Man Walks Alone, I've been keen on light-colored fabrics, particularly those with some surface. My white linen suit from I Sarti Italiani can be worn with a tie, but it also works well with a tee or camp collar shirt. For my current project with Ryan at Tailors' Keep, I wanted something a little more subdued than optic white. The Mersolair from Harrison's is perfect. It's a matte sand-colored linen twill with a fairly pronounced texture. It's fairly casual and an excellent choice for patched hip pockets and swelled seams. I also have a W. Bill linen in a cool mid-brown that I'll probably get made in the same configuration.
It's been special to have a local option here in San Francisco. Communication is much easier, turnaround is faster, and it's wonderful to see Tailors' Keep keeping bespoke alive. That said, I am looking forward to Salvo from I Sarti Italiani returning. I have a long-standing relationship with him — my pattern and preferences for extended shoulders and drape are pretty much dialed in — and his selection of Italian fabrics, particularly Drapers, is quite extensive. From those books, I have a petrol-colored linen herringbone fabric (similar to Solaro) being made up as a single-breasted suit, and a dusty green hopsack in wool-linen-silk being used for a sport coat.