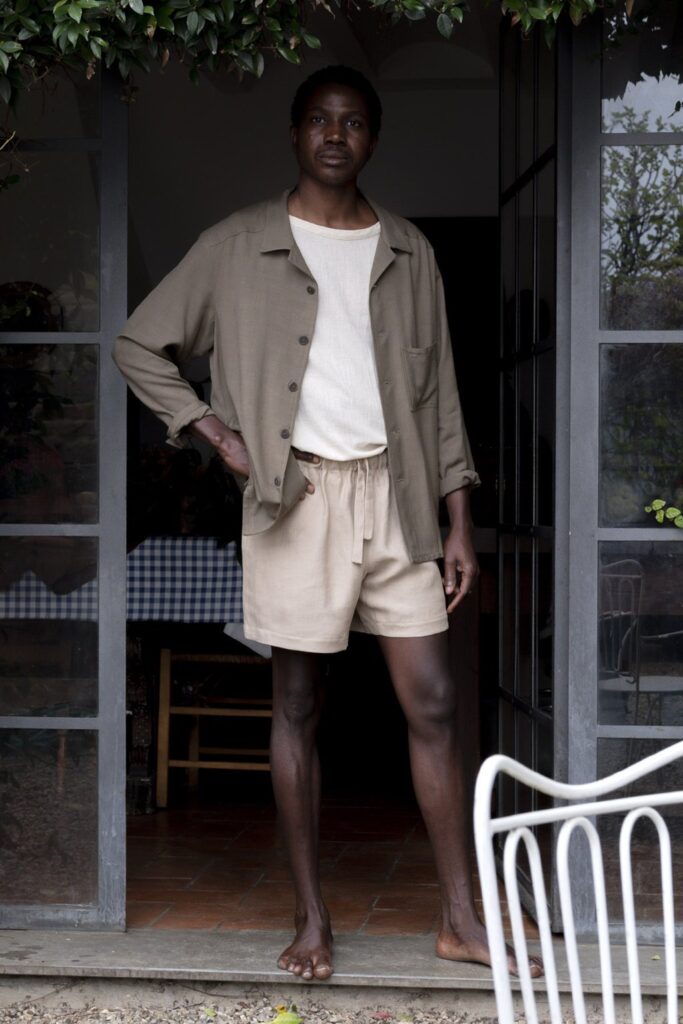 In the mid-1920s, the press snapped a photo of the renowned radiologist Dr. Alfred Charles Jordan as he was cycling to work at his Bloomsbury practice. Soon after, the picture was published in a British newspaper, where it scandalized readers. Jordan was shown wearing a pair of shorts with a tailored jacket. At the time, no man in the city, and certainly none in professional life, bared his knees in public. Shorts were for children and perhaps people hiking on holiday. Even tennis players in the 1920s wore cream-colored flannel trousers when playing sports.
Jordan went on to be one of the founding members of the Men's Dress Reform Party, a flock of odd ducks in Britain who believed there was an intimate connection between clothes and health. Founded in June 1929, after a meeting at 39 Bedford Square in London, the Party sought to reform men's dress so that it could catch up to the progress they felt womenswear achieved. Members believed that men's clothing was too tight, ugly, and cumbersome, and before the adoption of dry cleaning, unwashable and thus unhygienic. "The Committee believes it would be premature to offer fixed and final views," they wrote in their first publication. "Indeed, the men's dress reform movement should have as one of its aims the encouragement of a somewhat greater range of individual style than is possible with men's stereotyped costumes."
For generations up to this point, "proper attire" in Britain was regulated by time, place, and occasion. Men wore dark worsted suits and black calfskin oxfords in the city, then tweeds and brogues for sporting and leisurely activities in the countryside. The members of the MDRP, however, wanted to free men from the shackles of social convention. They didn't just want to banish the suit; they want to replace it with holiday attire. For work in the city, members felt that men should be free to wear soft, open-collared shirts made from colorful rayons and fine poplins, which they thought paired well with jacket-and-shorts suits and matching wool stockings. "Most members wish for shorts; a few for the kilt; nearly all hate trousers. Some plead for less heavy materials and less padding; others for brighter colors," the London Times reported in 1929.
The Men's Dress Reform Party in Bloomsbury, 1937. pic.twitter.com/cfhatyhsvy

— Rob Baker (@robnitm) May 27, 2015
The Men's Dress Reform Party was met with an increasing degree of popular ridicule. In 1937, when the newly formed BBC televised their "Dress Reform Competition," one journalist described them as a comedy of embarrassment. "Whether man's lower limbs look their best encased in slightly flattened parallel tubes may be open to doubt, but at least there seems no great aesthetic advantage in cutting the tubes short at the knee … [but the show] provided viewers with an entertaining ten minutes and plenty of laughter." Failing to inoculate themselves against ridicule, the MDRP became increasingly irrelevant until they eventually disbanded in the late 1930s.
Nearly a hundred years later, many people still wince at the sight of male gams. Some of this is because, across the English-speaking world, little boys are often dressed in shorts and little else. "The line drawn between youth and maturity was a hemline," Troy Patterson wrote in The New York Times, "and to be a 14-year-old stepping into trousers for the first time was to be the initiate at a puberty rite. The Sears catalog of 1916 sold long pants as the ­marker separating 'the playground' from 'bright visions of a business career.' A 1937 trouser ad asked rhetorically, 'Who'd go back to short pants after 'graduating' to longies?' Those childish things were put away for good unless you were taking a walk in the woods or serving the crown in the Raj or tending to your charges at a Boy Scout camp."
Detractors say men look unattractive in shorts because the male body itself is unattractive — it's hairy, awkward, and altogether displeasing. "The average man — with his 'bulbous, spindly, disproportionate, abnormal imperfect leg' — preferred conventionally styled trousers," Joanna Bourke wrote in Dismembering the Male: Men's Bodies, Britain, and the Great War. "Equally, men's chests and bellies often did not merit display: they were 'discolored and definitely ugly.' For men without specially fashioned pectorals, partial nudity was to be avoided: even imagining men without collars and trousers was said to be 'horrible.' Fleshy exposure was a breach of 'good taste': the sight of men sunbathing in Stratford-on-Avon was described as a 'horrid thing, and offended the aesthetic instincts' […] The human forms thus partially clothed were red, puce-purple, hairy, perspiring; they bulged in the wrong places, they were knock-kneed. They were indecent at all — just ugly. Clothes were required to improve on the imaginings of the male body."
Besides, critics add, the sight of lower limbs is an affront to professionalism. Adults should wear things that mark themselves as being upright citizens. Underlying the debate around shorts is an appeal to decorum. The editors of Tailor and Cutter, the premier men's tailoring journal for much of the 20th century, put it in starker terms when they said that traditional menswear kept the fabric of society together. Peace depended on the civilizing effect of repressive clothing. "A loosening of the bonds will gradually impel mankind to sag and droop bodily and spiritually," they wrote. "If laces are unfastened, ties loosened, and buttons banished, the whole structure of modern dress will come undone; it is not so wild as it sounds to say that society will also fall to pieces."
The United States never saw the likes of the Men's Dress Reform Party, but since the earliest days of America, Puritans sought to regulate dress. This spirit has continued to influence Americans' outward appearance. These fights, of course, are often generational. In May of 1930, a student at Dartmouth College wrote an editorial calling on male students to "bare their nether limbs as if waving banners of revolt." Soon after, some 600 Dartmouth students took the streets in shorts, including basketball shorts, hiking gear, cutoffs, and at least one pair of lederhosen. And in 1952, when the Fort Worth City Council considered a proposal to ban shorts, an alarmed woman who described herself as a "decent lady" wrote a letter to say that, when someone wears shorts, they are "advertising adultery." She resented having to look at men's "ugly legs" and added that exposed knees were a "disgrace to humanity."
The Men's Dress Reform Party is little more than an amusing footnote in the history of men's dress. The group is often lampooned not just for the way they dressed, but also for their quack science theories on evolutionary biology, men's health, and sometimes even eugenics. But here in quarantine, I've come around to some of their dress ideals. Instead of starched business collars, the Party promoted the Byron collar (what we today might describe as a camp collar). Members favored soft rayon shirts, loose underclothing, and sandals instead of shoes. Most of all, they loved shorts. "Every night, men returned from work feeling hot, uncomfortable, tired, and bad-tempered," they wrote. "The rather sad colors they re forced to wear had a depressing effect."
There's no way around it: most men look irredeemably goofy in shorts. But who will see your pasty pallor under quarantine? Shorts are comfortable, freeing, and even if they have no direct salutary benefits, they're well suited for afternoon naps. My favorite stay-at-home outfit involves a pair of nylon shorts and a stretchy knitted top that allows for a full range of movement — a sweatshirt, sweater, hoodie, or just a long-sleeved tee. Even if I'm not very active these days, the outfit feels strangely sporty. 
Speaking to the Wall Street Journal, Seattle bike shop owner Tyler Gillies calls the sweater-short pairing the "perfect outfit." "For him, it also triggers nostalgia," wrote Men's Fashion Editor Jacob Gallagher. "When he was growing up in California, an Italian cousin would visit his family 'wearing this beautiful light sweater and short shorts' — a confident outfit imported from a more fashionable land. As an adult, Mr. Gillies acquired the chutzpah to pull it off and, in summers past, he'd go short-and-sweatered to grab drinks at a bar. 'It's a way to show some skin, and still look decent and classy,' he said. He favors princely fine-gauge cashmere sweaters, though thin linen or cotton versions are more forgiving in warmer climes."
As a general rule, I think shorts look best when they fall mid-thigh or a little above the knee. For most men, this will be somewhere around a 6-inch inseam. Anything shorter than 4 inches and you risk looking indecent. It's also a good idea to pay attention to the leg opening. Choose a pair of shorts that works with the thickness of your legs. I prefer ones that are a bit on the looser side these days, not just for comfort, but also style. When shorts are too narrow, long, and cleanly tailored, the wearer often looks like he secretly wishes he was in flat-front, beige-colored chinos. 
You can pick up a pair of basic shorts from brands such as J. Crew, Todd Snyder, Onia, and Save Khaki. Last week, American Trench released a small line of linen shorts, which are available in some pitch-perfect dusty colors. Basic styles such as these pair well with chambray shirts, oxford button-downs, and solid-colored t-shirts. If you need to run an errand, just throw them on with a pair of classic shoes — tasteful sandals, soft penny loafers, or plain canvas sneakers — and then layer with a lightweight jacket when necessary. The nice thing about a basic pair of shorts is that they should work with items already in your wardrobe.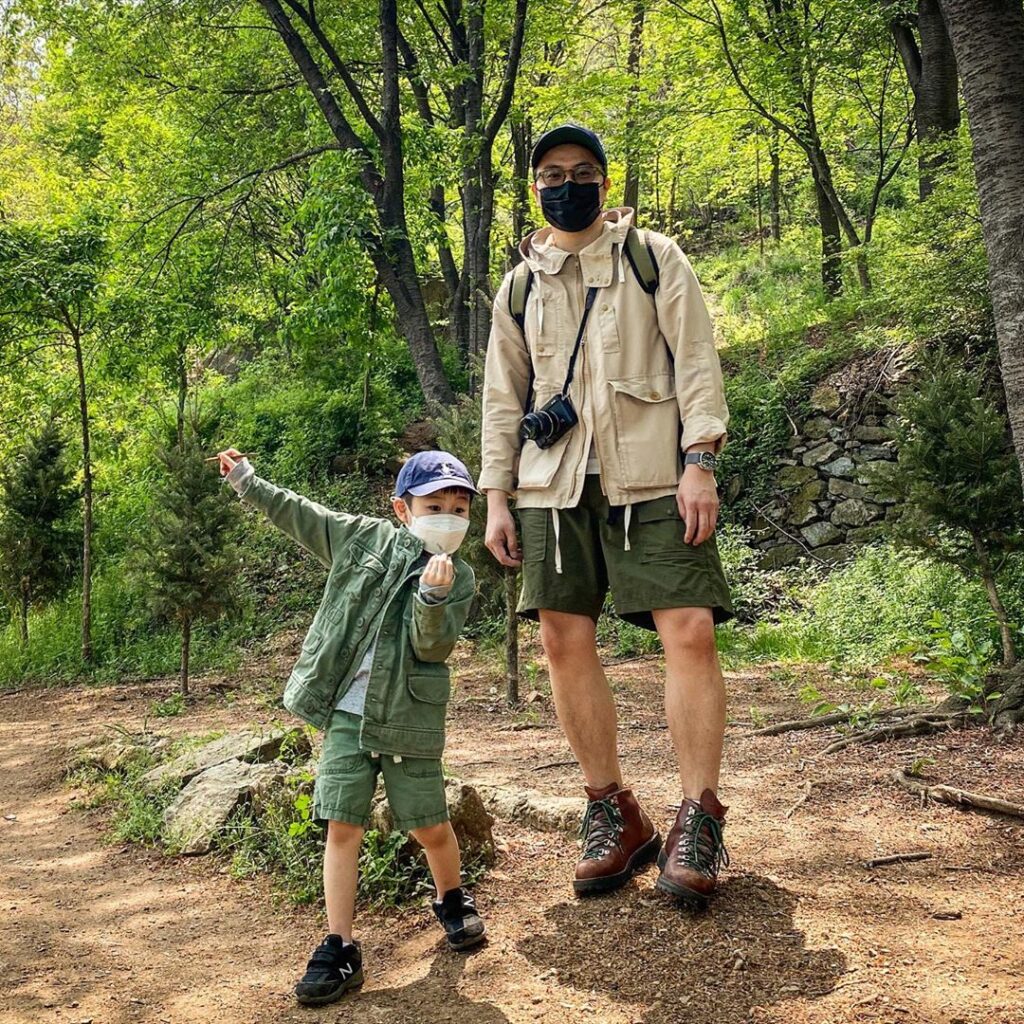 For something with a more distinctive point of view, try shorts that were built for a purpose — hiking, climbing, or running. Adsum, Mocean, Gramicci, Iffley Road, Patagonia, and Fujito (available in brown and black) are perfect for this kind of thing. They pair well with sweatshirts and soft fleece jackets, as well as retro-styled running shoes. Utilitarian workwear shorts are a close cousin of this sort of look. Among workwear enthusiasts, Engineered Garments is a favorite. However, it looks like they only have their wide-legged shorts available this season, which are slightly more challenging to wear. Alternatively, you can try Wallace & Barnes, Imogene + Willie, and Sage de Cret. I recently bought a pair of Freenote Cloth's Deck shorts, which are inspired by the American naval N1 deck jacket. Kaptain Sunshine has a few designs this season, while Beams has an amusing patchwork pair. For ideas on how to style these types of shorts, check out Sam and Chris' Instagrams. 
In the 1970s, there was also a distinctive shorts-centered look that helped to define California style. Back when California culture was only known for its tan lines, towheads, and Goody combs, Ocean Pacific marketed oxymoronic corduroy shorts as beach attire. With a little help from the slackers who hung around Venice and Santa Monica, their shorts became an icon of sun, surf, and skate radness. Today, you can find the successor of corduroy OP shorts through Birdwell Beach Britches. I also like Save Khaki, Mollusk, and Katin for their more comfortable elasticated waistband. 
Finally, we have some loose ends I will roughly characterize as "contemporary styles." For some reason, I've been drawn to the idea of terry cloth shorts, which are available through Todd Snyder and Universal Works, as well as their close cousin velour (so sleazy, but also potentially so comfortable). Nanushka has very interesting mid-length shorts made with a traditional Indonesia dyeing technique. The pattern on those looks spectacular, but somehow also easy to wear. I love the cool, flowy feel of Tencel, and Frescobol Carioca has a pair of navy shorts this season made from the silky material. I can imagine those being worn with a camp collar shirt or Christian Kimber's retro-styled knits (think Dickie Greenleaf in The Talented Mr. Ripley). Aime Leon Dore is also excellent at getting those 1990s-inspired sportswear colors right. 
For the perfect stay-at-home outfit, you can't do much better than Joyce. John Walters, the co-founder of the brand, tells me this season's lookbook was shot at his wife's family home, which is located out in the Italian countryside. Since they've been sheltering in place, they got one of their friends, Omar, to model the collection (Omar is an immigrant who lives and works in that home). I love the color of these rayon-blended shorts, the absurdly cheerful camp collar shirt, and the soft pattern on their jute-colored shirt jacket. Everything looks so airy and relaxing. Someday, I'll wear pants again, but for now, I'm taking a shorts break.