With spring officially a month away, new collections of airy polos, linen popovers, and loose-fitting safari jackets are just starting to hit stores, ready to be tried-on, coveted, and perhaps even purchased. For the next three months, brands will try to convince us that we need specialized outerwear to deal with the heat. "Get something unlined!" goes the mantra. This is mostly true until about June, when the sweltering swamp that is summer weather brings nothing but pain and regret. And yet, we'll continue to wear those lightweight jackets because we bought them. Plus, we look better in outerwear.
For the time being, it's still cold enough for the kind of clothes that generally excite people: warm scarves, chunky cable knits, Melton outerwear, and the occasional tweed. Friends of mine at StyleForum are already talking about what they plan to buy and wear this coming season, but I've only been thinking about how much I still enjoy my cold-weather gear. If you, like me, are still stuck in a fall/winter mindset, here are some things I've been excited to wear, and what I'm looking forward to wearing later this year.
COVERT CLOTH SUITS
Who knew fabric could be so controversial? Yesterday, I was having an argument with my friend Voxsartoria about whether covert cloth can be used for a suit. Covert is a rustic material that gets its name from its intended usage: clothes designed to be worn in the covert (pronounced "cover") while pursuing game. It's a densely woven twill made from a tightly spun yarn. Since finer fabrics can get snagged and ribboned on stray branches, bramble, and thorns, sportsmen used to wear covert cloth as their outermost layer while hunting in the countryside.
Historically, covert is principally used to make a coat that goes by the same name. Covert coats are single-breasted, fly-fronted, and knee-length. They're finished with four rows of stitching on each sleeve cuff and the coat's hem so that the edges are protected from any kind of wear and tear that may happen while the wearer is riding through thickets. Traditionally, the inside of the coat has a big game pocket for carrying a bagged hare or bird, but today you can use it to carry a newspaper or, more likely, an iPad.
Lately, however, I've been interested in using covert for a casual suit. As a densely woven twill, covert has a bit of texture with its steep diagonal ribs. And as a country cloth, it's hardwearing and often comes in a mix of rustic colors, such as fawn-brown or grey-green. A few years ago, Bruce Boyer showed me a beautifully tailored, double-breasted covert suit he commissioned through A. Caraceni. Sergio Loro Piana, one of the vice presidents of the famed Italian clothier Loro Piana, also used to wear covert DB suits before his death. Greg Lellouche of No Man Walks Alone, a sponsor on this site, says he's seen older gentlemen in Naples wear suits made from the material (he has a solid navy blue one left at his shop). And Simon Crompton has featured covert cloth suits at his site Permanent Style.
The Armoury also sells covert suits in various colors, from sober, business-ready blues to the more casual brown suit pictured at the top of this post. Drake's has a patch-pocketed green one this season. The material was used in the immediate post-war years for women's riding suits, and Ralph Lauren continues to use it today for their men's tailoring. While covert is traditionally a coating, it doesn't seem strange to me at all as a suit, although my friend Vox vehemently disagrees. Naturally, this means I will absolutely be commissioning a grey-green one later this year.
GRAY DONEGAL SUITS
Along with thornproof, Donegal is one of the few tweeds that can be worn as a suit (other tweeds are too soft and spongy to be made into trousers). But why would you want to wear a tweed suit? It's too casual for formal environments, too formal for casual environments. It can, at times, look a bit anachronistic, like something you'd wear while riding a penny-farthing. I used to think the same thing until I saw my friend Peter, pictured above, wearing his Donegal suit at an I Sarti Italiani trunk show in San Francisco. I thought he looked great. When paired with a Western denim shirt or a more conservative oxford button-down, a tweed suit can be your winter Happy Suit — something you wear casually and for fun. 
A grey Donegal suit can also be worn as suit separates, such as that the jacket works alone as a grey tweed sport coat. Grey tweeds can be paired with fawn-colored trousers in moleskin or whipcord, tan trousers in cavalry twill or cotton drill, or just contrasting grey flannels. It's one of the few sport coats that looks at home with blue jeans. For Ivy Style enthusiasts, a grey tweed goes wonderfully with khaki chinos, a Bengal striped button-down, and classic rep striped tie. A moodier, monochrome ensemble could include contrasting grey trousers, a white button-up shirt, a black knitted tie, and some black pebble-grained wingtips (or try a charcoal turtleneck for something chic).
The Armoury has a wool-silk Donegal suit right now. It's made in their new Model 11, which Mark tells me is a riff on American tailoring, but cut with sporty pockets for a more casual look. I'm planning to get one later this year through I Sarti Italiani. I don't know how often I'll end up wearing this as a full suit, but it seems like a relatively harmless experiment given the usefulness of a grey tweed sport coat. 
BLACK TASSEL LOAFERS
On the heels of the news that Brooks Brothers is ending their decades-long relationship with Alden, I rushed out last year and purchased a pair of their Alden-made tassel loafers in black calfskin. I've been since surprised by how often I wear them. They feel oddly chic and go well in any ensemble where you could wear a black knit tie: navy sport coats with grey trousers, brown tweeds with tan trousers, and nearly any casual suit. Every time I've met George Wang of BRIO for lunch, he's worn black tassels. "They work really well with a navy suit, in an American Ivy and Italian-Ivy kind of way," he once told me. "If someone has a preference for washed-out jeans, like a pair of vintage Levi's, then black footwear works much better than brown."
Unfortunately, Brooks Brothers only has a few sizes left in their black Alden-made tassel loafers. They also won't be restocking (rumor is that Brooks Brothers is up for sale as a whole entity and they're cutting back on their vertically integrated factories, such as Southwick, to seem like a more attractive buy). Alternatively, you can find handsome black tassel loafers from Löf & Tung and Carmina (both sponsors on this site), Crockett & Jones, Allen Edmonds, and of course, Alden. Meermin is an affordable option, although their soles are known for being difficult to break-in. On the other end of the price spectrum, Foster & Sons' black tassel loafers are handsome without breaking into Edward Green price territory.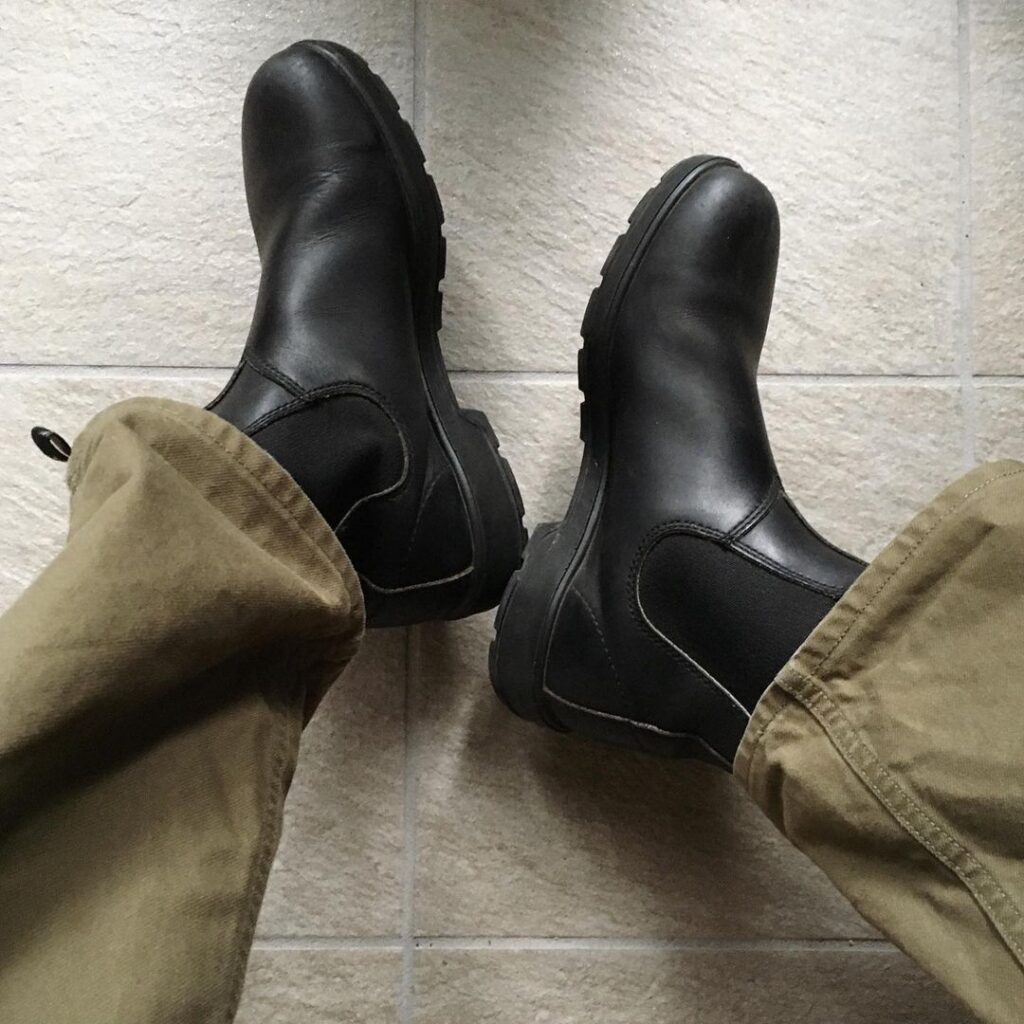 BLACK BLUNDSTONES
I don't think I've been this excited about a pair of casual shoes in a long time. Blundstone's elasticated Chelsea boots are easy to slip-on and easier to slip-off, which makes them perfect for lollygaggers like me, who are always running late. They can be worn with workwear and hiking clothes, and in the right cut and material, even oversized silhouettes, such as those from Lemaire. As rugged, weather-proof boots, they have real-world, fashion-as-function appeal. And since these are roomy boots built on a memory foam insole, almost two-inches of foam cushioning, and a slip-resistant TPU outsole, they're supremely comfortable. Weston Kay, a leatherworker who takes a bandsaw to different products on YouTube, recently took apart a pair Blundstones and said he was impressed with their construction. I recommend getting the 500 model in all-black.
To be sure, these aren't Goodyear welted boots made from the finest leathers. They're $175 work boots originally designed for Australian workers and farmers, but are now having a fashion moment. If you're looking for a genuinely well-made boot, check out RM Williams (a sponsor on this site). Their Gardener boots feature a similar chunky silhouette that can be worn with slim, cropped jeans, olive fatigues or cargo pants, and even wide trousers. The difference is that they're made with a stitched-on sole, rather than a glued-on sole, and haven't suffered from the same quality control complaints as Blundstone. In the past, Blundstone's outsoles have been known to crumble (an issue they supposedly fixed in 2013). RM Williams cost nearly three times the price, but they also have a better reputation.
CAVALRY TWILL AND WHIPCORD TROUSERS
Gray flannel trousers are the backbone of any tailored wardrobe. They're professional without looking pushy, sophisticated without being slick. Best of all, while they're perfectly suitable for the office, they make you feel like you're lounging in your brushed cotton pajamas. Wool flannel is so soft and comfortable, the Brits used it for undergarments up until the early 20th century.
Over the last couple of years, however, I've found I rely on flannel less and less. They're still good, but I prefer the heavier rustic twills, such as cavalry twill and whipcord. Cavalry twill is a double twill – such that you have a twill within a twill – while whipcord is single ribbed and often mottled. These fabrics hang like iron, swing when you walk, and stretch where you need. And since they're hard-twisted worsteds, they tend to hold their shape better than flannel, which can bag over time and require repressing. Most of all, I like how the mottling in whipcord lends a sporty touch. They're like a better version of jeans. My oatmeal-colored pair above are from Tailor's Keep, but you can find ready-to-wear versions at No Man Walks Alone, The Armoury, and Cordings.
PAIRING BLACK AND GREEN
Sometimes colors go well together in an outfit not because of color theory, but because of how their pairing intersects with visual language. Faded blue jeans look great with dusty leather boots not because blue looks good next brown (although it does), but because the two symbolize the mythologized American cowboy and start of the American West, which is laden with our ideas about masculinity and independence. Likewise, military-inspired looks rely heavily on colors such as olive green, tan, and black for no other reason than the fact they're used in the military.
Lately, I've been really enjoying how drab olive looks next to black. The color combination works better in casual ensembles — black has a limited role in classic men's style and especially tailoring — but consider something like a drab olive field jacket. When paired with blue jeans and a grey heathered sweatshirt, an olive field jacket can look fairly friendly and upbeat. Pair at the same coat with a long-sleeved black t-shirt, a pair of black boots, and some black jeans or black five-pocket cords, and the combination suddenly feels a bit moodier and modern. You can use the same colors in reverse: a black double rider can be worn with olive fatigues, a black top, and some black boots. Just check out how great Cappadonna looks in this kind of rig while performing with the Wu-Tang Clan at an NPR Tiny Desk concert.
VINTAGE GUCCI FOLIOS
My daily carry nowadays is usually not more than my laptop and its accompanying charger — and all that fits neatly into a portfolio, which I think of as a modern briefcase. For guys who don't carry very much, a portfolio is the easiest way to schlep whatever you need without the unnecessary bulk that comes with unused space. Folios are light and easy to carry. They don't have any unnecessary snaps or buckles that could get in the way when you need to reach for one of your few items. Plus, unlike a backpack, a folio doesn't have any straps that could ruin a tailored jacket's shoulder line.
Recently, I've been into vintage Gucci folios. I'm not sure when they issued this design, and it's no longer part of their offerings, but they used to make folios with a curved flap, brass latch-operated lock, and sometimes a folded over flap that could be used as an extra slip-in pouch. In the photos above, you can see how that pouch can be used to carry a folded-up magazine or some papers. I love the design, the fact that these are vintage, and how they feel like they're from a glamorous bygone era. The challenge is finding one. The online vintage shop Decades has a Gucci folio in lizard leather, but it's dearly expensive. I recommend just staying on top of eBay.
PARACHUTE BAGS
The very fact that it's called fall style should be reason enough to like parachute bags. In the early 20th century, various armed forces started issuing big canvas bags for carrying parachutes when they were not in use. Soon after, however, aviators began using their kit for lugging gear around their base, as well as bringing whatever they needed back home when they returned from war. Today, you can find these at military surplus depots and sites such as Etsy. The American and French forces, I think, made the best looking ones. The American version is big and boxy, and often stamped with "Aviators Kit Bag, Property of the US Government." The French version, however, is shaped more like a duffle bag and often says "Armee Francaise."
Practically speaking, both are too big for everyday carry (unless you actually carry parachutes). Some Japanese repro companies make replicas in small sizes, although I think they lack the verve of the originals. I use a French version, however, for bringing clothes to the dry cleaner or my tailor, or sometimes when I'm packing for trips. I can neither confirm nor deny that I bought one because I think "Armee Francaise" sounds super cool. (Amusingly, a French friend of mine, who has no such romanticization of French language, prefers the American version). 
For a more practical, everyday bag, I like Epperson's parachute tote. These packable totes are made from a lightweight, ripstop nylon that has been upcycled from genuine, 1970s US military parachutes. They feature a drawstring closure, climbing-spec "daisy chain" webbing (a chain of small loops reinforced with bar tacks), and an interior pocket into which you can pack the entire bag. I love the unique climbing-meets-military aesthetic and how well it goes with workwear. It is, however, a fairly lightweight bag, which means I'm careful about using it to carry overly heavy things. On the upside, if I ever fall, I can theoretically use this as a parachute.