Mr. Porter's massive selection puts them in everyone's orbit. Whether you favor classic tailored clothing, Japanese workwear, or oversized, minimalist contemporary garb, Mr. Porter likely carries more than a handful of brands for you.
Today, Mr. Porter started their Black Friday promotion, where you can take up to 30% off select items. Inis Meain's sweaters are expensive, even with the discount, but absolutely exquisite and a joy to wear. Engineered Garments, Blue Blue Japan, and Kapital are personal favorites for workwear; SNS Herning is great textured knitwear you can layer under heavy coats (be sure to size up). 
Given the scope and size of their inventory, your best bet is to filter by sizing and brands to see what you like. That said, here are ten items that I think are worth highlighting. 
Howlin Cream Cable Knit ($210)
A cream cable knit is one of those genuinely useful items that fits into almost any wardrobe. It adds texture and visual interest, has classic roots but remains modern, and does the good work of keeping you warm. This one is from Howlin, an Antwerp knitwear brand that relies on Scottish and Irish manufacturers (the company's name is taken from the Scottish slang for smelly). Howlin's sweaters are a little slimmer and more contemporary than traditional designs, but they fit reasonably easy. I like them for how well they ride the line between playful and classic. 
I love JM Weston's 180 penny loafers. They're popular in Japan, but for some reason, less common here in the United States. Not for any good reason, either. They have a rounded toe and high sidewalls, which make them more distinctive than their American and Northampton counterparts. A bit smarter Alden's loafer; a little less urbane than Edward Green. I find they go just as well with tailored trousers as they do with jeans. The only problem is sizing, which I covered in this old post. I recommend buying them from a place like Mr. Porter, which allows for easy returns if things don't work out. They have them in black calf, burgundy calf, tan pebble grain, and the very useful dark brown. Consider also getting the lasted shoe trees. 
I'm not proud that I wear beanies – and frankly, I'm not even sure I look good in a hat. But as a purely practical matter, they're useful when I'm running out of the house and don't have time to do my hair. Drake's are really nice if your casualwear leans classic. Theirs are knitted in Scotland from 100% wool, come in speckled Donegal and cable-knit designs, and are sized well. The photo above is from Drake's site, not Mr. Porter, but I'm including it here because Jason Jules is one damn handsome human being. 
Kapital Indigo Camp Collar Shirt ($318)
A few years ago, in The New Yorker, David Sedaris called Kapital one of his favorite shops. "If I had to use one word to describe Kapital's clothing, I'd be torn between 'wrong' and 'tragic,'" he mused. "A shirt might look normal enough until you try it on, and discover that the armholes have been moved, and are no longer level with your shoulders, like a capital 'T,' but farther down your torso, like a lowercase one."
You have to have a sense of humor about yourself to love the brand. The clothes are oddly cut, beautifully distressed, and often take after folk clothing styles from around the world. They are purely designed to bring joy. I love nearly everything from their shop, but not everything loves me back. I do, however, have an older version of this indigo camp collar shirt and find it easy to wear with everything from basic trucker jackets to offbeat Japanese workwear. Just note it fits a bit cropped, as shown in the product photos. A size 3 should fit a medium. 
De Bonne Facture Wool-Alpaca Sweater ($308)
This just seems like a nice color for a sweater. It's cheery and fun; it pairs well with darker colors such as navy and charcoal (which probably make up the bulk of your winter wardrobe). This De Bonne Facture sweater is also made with 50% alpaca, which gives the knit some appreciable softness. 
This overcoat from Mr. P, which is Mr. Porter's house line, checks all the boxes on the coveted menswear bingo card. It's oversized. It's textured. And it's on sale. The long lapel makes this coat better suited to fall, rather than blustery winters since it'll leave your chest exposed unless you wear a scarf. But I find single-breasted coats such as this one look better when they're worn open anyway. The belt is a nice touch. 
The rest of the line is also worth a browse. They have uniquely textured sweaters, bonded cotton raincoats, navy nubuck truckers, and shearling trimmed bombers. 
Margaret Howell Fair Isle Wool Sweater ($206)
Margaret Howell is like a rustic British version of Cucinelli. The clothes are exceptionally well-made, but the silhouettes are looser and the colors are drab. Instead of the Italian fantasy of living in some cashmere village and eating salami, these are the clothes you'd imagine you'd wear while, I don't know, churning butter. I'm a fan of the company. This Fair Isle sweater has just the right combination of rustic and modern. The company also has a nice turtleneck this season (or rollneck, if you want to seem British).  
I love everything Yuki Matsuda designs. He's a Japanese designer based in California, making a wide range of offbeat takes on workwear and Americana under his umbrella group Meg Company. He's the guy behind Monitaly, Yuketen, Chamula, and Epperson Mountaineering. His products are exceptionally made — as well-made as any other traditional brand in this category — but the designs are often so much more fun to wear and look at. This faux-shearling trimmed bomber has a nice rounded shape to give the jacket some verve. The Vancloth shell also means the fabric will swell when wet, making it water-resistant.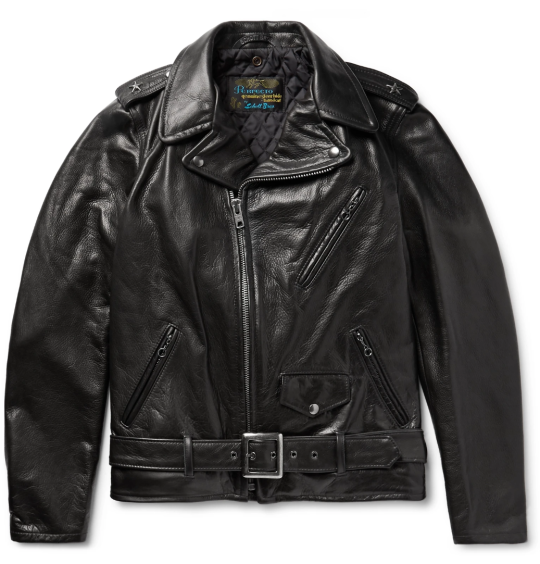 I admit to having some double-rider fatigue now that every hip district in San Francisco looks like a Harley convention. But after having seen George from BRIO wear one last winter, I was reminded that these can still be classic jackets. You don't have to wear it with Chelsea boots and skinny jeans. A double rider can be worn with a chunky turtleneck, slim-straight denim, and just a regular pair of work boots. I believe the version at Mr. Porter is Schott's 618, which is slimmer than the version they produce for motorcycle riders, but not as long as their other fashion model. This is a good fit.
Officine Generale Black Boots ($343)
I have a pair of black Heschung military boots that look somewhat like these from Officine Generale, and I find them to be extremely useful. Black boots go naturally with workwear outfits involving olive field jackets or blue chore coats. They sit well under blue denim or olive fatigues. They're also what you need for all-black ensembles, such as a black leather jacket worn with black jeans. Officine Generale's have a somewhat nondescript design, which lends them well to a range of wardrobes. The treaded rubber outsole also means these can be used as rainboots.