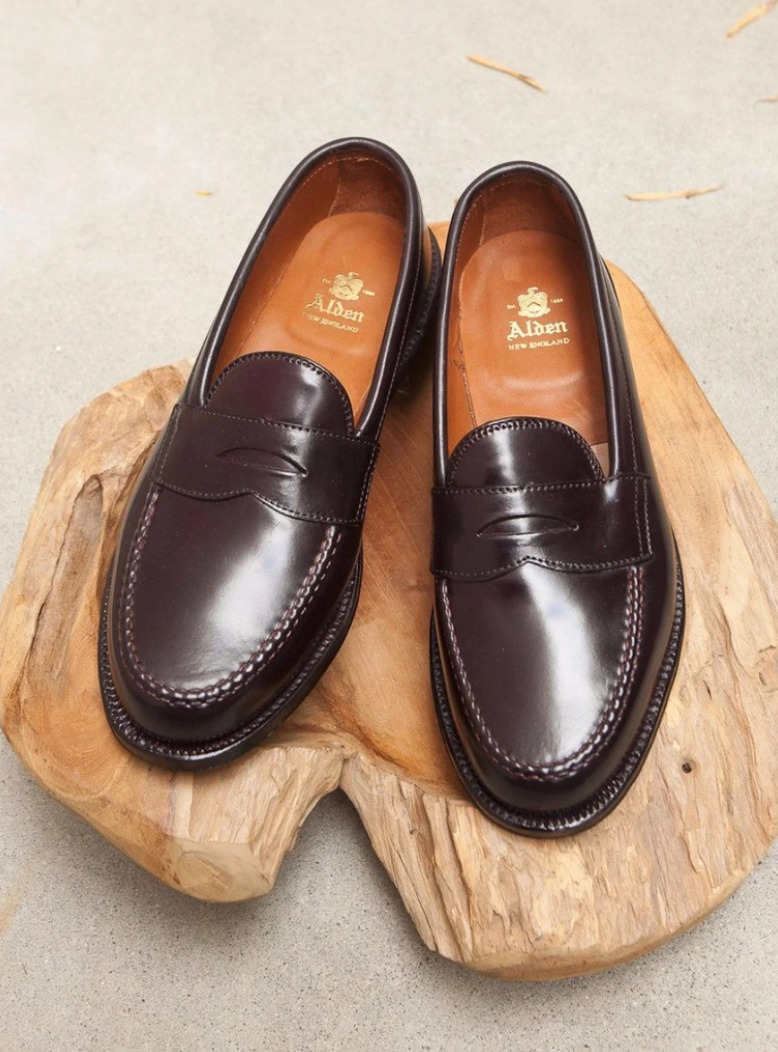 I'm not good at very many things, but I'm an absolute master at loafing. In fact, I'm a certified Master Loafer, having taken the art of avoiding work to a level of high-craft. And like any craft, loafing comes with a uniform. Don't let anyone tell you otherwise – you need certain clothes to properly waste the day. You can't wear pressed trousers, as otherwise you'll feel compelled to actually work; nor can you lounge in sweatpants, as you have to maintain the illusion that you'll eventually work at some point. No, good loafing requires casual pants that you can feel good in, such as well-cut jeans or chinos. 
Once you accept the uniform of a True Idler, you have to pick your shoes, which will naturally be … well, loafers. Not all loafers are good for loafing, however. Some are quite dressy, and like grey flannel trousers, will make you think you should go back to your office. Others, on the other hand, will make you feel relaxed and optimistic, allowing you to believe that you should spend the day at the café, where you can bang out a few pages of your dissertation while occasionally – and only occasionally – surfing the internet.
Here's a good example. On the right is Rancourt's Pinch Penny loafer (from a modified made-to-order pair I bought last year). It is, in my opinion, one of the best shoes for loafing. It has a short, stubby toe, allowing you to wear these with jeans, and a functional moccasin toe stitch that forms the apron. This design derives from the Old Norwegian and American Weejun method of making loafers: two pieces of leather form the uppers (one for the plug and the other for the sides). The two are then conjoined using a handsewn saddle stitch.
Compare this loafer to the Edward Green Picadilly next to it, which feels much more urbane. The toe is sleek and shapely, and the machine-sewn apron has less texture than Rancourt's handsewn. This is one of my favorite models to wear with sport coats and grey trousers, but it doesn't really work with anything too casual. The only exception is here, on Hooman Majd, who has paired his with jeans. This only works if you're as handsome as Majd, which I can already tell you, unseen reader: you are not.
Another great casual loafer is Alden's unlined pennies, which is shown here in dark brown suede (this is model 6245F). This is a little dressier than the Rancourts, mostly because the toe is sleeker and the apron is skin-stitched. Skin stitching is when a single piece of leather is pinched before stitching is put in. This makes the stitching totally decorative, unlike the functional stitch on Rancourts. Over time, the skin stitch apron will hold its shape, while the moccasin toe on the Rancourts will slowly loosen and separate, until the loafers live out their last days with duct tape wrapped around them.
Still, Alden's unlined pennies work well with jeans for a variety of reasons. The textured apron still looks casual, while the flex-welt sole and unlined uppers make these feel like slippers. They're a step up in formality from the Rancourts, but still totally respectable for hanging out at bars, checking social media, and watching YouTube videos.  
You can get a sense of the casualness of Alden's unlined pennies by comparing them to the company's lined loafers (this one on the right is model 9694F). The unlined pair is made on Alden's rounder Van last, while the lined ones are built on the sleeker Copley. Both are flex welt shoes (meaning the sole is made from a uniquely soft, oiled leather), but the sharper toe and smoother apron on lined loafers makes them only really suitable for wear with dress trousers. These would be terrible for waiting until the last minute to get work done, so don't get them. 
If you like Alden's unlined loafers, know that they also have a similar shoe in shell cordovan (these are made from color 8 shell, which makes them model 986). Both of these are built on Alden's Van last, but because the shell cordovan loafers are made from a heavier and thicker material, they look a little chunkier and rounded. They work great in the fall, however, especially if you want to spend the entire afternoon reading pointless crap on StyleForum while wearing corduroys or jeans. Alden has them in both lined and unlined versions, which should give you at least four or five hours of "research" to do, so you can figure out which is best instead of meeting that deadline that's hovering over your head. 
Finally we come to JM Weston's 180s. These have a slightly sleeker shape than the models mentioned above, but also a higher toe-box that gives them a heftier look. I think of them as the French version of American Weejuns – something more like European casual vs. American casual (the latter being nicely defined by the Rancourt loafers on the left). You can wear the 180s with either tailored trousers or jeans, although I think they look best with denim (for more formal trousers, it's hard to beat the Picadillys). The Westons are available in a few different casual materials, such as suede and scotch grain. If you get the brown calf ones, as I did, you can leave them unpolished for an informal look. To show you're a true master at wasting time, however, you can give them a very light polish. Only people who don't have their priorities straight polish their loafers.